1960 Royal Enfield Bullet
1960 ROYAL ENFIELD BULLET – A LONG HISTORY
Royal Enfield introduced the 350cc and 500cc single-cylinder Bullet line in 1948, and while many changes were made in the interim, including a change of ownership of the company, the Royal Enfield Bullet has the unique distinction of being the longest-running motorcycle model still in production today. The Bullet was built in Royal Enfield's Redditch, England factory from 1948 until the company was sold to Madras Motors of india in 1970. All production was then moved to Mumbai where Royal Enfield Bullets are still built to this day. Interestingly, they've changed very little. They still look very much the same way they did in 1960. All twin-cylinder production was dropped.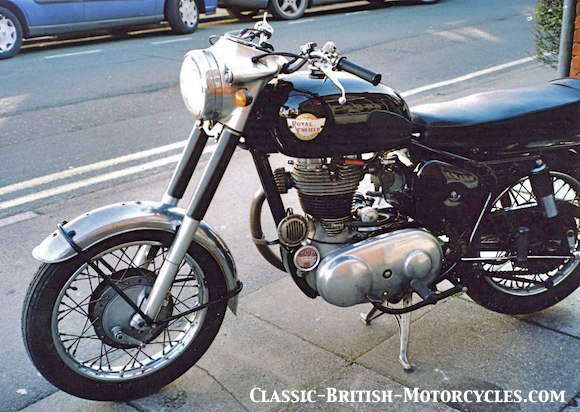 ---
1960 Royal Enfield Bullet SPECIFICATIONS
Engine type

Displacement

Bore & Stroke

Compression

Carburetor

Ignition

Engine output

Primary drive

Clutch

Gearbox

Final drive

Frame

Suspension, F

Suspension, R

Brake, F

Brake, R

Wheel size, F

Wheel size, R

Wheelbase

Grd clearance

Length

Width

Height

Fuel cap

Weight

350 Bullet                   

Air-cooled OHV single

346cc

70mm X 90mm

6.5:1

Amal Monobloc

Breaker & coil

20 bhp

Chain

Multi-plate, wet

4-speed, right-shift

Chain

Welded steel

Telescopic fork

Swing arm w/2 dampers

6″ SLS drum

6″ SLS drum

19″

19″

1370 mm

135 mm

2140 mm

800 mm

1030 mm

13.5L

180 kg

500 Bullet                    

Air-cooled OHV single

499cc

84mm X 90mm

7.5:1

Amal Monobloc

Breaker & coil

Chain

Multi-plate, wet

4-speed, right-shift

Chain

Welded steel

Telescopic fork

Swing arm w/2 dampers

6″ SLS drum

6″ SLS drum

19″

19″

1370 mm

135 mm

2140 mm

800 mm

1030 mm

13.5L

180 kg