1955 Triumph Thunderbird
ABOVE: The 1955 Triumph Thunderbird 6T is very similar to this 1956 Triumph Thunderbird. They share essentially the same frame, suspension, cycle gear and body work. Only paint colors & minor trim differences vary in the general appearance. Although many mechanical changes were made on an ongoing basis on all Triumph Motorcycles, by the talented boys at the Meriden plant. Unfortunately, no suitable photo of a 1955 was available at this time. If you have a '55 Triumph T-Bird, send us pix of YOUR BIKE.
NEW AMAL CARB
The '55 T-Bird got a new Amal Monobloc carburetor with the choke being operated via a spring-loaded plunger on the carb body, rather than the more conventional and convenient practice of placing it on the handlebars. This was part of Edward Turner's campaign to clean up handlebar clutter.
ENGINE
A new, thinner stator was installed on the existing Lucas RM14 alternator and it was now mounted to the inner primary chain case, rather than the outer cover and the inspection cover deleted. This was Triumph Motorcycles' chance to cast in the Triumph Thunderbird "Paper Dart" logo on the primary cover. Triumph Speed Twins got the same treatment, but with their own unique logo. A new distributor was fitted and spark advance was reduced from 15-degrees to 12.5-degrees.
1955 TRIUMPH THUNDERBIRD – RUNNING GEAR
Minor changes and refinements were made to the new swingarm frame and running gear. Side car lugs were installed, there was a new prop stand, a new oil tank endeavored to solve the cracking problems, new muffler (silencer) mounts were added and the front fork stem was stiffened by increasing clamp bolt size from 5/16 to 3/8. The rear brake torque arm stay was relocated to the swingarm. The nacelle's underslung pilot light was replaced mid-year with a chromed horn grille. And the tail light assembly was replaced with a Lucas Diacon Type 564 unit with integral reflectors.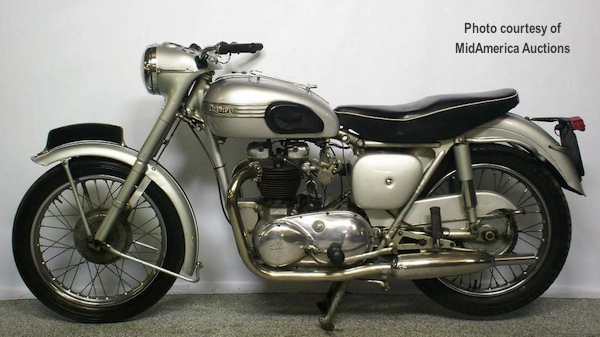 ABOVE: Again, this lovely 1956 Triumph Thunderbird 6T sits in for our missing 1955 Triumph Thunderbird. If you own a 1955 Triumph Thunderbird, PLEASE SEND PICTURES!
---
1955 Triumph Thunderbird SPECIFICATIONS
Engine type

Displacement

Bore & Stroke

Compression

Carburetor

Ignition

Engine output

Primary drive

Primary sprockets

Clutch

Gearbox

Ratios, overall:

1st, bottom

2nd

3rd

4th, top

Final drive

Final drive sprockets

Frame Type

Suspension, front

Suspension, rear

Brake, front

Brake, rear

Tire, front

Tire, rear

Wheelbase

Seat Height

Ground Clearance

Fuel capacity

Dry weight

Air-cooled OHV vertical twin, non-unit

649cc / 40.0 ci

71mm X 82mm / 2.79″ X 3.23″

8.5:1 (US & export); 7.0:1 (UK)

1-Amal Monobloc

Lucas magneto

34 bhp @ 6500 rpm

1/2″ X .335″ X 5/16″ chain, 70 links

24T X 43T

Multi-plate, wet

4-speed constant mesh, right foot shift

—

11.9:1

8.25:1

5.81:1

4.88

5/8″ X .400″ X 3/8″ chain, 101 links

18T X 46T

Brazed lug, rigid

Telescopic fork, hydraulic damping

Swing arm, 2 Girling dampers

8″ SLS drum

7″ SLS drum

3.25″ X 19″

3.50″ X 19″

55.75″ / 141 cm

31″ / 77.5 cm

5″ / 12.7 cm

3 Imp gal (US); 4 Imp gal (UK & export)

395 lbs / 179 kg