MV Agusta has unveiled race replicas for their three-cylinder F3 bikes in the run-up to the EICMA motorcycle show in Milan next week.
The F3 675 and F3 800 RC (Reparto Corse) versions follow a plethora of race replicas and limited-editions released over the past few weeks.
They include the Lewis Hamilton F4 LH44, F4 RC and Dragster 800 RC.
No new models
No new models, just race replica and limited edition versions of existing models.
But then, MV Agusta boss Claudio Castiglioni earlier this year said there would be no new models this year.
That was when the company was foundering with liquidity issues.
Those issues have now been resolved with investment by Russian investors.
But can we now expect new models at EICMA?
The timing of these RC models just before the show might be to steal some publicity because they don't have anything new to show in Milan.
However, the F3 RC versions do have the new Euro4-compliant engines which we expect will be included in the 2018 F3 standard models which could be on display.
The Euro4 triples are 48% quieter and have 50% lower emissions.
Power is the same at 95kW for the 675 and 110kW for the 800.
MV Agusta F3 race replicas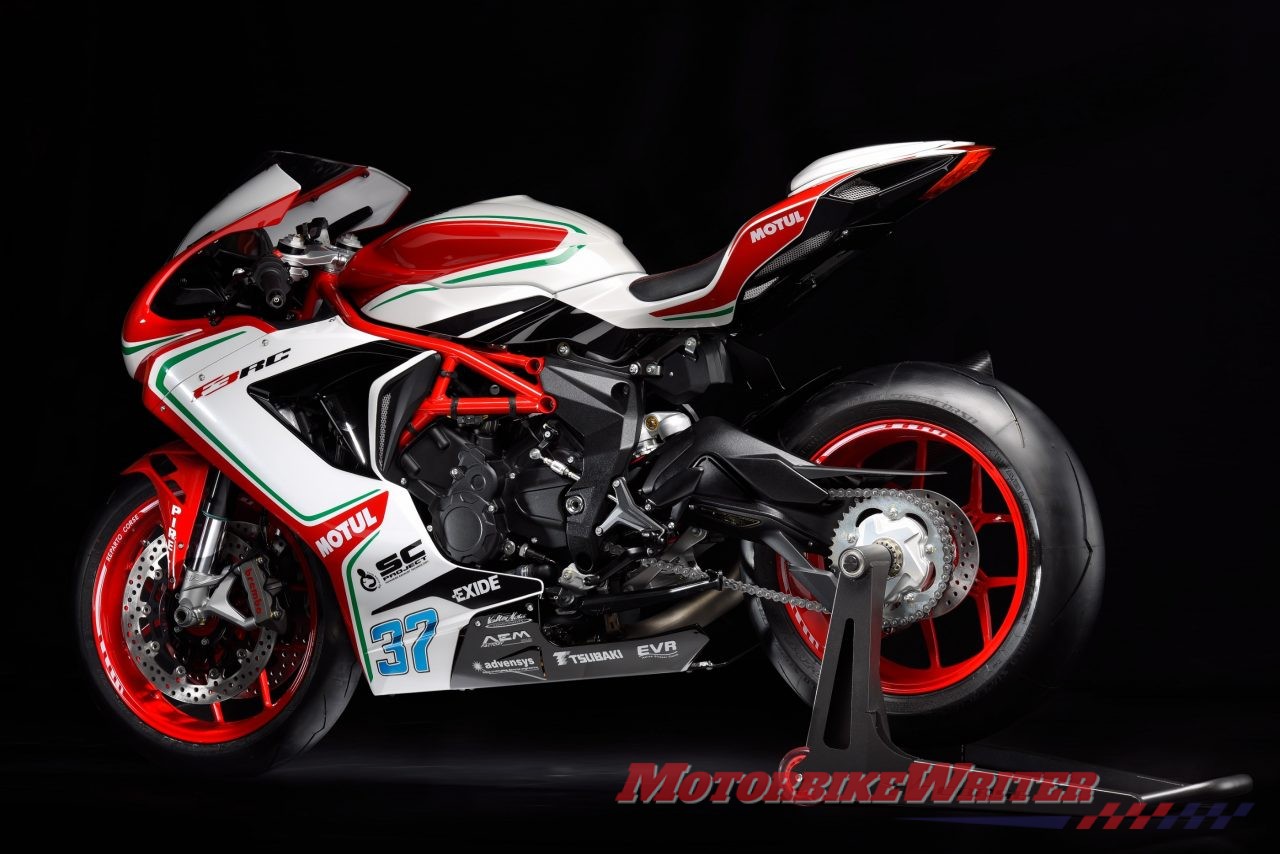 Meanwhile, the F3 RC models get the usual factory racing graphics, red wheels, personalised engine mapping, eight-level traction control an EAS 2.0 electronic shifter and suspension upgrades.
Only 350 models of each will be produced and owners will get a wooden box full of extras that turn it into a track-day bike, including titanium exhaust, carbon fibre bits and pieces, new levers and a new ECU to increase power to 99kW in the 675 and 114kW on the800.
There is now word yet from MV Agusta Australia on when the replicas will arrive in Australia or pricing. However, you can expect they will cost a few thousand more than the standard.