The Tokyo Motor Show – now rebranded to the Japan Mobility Show – is about to get a neat concept from Yamaha that studies the following question: 
How do you coexist with a machine like a living creature? / What will human–machine interfaces actually be like in the future?
Their machine to posit this query to the masses?
The next-gen MOTOROiD2 Concept Bike.
This slideshow requires JavaScript.
Our first impression include the fact that somebody on the design team was very much into TRON, Transformers, BIONICLE or some combination of all three. A quick gander shows those little knobby balancers on either side of the bike to be problems for uneven territory (and leans will be next to impossible), though the aesthetics of this concept are still engaging – dare we even say arresting.
Perhaps Yammie will win an award for this concept, like they did the original MOTOROiD.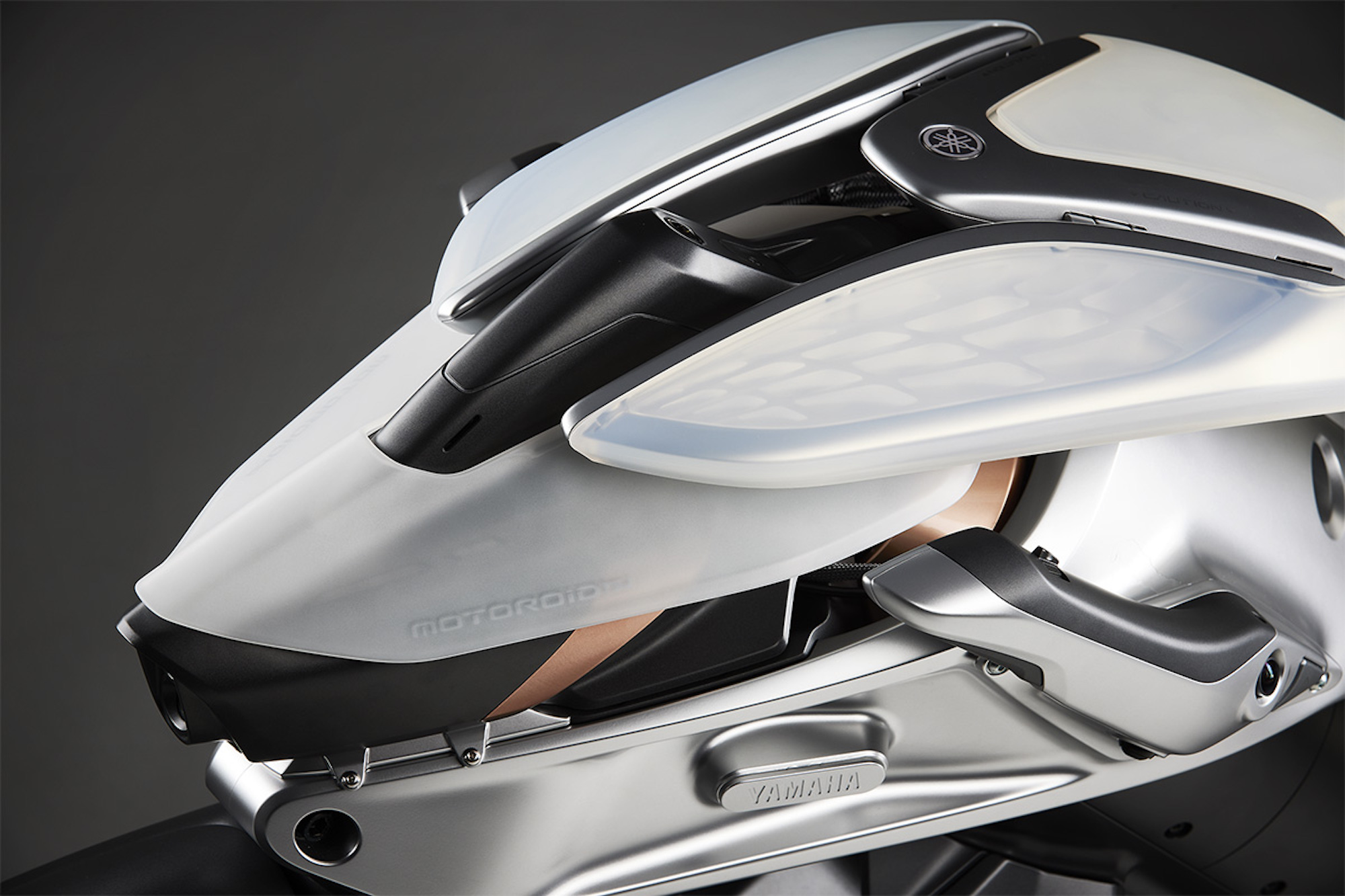 Spoiler alert, this thing doesn't just look the part of a futuristic scoot; perks of taking the MOTOROiD2 on a spin apparently include the use of the following 'ware:
Image recognition AI system "for recognizing and reacting to the owner's face and gestures"  

Active Mass Center Control System (AMCES) for self-balancing and attitude sensing

The bike will apparently self-balance and follow you if you make the proper gesture command
This slideshow requires JavaScript.
In other words, Yamaha's tinkering with a bike so sensitive to user reactions that riders will feel the machine changing beneath them with their own change of attitude.
We blieve there are many ways bike technology can go south once it incorporates the volatility of human attitude, so we'll just have to behave and keep mum until Yamaha enlightens us further on this front.
This slideshow requires JavaScript.
One of the more fascinating features of this concept includes the dynamic "Leaf" aesthetic; the bike lifts its top fairings for supposed access to things like charging ports, though Ben Purvis at CycleWorld also suggests that "leaf-up" is in reaction to the rider's interactions. 
We make the suggestion to Yamaha that "leaf-up" could convert fantastically to "thief-off" for those worrisome theft ratings we've been seeing as of late… what do you think?
This slideshow requires JavaScript.
Regardless, this concept will be sure to stun at the Japan Mobility Show; what do you think of Yamaha's new MOTOROiD2 Concept Bike?
*All media provided by Yamaha*