Yamaha has unveiled its 04Gen concept with swan-style transparent wings at the first Vietnam Motorcycle Show in Ho Chi Minh City.
It's not a late April Fools' Day joke, but the fourth concept model of Yamaha's Gen series.
The 04Gen features a sculptured floating seat like the Vespa 946, a swan-shaped headlight and those amazing wings which flip up to expose the frame.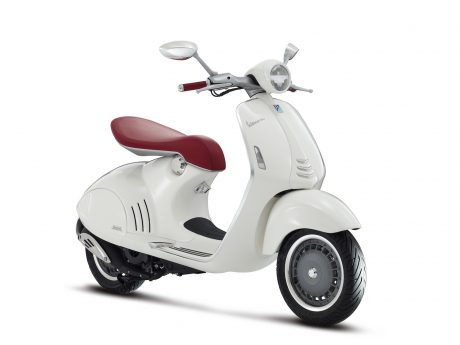 It's one of the weird concepts Yamaha has been trotting out lately, including as leaning three- and four-wheeler leaning motorcycles, sports cars and even a robot self-riding motorcycle called Motobot.
There are no specs available on the 04G, but we know it's not electric because it has a stylish muffler.
Up front it has an Ealses fork with twin shocks which is similar to the BMW Telelever suspension.
Another unusual feature are the disc brakes which are enclosed. Maybe that's for aerodynamics, but it wouldn't be good for cooling. It's probably just a styling exercise.
In fact, the whole scooter looks more like a styling exercise than a serious attempt at a pre-production model.
However, the integration of a smartphone on the handlebars instead of an instrument pod shows  a trend for future motorcycles and scooters.