The new Yamaha Bolt cruiser is expected to become the brand's top-selling non-LAMS road bike with about 500 sales in a full year.
The youth-oriented, stripped-down Yamaha Bolt hits Australia in September, at a very reasonable $11,999 for the base model and $500 more for the R spec.
The media launch for the new cruiser was held in warm and sunny Brisbane. We rode through bayside suburbs with its potholed streets and back up the smooth highway.
It wasn't a long ride and it was interrupted with photo shoots, so there weren't long spells in the saddle, but that's what the bike is designed for.
Yamaha wants to appeal to young urbanites looking for a fashionable bike to take on short jaunts to their local cafe or for a short blast through the hills.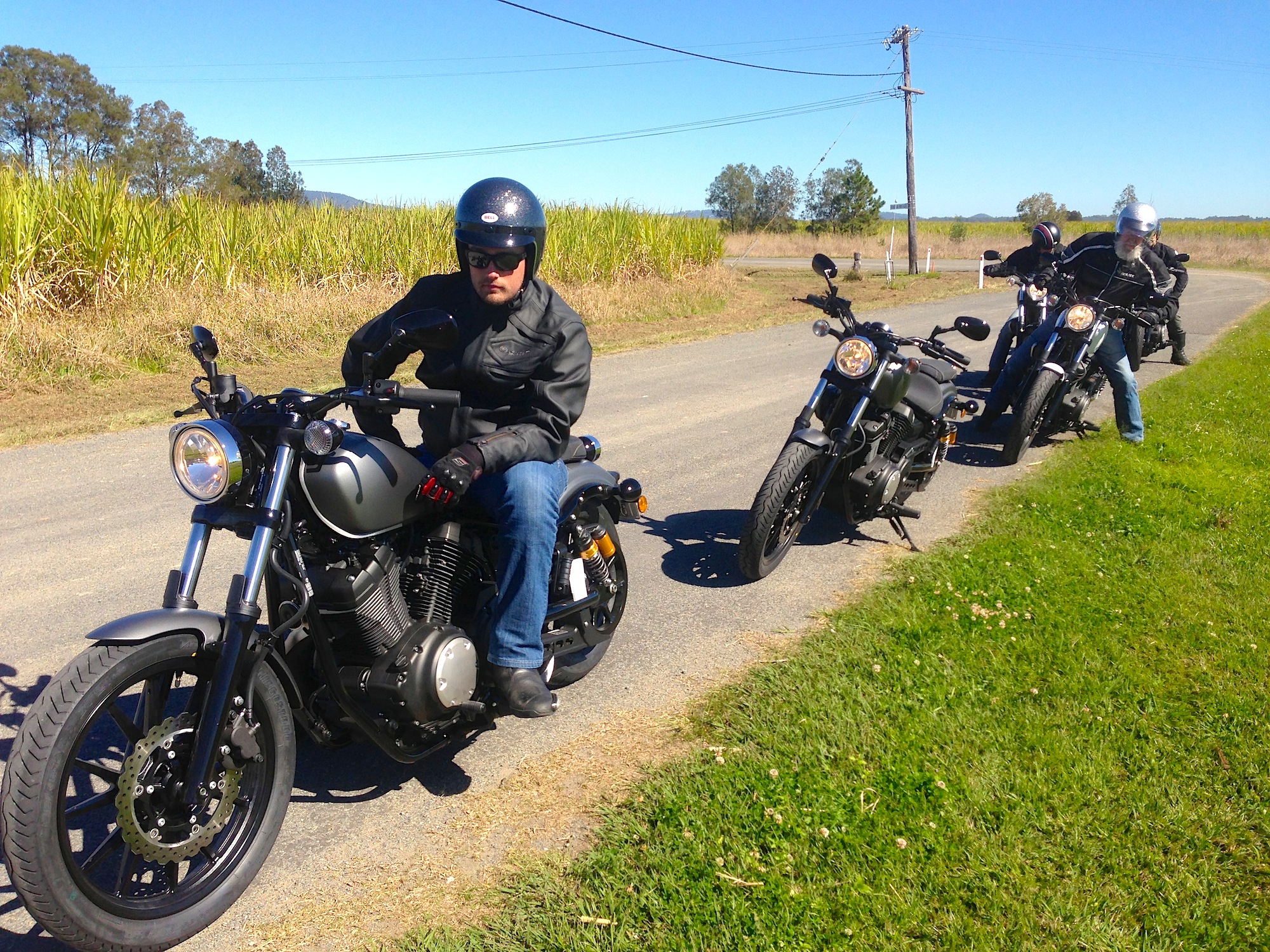 For these duties, the Bolt is eminently suitable. With its 12.2-litre tank, it is not designed for long hauls, but for turning heads.
Riding position is very neutral, like sitting on a straight-back chair with your hands out on the table. The seat is fairly hard, but the R seat seems to have more comfort and support.
The tank narrows as it nears the seat and there is a gap between the seat and the tank so you can see a lot more of the cam covers right below you, like on Harley's Slim. It gives the bike a nice barebones look.
This American-designed cruiser isn't designed to compete with the Slim, but with Harley's popular entry level Sportser 883.
It has similar bobber styling, mid-mount controls, clean and quiet belt drive, a low 69cm rider seat and "less is more" cosmetics.
While the Iron has chrome exhausts, the gloss black or gloss white Bolt has just a few pieces of brushed aluminium on the battery guard, air filter and exhaust heat protectors. the only chrome is the lockable petrol cap and a ring around the single digital instrument pod.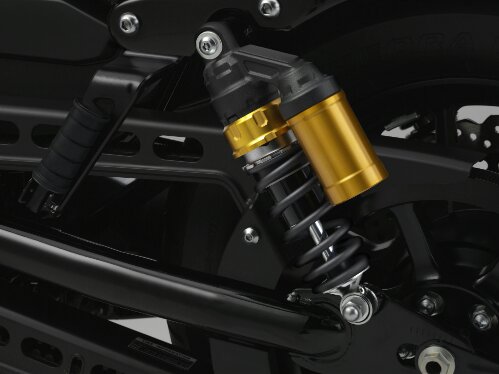 The 'R' spec Yamaha Bolt adds piggyback shocks, matte grey paint, tank graphics and a buckskin-style seat cover.
Yamaha has used its air-cooled, 942cc fuel-injected V-Twin from the XVS950A which is 59cc bigger than the Harley with 6% more power and 11% more torque.
It is mated to a five-speed transmission with wet clutch and sits in a new, double-cradle black steel frame.
Bolt has a short and sharp 1569mm wheelbase with an ultra-slim body, shorty steel fenders, conventional 41mm forks and 12-spoke alloys fitted with bias-ply 100/90-19 and 150/80-16 tyres.
It's a light, nimble, aggressive cruiser with 298mm wave brake discs that would look more at home on an R1.
Despite an old-school look, it has an LED taillight and a single LCD all-digital instrument pod which displays speedo, odo, two tripmeters, fuel reserve tripmeter (counts kilometres since low fuel warning light), clock and warning lights.
You can toggle through these functions via buttons on the right handlebar.
Surprisingly for an LCD display, visibility is better in direct sunlight than in the shade.
On our ride, many of the riders forgot to turn off their blinkers because the indicator light on the instrument pod is too small and difficult to see.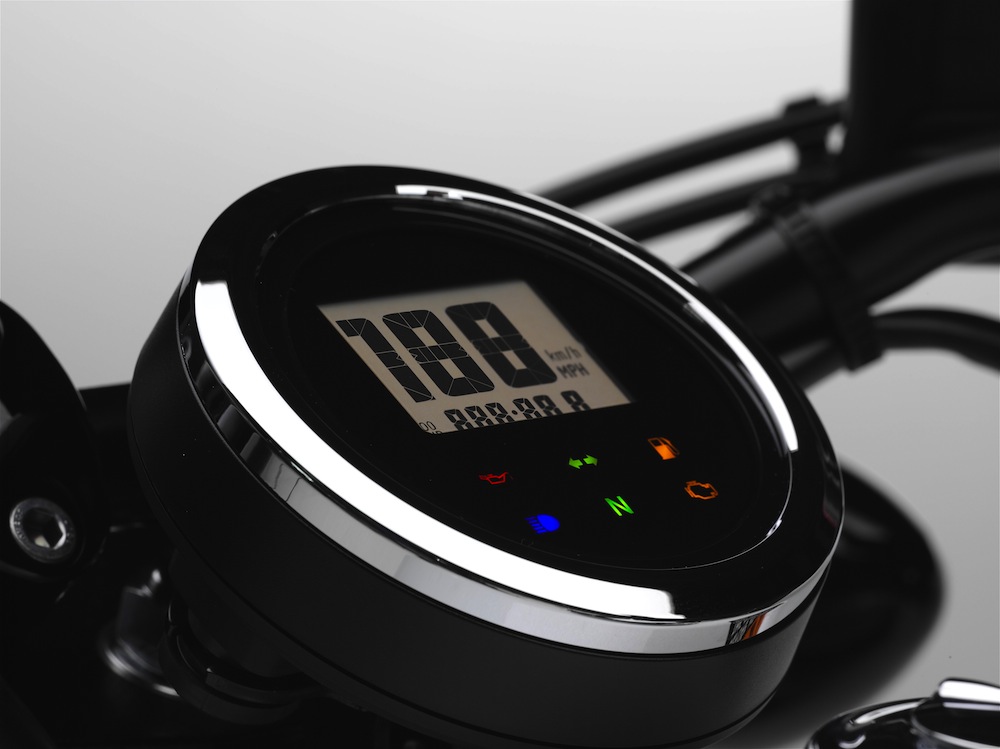 The ignition key and steering lock is on the right of the forks and when you fire it up, it rumbles smoothly into life.
There is a bit of a tingle from the engine and that stays right through the gears, giving a slightly blurred view in the mirrors and numb fingertips after a long blast down the highway.
Let out the light-pull clutch and the five slick gears click into place without much of a clunk.
Acceleration is urgent right from the get-go with a lot of torque in the low end and midrange, right where you need it.
At highway speed, just roll on the throttle for easy overtaking maneuvres.
There is minimal engine mechanical noise and a muted muffler tone that is crying to be let loose.
The big 19-inch front wheel doesn't seem to slow the turn-in and it flicks easily from side to side for rapid changes of direction thanks to the short wheelbase. Yet it feels sturdy and stable on the highway in among the truck turbulence.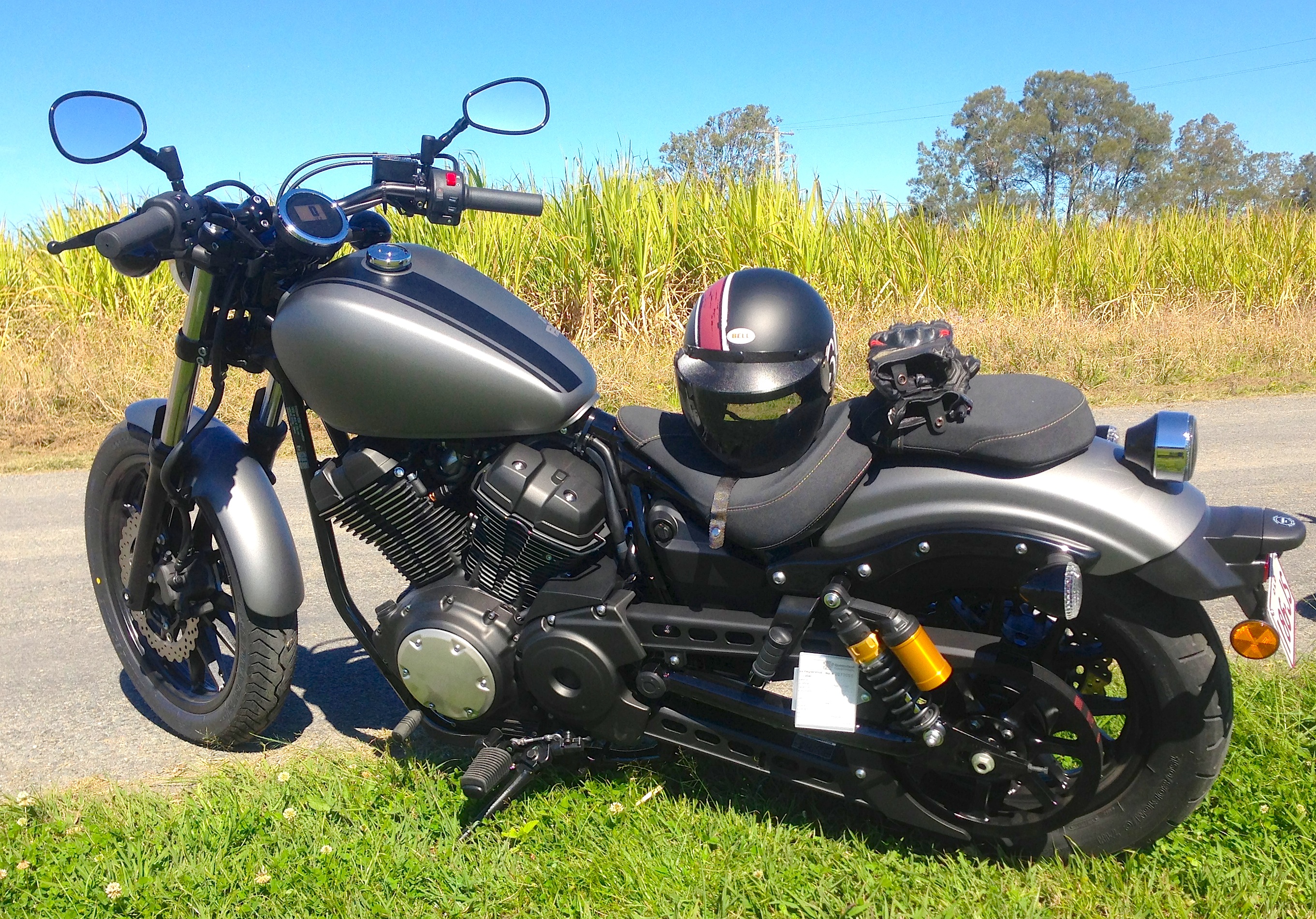 However, the footpegs and the muffler brackets will touch down and hinder lean angles in corners, even though
Yamaha says it has a better lean angle and clearance than the Harley. Surprisingly there are no hero blobs under the footpegs.
Ride is a bit abrupt on the base model, but the R spec shocks provide a substantially more compliant ride with far better damping. Yamaha also points out that the forks have more travel than the 883.
Despite having a single disc on the front, it has strong stoppers. The back wheel can lock up easily if pushed too hard, but there is good feel in the foot brake.
You have to use the brakes firmly as there isn't a lot of braking effect in the low-compression engine.
The hand levers are non adjustable as expected in a budget bike, but Yamaha has not held back on the build quality with real metal fenders and a locking fuel cap, not just a screw-off cap like the Harley.
Build quality is superb as we've come to expect from Yamaha.
The footpegs are fat and generous with big gear and brake foot controls.
The Bolt is a great blank canvas for the customisers to work on and Yamaha already has a couple of accessory packs:
The "Hell for Leather" pack consists of a sprung brown-leather tractor solo seat, brass fittings, brown leather saddlebags, and billet bits and pieces; and "Paint it Black" has black fork gators, mesh air filter, black billet bits and pieces and a 1970s bikini fairing.
Spoked wheels and a lowering kit will also be available. You can also take off the back seat and pillion footpegs for cheaper single-seat registration in Queensland.
Yamaha Bolt XV950 tech specs

Price: $11,999 (base), about $12,499 (R)
On sale: September
Warranty: 5 years
Service intervals: 10,000km
Engine: 942cc, air-cooled, SOHC, 4-valve V-twin
Bore x stroke: 85.0 x 83.0
Compression: 9:1
Transmission: 5-speed, multiplate wet clutch, belt drive
Suspension: Telescopic fork, adjustable dual shocks
Brakes: 298mm discs
Tyres: 100/90-19; 150/80-16
Length: 2291mm
Width: 944mm
Height: 1120mm
Seat: 690mm
Wheelbase: 1569mm
Clearance: 129mm
Fuel: 12 litres
Wet weight: 244kg
Fuel economy: 5L/100km