Review Summary
The R 18 is a superlative cruiser, but the engine is the star of the show here. It's big, super torque-y and it has a truckload of character– and all with a distinctly German style of refinement
It handles better than it has any right too, and with more torque than a Suzuki Hayabusa (and on slightly less than a Kawasaki HR2) it can really get up and go when you want it to
Build quality is awesome and there's just the right amount of modern tech and retro vibes, but the factory screen buffets your helmet at highway speeds and the exhaust note from the stock pipes is just a little too polite
Like cats and lasers, or Donald Trump and the Truth, BMW Motorrad has a difficult relationship with American-style Cruisers. Like a lighthouse, the genre calls to manufacturers one and all. "The world's biggest economy LOVES cruisers!" it says, seductively. Company executives see all those desert highways and mountain passes across the US that are flooded with megabuck Harleys and their associated (and very expensive) accessories and they drool like Great Danes just before dinner time. Surely getting their hands on some of that sweet, sweet USD revenue wouldn't be such a hard task, would it? All you need is an unnecessarily large engine, over-the-top styling, an exhaust note that makes retirees cry out in pain and you're home and hosed. Easy, huh?
But of course, it isn't that easy. Not at all. Just Ask Victory or Indian – or pretty much all of the big Japanese manufacturers. Hell, BMW themselves have tried to climb this mountain before with their 1997 R 1200 C and they ended up dying in a frozen heap by the side of the road seven years later. Not even an extended chase sequence in James Bond's "Tomorrow Never Dies" helped it sell – or maybe that only made matters worse? Personally, I'm a bit of an R 1200 C fan, but I'll readily admit that it's very much a love based on pity and a few giggles as much as it is an honest appreciation of the bike. You can still pick them up for chump change and I've always wondered what one would look like as some kind of no-hold-barred custom. So is the R 18 a case of history repeating itself or has BMW learned from its past mistakes and come up with something that's going to be around for the foreseeable future?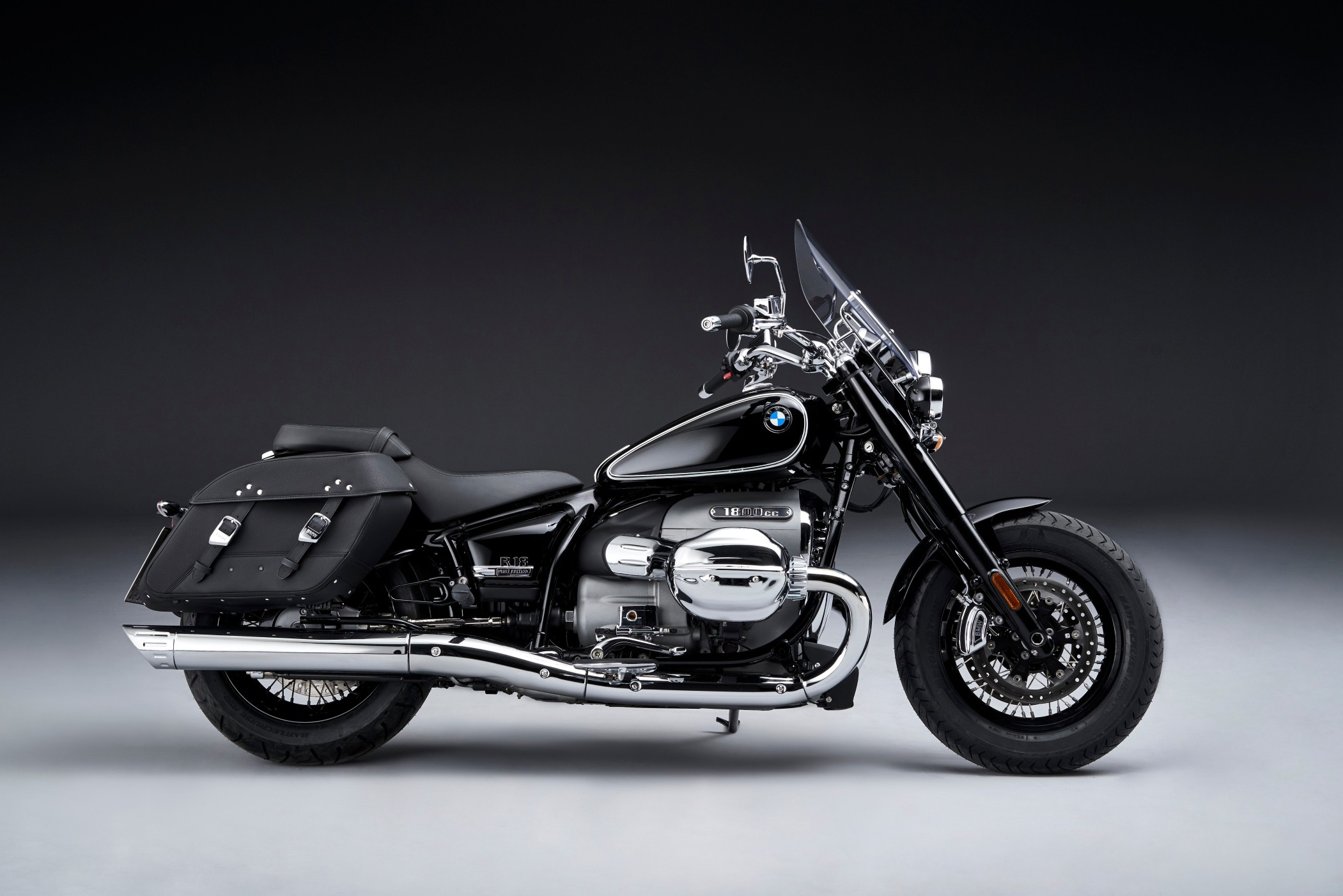 I've spoken at length about their S 1000 RR before, but bear with me while I do a quick recap. BMW's judgement on spending big bucks developing and releasing this model looked similarly questionable; released at a time when many thought that sportbikes were done and dusted as people woke up to the fact that they were uncomfortable and impractical for most road riding, they went on to be a best-seller for the company. Here the design principle was simple – do what the Japanese manufacturers were doing but do it better. And it worked. The bike was a noticeable improvement on the Far East's inline four litre bikes, it had a bunch of electronics tricks and it came ready-stamped with World Superbike creds. BMW also bet on the fact that sportsbikes would always be a thing and they were right again. They had a hit on their hands.
So framed in that way, the R 18 makes a lot of sense. BMW would do what Harley and Indian are doing, but one-up them on quality, refinement and without all those troubling ponytail-wearing, redneck-y associations. Riders like you and I who don't live in trailer homes don't really want to buy into that part of the genre, do we? So thanks to BMW, we could still get ourselves a beefy bike that made us feel like kings out on the open road with oceans of torque and a "more is more" aesthetic that we all know we want deep down inside. What could go wrong? But the bike's been on sale for three years and I hardly ever see them on my local roads around Sydney. Also, when I type "Is the BMW R 18…" into the Google Search engine, its very first autocomplete suggestion is "…a flop?" Oh dear. That's not good. But what is it really like and should you be considering one for your next purchase? Read on to find out…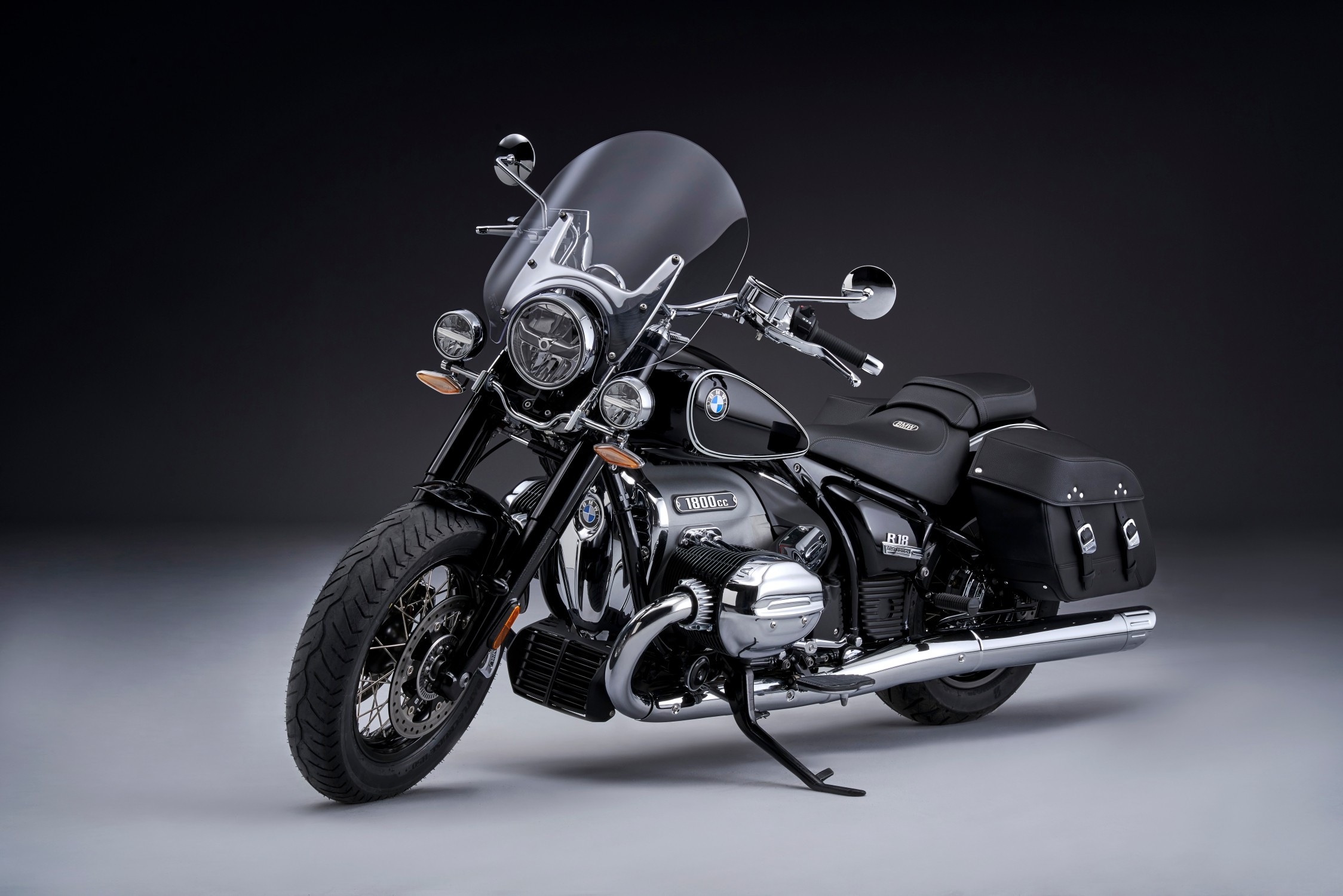 Features of the 2023 BMW R 18 Classic Highline Cruiser
Fittingly for the market segment, BMW leads the marketing blurb on the R 18 with the fact that the 1800cc boxer twin is the "the boxer with the most displacement we have ever built". No doubt it's designed to stand chin-to-chin with the Harley's Millwaukee Eight et al; taking the 2023 Fat Bob's 114ci donk as an example, both bikes have remarkably similar power and torque figures. Coincidence? I think not. But putting the engine aside for one moment (remember – lift with the knees) the rest of the package is clearly an exercise in nostalgia and size. With the bike's epic pipes (including the "fishtail" ones on the base model), drop-shaped tank and very 1950s "streamlined" looks, blind Freddy could see what the designers were intending here. The addition of the screen and bags on this "Classic Highline" variant means you should be set up to ride all day with ease. Other nice features include the exposed propeller shaft, the very American-looking riding lights placed on either side of the headlight, and the high quality saddlebags.
Engine
Make no mistake here, the R 18 is all about the engine. Cartoonish in its size and with enough torque to kickstart the QEII, it makes up a full one third of the bike's overall weight. And it dominates visually, too. Even with the bags, screens and luxo seating on offer, it still dominates the bike's looks and those cylinder heads are as big as they are sticky outtie. Like any trad BMW boxer since 1978, it's oil and air cooled, with the former's cooler sitting smack bang behind the front wheel and quite low, too. Adding to its vintage vibes, the thing also uses camshafts masquerading as pushrods to actuate intake and exhaust valves, which are displayed proudly atop the cylinder heads like some radial biplane from 100 years ago. But the real story here is the engine's character. We'll get into the nitty gritty details soon, but suffice to say that it's the star of the show and not only because of the epic amounts of go it makes. It's also all about vibes – both vintage and the physical kinds – that never let you forget about it or how it makes its power.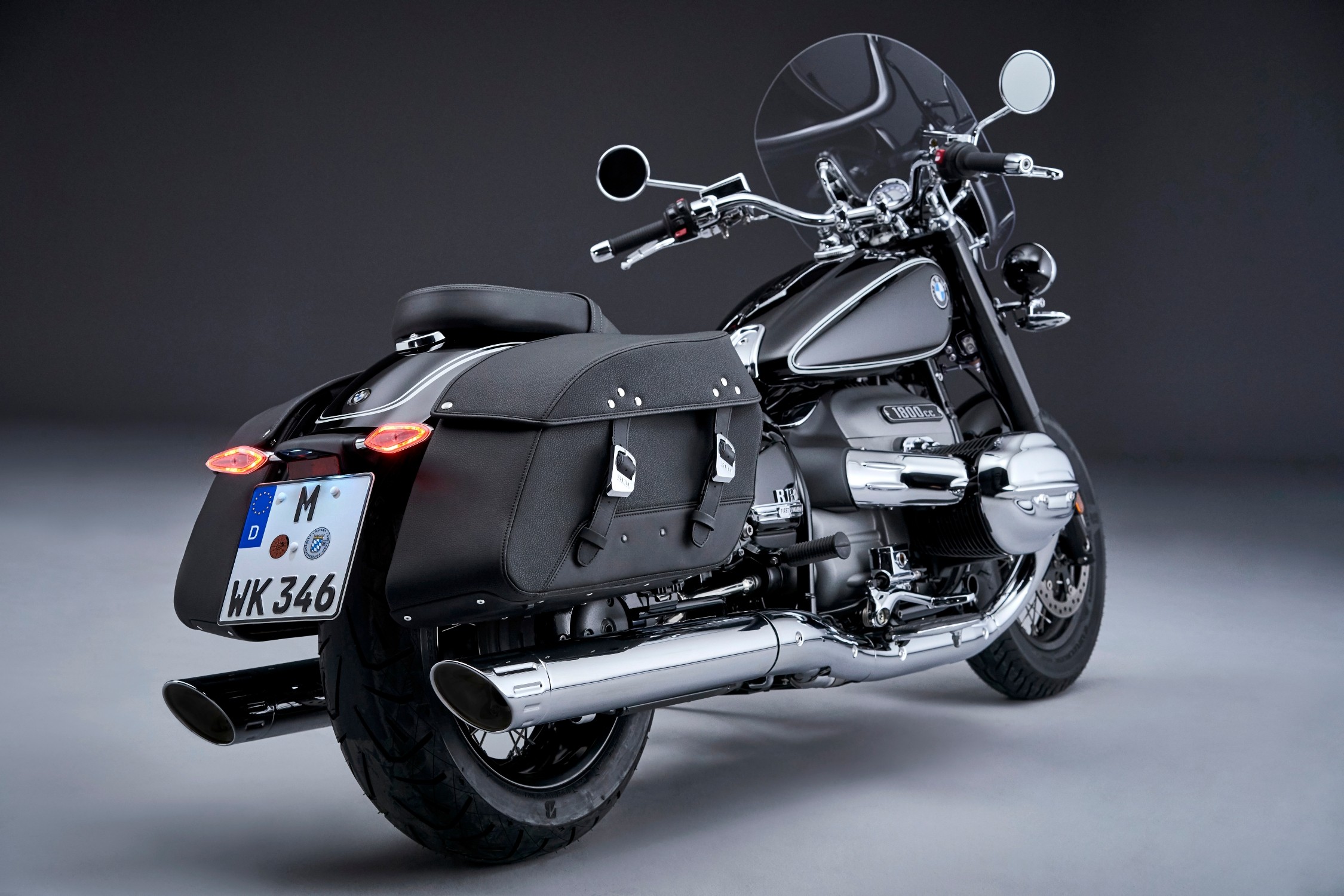 Electronics
While the bike does an impressive job of keeping things old school and simple, it's also a modern BMW and as you might expect, it's not as simple as you may first assume. With traction control, riding modes, a keyless fob, LED lights, heated grips, cruise control, hill start, adaptive headlights, tyre pressure sensors and much, much more if your bank account allows it, the thing is remarkable in the fact that it has a butt tonne of tech yet it's also able to hide it so well. This is mostly achieved by a nicely designed single circular display that looks to all intents and purposes like a plain old speedo, yet the inbuilt LCD readout gives you a heap of data including revs, engine temp, service information, fuel consumption and a whole bunch more. The downside here is that the system is so minimal, the BMW engineers have had to prioritise the way this info is displayed, so should you be (for instance) riding with your heated grips turned on while also using the hill start and having the bike tell you that your first service is due, the information is forced to fight for your attention by cycling or even cancelling each other out. It's not bad, but it is clearly a compromise.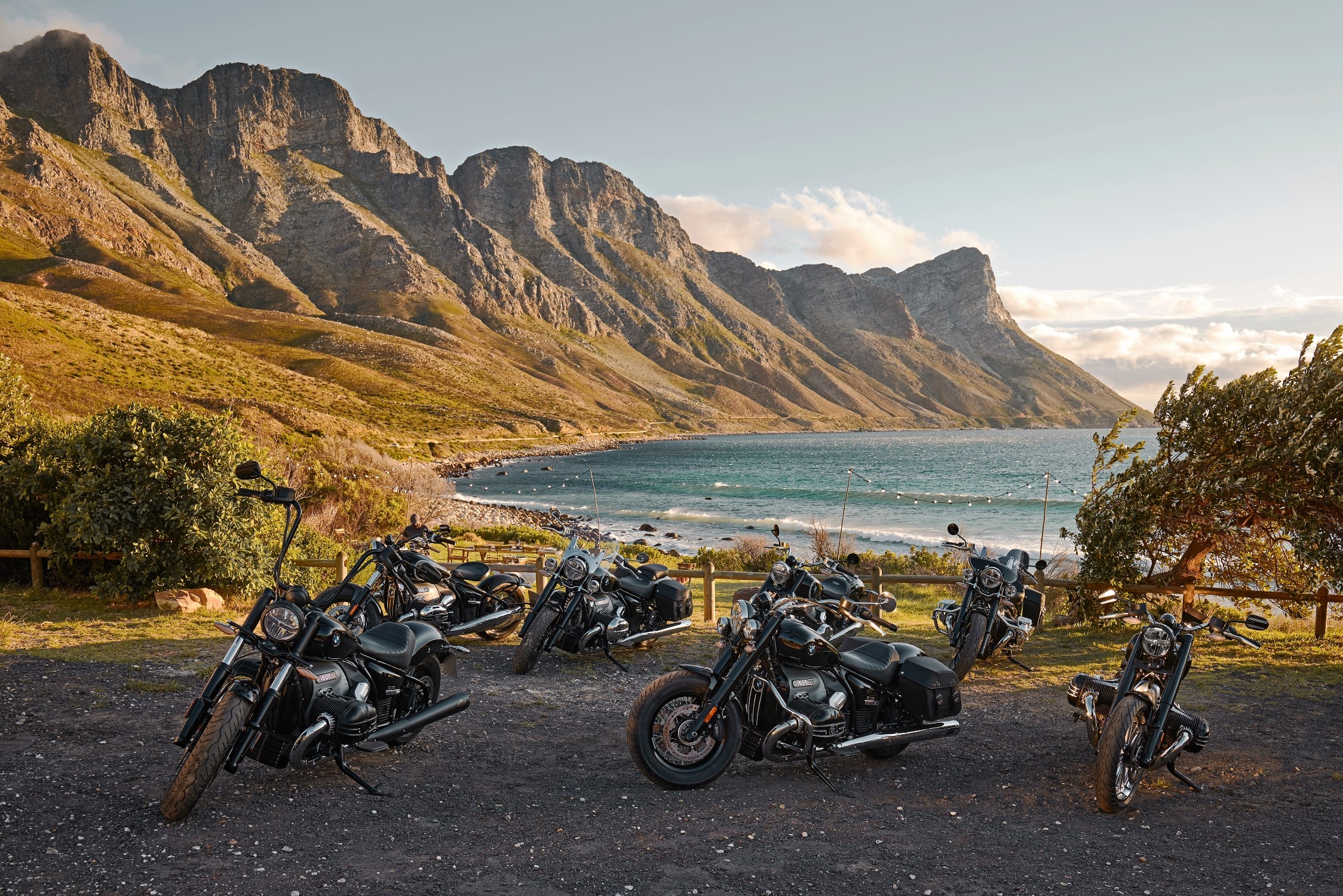 Other Features
The exposed prop shaft is the one feature that really jumped out at me on first viewing the bike in the flesh. Full of "olden days" vibes and possessing just enough of those "are you sure this is safe?" feels to make things cool, it's a real shame you can't see it spinning while you are riding the thing. But once I got over that, it's the bike's clear "built to be customised" intentions that scream out to you. And while BMW had their hands tied behind their back thanks to COVID when the bike was first released, suffering from bone dry supply chains and generally shitty manufacturing outlook, it looks like all the bells and whistles for the bike are now available. Of course, Harley pretty much invented this upselling process whereby a customer on the showroom floor can easily double their outlay when buying a new bike by opting for all the fancy accessories. Similarly, BMW has a raft of custom options when it comes to wheels, seats, pipes, 'bars and shiny bits to make sure that there are as many options available for new R 18 owners as there are drunk guys with beards at the Sturgis rally. I would have put money on the fact that a set of Ape Hangers would never be featured in any BMW Motorrad catalogue, but here we are.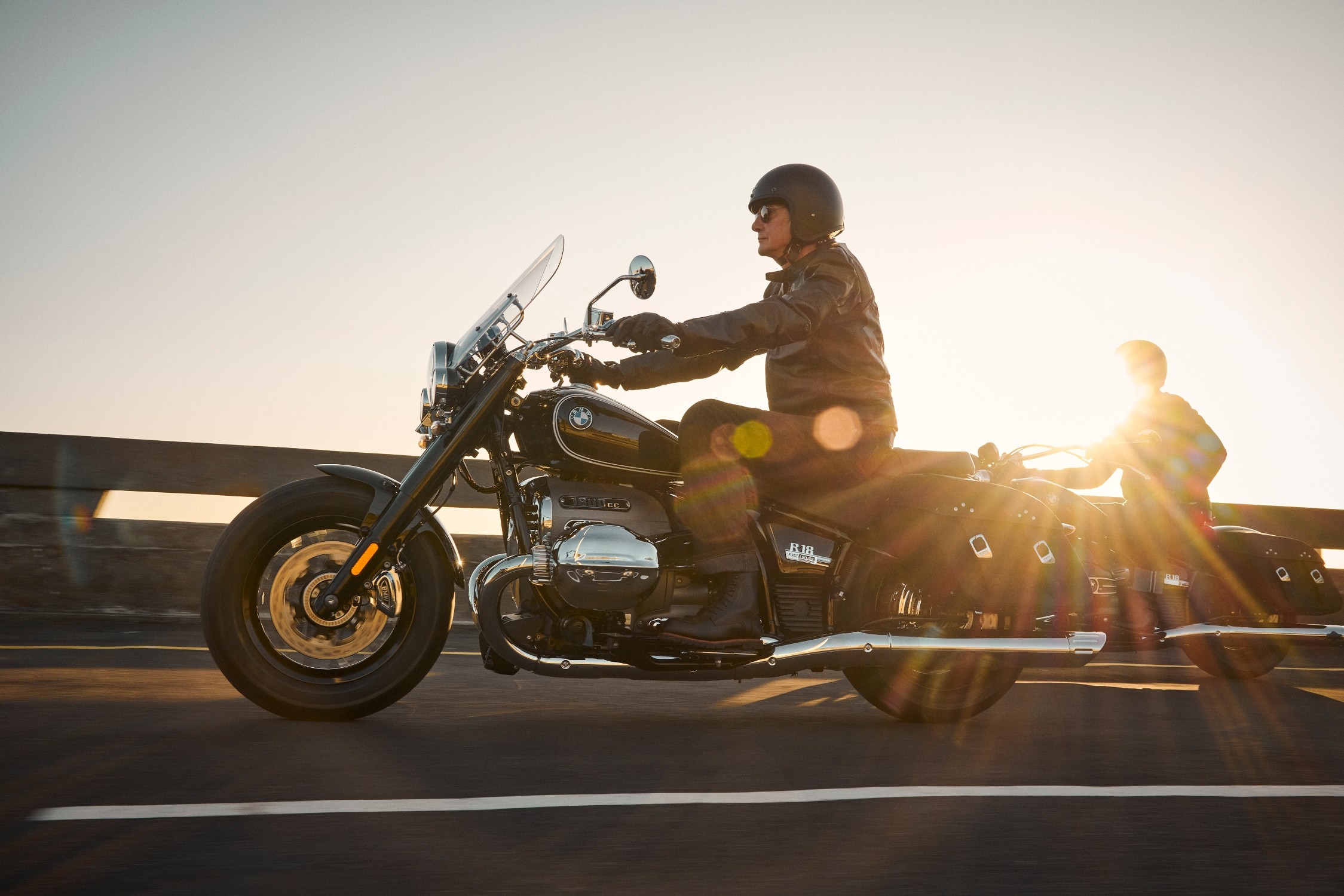 Specs
The gargantuan 1800cc engine is an air/oil cooled two-cylinder four-stroke boxer engine with two chain-driven camshafts. Compression is a comfy 9.6:1, which makes me wonder what it could do with 12:1. The final output is a decent 67 kW (91 hp) at 4750 rpm with a maximum torque figure of a jaw dropping 158 Nm (117 lb ft – 6 more than the 2023 Suzuki Hayabusa and only 7 less than the supercharged Kawasaki HP2) at 3000 rpm. Damn. The R 18's Top speed is just over 180 kmh (113 mph). The tank has a 16 ltr (4.2 gal) capacity with an included reserve of 4 ltrs. Fully fueled and lubed, the bike weighs in at an epic 345 kg (760 lbs) and the seat height is a correspondingly low 690 mm (27 in). My bike was shod with chunky Michelin Commander rubber, with a 130/90 B16 on the front and a 180/65 B16 at the rear.
Initial Impressions of the 2023 BMW R 18 Classic Highline Cruise
I've seen plenty of R 18s before, but their sheer size always manages to impress and/or intimidate me just a little. The dealer rep asked if I'd "be OK" with it. This was a polite way of asking if I thought I'd drop the thing while riding out of the dealership and to be honest, I'm glad that I didn't check the bike's curb weight before I picked it up. Assuming it was probably somewhere in the 290 – 300 kilo range, I felt OK with the upcoming wrestle. Had I known it was closer to 350 kg, I probably would've been second guessing myself and bringing on all the trouble that this incurs. The other thing that crossed my mind was just how much this particular paint job (called "Option 719 Mineral White Metallic" by BMW) reminds me of an American (Californian?) police bike. I knew I should have grown a moustache for this review. Personally, I'd more likely opt for the Black Storm metallic option with the classic BMW pinstriping, but the police look of the loaner is still pretty awesome.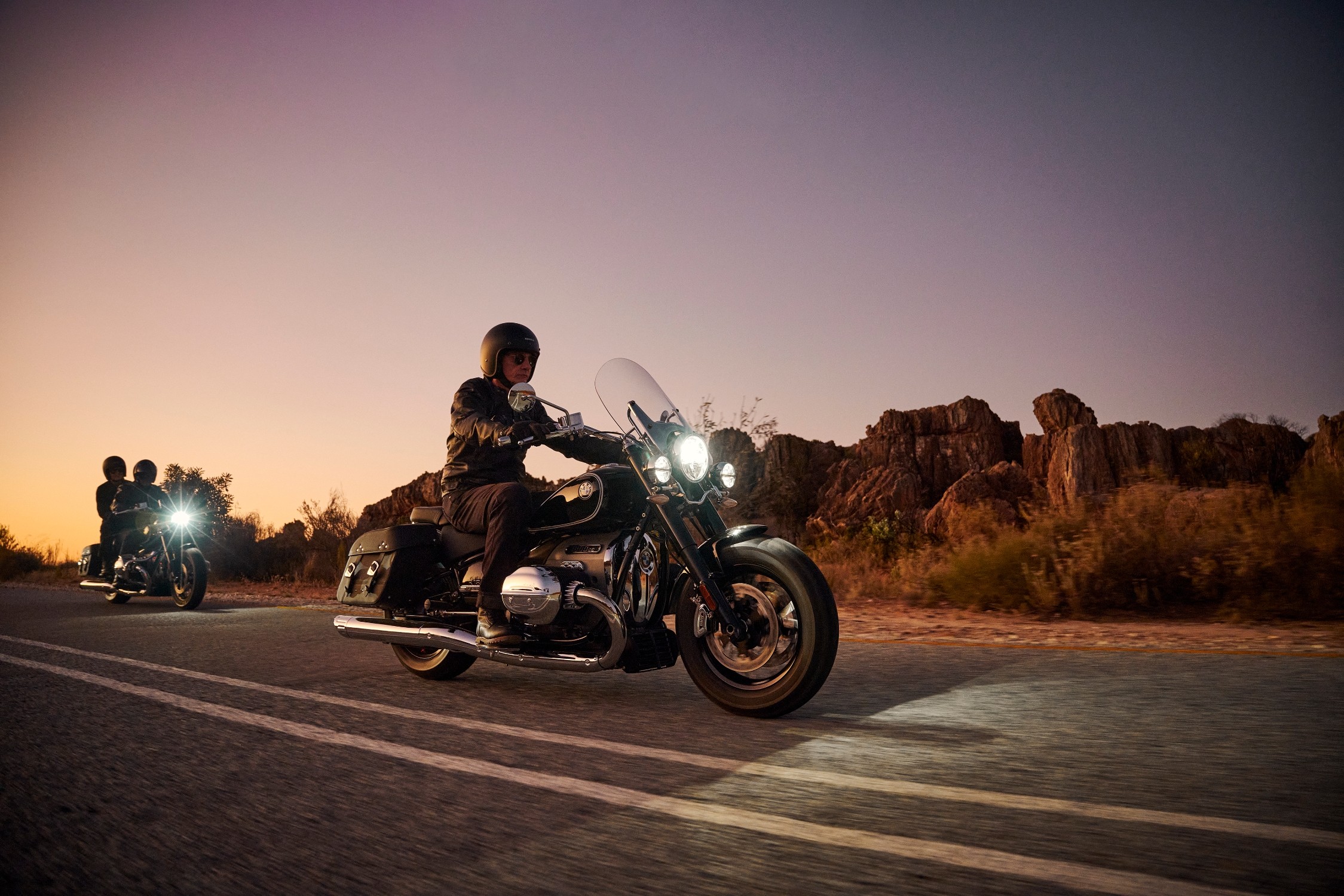 German Pirates
Now is probably a good time to make a frank confession. I'm much more of a cafe racer type guy than I am a cruiser aficionado. Put a gun to my head and make me buy a Harley from the 2023 range and I'd probably opt for a Sportster S or a Fat Bob, but they wouldn't be my first choice for a new bike without the firearm encouragements. So in a way this is an ideal starting point for reviewing the R 18. It's easy to see how a dyed-in-the-wool Harley fan could come at the R 18 in a negative way and get off on the wrong foot with it. But for me, my vague indifference to cruisers hopefully means that I can call a spade a spade and make a fair assessment of the bike. As I stand in front of it in the dealer's forecourt, it does impress. In the grand tradition of speaking loudly and carrying a big stick, it's definitely not a bike for the faint hearted. Big, bold and black, the cylinder heads stick out of the bike's sides like freshly painted boilers jutting out of a rather well appointed and very intimidating 1940s German steam train.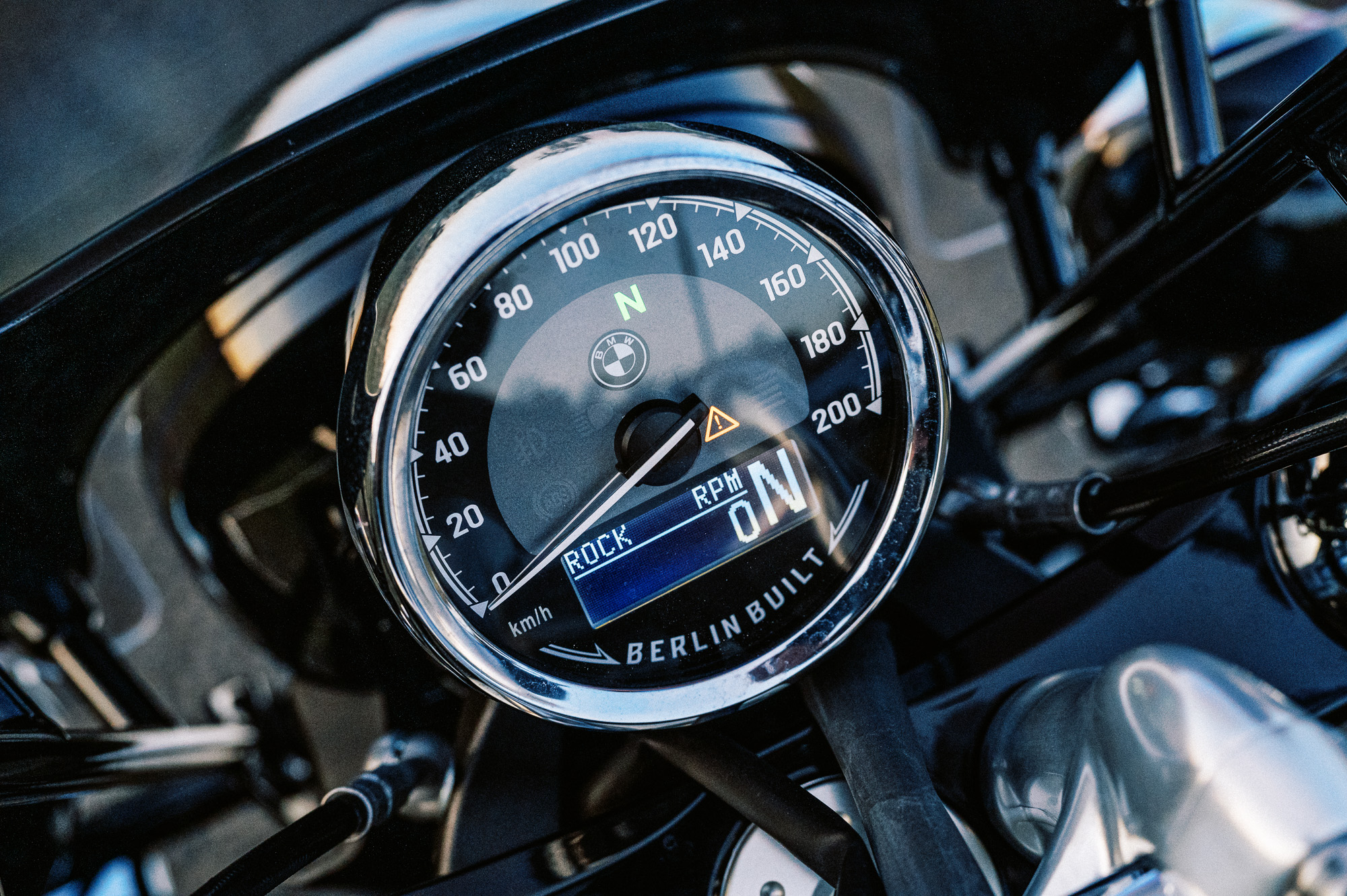 Circling the bike produces some accessory notes in my phone detailing the baggage and how well made it seems to be. It also doesn't take long for anyone to realise that some storage on the back of a bike is always something that always comes in handy. I much prefer this style to the always fugly "top boxes" that never fail to ruin a bike's looks. I scope the round exhaust pipes and remember that I was a fan of the fish tail items present on the very first generation of the R 18. Yes, I know they were controversial, but I kinda liked them as a bold and unexpected choice for the bike. It harkened back to the original style which I've always liked. My mind starts wandering and I recall how much interest the 2019 R 18 concept bike managed to garner. It too had the fishtail pipes on it, but it somehow managed to also look a lot lighter and more airy than the final bike does. With its lower profile rubber and seat, along with its distinct lack of accessories, it had even the likes of us cruiser sceptics sitting up and taking notice. But the final bike proved to be much more chunky and Harley-ish; a process no doubt spearheaded by the BMW marketing and sales departments than from the bike's original designers.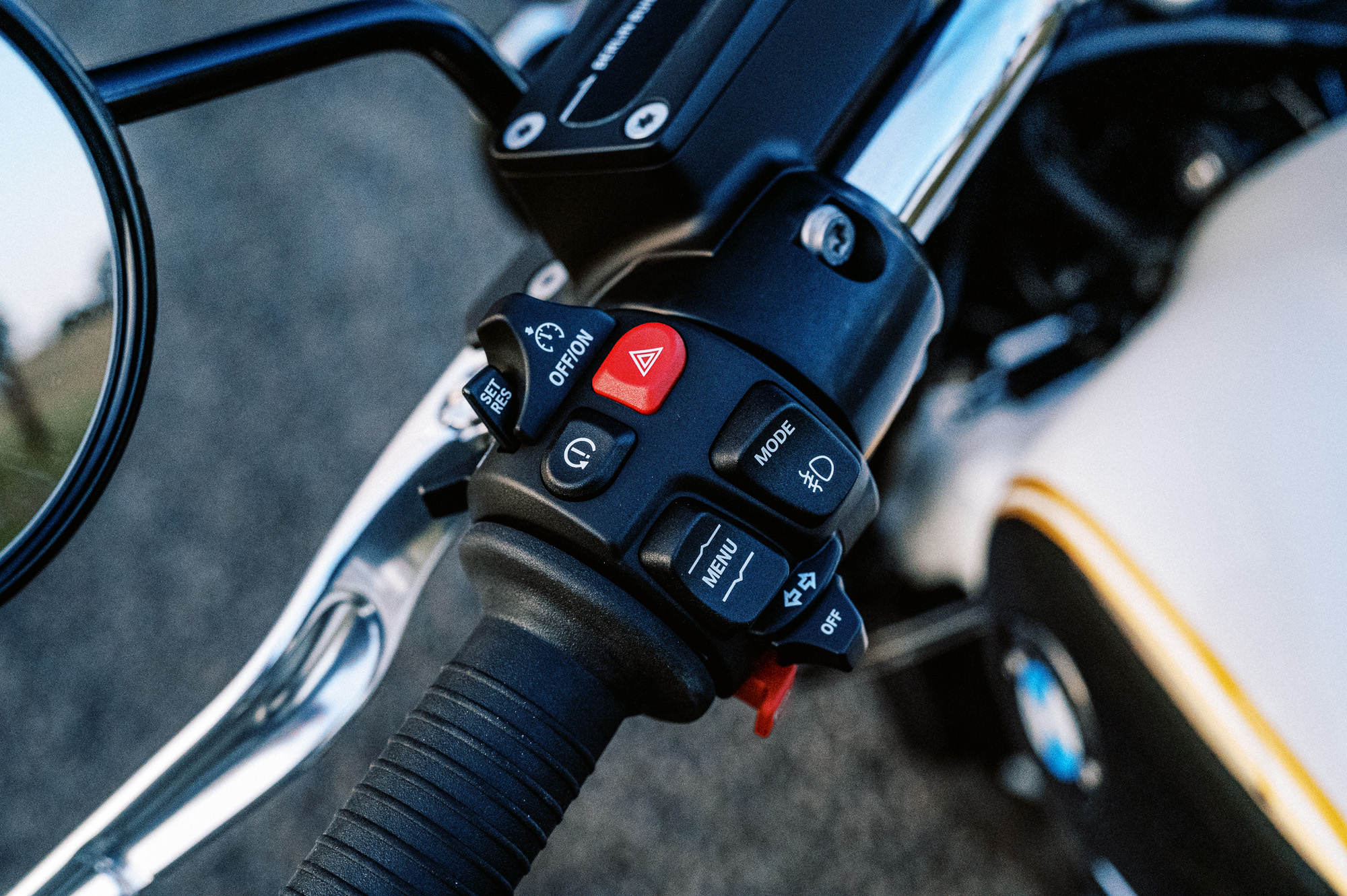 Rock 'n' Roll 'n' Rain
Kicking the bike into life is more a process of inciting a minor earthquake than anything else. Clearly an engineering decision that is as bold as it is un-German, the bike rocks back and forth at idle like a washing machine trying to spin dry a gold bar. The vibes are still present as the revs rise, but some clever Berlin engineer has ensured that there's a constant reminder as the bike sits stationary that this isn't any normal boxer twin. And although it's kind of counterintuitive, chilling at the red light while the bike you're on has its own little dance party is kind of cool. But here's where the bike's riding modes come into play. It's a little confusing at first, but the three different settings available to you are "ROCK", "ROLL" and "RAIN". Sure, rain is pretty obvious – but what about the other two? Well, as I only discovered after I'd ridden the bike, ROCK is the ROCK at idle. Change it to ROLL and it's much more well-behaved both at idle, under acceleration and in how it delivers the torque to that giant donut of a rear wheel. I get it, but also why would you?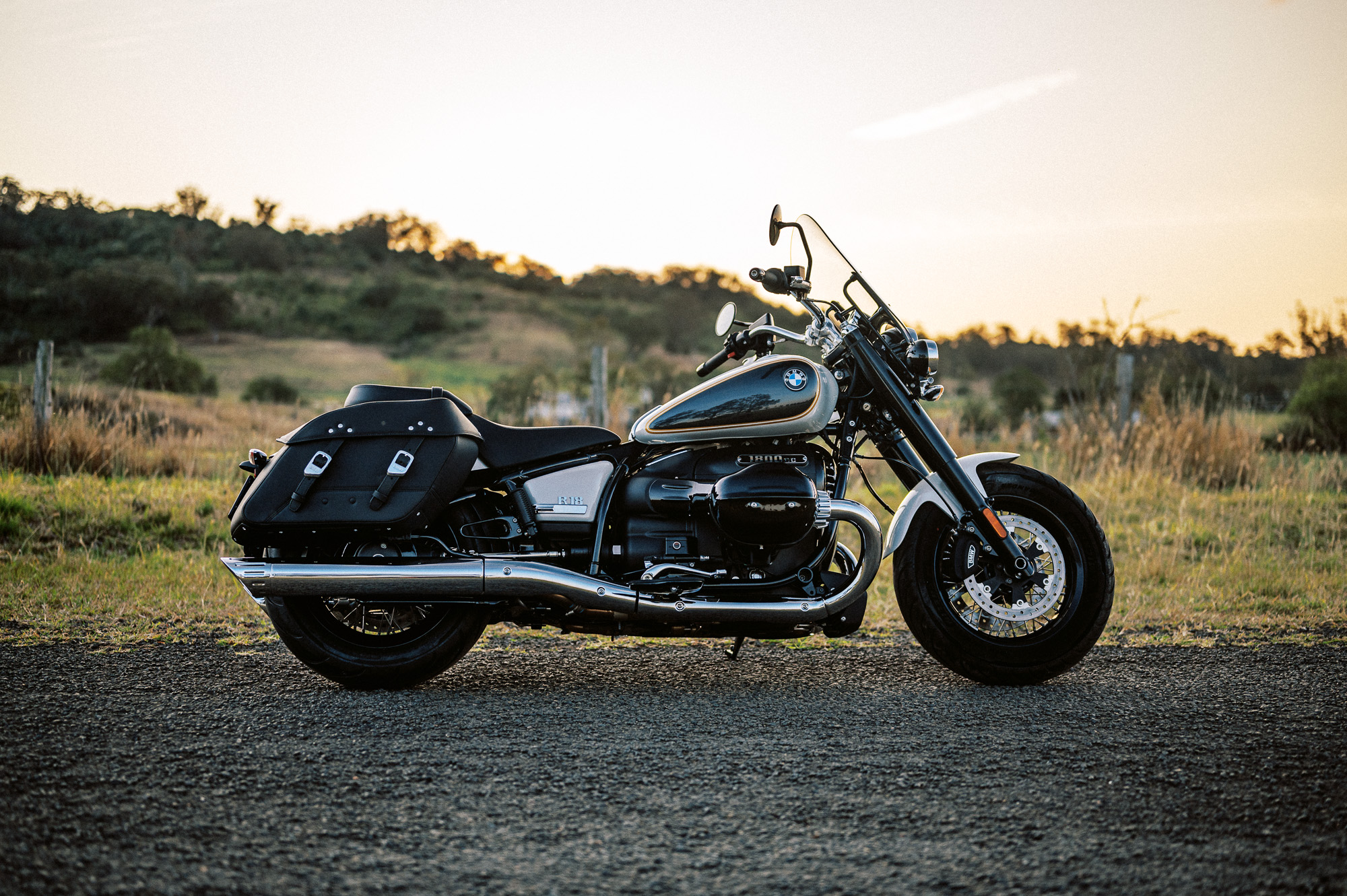 Riding the 2023 BMW R 18 Classic Highline Cruise
Riding in the City
With a bike that's fully 66% heavier than my daily ride, I (and anyone with a few neurons to rub together) will treat the R 18 with the respect it demands – at least until you know its needs and abilities. And this goes doubly at low speeds. While some R 18 models come with a reverse gear, mine was sadly unequipped. As such, there were a few occasions when manoeuvring the bike at low speeds that I got myself into a "oh shit, what do I do now" type situations. Invariably, the answer always seemed to be "do a 12-point turn" which lacks the cool factor but is clearly much cooler than dropping the enormous bastard on its rocker covers. My advice to myself here was to think about my next ride when parking the R 18; if you are forced to spend 5 minutes at the end of a ride slowly turning the thing around in your suddenly-very-small garage, it'll pay definite dividends. Who wants their next sunday ride kicking off a sweaty German wrestling competition against an opponent that is guaranteed to be well about your weight division? Thank himmel that the seat's nice and low; the more leverage I have to move the bike around here the better, and there's no way this thing is being turned around with your tippy toes.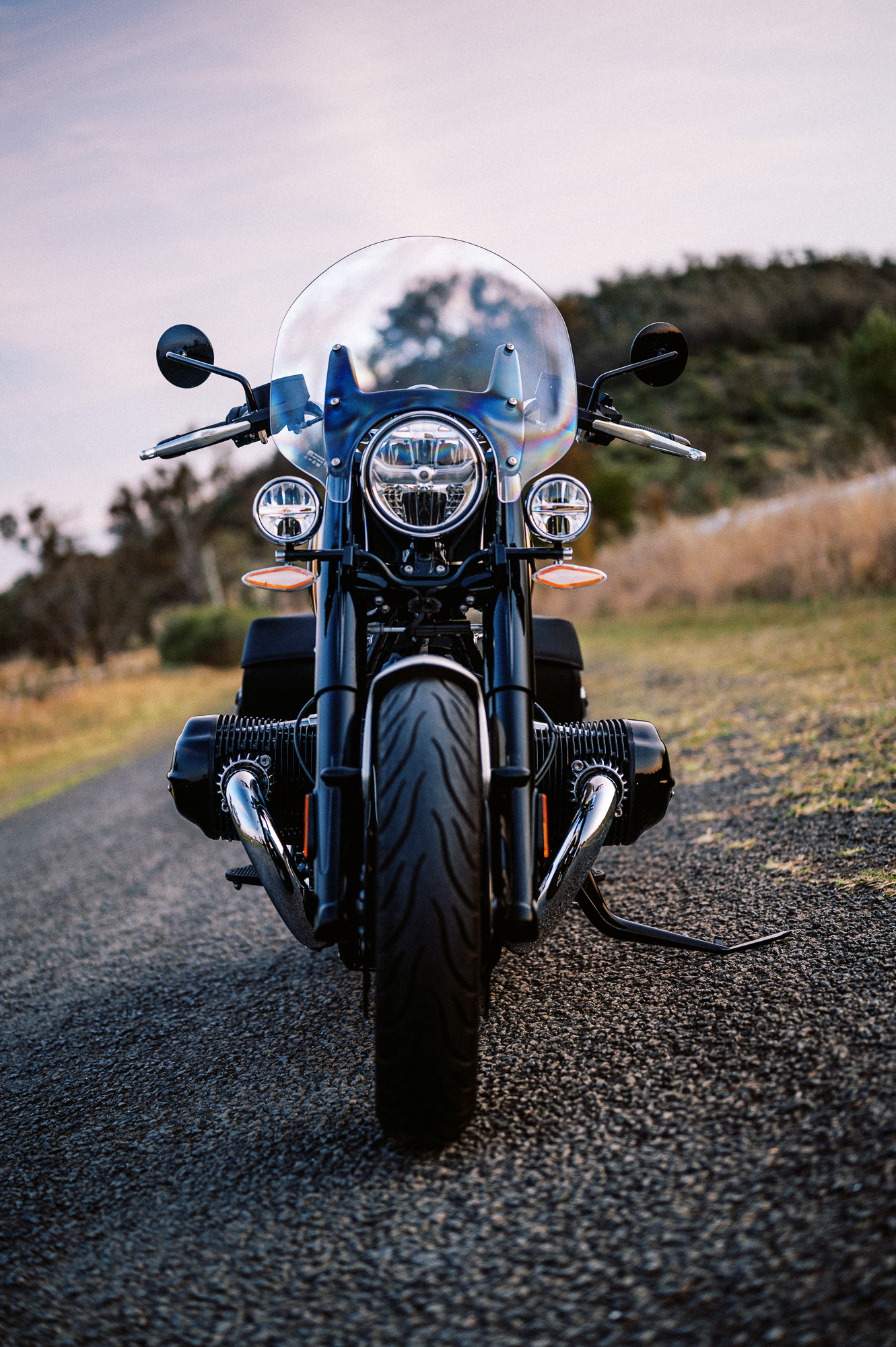 But once you're up and away, things settle down and you fall into a very pleasant groove of low revs, oceanic amounts of torque and that undeniable feeling that yes, you are in fact the King of the Road. Sure most bikes have this in some fashion or another, but there's just something so ego-boosting about sitting atop a big bike on a sunny Sunday. In this mindset, the bike seems happiest at 2500 to 3500 rpms and once you reach the high end of the tacho, the vibes and your feet bouncing around on the running boards suggest in a very clear way that it's probably time to grab another cog. But don't be fooled into thinking that the bike is shy of revs. In a strange engineering feat, the bike is more than happy to blast up the revs from a standstill and you hit the limiter at around 5600 much sooner than you'd expect. But if you're cruising along and you give it some gas, revs in the high threes start to feel a little too vibey and I found myself sticking to that 2500-3500 sweet spot. Unsurprisingly, this is where the engine produces most of its torque, too.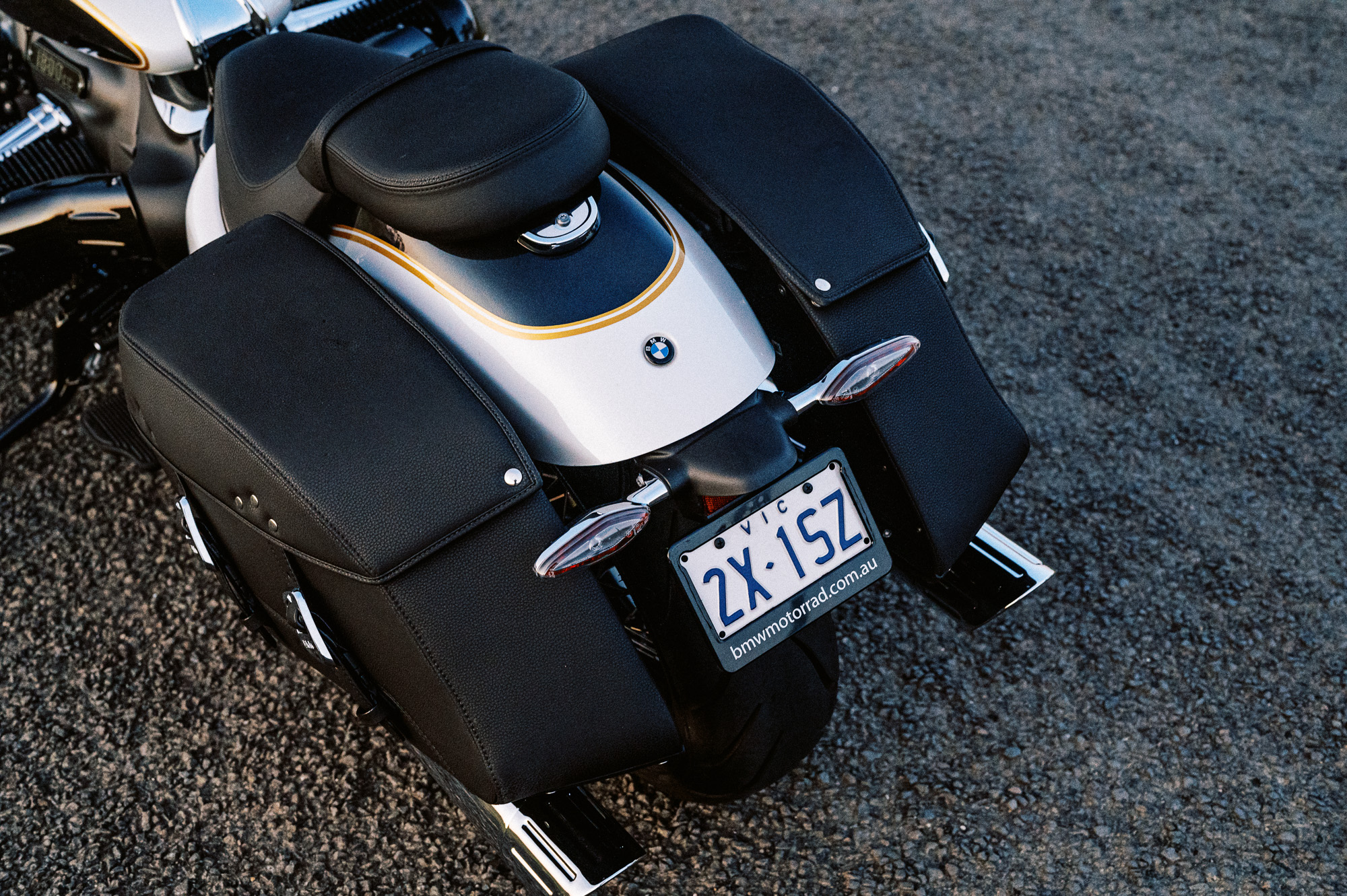 Interestingly, the bike has a certain VW Beetle sound as it barges you around the city and the surrounding suburbs. Now don't take this the wrong way; I'm not saying that the bike is old, or weak or hopelessly retro. There's also a meaty heft to the exhaust note and engine sounds that clearly sets it apart from its four-wheeled German brethren. But it's definitely there. Roll on the throttle and that air cooled boxer melody changes into an impressive roar as the redline approaches. No, it never reaches the angry, pensioner-deafening riot that a Harley does as part of its stock-in-trade. I'm not sure how this experience varies once you start adding the R 18's many exhaust pipe options up, but the ones on mine were definitely on the polite side of things and – to be a little critical – seemed to be underplaying the massive chorus that surely is emanating from this huge 1800cc power plant. And that's a shame. I'd love to hear the Akrapovic can option when it's on song.
Other notes from my collection discuss the fact that the gear lever is unusable in the "normal" fashion with anything resembling proper riding boots on; there's simply not enough clearance between the footboards, the cylinder head and the air intake to allow it. So you either risk your toes and ride in sneakers, or you're forced to change gears using the heel lever. And how good is having storage space on a bike? Personally, I'm just so damn used to either taking a backpack or going without, but riding the R 18 around and suddenly yes, as a matter of fact I will stop by the local shops for some Friday afternoon beer and chips. I can see exactly why Harley riders are sometimes a little on the heavier side of things. Damn you saddlebags. Damn you and my waistline to hell.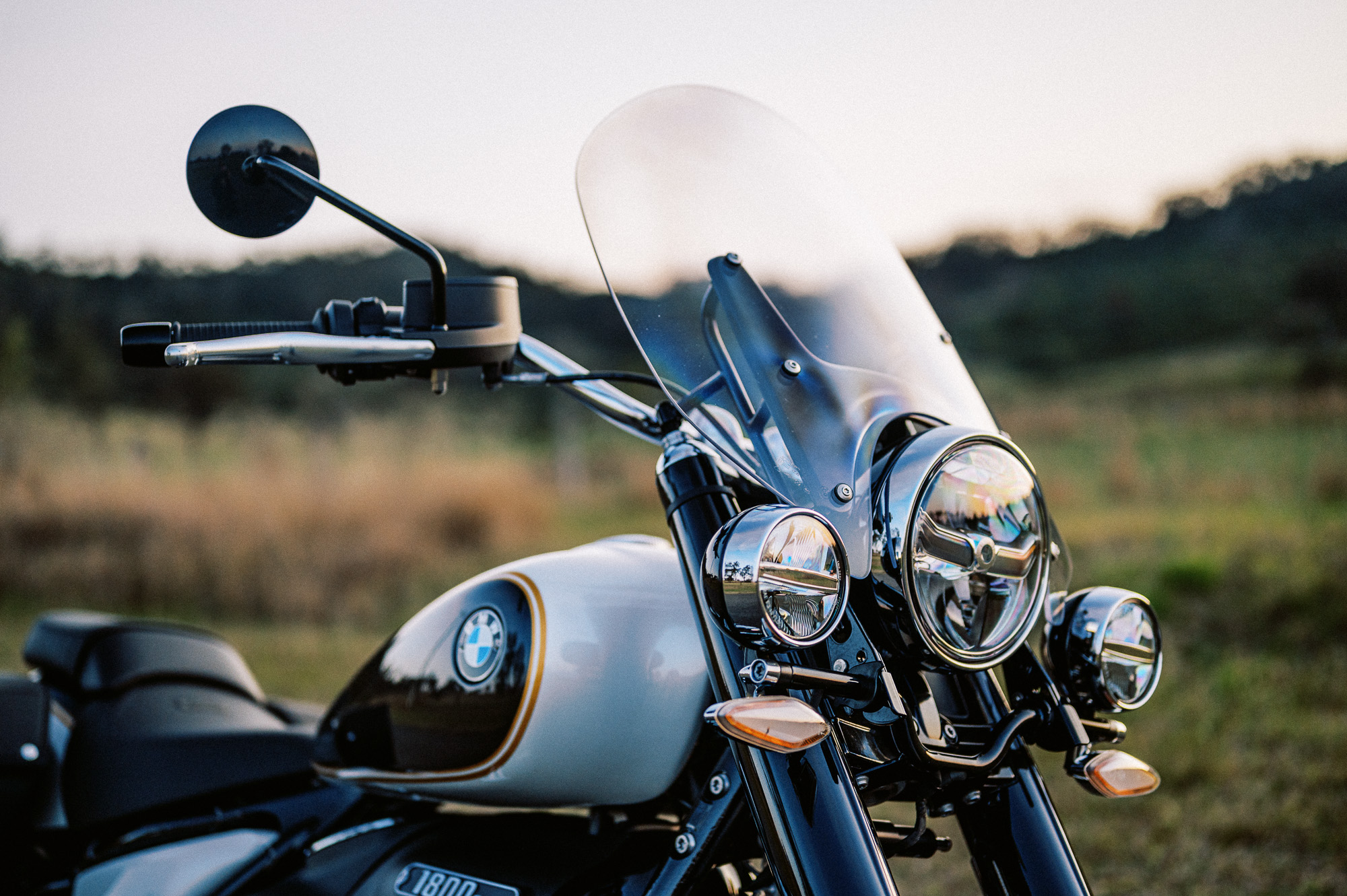 Riding in the Curves
I'd like to apologise in advance to BMW Motorrad Australia for the absolute torture I inflicted on the pegs under the R 18's footboards during my loan. At one point I even got down on my hands and knees and inspected them to make sure I wasn't about to start sacrificing the boards themselves. And this scraping wasn't limited to just the curves; I was getting them down pretty much everywhere. No, this wasn't anything really to do with the R 18. Sadly enough it was more to do with me reigning in my enthusiasm and learning that the R 18 prefers to be ridden in a certain way. Just like the engine's polite hints that there's no real need to go above 3500 revs, the bike's lean angle also delicately prompts you that no, those sparks flying up from under the bike aren't cool or fun or normal. So this is what cruising's all about, hey? I could get used to this. One gear. No big leans or any gymnastics through corners. Like surfing on a longboard, everything's very smooth and the board's size and weight seem very forgiving. But this is nothing new for anyone familiar with this style of bike.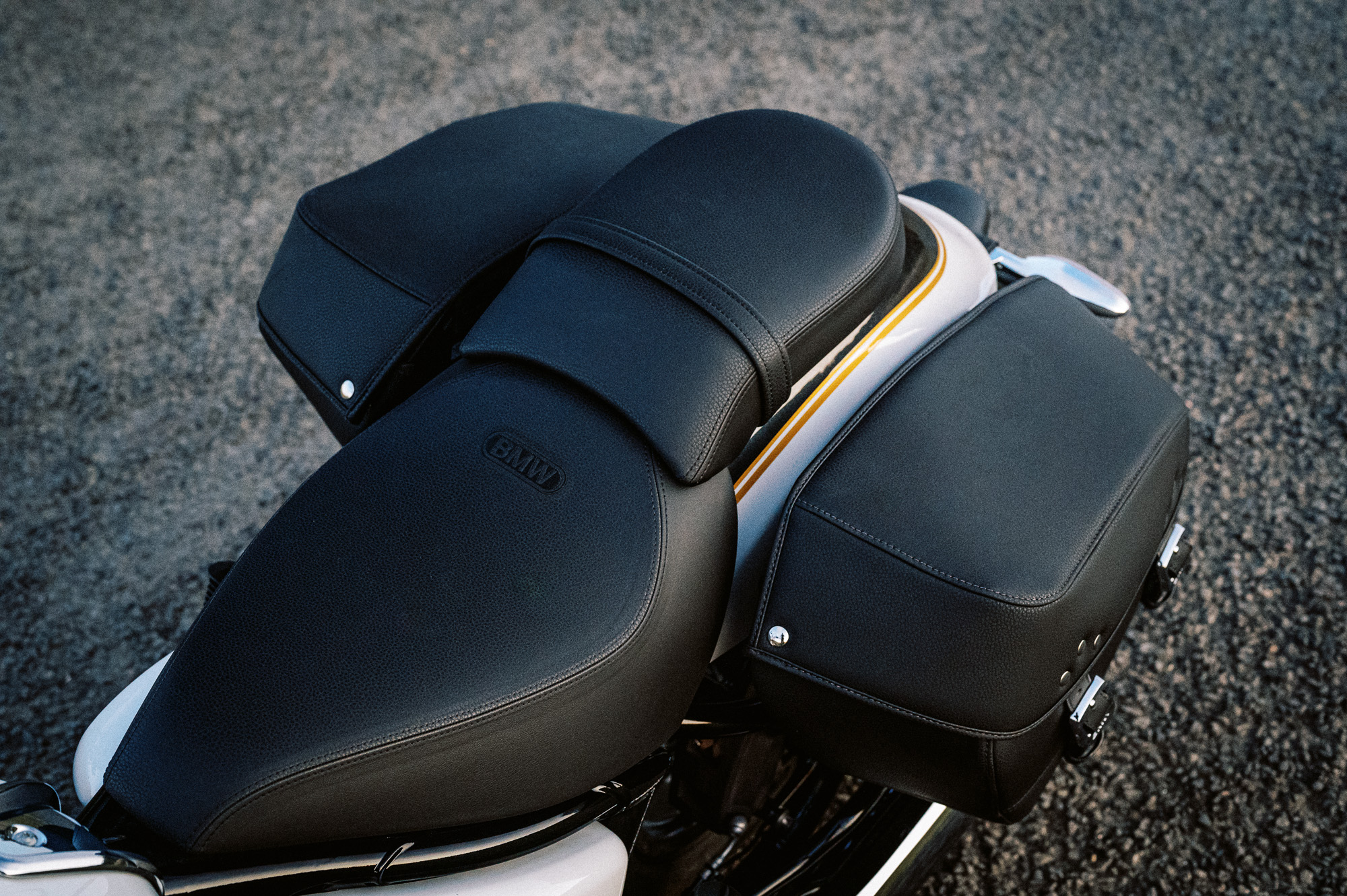 Shaken out of my smooth cruising dreams, a learner in a small yellow car pulls out from a side street and onto this, the go-to Sunday ride road for a large part of Sydney's motorcyclists. To be honest, I think my parents probably brought me here to learn how to drive too. But not before I had terrorised the quiet industrial back streets of the Sydney suburbs with my snail's pace and properly learnt how to keep up with the general flow of traffic. But not this family. The speed limit through the "Nasho" is 60 kmh. Most riders will know that the local police – while always on the lookout for riders really pushing things – will ignore fines for speeds below 80 kmh.
But here's a learner doing 40 kmh; in other words half the speed most two-wheeled traffic behind it is used to. But I get it. To the uninitiated, this seems like a quiet country road. In a move which I instantly regret, I choose the worst possible place to overtake in the entire park and roar past the terrified L-plater through the deep forest "Lady Carrington chicance." Ironically it's the only one on this entire stretch of road. Yes, I'm an arse. But unlike my judgement and patience, the R 18 doesn't miss a beat and we leave the young learner and their undoubtedly angry parent in our leafy, sparking wake. Sure it's 345 kilos and it touches down at the blink of an eye but boy did it take this dumb move in its stride.This sure proves a point; monstrous torque counts for a lot when you find yourself in a sticky overtaking situation.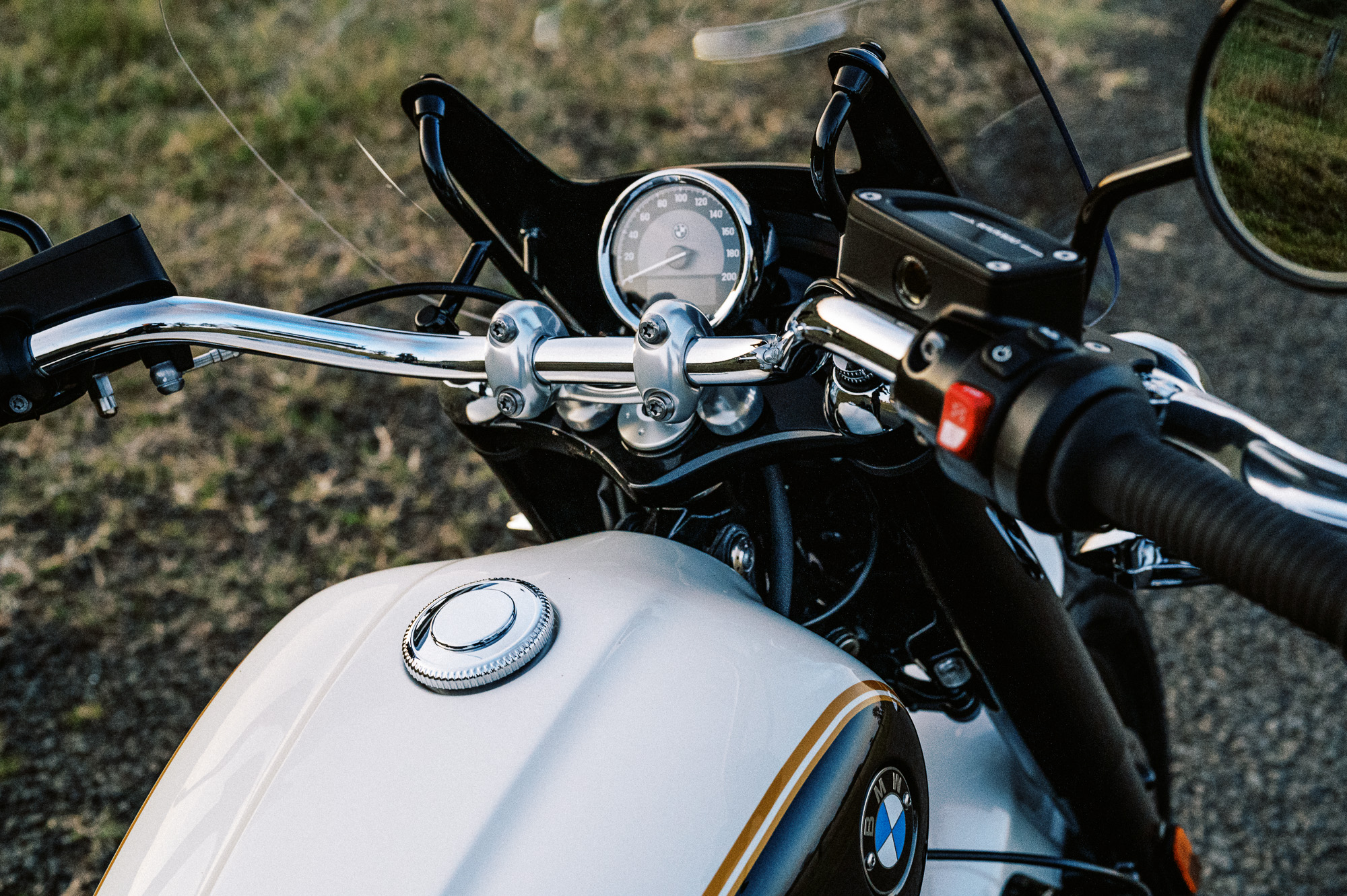 Best Foot Forward
Much fuss was made by the general public on the bike's release when they noticed that the R 18's cylinder heads rule out any chance of those classic cruiser "foot forward" pegs as options. Sure, you can rest your legs on top of them if you need a change of position on long rides, but I didn't really understand the criticism at the time and I'm even less convinced now that I've ridden it. With the possible exception of tall riders and people with go-go Gadget legs, the R 18's riding position is just about as comfortable as is physically possible on any motorcycle, let alone one this luxurious and long. Yes, there's an inherent balance between the low seat height and the placement of the foot boards to make sure your knees aren't too folded up, but anyone who outright rejects the R 18 as an option on this issue alone is either bloody minded or they own shares in a recliner furniture company. Yes, it's your god-given right to shrug this argument off and retort with something as basic as "I like to ride that way!" Personally, I'm not all that fussed and I've also been stuck in traffic on a foot-forward bike and boy, does that up and down get old quickly.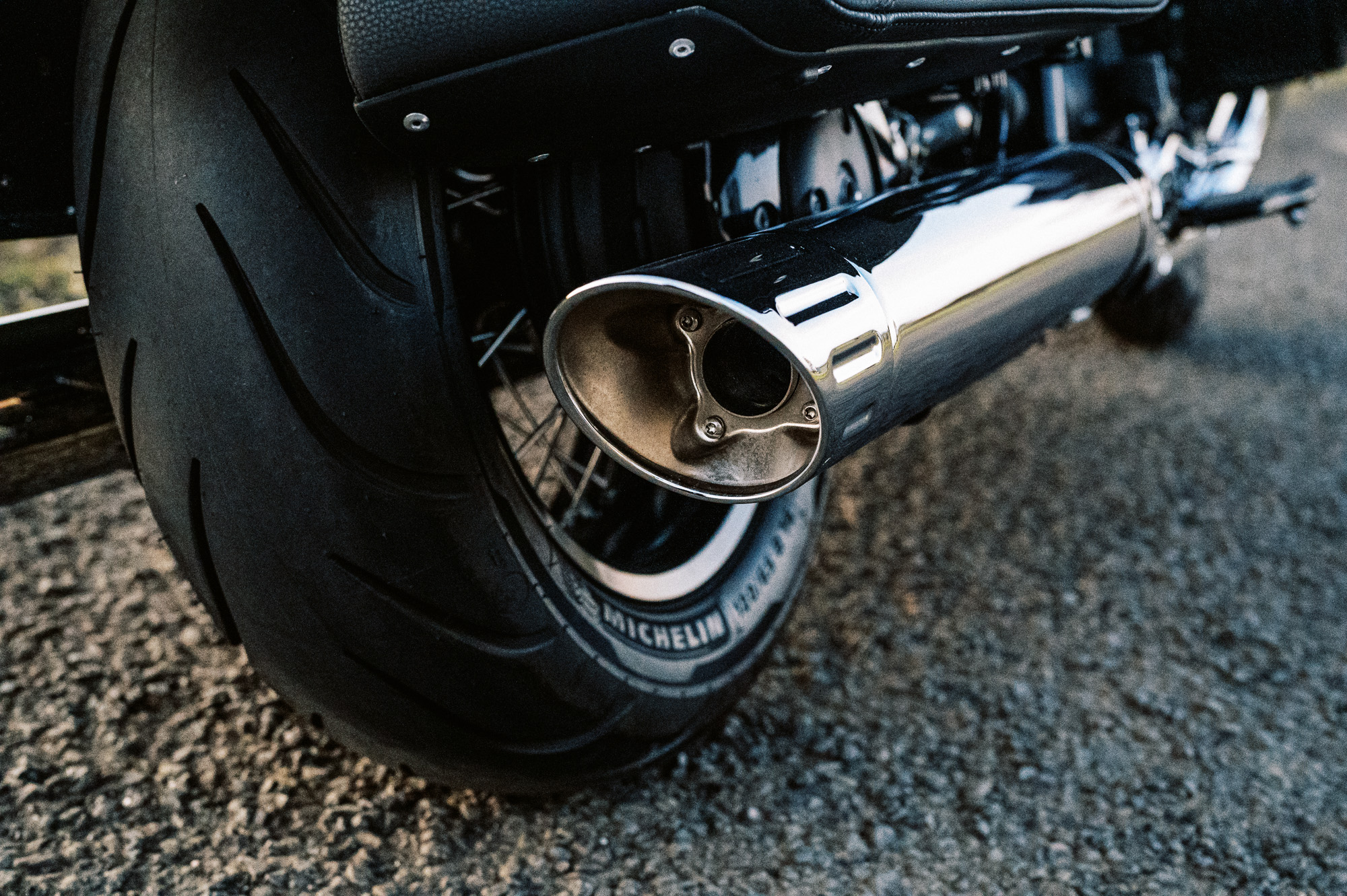 Now I'm out on a fast freeway and hopefully right into the R 18's prime hunting ground. Of course, it sings here. I'd be genuinely shocked if it didn't; this is its raison d'etre. The long wheel base. The low, substantial weight. The big tyres and all that torque. Here we are, and the bike is loving it. In sixth gear, the revs are at 2600 and everything is perfect in the world. Overtaking is accomplished so easily and so quickly it's like the bike is humble bragging about how good it is. The cruise control is up to the same usual BMW standard, so it's refined and easy to operate. A quick test with both my hands on my hips sees the bike tracking straight as a die and without any form of saddlebag-induced wobbles or wandering. My natural akimbo stance cools my legs in the still-not-quite-spring Sydney breeze, but tucking them into the tank protects them nicely. Vibes are pleasant without being overbearing and everything is in its right place. It's now that the "more polite than Harley" exhaust note makes sense; I could do this all day as the balance between 'tood and character seem pretty much perfect so the bike's roar doesn't get too annoying.
My attention turns to the screen and I note that my head is being buffeted in the wind. As the speed rises, so does the turbulence. Ducking down, things improve but there's no way I could ride for any length of time hunched over like this. Flipping the test, I raise myself up on the 'boards and find the clean air just above the turbulence. Both are a relief and I've only been on the freeway for 60 minutes or so. I hold up my left hand and the results are the same. There's a storm of wind that seems to be aimed directly at my helmet. And it's not just a little storm. I recreate this issue on subsequent rides and a little voice in my head tells me to get all DIY on the bike by removing the (non-adjustable) screen to see what things are like without it. But I resist, settling on the thought that the screen just isn't cutting der mostrich. No, screens and bike aerodynamics aren't a simple problem to solve. And sure, perfecting this kind of stuff is hard thanks to infinitely variable rider heights and helmets, but my average height and mix of garden-variety open and closed-faced helmets proved that it was a constant on any roads where speeds got above 80 kmh. Ouch.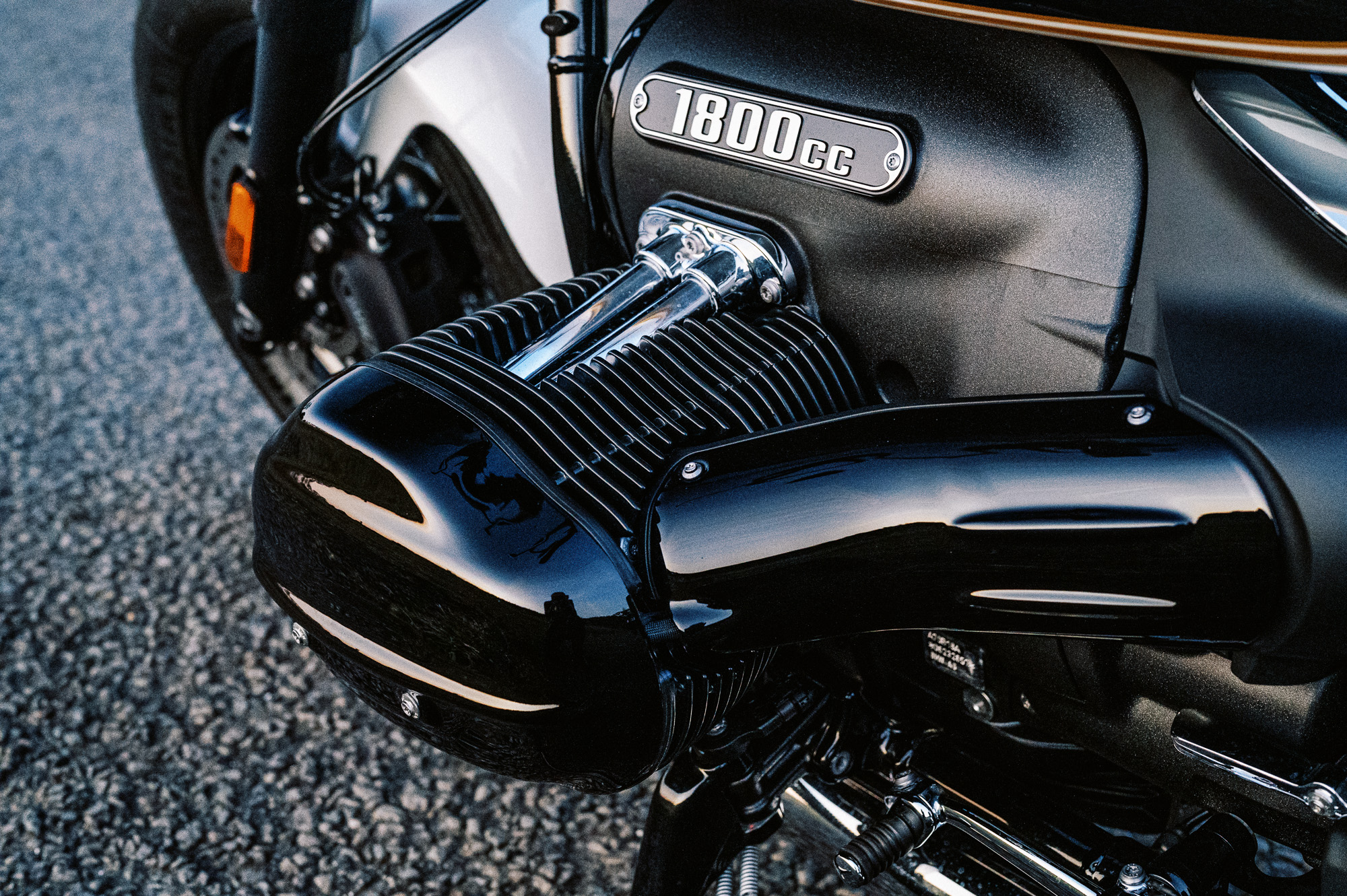 What Could Be Better on the 2023 BMW R 18 Classic Highline Cruiser
I don't think I'm being unreasonable when I say that a cruiser would make you want to – you know – cruise. And then some. One minute you're out for a quick blast and the next thing you know, you're in a different state and the sun is setting. So I'd really like to think that a screen designed to reduce the wind blast would make things better and not worse. As it stands, I began to imagine the headache I'd have after a full eight hours in the saddle with all that constant buffeting. Like a lot of this stuff, it seems like a minor issue at first but the effect builds up over time, as does the annoyance. If this were my bike, I'd be back at the dealer quicksmart asking them why it was happening and how they'd fix it. Otherwise it'd be goodbye screen. What's the point of paying for it if it only makes things worse? Your mileage may vary, but for my height and my helmet, it wasn't up to scratch.
I would have also liked to hear a bit more of that awesome engine's vocal chords coming out of the pipes and I would have liked the reverse gear included as standard, not as an optional extra. But if you countered that thought with a point around my distinct lack of cruiser-wrestling experience, I'd probably have to agree. I guess the task becomes easier as you learn what's what and develop a better sense of what the bike will and won't like when it comes to low speed garage and parking moves.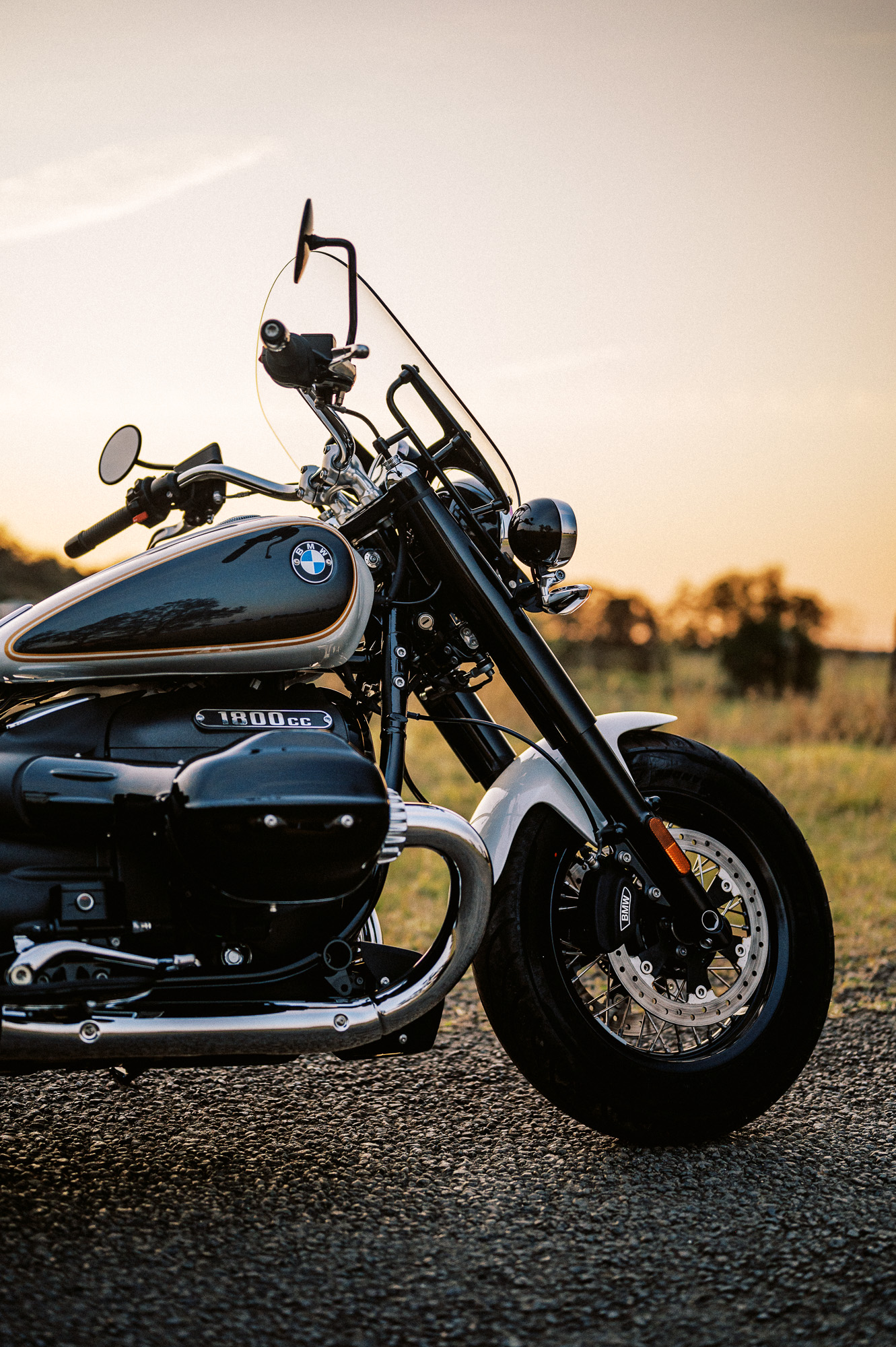 Final Thoughts on the 2023 BMW R 18 Classic Highline Cruiser
To finish this thing off, let's do a little role play. You are in the market for a big new cruiser but you don't want a Harley thanks to all the questionable brand baggage that comes with owning your own little piece of Trailer Park 'Murica. You've also ruled out a Japanese bike because you already have a litre sportbike in your garage. That leaves you with a surprising small list that contains only two bikes; the R18 and Indian's Super Chief. Talk about Harley market domination. And even if you decide to include the Japanese options back into the mix, would you really choose a Suzuki Boulevard over an R 18 or an Indian? Ironically, this also shines a light onto the core issue here. Harley (and to a lesser extent, Indian) own this segment like Google owns internet search or McDonald's owns cheeseburgers. Wanting a cruiser but not wanting a Harley is nothing if not masochistic or just plain illogical. BMW has bet the farm on this type of customer but as someone who knows a little bit about marketing alongside writing overly verbose motorcycle reviews, I'm just not sure that in 2023 it's a big enough target to hit while also making a profit.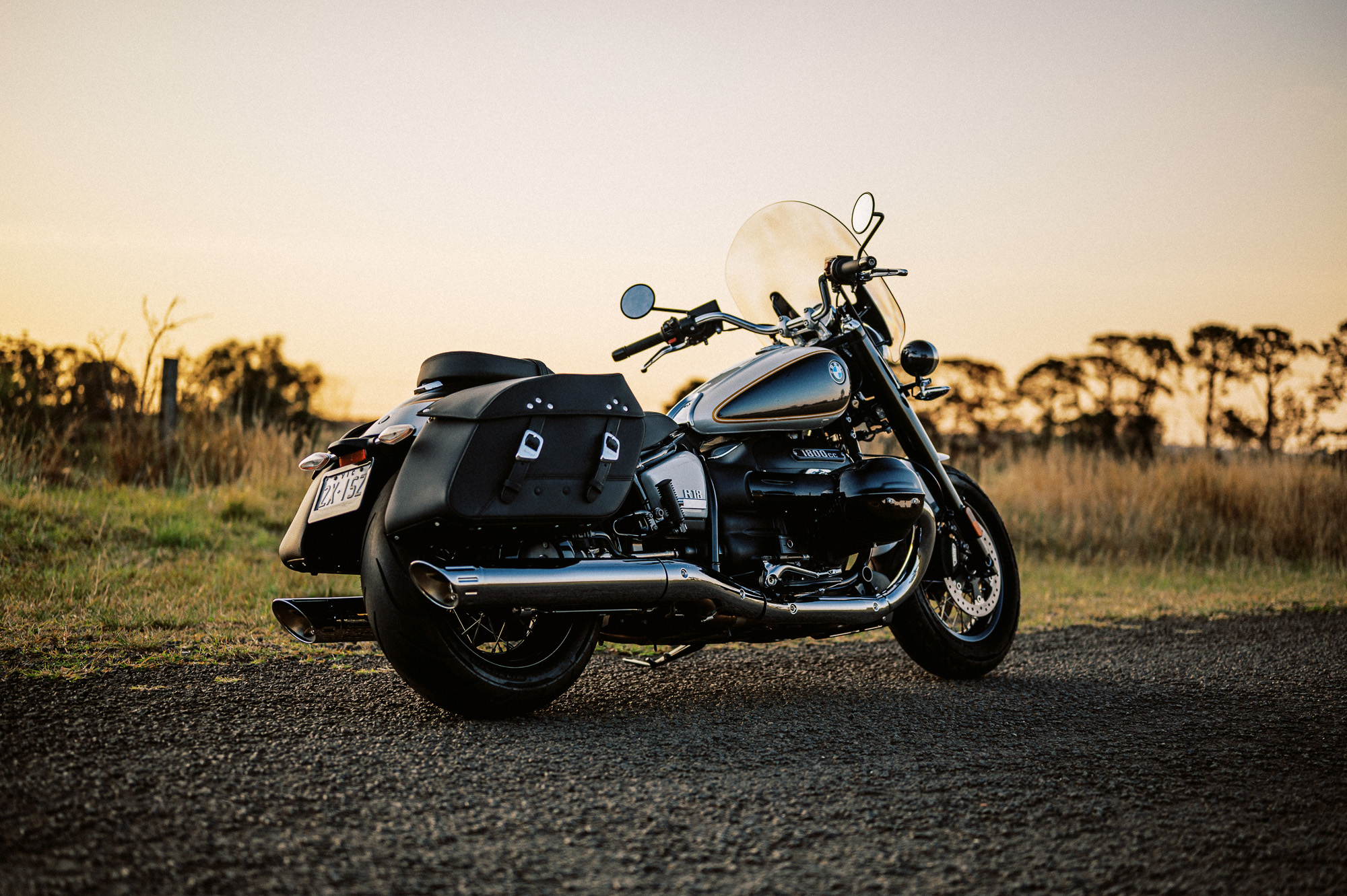 History tells us that BMW is in the game for the long haul and you'd have to be high or supremely naive to suggest that the cruiser segment is done and dusted. Trends rise and fall. So do bike genres. And while there are plenty or armchair experts on YouTube proclaiming that BMW isn't selling enough R 18s and how it's destined to fail, you could say the exact same thing about Harley or Indian bikes, too. Making bikes that sell is a tough business and the amount of money that needs to be spent on them before they magically appear on your local showroom floor is astronomical. This isn't the Berlin giant's first rodeo either; they know this is a long game and that making a real splash in the cruiser segment is going to be a long, hard road to ride. After all, they've been doing it for over a 100 years now…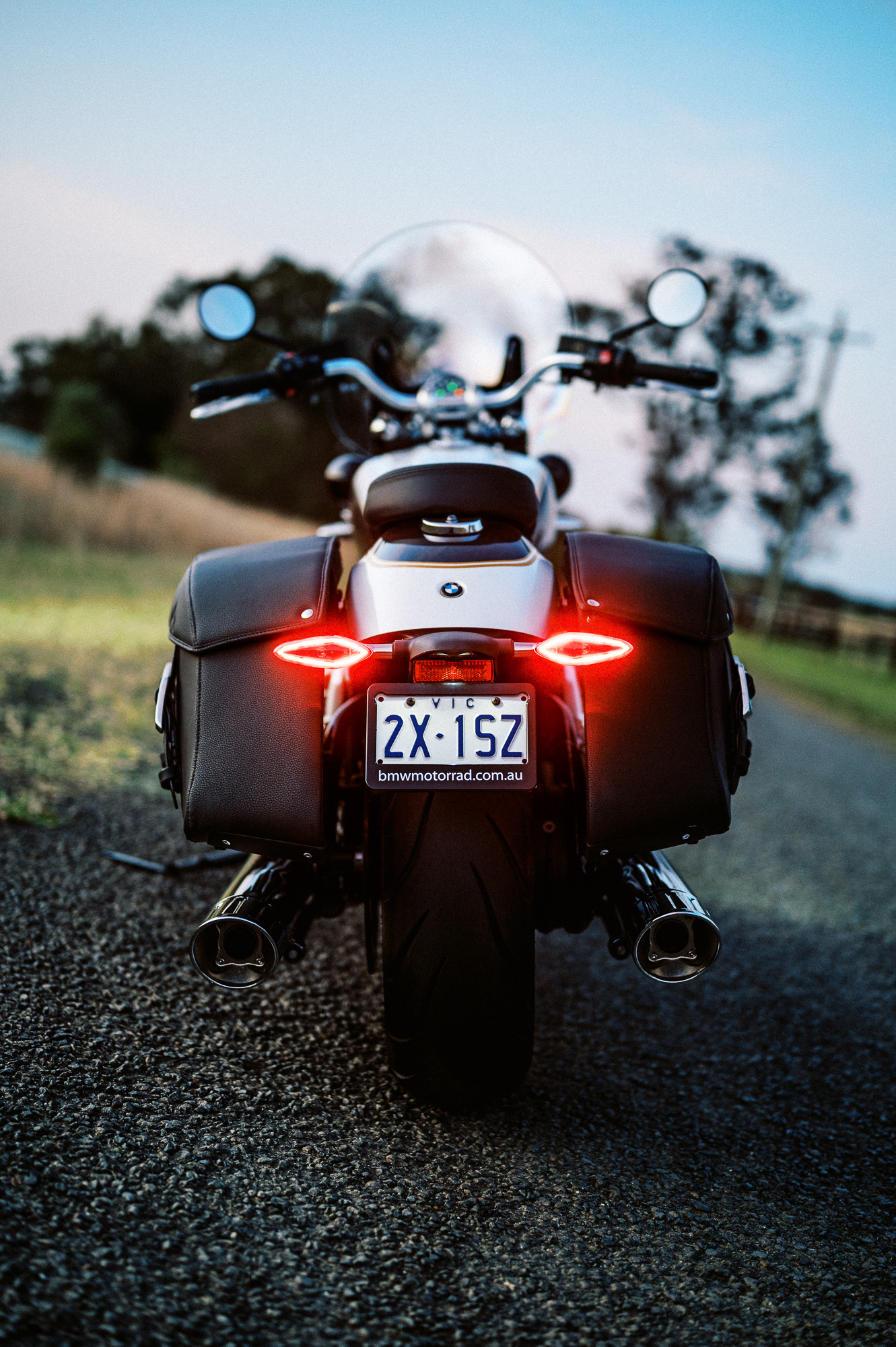 But I digress and that's not really an issue for you and I, is it? As a rider who may be thinking about buying a big cruiser, I can – hand on heart – say that the R 18 is a genuinely good choice. And it's also the one I'd be making if I were to be in the market for a bike like this. I'm just not a Harley guy and I know that BMW is essentially the same company it was 100 years ago, whereas Indian spent 50 years out of action before it was revived in 2011. This may not matter much in 2023, but I've always been more of a boxer twin kind of a guy than I have been an Indian v-twin fanatic.
If you want a Harley, by all means get a Harley. It'd suck going with something other than what your heart is telling you to do. Just go for it. But if you think that there's more negatives than positives for you as a cruiser rider if you hitched your life to the Milwaukee Bandwagon, then the R 18 is pretty much all upsides and very little down. The engine is a brutal work of art that also knows when to take centre stage and when to shut the hell up. The build quality and reliability is going to be hard for any Harley to match and the bike's refinement is something that will likely impress in the long term over and above a Harley's charismatic "livin' for the moment" rebel yells. No, the R 18 isn't going anywhere in a hurry. It's too good for that. Mark my words when I say that it's here for the long run and similarly if you're the kind of rider that likes long runs involving relaxed, torqued-out cruising, then you best not ignore this Berlin brute.
The 2023 BMW R 18 Classic Highline Cruiser
General Info

Price: $15,995 USD / $16,995 CAD
Key Features:
ASC Stability Control
Keyless Ride
LED lighting
Multiple riding modes

Main Specs

Engine: 1,802 cc air/oil cooled two-cylinder four-stroke boxer
Power: 91 horsepower
Torque: 116 lb-ft
Weight: 761 lbs (345 kgs)
Seat Height: 27.2 inches (690 mm)

Competitors

Harley Davidson Heritage Classic
Kawasaki Vulcan 900 Classic LT
Indian Super Chief
See Also: 2023 BMW Model Lineup
Pros
Engine is a a beast with oceans of torque and mucho character
It handles and accelerates better that you'd expect
A quality bike with near-perfect fit and finish
It's not a Harley
Cons
Where fitted, the factory screen buffets your helmet at freeway speeds
Gear lever feels cramped in its position under the massive left cylinder head
Exhaust note is a little too polite
It's not a Harley
2023 BMW R 18 Classic Highline Cruiser Photo Gallery