Yamaha Blaster Specs, Weight, Horsepower and Top Speed
The Yamaha Blaster is a 324 lb all-terrain vehicle manufactured by Yamaha Motor Company from 1988 until 2006. It has a 17 horsepower engine and a top speed of 55 MPH. Blaster owners will best remember it for the specs it doesn't have. The Blaster has no reverse, no automatic clutch and no electric start leaving it behind some of its competition in terms of model features, but that doesn't matter to Blaster owners.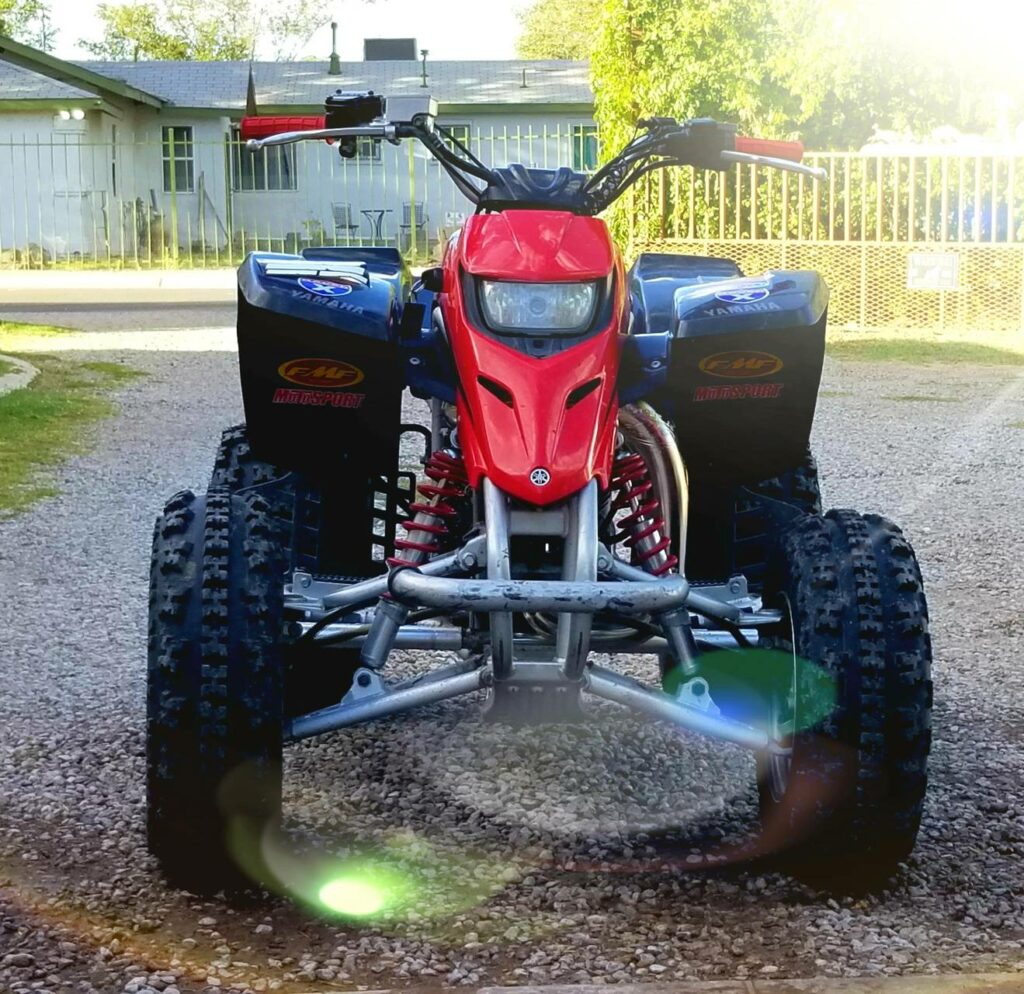 The blaster wasn't known for its suspension or turning capabilities either, the rear bubble wheels scream of the old 3 wheeler days and some riders couldn't adjust to the turning characteristics. Seat height is 29.1 inches. So how does the 2006 Yamaha blaster ATV leave us with fond memories?
Fun ! Despite its lack of stock performance the price meant being able to add aftermarket performance parts like an exhaust and new tires. The blaster shines in the dunes with its 195cc, 2-Stroke, Air Cooled motor.
When the throttle was pinned the blaster could more than keep up with a much more sophisticated ATV. When ridden aggressively the blaster performs. The rear will slide through turns and the power-band is excellent in the top ranges.
Yamaha Blaster Specs
Engine Type: 195cc, 2-Stroke Single cylinder, Air Cooled
Bore x Stroke: 66mm x 57mm
Compression Ratio: 6.6:1
Carb: Mikuni 26mm
Ignition: CDI
Yamaha Blaster Horsepower: 17HP
Starting System: Kickstart
Transmission: 6-Speed Manual Clutch
Drive Train: 2WD Sealed O-Ring Chain
Yamaha Blaster Top Speed: 55 MPH
Suspension/Front: Independent Double Wishbone, 7.1in. w/ 5-way Preload Adjustment
Suspension/Rear: Swing Arm, 7.1in. and Threaded Preload Adjustment
Brakes/Front: Dual Hydraulic Disc
Brakes/Rear: Hydraulic Disc
Tires/Front: AT21 x 7-10
Tires/Rear: AT21 x 10-8
L x W x H: 68.3in. x 40.7in. x 40.9in.
Yamaha Blaster Oil Capacity: 650ml (0.67 Quarts)
Wheelbase: 43.3in.
Yamaha Blaster Seat Height: 29.1 inches
Ground Clearance: 4.7in.
Fuel Capacity: 2.4 Gallons
Yamaha Blaster Weight: 324 Lbs.
I have to admit that I'm partial to the Blaster because they are so much fun to ride, as are many 2-stroke powered quads. Considering buying a blaster while they are still relatively easy to find in good original condition. Don't worry about mixing the oil into your fuel, there is a reservoir under the seat that does it automatically. Just put the key in and enjoy the kickstart, you'll be keeping up with 400cc Honda 4-stroke ATVs according to Max.
I hope you found this Yamaha Blaster review helpful, see you in the dunes.
Related Posts