Yamaha has added electronic suspension adjustment to its sports tour-de-force FJR1300. It is now called the FJR1300E and costs $26,999, up $2000.
What a difference a year makes. When the updated FJR1300 was launched a year ago, Yamaha Motor Australia decided not to import the FJR1300E which also adds upside-down forks, saying it would be too expensive. But with many touring bikes now having a host of electronic aids to make touring that much easier, safer and more comfortable, Yamaha simply had to follow suit.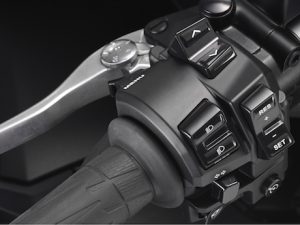 The electronic suspension adjustment system works on both the font and rear suspension to provide the optimum set-up, no matter what the situation. It features a handlebar-mounted switch to selector 'One-Up', 'One-Up with Luggage', 'Two-Up' or 'Two-Up with Luggage'. There are also damping choices of 'Soft', 'Standard' or 'Hard' for each setting. Settings can also be managed manually, allowing the rider to match precise set-up requirements.
I attended the launch of the updated FJR1300 last March and found it a much more composed and refined tourer. The upside-down forks should further improve handling with lighter steering weight and better torsional stiffness.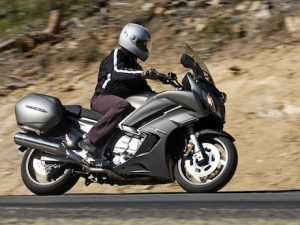 The two major improvements in the E model are on top of other upgrades which make the sports tourer more powerful, economical, comfortable, convenient and safer with ABS and traction control. It also features cruise control, fly-by-wire throttle and two engine maps. It's a big-torquing grey nomad now with a healthy dose of modern technology.
While keeping the same lithe chassis, Yamaha has uprated the 1298cc inline four- cylinder engine for even more power and torque, added lashings of electronic wizardry such as two power maps, cruise control, fly-by-wire throttle, and improved rider and passenger safety, comfort and convenience.