The most expensive motorcycle to ever change hands is a 1948 Vincent Black Lightning which sold for a neat $US1 million. But it could soon be overshadowed by a movie star.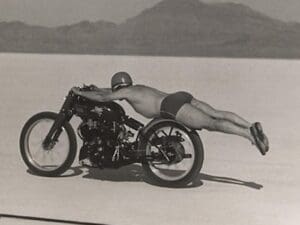 The Vincent was famously ridden by Rollie Free wearing a bathing suit at the Bonneville Salt Flats. He set a record speed of a 150.313mph (241.905km/h) over the "flying mile" on September 13, 1948, and the bike sold to collector Chip Connor in late 2011.
It may soon be eclipsed this weekend by the only surviving Harley chopper from the cult 1969 movie, Easy Rider. It is expected to fetch more than $1m when it goes up for auction in California.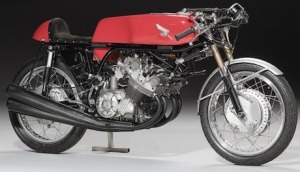 READ ABOUT THE EASY RIDER BIKE
Meanwhile, online technology magazine Gizmag has published a list of the top 100 most expensive motorcycles sold at auction.
A 1964 Honda RC164 250cc Racer valued at almost $US800,000 heads the 100, but was actually passed in at auction because it didn't meet the reserve in 2006. The auctioneer's estimate is that it is worth $US715,711-$791,049.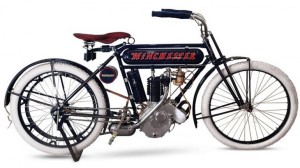 The little Honda racer is followed on the top 100 list by a 1910 Winchester 6HP which sold for $US580,000 in 2013 to an avid gun collector. Yes, that's right, a motorcycle made by the famous rifle company.
Next is a 1915 Cyclone board tracker which sold for $US551,200 in 2008 and another Winchester 6HP is fourth on the list.
The big brand names aren't mentioned until the fifth-placed 1939 BMW RS255 Kompressor which fetched $480,000 in Las Vegas last year. The list then goes on to include more obvious motorcycles such as Ducati racers and early Harleys.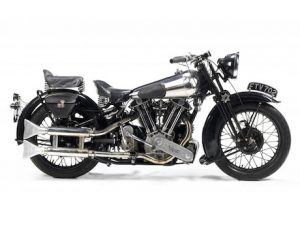 However, the standout bike is the Brough Superior which represent a quarter of the top 100. They were the Rolls Royce of motorcycles in their day and the highest price paid was $463,847 in April for a 1922 SS80 owned by company founder George Brough.
Race pedigree plays a big part with Casey Stoner's 2010 Ducatri Desmosedici fetching $325,430 and other bikes owned by world champions such as Valentino Rossi and Mike Hailwood also fetch big cash.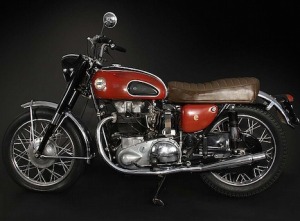 Ownership is an important ingredient in the value of motorcycles at auction with entertainment stars bestowing big ticket prices on bikes. The biggest star-power bike is the 1958 Ariel 650 Cyclone bought by Buddy Holly six months before he died and part of the late Waylon Jennings' estate. It fetched $450,000 just last week.
Several bikes owned Hollywood King of Cool and motorcycle fanatic Steve McQueen are also included in the top 100.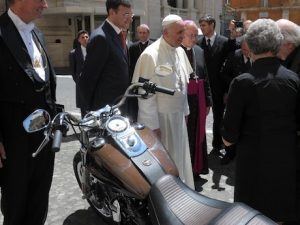 And a 2013 Harley-Davidson Dyna Super Glide gifted to Pope Francis sold for $US330,938 with funds given to a youth hostel and soup kitchen in Rome.
But his Harley could be well shaded by the most famous Harley of all time, the Captain America from Easy Rider.