The Captain America chopper that crashed and burnt in the final scene of the famous 1969 cult film Easy Rider is up for auction.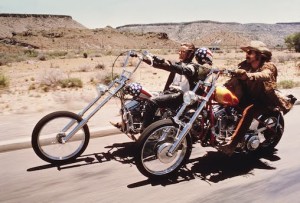 The chopper, ridden by Peter Fonda in the film, comes with letters of authenticity from Fonda, the National Motorcycle Museum and Grizzly Adams actor Dan Haggerty who "handled" the bikes during filming.
Three of the bikes were stolen after shooting and before the film was released. Haggerty says film director and co-star Dennis Hopper told him he could keep the crashed bike.
So he rebuilt it and rode it often, claiming it was like "going out with Marilyn Monroe". Then Haggerty loaned it to a friend who ran the National Motorcycle Museum in Anamosa, Iowa, where it was on show for 12 years.
Last year, Haggerty sold the bike to Michael Eisenberg who once co-owned a Los Angeles motorcycle-themed restaurant with Fonda and Hopper.
The Easy Rider motorcycles were based on hardtail frames with panhead engines and were built by LA chopper builders Cliff Vaughs and Ben Hardy on designs from Fonda. There are many replicas of the Captain America and Billy Bike choppers, the most faithful being at the Harley-Davidson museum in Milwaukee.
However, the original bike is worth a lot more than any replica. It is being offered for auction on October 18 by Profiles in History and auctioneers estimate it will fetch up to $US1.2 million.
The original 1949, 1950 and 1952 Harley Davidson Hydra-Glide bikes used in the film were bought at auction for a measly $500 for the four.
Some of the proceeds of the sale of the bike will go to the American Humane Association with which Fonda is involved.