UPDATED OCTOBER 9: A 1958 Ariel Cyclone bought by '50s rock and roll legend Buddy Holly just six months before he died and belonging to good friend Waylon Jennings has been sold at a Guernsey auction in Phoenix, Arizona, for $US450,000.
It was bought by a Texan fan who will grant the bike on long-term loan to the Buddy Holly Centre.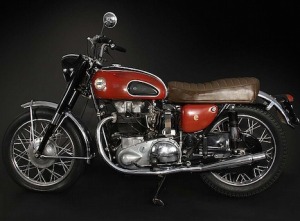 The story behind the bike is just as interesting. It seems Buddy and his band, The Crickets, were big fans of Marlon Brando in The Wild One and decided one day, on the spur of the moment, to buy motorcycles to ride the 350 miles (563km) from Dallas home to Lubbock.
Waylon says they first went to a Harley-Davidson shop, but were dismissed as "bums" who couldn't afford the payments, so they went to Miller's Motorcycles who specialised in English bikes.  Two of the band bought Triumphs (a TR6 and a Thunderbird) and Buddy bought the Ariel with a high-compression 650cc Hunstmaster engine.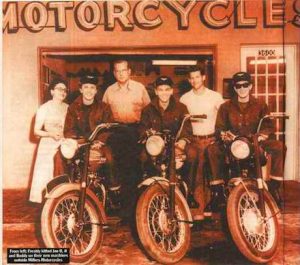 They not only paid in cash, but also bought some gear including Levi jackets and peaked caps with wings on them like marlin in the movie. Waylon says they rode the bikes home through a thunderstorm.
Six months later, Waylon fatefully gave up his seat to Buddy on the light aircraft that crashed and killed him, the Big Bopper and Ritchie Valens – the crash was immortalised in Don McLean's American Pie as the day the music died.
Buddy's father kept the motorcycle until 1970, when he sold it to someone in Austin, Texas. But in 1979, the two remaining Crickets bought it back for Waylon's 42nd birthday.
They parked it in his hotel room and Waylon found it when he returned from a concert. He says he kickstarted it at midnight on the first go, despite the bike's high compression.
"What else could I do? I swung my leg over it, stomped on the kickstarter, and it burst into roaring life. First kick. It was midnight, and it sounded twice as loud bouncing off the walls of that hotel room. I knew Buddy wouldn't mind," he says.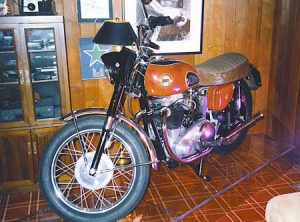 Waylon was kept the motorcycle in the den of his Brentwood, Tennessee, home lovingly nicknamed "Southern Comfort." It was always a conversation piece, as well as a surprise to those seeing it for the first time. People were shocked, and often exclaimed, "You've got a motorcycle in your house!" Jennings died in 2002, and his family auctioned off his musical instruments, memorabilia, and Holly's Ariel.