More than 90 riders ushered the Women Riders World Relay (WRWR) into Queensland today, including the only woman who plans to ride the whole journey around the globe.
Brisbane grandmother Collette Tindal Edeling, 55, says she mortgaged her house to fund the "trip of a lifetime".
She was there when the world-first all-female motorbike relay started at the northern-most tip of Scotland on 27 February 2019 and has now ridden 45,000km through 43 countries.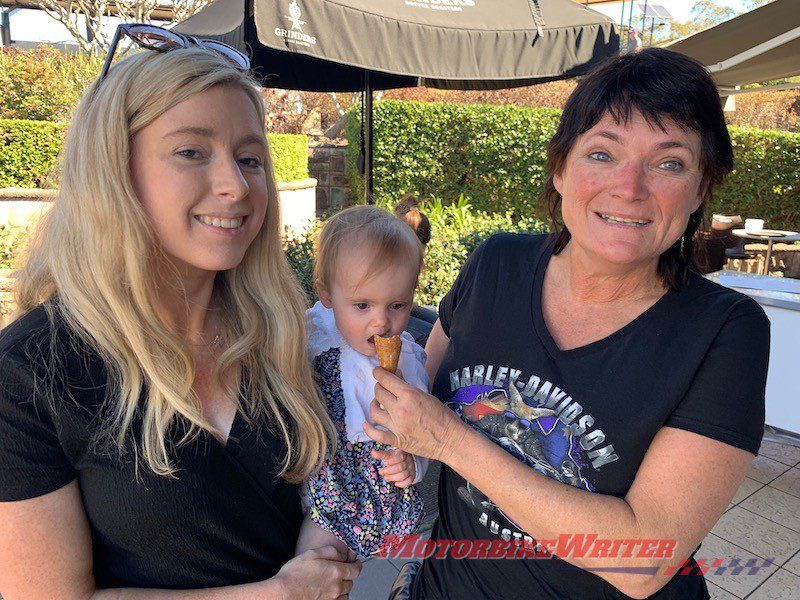 "I thought I could wait until I retire to ride around the world, or I could bite the bullet and just do it now," she says.
"I like riding, so here I am."
Aussie leg
The Australian leg of the relay began on Sunday 25 August 2019 in Perth and has now crossed the Nullarbor to Adelaide, Melbourne and up through NSW to Noosa over night.
Tomorrow the women head south and will finish the Aussie leg on Friday in Sydney.
The global relay is the idea of UK office manager Hayley Bell, 27, to alert the motorcycle industry to the growing number of female riders.
But even Hayley hasn't ridden as far as Collette who intends passing the special WRWR baton across 80 countries over 343 days and an estimated 90,000km.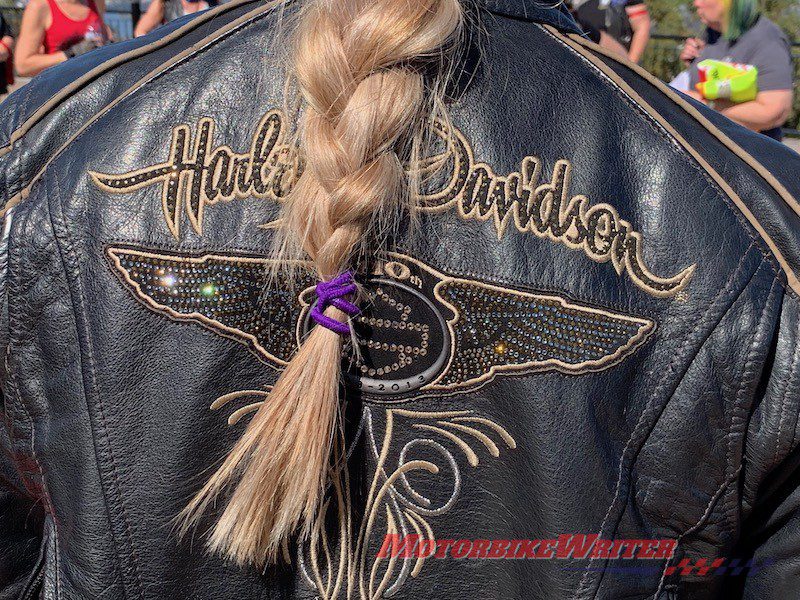 "I sold my Kombi van and mortgaged my house to pay for this trip," she says.
Collette bought a Yamaha MT-07 in Europe, had sponsored bikes in Asia and has bought a BMW F 700 GS for the coming North and South American legs.
However, she shipped her Harley-Davidson 48 from Brisbane to Perth to ride across Australia.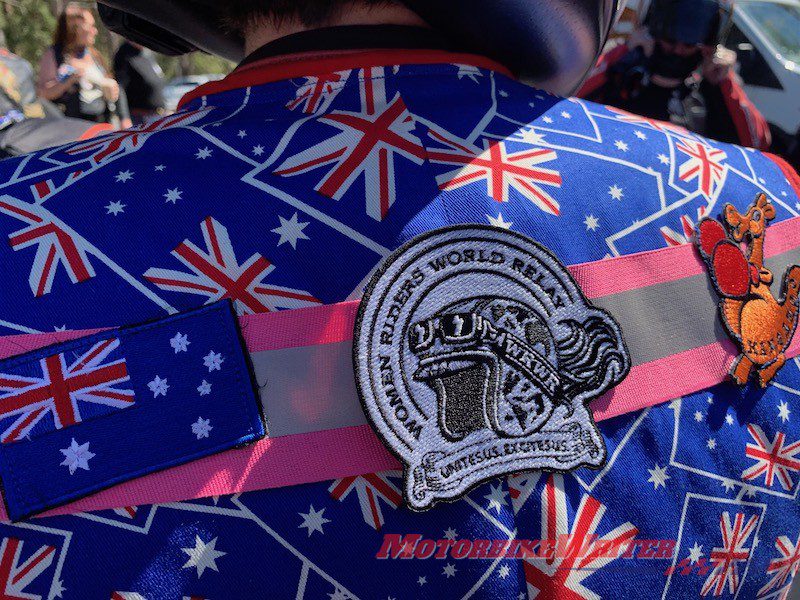 "It's only got a 7.9-litre tank, so I had to refuel six times across the Nullarbor," she says.
"My favourite country so far was beautiful Bosnia where you can still see and smell the war."
Probably her least favourite country has been Nepal where she had three low-speed crashes.
"The roads are bad and the drivers are worse," she says.
In one crash, she hit her head and has temporarily lost her sense of smell and some hearing.
"The biggest riding contingent we've had so far was 192 women in Denmark," she says.
She takes the baton to New Zealand next, then on to Canada, USA, South America, South Africa, the Mid-East and back to the UK.
WRWR Australian leg spokesperson Peta Pitcher of Brisbane says the Aussie leg has thankfully been "uneventful".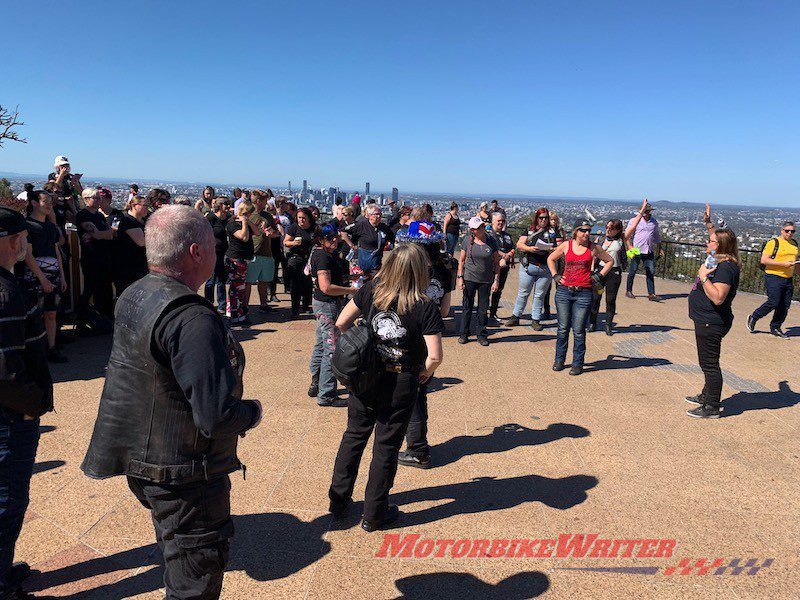 "We've only had three small drops while stationary and the women have stayed together as a pack."
One of the epic riders in Australia is Deb Smith who rode her Yamaha V-Star 1200 from Alice Springs to Perth for the start.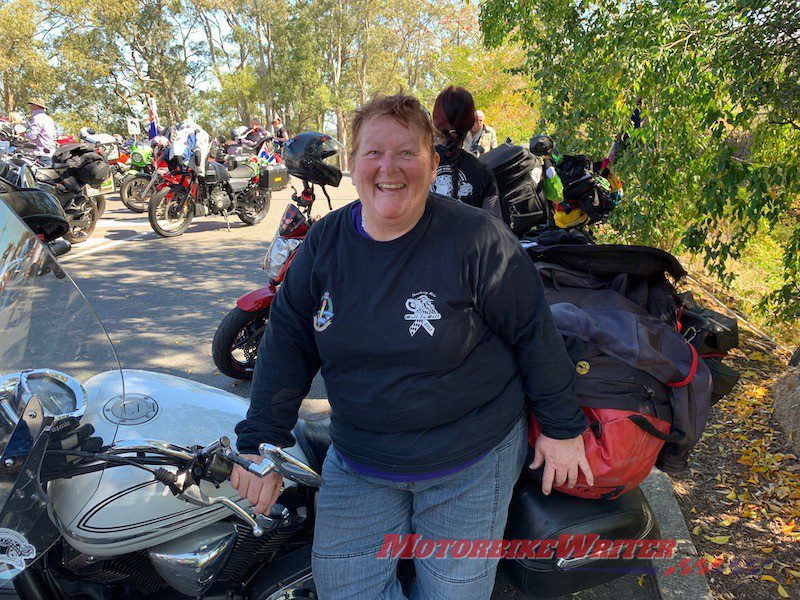 "We've riding too hard and fast to see much and we've gone through the rain and the fog and now the heat," she says.
The women started today's ride in zero temperatures but hit the high 20s in Queensland where Peta says they did an impromptu roadside strip to cool off.
Some 612 women have registered to ride in Australia as well as 68 men who are not counted in the official relay numbers.
WRWR baton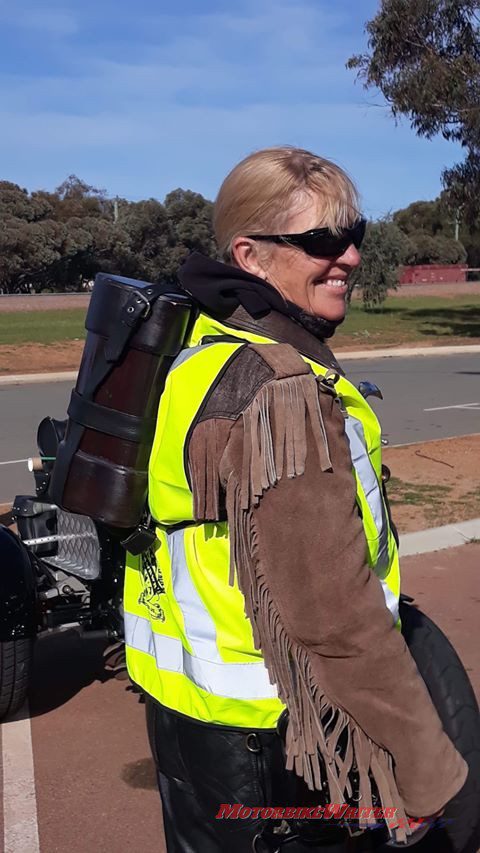 Amputee rider Jane Campbell is the first in Australia to carry the baton on her Harley-Davidson trike.
The "prized" baton has a tracker attached and the route is shown on the WRWR website.
The WRWR baton was hand crafted by Eugene Sanderson of the USA, who spent hours turning and carving it from a solid block of aged mahogany. It also has glow-in-the-dark paint and comes in a custom-moulded case.
The Baton has traveled tens of thousands of kilometres and was held by countless women before being returned to the USA for repairs.
A second, improved baton joined the WRWR in Myanmar last month.
Both Batons will be reunited at the end to create a double-sided scroll containing the signatures of all riders.
It will be displayed at the final event in the UK in February 2020.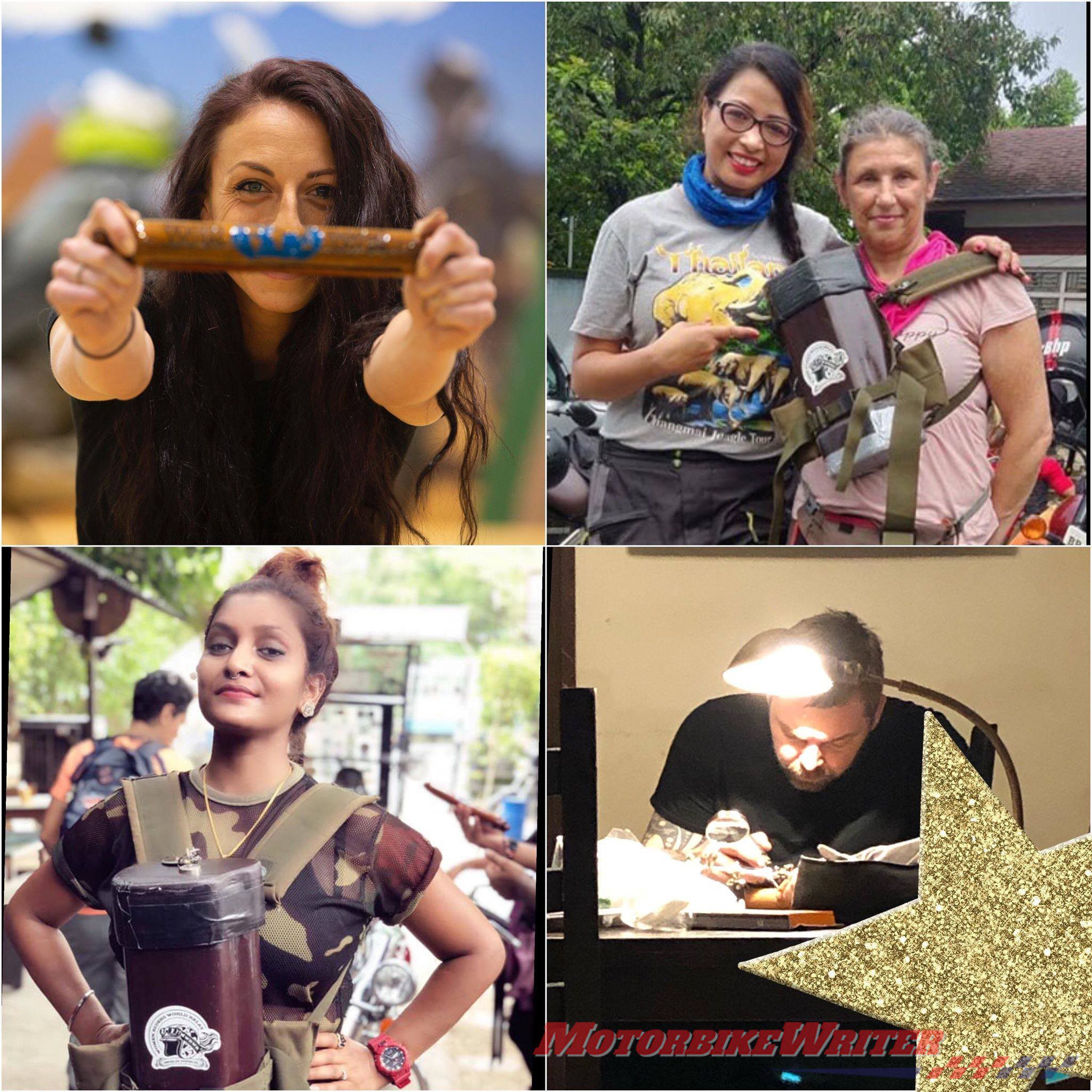 Australian relay itinerary
Day 1: 25 August 2019, Perth to Norseman 772km;
Day 2: 26 August, Norseman – Nullarbor RH, 905km;
Day 3: 27 August, Nullarbor RH – Port Augusta,764km;
Day 4: 28 August, Port Augusta – Adelaide – Mildura, 702km;
Day 5: 29 August, Mildura – Bendigo – Melbourne, 553km;
Day 6: 30 August, Melbourne – Wagga Wagga, 490km;
Day 7: 31 August, Wagga Wagga – Bathurst – Orange – Dubbo, 520km;
Day 8: 1 September, Dubbo – Tamworth – Glen Innes, 515km;
Day 9: 2 September, Glen Innes – Brisbane – Noosa, 502km;
Day 10: 3 September, Noosa – Gympie -Toowoomba -Byron Bay, 614km;
Day 11: 4 September, Byron Bay – Newcastle, 624km;
Day 12: 5 September, Newcastle to Batemans Bay, 456km;
Day 13: 6 September, Batemans Bay – Canberra  – Sydney, 442km.
Here are links to the various WRWR groups: