Women's Deerskin Motorcycle Jacket Review Summary
Women's Deerskin Motorcycle Jacket Image Gallery
It's been a while since I've posted any reviews of women's motorcycle clothing, so when Sunset Creek Deerskin asked if we'd like to see the women's version of their 1408 deerskin motorcycle jacket, it was a big "10-4".
The 1408 is based on their men's 1385 jacket, but the zipper on the women's version is on the left and it has less padding in the shoulders to slim down the profile.
Now let me say right up front that I'm not usually a big fan of leather, because I've found it to be too hot and heavy for riding.
But I have to tell you that I was scratching my head when the box arrived with this jacket — surely something was wrong?  The box was way too light — did they send me a T-shirt instead?
When I opened it up and found the jacket inside, I was shocked!  I guess I wasn't familiar with the properties of deerskin, but I'll tell you this: it's much lighter than that tough old cowhide!
In fact, I discovered that the size large Sunset Creek women's deerskin jacket shown here, including its full-length zip-out liner, weighs only 2.5 pounds!  That's only 1134 grams, about the weight of, say, my HJC half-helmet!
This is amazing, because a similar-size and shape cowhide leather jacket will weigh nearly twice as much.  Just for kicks, I put the Furygan leather jacket we reviewed recently on the scales, without its armor or liner, and it weighed 4.6 lbs. (2,086 grams).  That's a huge difference — and believe me, it's both noticeable and much appreciated.
But, you might ask, what about protection?  Well, the 1408 shown here certainly isn't in the same league as, say, Nicky Hayden's leathers, but it's sure not one of those phony paper-thin imitation jackets found on the racks of the local mall's leather barn either.
The deerskin on this jacket seems nice and thick, and of course it has that beautiful and soft deerskin feel to it that makes it instantly comfortable with no break-in required.
The shoulders also have an extra layer of protection double-sewn on top.  Women's motorcycle jackets, for some reason, usually don't have the same levels of protection as men's jackets, but deerskin is supposed to have the same tough qualities of kangaroo hide.
Both of those leathers are said to have a different type of cell structure that makes them more abrasion resistant and tougher than cow hide, and deerskin also has an added benefit of being cooler in summer and warmer in winter, in my opinion.
The 1408 jacket is a good compromise between style and protection.  This is not just a show jacket, because it is cut to fit real-world motorcycle riders, with wider shoulders and longer sleeves than a street jacket.
This is important for actual riding and not just posing, especially on bikes like my friend's SV650 with its leaned-over handlebars.  You need longer sleeves and a wider back to ride bikes like that without feeling like someone shoe-horned you into a size 0 designer's sample from America's Next Top Model.
The sleeves have zippers down along the cuffs, with deerskin backing.  The zippers are on the inside of the sleeve, which allows them to be pretty well hidden from view.  There's just enough room for me to slip on my full-length Held gloves, which have race-style gauntlets.
The 1408 doesn't have vents, but I honestly don't think it needs them.  It must be something about the deerskin, but even in the very hot weather, I don't feel like I'm baking inside.  The jacket does have a nice zip-out quilted liner that's also attached with twin buttons at the bottom of the sleeves by the jacket cuffs.
The jacket also has a full-length internal mesh liner that is permanently attached; it continues all the way down the sleeves, so you don't feel any of the seams, just a nice smooth fit.
Pockets abound, with a small zipper-covered pocket on the right-hand upper side, two zippered hand pockets and a nice metal snap pocket on the inside right-hand placket.  It has YKK zippers used throughout, and the outer pockets are very nicely finished, with neatly hidden stitching and full-length padded "lips" along the seam that hid the actual zipper and zipper pull underneath.
This is a very nice touch that you wouldn't notice at first, but on closer inspection it shows the level of detail that has gone into the construction of this jacket.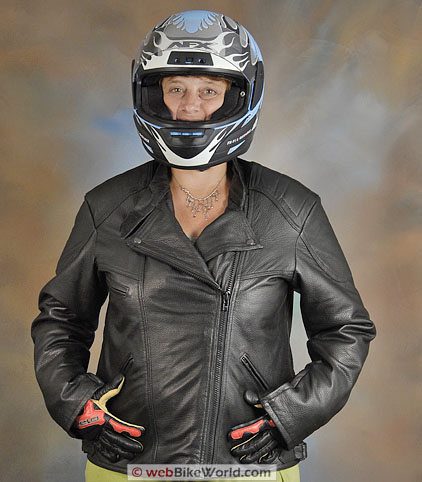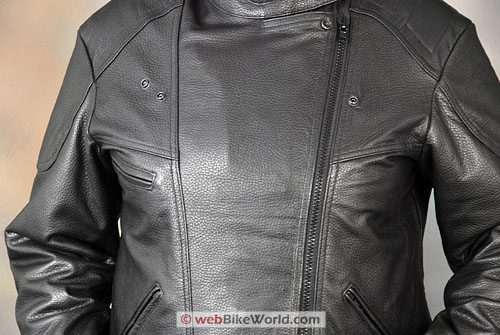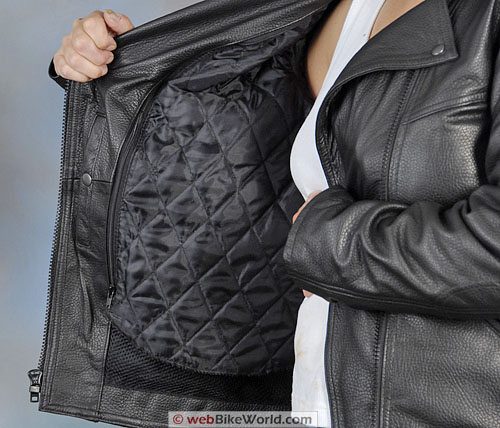 In fact, all of the seams are perfectly sewn and the stitching is amazing; I know a little bit about sewing and I have no idea how they were able to put this together so nicely, there's no way I could ever do it, no matter what type of sewing machine I used!
Even tiny details like the way the collar is rolled underneath and then so delicately and closely stitched to the jacket body where it meets the back is amazing.  The tolerances seem very tight; this is the kind of attention to detail that you wouldn't notice at first but is what gives you a feeling of overall quality that is beyond the average no-name jacket sourced from who-knows-where.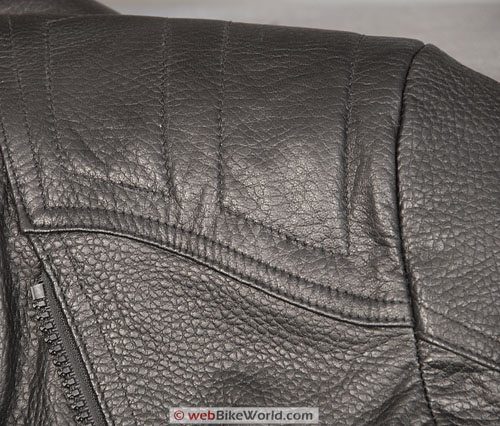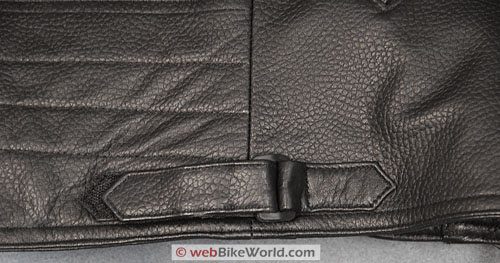 By the way, the deerskin used on the 1408 is farm-raised Scottish Red Deer from New Zealand.  It's my understanding that deerskin is one of the hardest leathers to work with and it takes a lot of experience to do it right, which makes the stitching quality even more amazing.
Also, deer are much smaller than cows, obviously, so there's much less deer hide to work with, meaning that it takes longer to cut, match and sew everything together, and the yield is much lower than cowhide, which can probably give you one or two jackets per hide instead.
The New Zealand Red Deer yields about 12 sq. ft. per hide, compared to North American Whitetail at 7-8 sq. ft., so it takes about four hides to make a jacket from the New Zealand skin and 5-6 hides for the North American Whitetail depending on blemishes.
Since no two deer are alike, the graining pattern on the various sections may be slightly different, but you'd never know it from looking at the 1408 — it looks uniformly perfect.
OK, so here's one of the best things about this jacket — it can be zipped up in the front to give both good protection from the wind and the road, and it will look pretty much like a race-style women's motorcycle Sportbike jacket.
But all you have to do is snap the collar and the lapels to the front of the jacket and zip it down a bit on the left, and — presto! — you have a super-nice cruiser style jacket!  It's really like a two-for-one deal.
The 1408 shown here is a women's size large, and I'm not a petite model for sure, so the photos may not make me look like I stepped out of the pages of Vogue magazine, but the jacket is super-comfortable, soft and it really fits me perfectly, especially for riding.  Again, this is a real rider's jacket and not just for back-of-the-saddle poseurs.
Sunset Creek Deerskin also said that some of their clothing is made to order; customers can send in their measurements and the clothing will be produced to fit; contact them for more information.  Also, some of the garments are made in the U.S.A. from American Whitetail deerskin.
And here's the best part: the jacket retails for only $199.00, which I honestly think is a steal when you consider the price of good quality leather motorcycle jackets.  Throw on a pair of jeans, my Held gloves and my CAT boots and I'm ready to go!
wBW Product Review:  Women's Deerskin Motorcycle Jacket

Available From:  Sunset Creek Deerskin
Suggested Retail Price:  $199.00
Colors:  Black
Made in:  Pakistan
Product Comments:  Sizes available are M (12-14); L (16-18) and XL (20).  Review Date:  August 2007
Note:  For informational use only.  All material and photographs are Copyright © webWorld International, LLC – 2000-2011.  All rights reserved.  See the webBikeWorld® Site Info page.  NOTE:  Product specifications, features and details may change or differ from our descriptions.  Always check before purchasing.  Read the Terms and Conditions!
Owner Comments and Feedback
Comments are ordered from most recent to oldest.
Not all comments will be published (
details
).  Comments may be edited for clarity prior to publication.