Women riders wanting a convenient backpack for the bike but don't want to lug around a macho pack when they're off the bike should check out MotoChic.
This new American company, founded by rider Debra Chin, has launched its first two products on Kickstarter.
They are durable lightweight, multi-purpose bags designed for women who ride and want functional, fashionable gear. The Lauren converts from a biking backpack to chic, everyday purse and the Valerie is a small accessories bag that can be worn in five ways.
The Lauren is inspired by motorcyclist and style icon Lauren Hutton and the Valerie by Seven-time motorcycle land speed record holder, Valerie Thompson.
Their Kickstarter campaign went live on December 1 and is about a third of the way to their goal of $US30,000. You can make pledges of $1 or more which will secure you a deposit on the bags if the project reaches its goal by the end of the year and goes ahead.

Company spokesperson Brooke Schell says the Lauren bag is form-fitting with harness curves that accommodate women's shoulders and adjustable shoulder straps, waist belt and sternum slider for a feminine tailored fit
The aerodynamic and weatherproof bag is made of lightweight polyester with silver-toned hardware and signature moto print lining. It weighs just 1.5kg and has 15-litres of storage.
The Valerie accessories bag is a stylish complement to the Lauren.
Debra started the company because of the rapid rate of growth of women riders in the US.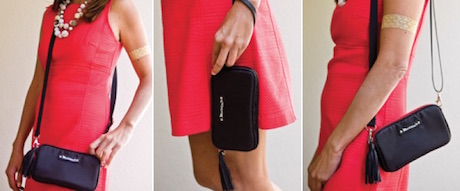 "Of the 27 million motorcyclists in the United States today, one in four are women," Debra says. "That number has grown by 67% over the past decade – much faster than men. That's seven million female motorcyclists who are smart, on trend, and until now, largely ignored by male-dominated motorcycle gear manufacturers who often use a 'shrink and pink' approach to designing clothing and accessories for women."
MotoChic Gear so far only seems to make the bags and some t-shirts for men and women, but more is coming. Brooke says their clothing and accessories are "designed by women for women on the move".