Motorcycle riders who commute to work and have to carry their work suit in their backpack should check out the Henty Wingman Backpack.
The problem with carrying your work clothes in a backpack is that when you get to work, they are wrinkled.
BUY THEM NOW IN OUR ONLINE SHOP
Even if you have big panniers to put your clothes in, they still get wrinkled or have fold marks in them.
The Henty Wingman Backpack is different because it's basically a suit bag.
You couldn't carry a suit bag on your back, but this one rolls up and converts into a backpack which you can wear or throw in your panniers.
Rolling, rather than folding, leaves your shirt, suit, dress or pants wrinkle free.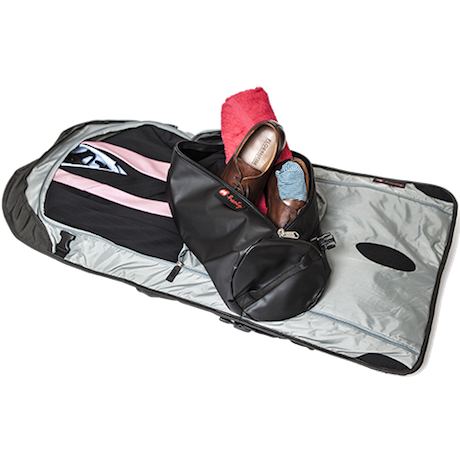 But this is a little different to other suit bags because it features two semi-rigid vertical ribs, made in Tasmania from 100% recycled plastic, that restrict the diameter of the suit bag when rolled to reduce creases.
There's even a foldable hook coat hanger included so you can hang up your riding gear while you're at work.
But it's more than just a suit or clothes carrier. It comes with a heavy-duty tarpaulin bag which will fit shoes, a towel, underwear and more. You use this to roll the suit bag around and it doubles as a gym bag.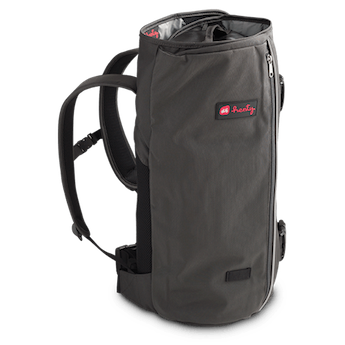 The suit bag also has a pocket for more gear and includes a removable Velcro pouch for a mini-tablet, wallet, phone and other small items. There is also a padded laptop pouch on the opposite side.
The adjustable straps are sturdy and padded while the part that goes against your back has mesh and padding so it's comfortable and doesn't stick to your back with sweat in the hot summer commute.
The bag has reflective piping for flare attention at night and there is also an orange high-visibility waterproof rain jacket with taped seams included.
It's also ideal for cyclists, joggers and other active commuters who need to change into their work clothes when they get to work.
The winner of our competition to win the ultimate motorcycle commuter backpack is "Revlove Yew Shone". Readers were asked to go to our Facebook post about the backpack, leave their name and get the support of  their friends. She received a combined total of 154 likes and comments!


Henty Wingman Backpack
Price: $239
Purchase online: Henty
Dimensions: Rolled – 56 x 22 x 25cm, Unrolled – 56 x 101cm
Weight: 1.7kg