Motorbike Writer and Suomy have joined to offer a new Suomy road or adventure helmet to one lucky rider who registers for the annual Black Dog Ride 1 Dayer on March 20.
We have been a strong supporter of the BDR since Motorbike Writer started in May 2013 and will be attending the Sunshine Coast ride this year.
Suomy importer Robert Ferrington of Queensland Offroad Tyres says he couldn't think of a more worthy cause than the BDR.
Founder Steve Andrews thanked MBW and Rob for their support of Black Dog Ride: "Great to hear you're going on the Sunshine Coast 1 Dayer."
Steve will randomly select the winner of the Suomy helmet in the week before the 1 Dayer. The winner will be able to nominate their (in-stock) colour and size in either the SR Sport road helmet and MX Tourer adventure helmet.
The helmet is only one incentive prize for early registrations. the other prizes are a 9ct gold Black Dog Ride 1 Dayer 2016 signet ring valued at $1500 and a BMW Boulder Riding Jacket by valued at $740.
Suomy helmets do not carry Australian Standards AS 1698 stickers, but have the UNECE 22.05 stamp which is now legal in Queensland, NSW, Victoria and the territories and is expected to be legal in the three other states soon.
The SR Sport features a Tricarbo composite shell with a combination of carbon fibre, kevlar and resins for maximum strength and removable and washable pads and inner comfort liners.
The MX Tourer also has the Tricarbo shell and removable innners, plus a wind-tunnel-tested peak which reduces turbulence by 50 % and doesn't pull your head back at highway speeds.
Last year nearly 7000 Black Dog Riders nationwide hit the highways on one single day to raise awareness of depression and suicide prevention.
Since April 2010, the Black Dog Ride 1 Dayer has raised more than $530,000 for mental health services and spread the message of depression and suicide prevention awareness.
Registrations for the 2016 Black Dog Ride 1 Dayer on Sunday, March 20, 2016 are now open.
To find your nearest Black Dog Ride 1 Dayer and register online, click HERE.
The annual Black Dog Ride to the Red Centre began in 2009 as a solo motorbike ride around Australia by Steve to raise awareness of depression.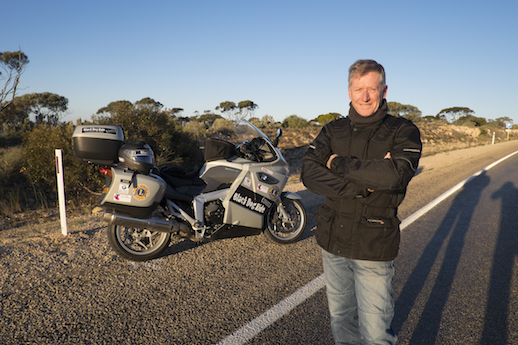 In 2014, the BDR became a lap of Australia, but it returned to the Red Centre last year with about 350 riders and 50 pillions raising more than $350,000.
That brought the seven-year total to more than $2 million with funds going to Lifeline and Mental Health First Aid.
This year's Black Dog Ride will be split into separate, self-contained state rides of about seven to nine days. In 2017, the riders will head to Tasmania.
This year's 1 Dayer will be held in the following locations: