Wild Ass Seat Cushion Review Summary
Review Summary
This is a heavy-duty premium ergonomic air cushion for riders with tender posteriors and long-distance ambitions. The less inflated the better, and the cover material and spacing between internal air chambers provide ventilation and quick drying in wet conditions. Comfortable, durable and portable.
Pros
Extremely comfortable
Transfers from bike to bike easily
Teleworkers can use on their office chairs when not riding to the office
Heavy chamber material and included patches extend durability
Washable cover
Wide size distributes rider weight over broader area
Height (slight) off seat offers longer stretch between seat and pegs
Two-year warranty
Cons
Not cheap
Light cover subject to wear
Wild Ass Seat Cushion Image Gallery
Hans Christian Andersen's Princess and the Pea fairy tale is about a queen who seeks a daughter-in-law special enough to feel a pea under 20 mattresses and 20 comforters.
Well, I must have royal blood coursing through my veins, since my butt is as tender as the princess's. I can't ride a pedal bike more than 25 miles or sit on a motorcycle seat for much more than an hour without squirming, standing up and ventilating, or taking a periodic break for a few minutes to restore circulation. A whole day in the saddle feels like an angry, starving nest of fire ants is dining on my posterior.
Finding The Best Posterior Comfort
For years, I've cycled through various motorcycle seat relief options, including custom seats, bicycle shorts and air cushions, as well as combinations of these options. I've never been attracted to wood bead seats—sitting on wood hardly seems a reasonable solution to butt burn, and sheepskin covers get wet, dry slowly and stink after time. Anti Monkey Butt powder relieves that second hour, but does not prolong it.
For me, the best solution has been an inflatable seat cushion, and I've used all the brands for several years. They've all worked to a greater or lesser degree, and they have the added advantage of moving easily from bike to bike. The trick is to inflate the cushion as little as possible, to just barely float your butt off the seat at the minimum elevation, for maximum coverage and minimal shifting around.
Air cushions offer little contoured air pillows, connected by channels through which air passes to distribute the pressure of the rider's weight evenly. They're all covered with synthetic fabric covers and are held on the bike seat with elastic bands.
Wild Ass Cushions
So I was interested to learn of a new company in the field with the attention-grabbing name of Wild Ass, out of Brainerd, MN. The company was formed by a former employee of one of the other cushion manufacturers, and Craig Johnson offers four separate models with three different compositions.
The large Classic cushion is for cruisers, standards, ADV bikes and sport tourers, and is available in neoprene in four sizes: Smart (15.5 X 14 in.) is the largest. The Saddle (13 x 11.5 in.) is for larger pillion seats, smaller cruisers and sport bikes. The tapered, narrower Sport model (12.5 x 12.5 in.) is for dual sport bikes, adventure and sport tourers and short-trip Harleys.
The smallest is the Pillion (9 x 11.5 in.), which is a basic rectangle that can be mounted lengthwise or sideways, depending on the bike seat and passenger dimensions with the same three material options. The Air Gel has a thin layer of gel atop each polyurethane pillow; the Wild Ass Lite is a pure polyurethane butt bag for more budget-minded riders.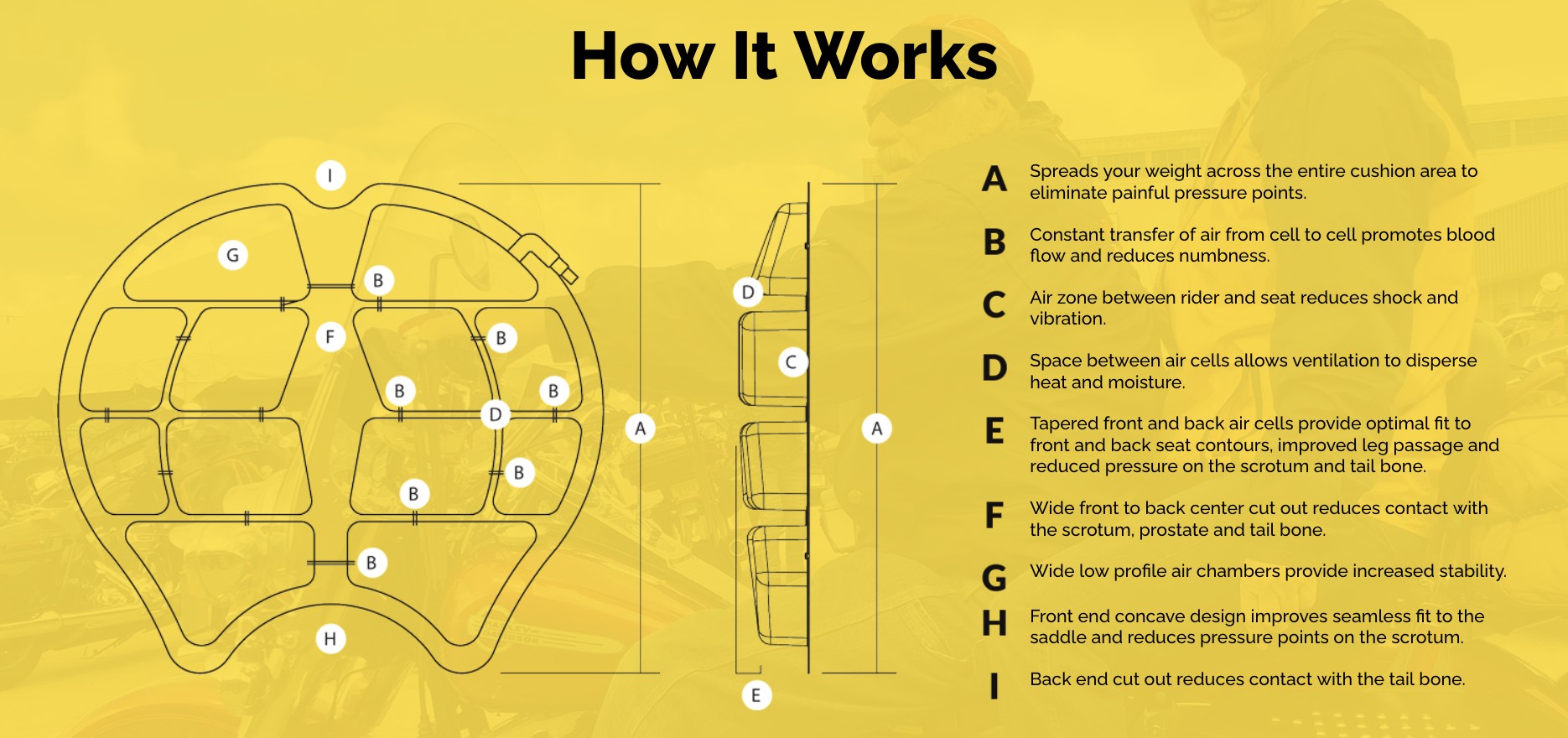 Classic and Air Gel Models
This review is of the top-of-the-line Classic model in neoprene and the mid-priced Air Gel, both in the large Smart size. Let's start with the washable black covers, which are the same for all sizes and models.
The seat surface is a lightweight thin mesh; below that is a heavier, more open mesh band that goes around the entire circumference.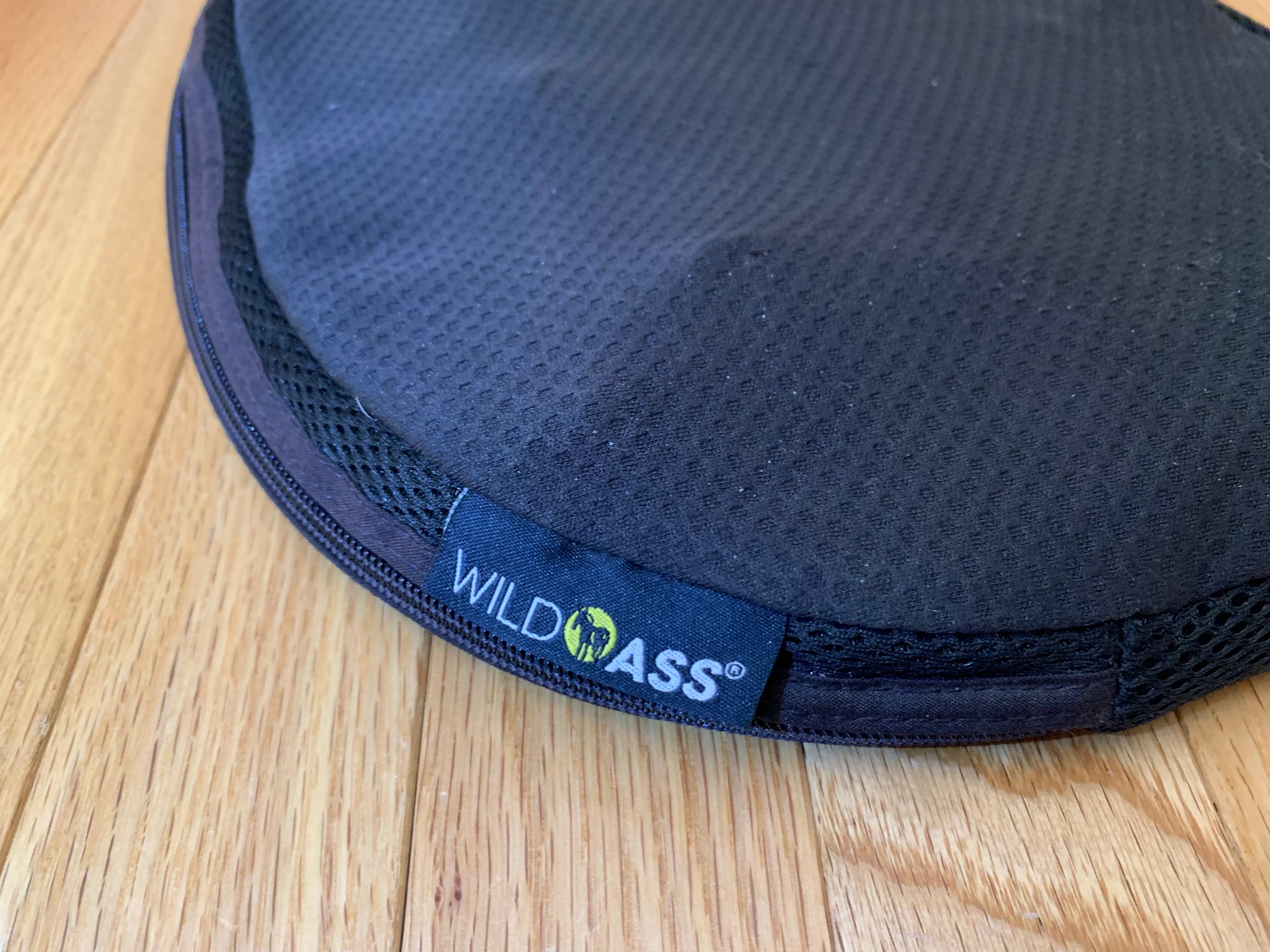 The zipper goes around the back side of this layer and tucks under an elastic cover. These mesh layers promote air movement and ventilation into the cushion and between the chambers. The bottom layer, which sits on the bike seat, is heavy textured non-slip rubber, and the cushion is fastened to the seat with two elastic bands that fit through slots on the bottom front and back.
They have hook-and-loop ends for tensioning around the bike seat. The slots are hemmed for looks and durability—a nice touch.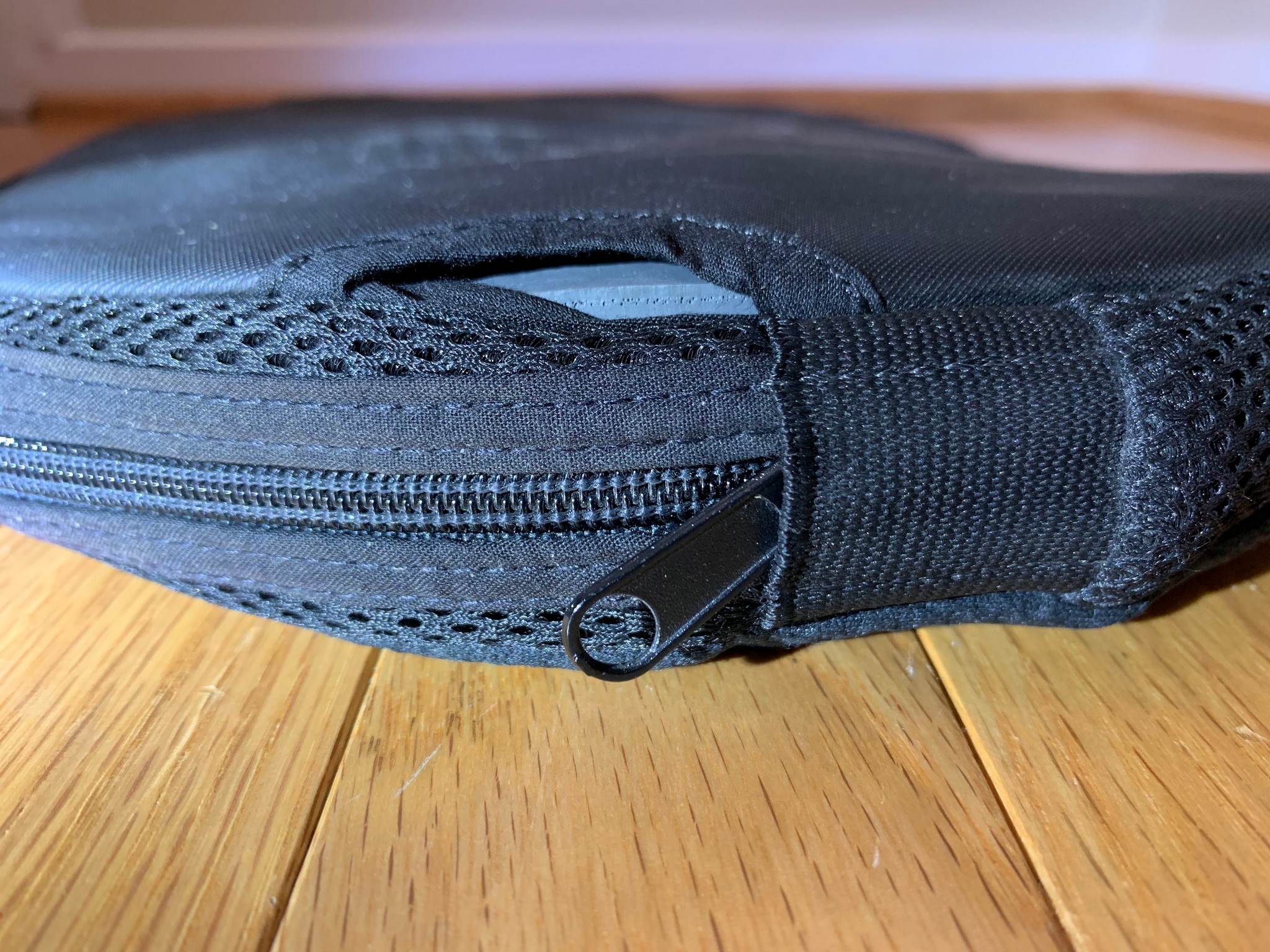 After an intense four-day ADV ride around legs 5-7 of the Mid-Atlantic MABDR, the thin top layer showed some minor runs and pulls.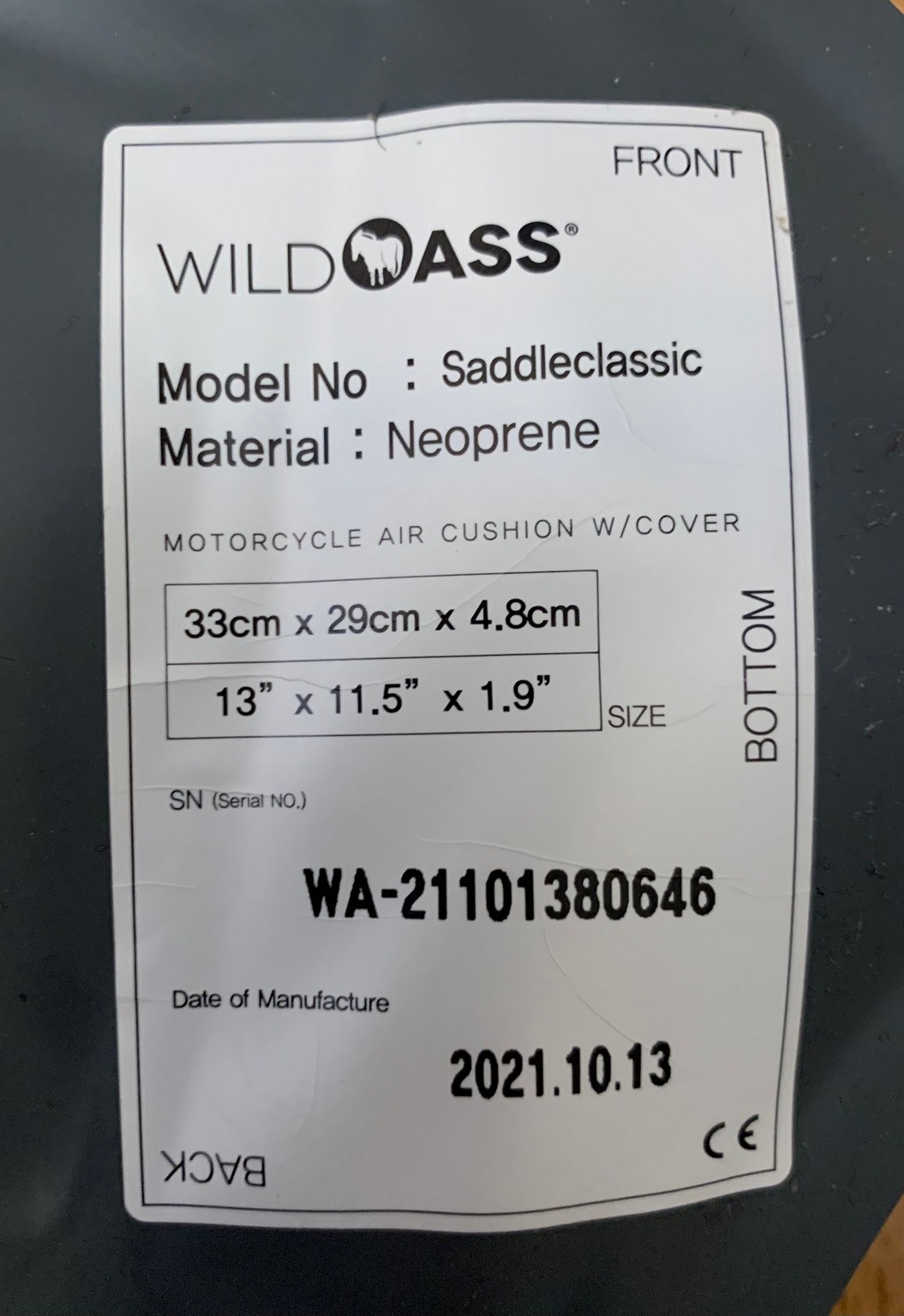 Under the cushion sits the air bag itself, which has twelve individual chambers interconnected with thin, narrow little channels to distribute the air inside. A heavy-duty valve on the left side fills and deflates the seat.
Each little pillow is contoured differently to fit their inner or outer position and cradle the butt, with space for air circulation between them. The heavy neoprene feels at least twice as thick as currently available competitors' cushions.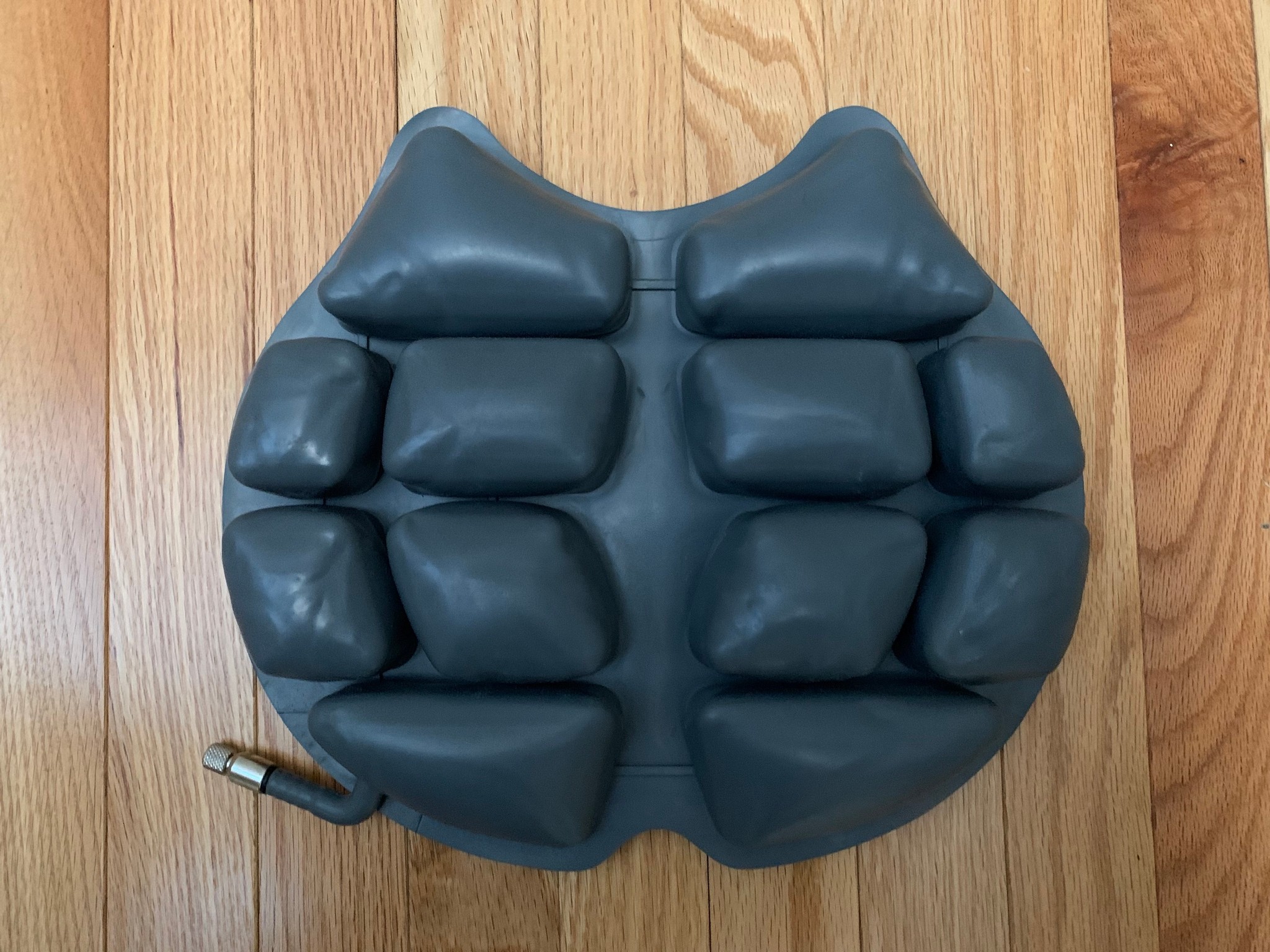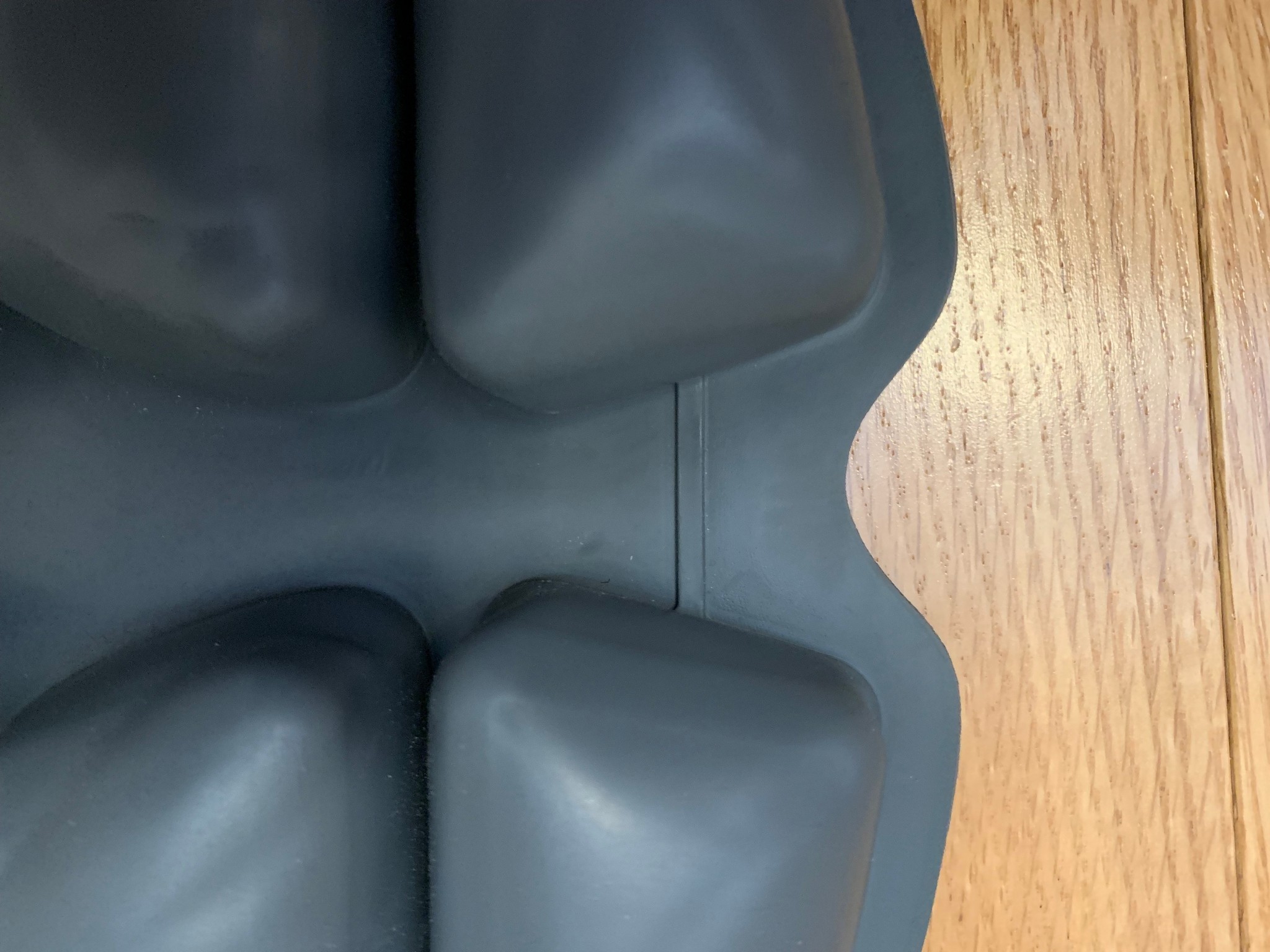 Air Gel Cushion
The Air Gel cushion is available in the same sizes and looks the same, but it is a different animal. Beneath the black cover is a four-layer cake, with three layers of polyurethane topped with a blue gel icing.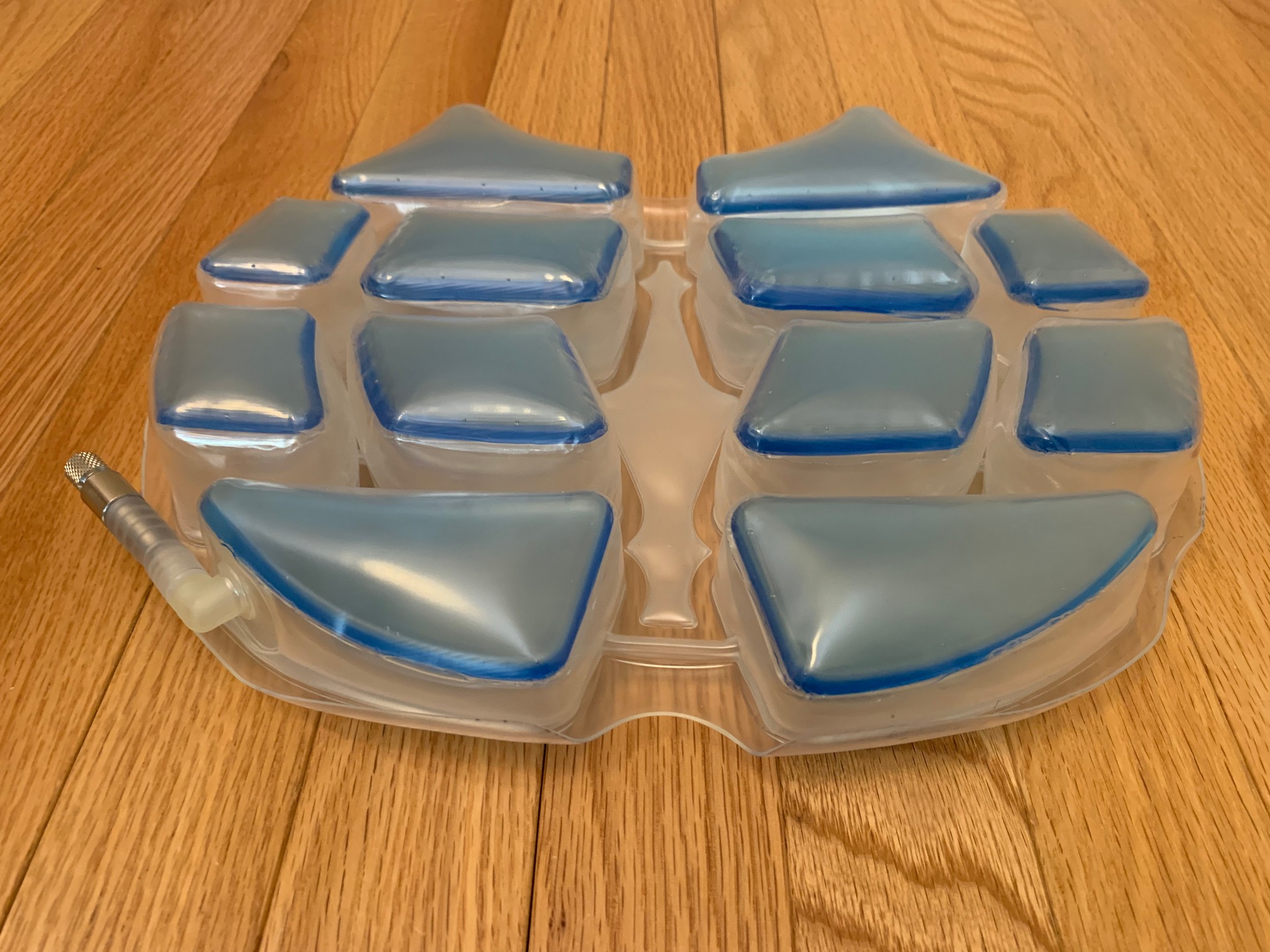 This model has a similar layout, with the same channels connecting the chambers for even distribution of the internal air. This cushion can be used either slightly inflated for maximum comfort, or deflated to take advantage of only the gel layer.
Although the chamber pattern is similar, this model's outer perimeter chambers felt a little more prominent than the inner ones, yielding a dished or cupping effect that was quite comfortable. A pill bottle of air in or out might adjust this; and the Air Gel does appear lumpier than the Classic model.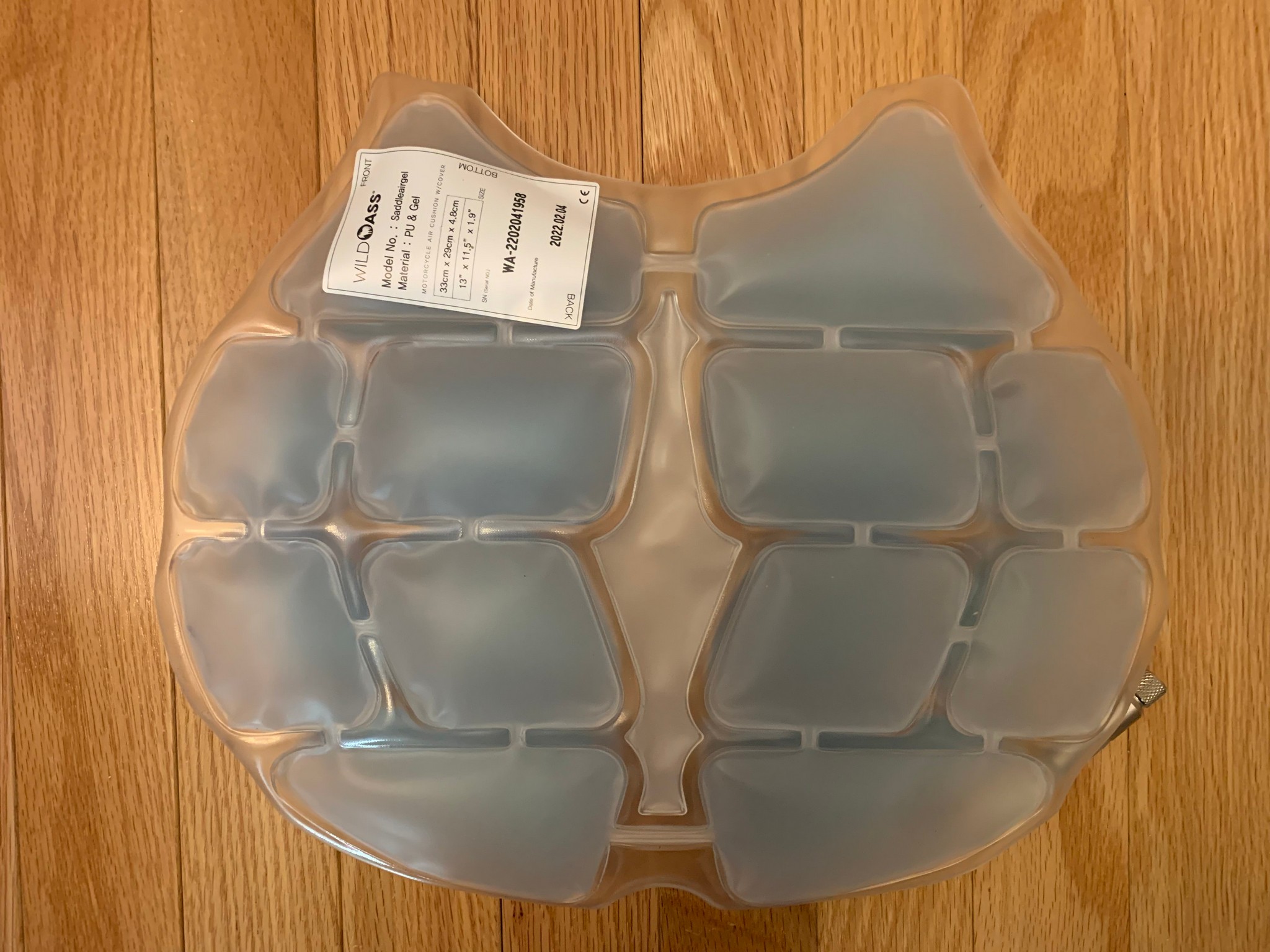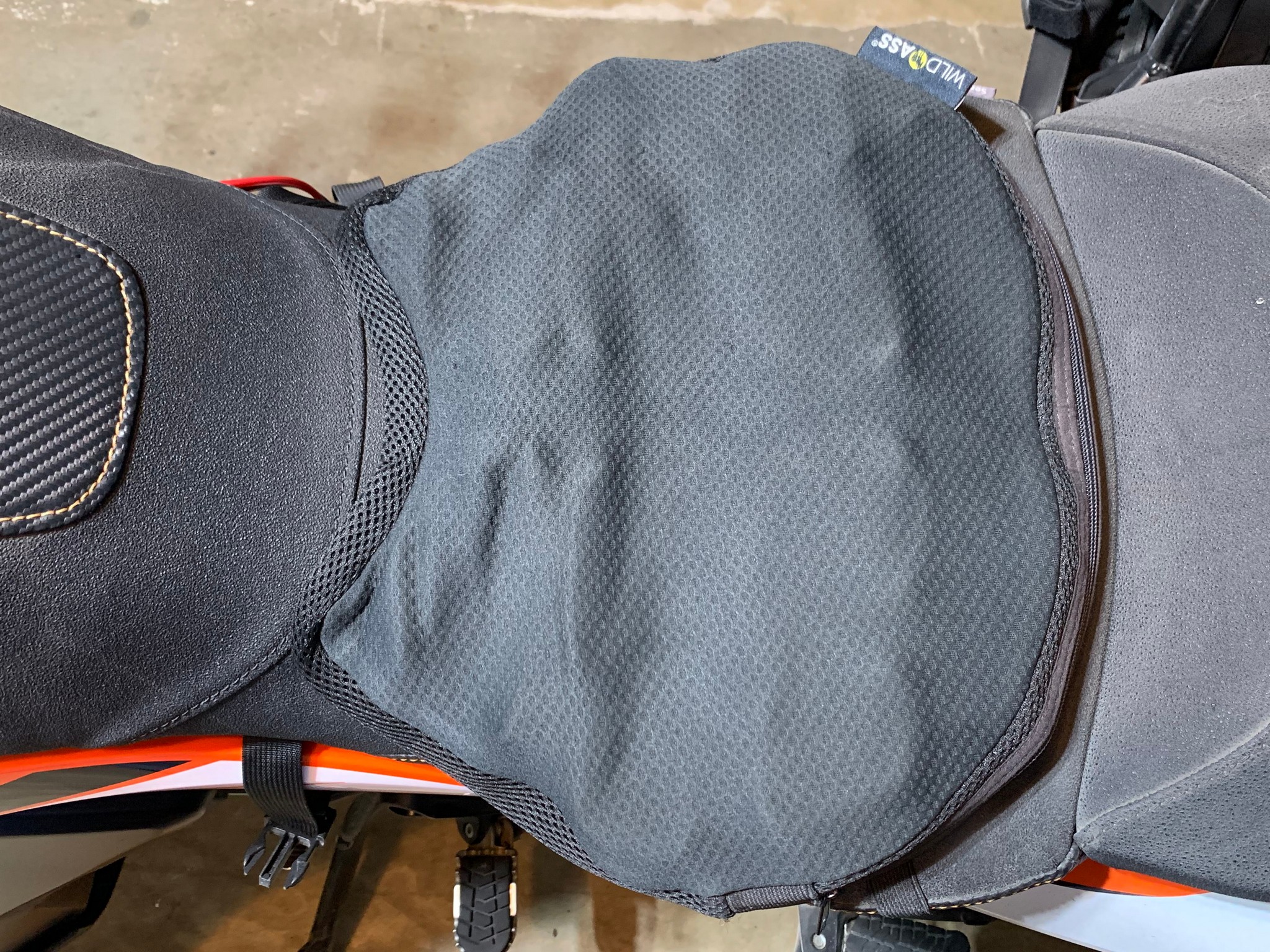 Each cushion comes with an owner's manual, a thank-you note with contact information, two patches, a brochure, a sticker and a two-year limited warranty.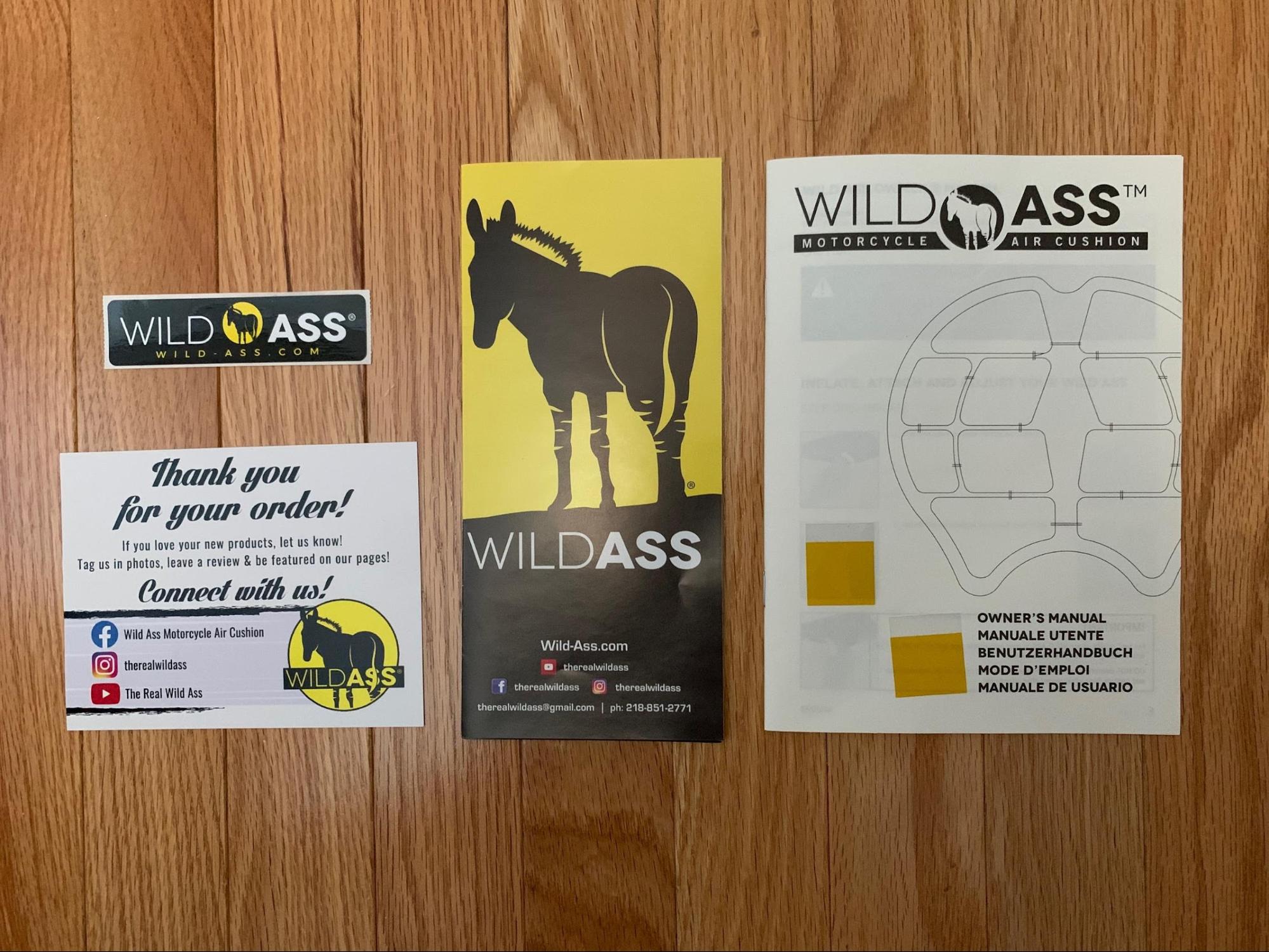 Ergonomics and Comfort
The text and pictures describe the Wild Ass cushions, but how well do they work? Quite simply, these are the best air cushions I've used on a motorcycle seat. Combined with a wide, flat Seat Concepts seat cover, the Wild Ass cushions doubled the time between my squirm sessions, even on the fourth day.
They only take a minute or two to install on any bike with the adjustable elastic straps, and one of my favorite features is the ability to put them on different bikes. I do rent bikes in some out-of-region rides, and I can deflate the cushion to save space on a flight and then reinflate it for use on a rental bike.
The Classic is recommended for day-long rides and the Air Gel for shorter trips. Their chamber material is heavy duty; although the covers are lightweight for maximum air circulation, they are easily removable for washing or replacement.
A heavy rain one afternoon soaked the Classic, but it dried quickly and completely due to the light mesh cover and space between chambers. As the cliché goes, your mileage may vary, but my mileage is rolling on the Wild Ass.
Pros
Extremely comfortable
Transfers from bike to bike easily
Teleworkers can use on their office chairs when not riding to the office
Heavy chamber material and included patches extend durability
Washable cover
Wide size distributes rider weight over broader area
Height (slight) off seat offers longer stretch between seat and pegs
Two-year warranty
Cons
Not cheap
Light cover subject to wear
Specs
Manufacturer: Wild Ass
Made in: South Korea
Price: Smart Classic $249.99, Smart Air Gel $194.99, Smart Lite (not reviewed) 199.99
Sizes: Smart (15.5 X 14 in.), Saddle (13 x 11.5 in.), Sport (12.5 x 12.5 in.), Pillion (9 x 11.5 in.)
Color: Black
Warranty: Two years
Review Date: June 2023
Important Links / Where to Buy