Summary
The Wiha Micro-Finish screwdrivers are very well made.
They have a high quality, excellent feel and good gripping surface.
They're so nice, it's rather a shame to get them dirty and greasy.
But they work better than any other screwdrivers I've tried, so don't be afraid to use them!
Background
Do tools made in Germany work better on BMW motorcycles?
It's all in the mind of the person behind the wrench (or screwdriver, in this case!).
For us dedicated tool freaks though, one thing's for certain: there's a type of extra-delicious subversive thrill when we hold, caress, uh, and also use a really high-quality, well-made, nicely finished, perfectly weighted tool.
I think that's the difference between real tool freaks and "normal" people — "toolies" love handling and using high-quality tools, while the rest of the population couldn't care less.
If you know what I'm talking about, (and if you don't, you're probably thinking by now that I'm nuts!) you'll also realize that most of the time, you can count on getting that extra-sensory "feel" from highly polished, chrome plated, bare metal wrenches like those made by Snap-On, Armstrong and others.
There aren't many screwdrivers I've found that give you pleasure just in holding them.
Wiha Micro-Finish Screwdrivers
But these Wiha Micro Finished screwdrivers, made in Germany, have such a great balance and feel, I find myself opening my toolbox when I pass by just to touch them again. OK, so I'm nuts!
Wiha has many hundreds, if not thousands, of tools listed on their website. So I probably would never have found this set, if it wasn't for Paul Allen, the Vice President and General Manager of Wiha Tools in the U.S.A.
This set is part # 53390; Slotted Micro Finish, Non-Slip Grips, "Extra Heavy-Duty Style" 5 Pc Set. Set Includes: Slotted – 5.5, 6.5, 8.0; Phillips – #1, #2.
Paul had visited webBikeWorld and liked our review of the Wiha bit drivers, so he offered to send over this set. The secret is that Paul's one of us! Yep, he rides a motorcycle! I'm guessing that Paul's never lacking for tools in his garage…..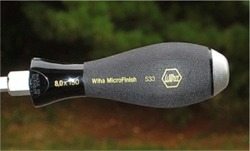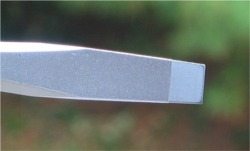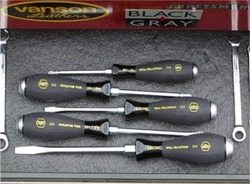 One of the first things you notice about these tools is their weighting and balance. They feel hefty without simply feeling heavy.
I think that's one of the differences in really high-quality tools — they are nicely balanced in the hand.
This usually translates into less strain on the user and better fit on the nut, bolt, screw or whatever else it is you're using the tool for. Each handle is proportional to the size of the blade to help prevent over-torquing.
These Micro Finished screwdrivers are the "top of the line" for Wiha. The Micro Finish refers to the type of finish on their non-slip handles (see photo left).
They are covered in a type of rubber or vinyl that has a very slightly rough finish for grip.
Wiha claims they deliver 50% more torque than normal screwdrivers.
I believe this is because the ergonomics of the handle, combined with the weighting and the grip's finish, combine to require less driving force than normal screwdrivers.
They also have a nice steel cap on the end of the handle, and a hex bolster at the end of the blade (opposite the drive end). Although if you need to put a wrench on the bolster to help you unscrew something, you've got big problems.
The tips of the screwdrivers are precision machined for an exact fit (see photo below).
Anyone who's used a screwdriver like this knows that this type of finishing can help prevent the tool from jumping out of the screw and ruining the drive slot.
The blades are made of special Wiha tool steel, and they are "vapor chromed" to help prevent corrosion.
I always feel that when I use a tool like this, the repairs are easier and turn out better. It's probably all in the mind, but….maybe not!
Conclusion
The bottom line? Sure, you can buy a set of screwdrivers for $6.95 at your local Big Box Outlet. And they'll probably be good for one or two uses around the kitchen.
But if working on your motorcycle gives you as much pleasure as riding it, and you want a set of tools that you can hand down to your grand kids, why not make the investment for what will basically be a lifetime of pleasure?
My feeling is that 58 bucks really isn't that much for a set of screwdrivers like this. Ask for a set for Christmas! Just think of how nice your toolbox will look and how good you'll feel when you pull open a drawer and you see these screwdrivers sitting in the drawer!
More wBW: Wiha Bit Drivers Review  |  Wiha Magic Ring Hex Wrench & Ball-End Hex Wrench Review
w

BW

 Review: 

Wiha Micro Finish Screwdrivers

Manufacturer: Wiha Tools
List Price (2007): $58.00
Colors: Black anodized.
Made In: Germany
Review Date: January 2007
Note: Item provided by a retailer, distributor or manufacturer with these Terms and Conditions.
Note:
 For informational use only. All material and photographs are Copyright © webWorld International, LLC since 2000. All rights reserved. See the webBikeWorld® 
Site Info page
. Product specifications, features and details may change or differ from our descriptions. Always check before purchasing. Read the
Terms and Conditions
!
Owner Comments and Feedback
---
From "G.W.": "Wiha Screwdrivers: I felt guilty about spending that much on a set of screwdrivers until I started using them.
I found that as I started maintaining my new (used) BMW R100R, I was stripping screws left and right using my old, trusty 4-in-one screwdriver from Ace Hardware.
I have yet to strip a screw with the Wiha set. Maybe it's because I've got a fair range of sizes to choose from, or maybe it's the roughened finish on the "business end" of the screwdrivers…or maybe it's just because they feel nice, like a precision tool. Whatever.
They work and I can save the Ace 4-in-one for opening paint cans."