Aussie men may be the reason there are not more female riders. An American study has found women who ride feel more confident, happier and sexier than those who don't ride, which has led to a rise of several thousand female riders in the US in the past few years. However, Australian women are lagging behind when it comes to riding.
Harley Sportster rider Sharon Hughes, 60, says she has been riding since she was 50, despite a chauvinistic trend among male riders. "They says stuff like 'you ride at the back', or 'you'll need to ride slower'," she says. "I've been to the US and there are a lot more women riders there because the men here are different."
She says Aussie women need to change. "A lot of women who ride pillion say they would like to ride but their husbands won't let them," she says. "They need to know that they can do it."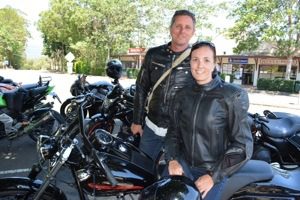 Pillion Louise Bentley, 33, says she has considered getting her motorcycle licence. "I love the excitement of riding," she says. "But I haven't got around to it. I also have a bit of fear."
Sharon started riding when her longtime marriage broke up and says she agrees with the Harley-commissioned survey which shows women riders are happier, more confident and sexier. (Read my story here.) "I agree with the survey; riding has dug me out of the biggest hole," she says. "It's given me more confidence than I thought possible."
Sharon says she has ridden with women's groups, but found many of the women "too butch". But not as butch as American women. "The women there ride bigger bikes because the girls are a lot bigger too."
Louise says she would prefer to ride a smaller bike than her friend's Softail Standard. She says she would be interested in riding the learner-legal Harley Street 500 (pictured below) which is due in Australia in 2015.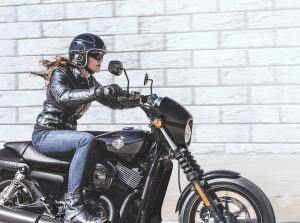 A learner bike with the street cred of the Harley badge may be just the ticket for getting more female bums on seats in Australia. What's the bet Harley-Davidson moves heaven and earth to get the bike here sometime in 2014!