The Sturgis Rally, Isle of Man TT, Phillip Island MotoGP, Stelvio Pass and the Ace Cafe are probably the top five motorcycle icons for riders worldwide.
If you go to London, a visit to the iconic Ace Cafe on the North Circular Road, NW10, is a must as this is where the cafe culture was truly born.
You don't need much reason to visit, but on July 4, the Ace Cafe will host the Diamond Day Custom Motorcycle Show presented by the Chopper Club of London from 11am.
Entry is free and there will be prices for best trike, engineering, chop, street fighter, paint, classic "new chop on the block" and best in show. They say, "It's a London fing."
MotorBikeWriter was invited to judge, but sadly I won't be in England at the time.
Like many other riders, I've made my pilgrimage to the Ace Cafe where I had an English breakfast with a nice cup of hot, strong tea.
Unfortunately, it was midweek and there were few bikes around, but I soaked up a bit of atmosphere and bought the t-shirt.
The Ace Cafe was the London truckers' café that became a favourite haunt of Britain's bikers and a powerful symbol of post-war counterculture.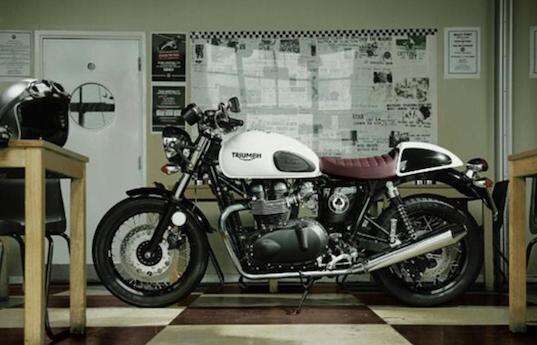 It gained notoriety as the biker hang-out in the early 1960s and formed an instrumental piece of the café racer culture of the era.
While it's still going strong, the Ace Cafe has had its trials.
It was bombed in World War 2, been the scene of riots and clashes with the police, been pilloried by the British press as a place where "decent people" didn't go and as recently as last year was threatened with closure as part of new powers under the Anti-Social Behaviour Crime and Policing Act 2014.
Yet it still survives and continues to offer motorcycle events like the Diamond Day Custom Motorcycle Show as well as car shows and live music.
Some say, you're not a real biker unless you've been there.
Top 5 motorcycle icons
The Sturgis Motorcycle Rally this year celebrates its 75th anniversary with an expected crowd of 1 million invading the small South Dakota town of Strgis, population 6883.

Mrs MBW at Sturgis

The Isle of Man TT is one of the most dangerous motorsport events in the world. In this nanny state we live in it seems amazing that they still race through towns, past light poles and telephone boxes with only hay bales as protection.

Isle of Man

Phillip Island MotoGP is not only an icon for Australia, but one of the most scenic racing circuits in the world. Changeable weather, a huge straight, Lukey Heights and Siberia all add to its charisma.

Phillip Island MotoGP

The Stelvio Pass in northern Italy is as tangled as a plate of spaghetti. There are 48 hairpin turns as the road climbs almost 2km, the second highest road in the Alps.

Stelvio Pass

The Ace Cafe encapsulates youth rebellion, cafe racers, speed, sex, girls, leather, fun and everything that first attracted us all to motorcycles.
How many of the top 5 motorcycle icons have you visited?