Warmthru Battery Heated Gloves Review Summary
Warmthru Battery Heated Gloves Image Gallery
Battery heated gloves have a great deal of potential for motorcycle riding and they will hopefully equal the heat generated by wired gloves someday soon. This is more of an update or report than a review, and it serves as the final installment of our 9-part series covering a variety of cold-weather gloves for the 2008-2009 winter riding season. We first reported on the Warmthru battery heated gloves two years ago, in December of 2006.
Warmthru recently sent us a revised pair of the G3 Fingerheater gloves and a set of Warmthru battery heated glove liners (below). We provided feedback and comments which they are currently using to incorporate into a new version. Our plans are for this to become an ongoing report as the technology evolves and as new products are released. Battery heated garments are, I believe, the future. I still find the Jett battery heated vest to be much more convenient than any of the wired vests I can choose from, and it puts out all the heat I need to remain comfortable, and I'm expecting the same very soon from battery heated gloves.
My least favorite part of winter riding is the time it takes to pile on layer after layer, getting zipped up and buttoned. When I decide to go for a ride, I want to throw on a jacket and pants, pop on my helmet and gloves and go. I'm usually in a hurry because just about every ride is for working purposes and we use any break in the winter weather to evaluate the different products lined up in the evaluation queue.
Thus, depending upon which products are being evaluated, I may be on and off the bike several times during a session or for quick jaunts back and forth to my garage or to Burn's workshop. Sometimes I have to pause while I'm writing or editing an evaluation to jump back on the bike again to confirm a particular feature.
Wires only get in the way and any extra time needed for setup cuts into the brief time we might have during breaks in the weather. But even for casual riding, just think how nice it would be to pull on a pair of gloves, throw a switch and ride with warm hands with no worries about connecting or organizing twisted wires. This is the promise of battery heated gloves, and if you haven't experienced the freedom of a battery heated vest, you may not realize what a revelation this freedom can be.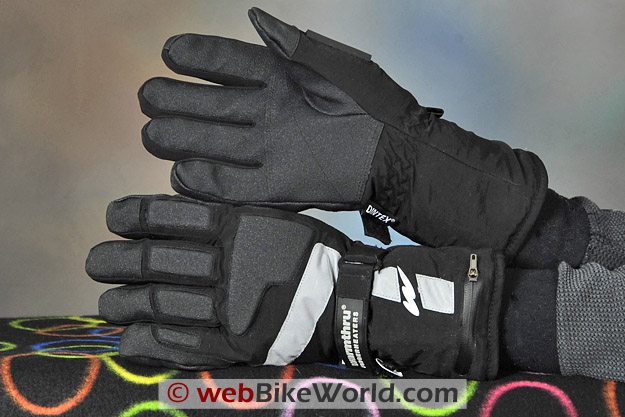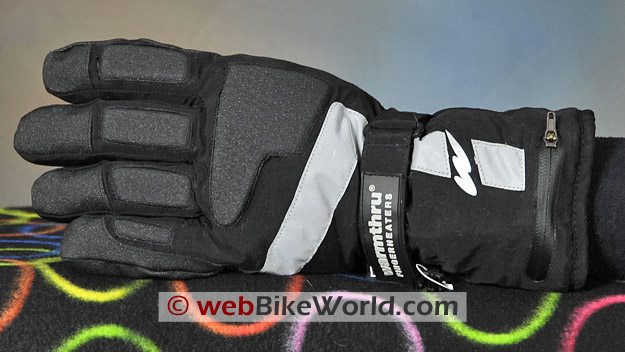 Warmthru Fingerheater G3 Battery Heated Gloves
The 2008 "G3" version of the Warmthru battery heated gloves is an update of the originals we reviewed in 2006.
The new gloves have several differences; most noticeable is the battery pocket, which is now part of the gauntlet rather than an external pocket outside the gauntlet.
The rest of the G3 update includes minor differences in styling and abrasion protection, but the Warmthru gloves are still waterproof and windproof, passing our "bucket test".
The 3300mAh, 3.7V Lithium Ion battery is claimed to last about 3.5 hours, which is about right. The battery is claimed to stabilize the heat in the gloves at 35 degrees Celsius (95 F), which is just under body temperature.
This means that the feeling of heat is subtle — the gloves do not provide overwhelming warmth akin to something like holding on to a heated grip.
They are designed to provide enough heat to keep the hands from getting too cold to be uncomfortable, and in that regard, they do work.
Each battery is a 50x70x15 mm block weighing 79 grams (2.75 oz.), and each glove (or glove liner) has its own battery.
The battery has a female connector that plugs to a wire inside the battery pocket.
Once the wire is plugged in, the gloves are "On", but Warmthru offers an optional battery with an On/Off switch.
We have a pair of each type and I don't really miss the switch, so potential owners can save a few quid by not opting for the switched battery.
The gloves seem a bit bulky for motorcycle use; the size large shown here runs about one size big.
Each glove have thick insulation all around and a wind- and water-proof liner, making them feel about the equivalent of the big Held Freezer gloves in terms of bulk.
The battery is held inside the gauntlet with a waterproof zipper, adding to the overall thickness.
The gauntlets are also snug by design, so the Fingerheater gloves are best worn under, rather than over, a jacket sleeve.
The additional thickness of the battery can make the gloves a bit difficult to fit under some jacket sleeves.
Several local riders tried the gloves and we got together and one of the suggestions was to make the battery an external device that could be worn on an elastic or hook-and-loop armband over the jacket sleeve, then extend the wire from the glove to plug into the battery.
This could allow the gloves to be worn with any type of jacket, no matter the sleeve thickness. It could also make the battery more accessible when riding in case the rider wishes to switch it on or off.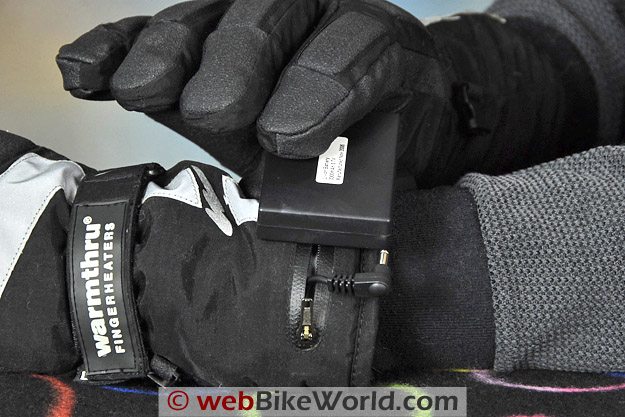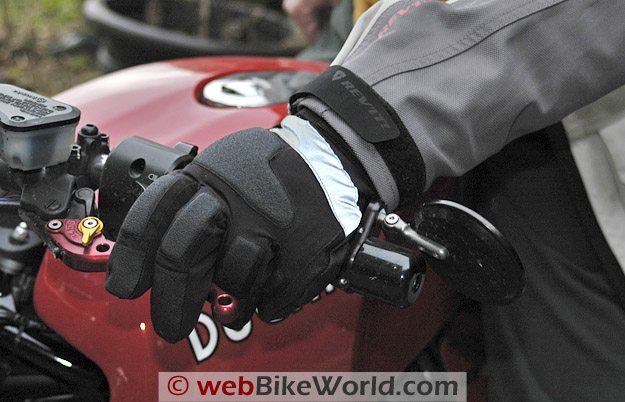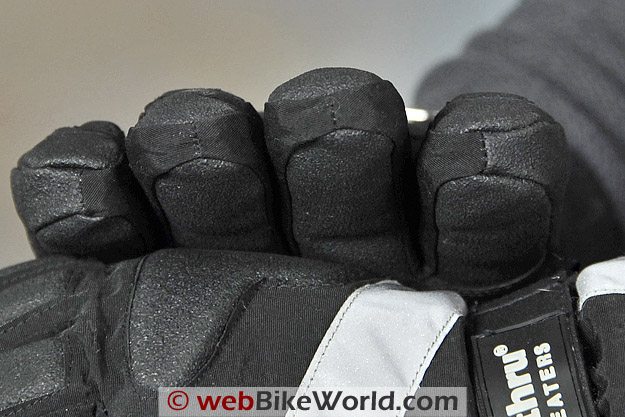 Warmthru Fingerheater Glove Details
The Warmthru Fingerheater batteries are CE approved and are ROHS-WEE (reduction of hazardous waste for electronic components, a European manufacturing directive) compliant.
The gloves are available with battery chargers for the UK, Europe or the U.S. and the batteries are claimed to last through approx. 500 charge cycles during 3 years of use.
The charger will charge two batteries simultaneously and we found that the first charge took about 8 hours, with subsequent charges taking about 5 hours. It is possible to order an extra set of batteries also.
The gloves have a large swath of reflective material and the rubbery surface on the palms provides excellent grip in any type of weather or conditions that we encountered.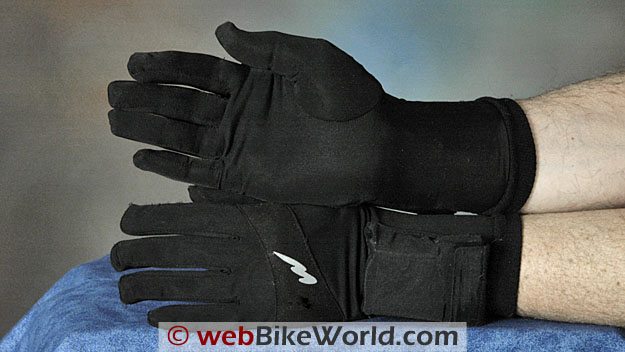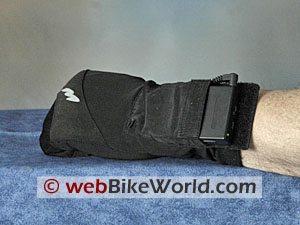 Warmthru G1 Battery Heated Glove Liners
Warmthru also manufacturers a pair of traditional-looking motorcycle gloves that are claimed waterproof but not heated.
They're designed to be worn with the Warmthru G1 heated glove liners, and they sent along a pair of the liners for us to evaluate also.
I think the heated glove liners have a lot of potential; think about it — all you'd need would be a pair of windproof motorcycle gloves, not necessarily designed for cold weather, and you could wear the heated liners underneath when the weather turned cold.
The heated glove liners are thin enough to fit under most gloves, although they work best when the gloves are one size larger than normal. They use the same battery as the Warmthru Fingerheater gloves.
However, the liners seem to have fewer heating elements than the Fingerheater gloves, and it was difficult to tell whether the liners were adding the desired warmth. Several motorcycle owners tried them and one person who used them on horseback, but the results were mixed.
The liners come with a free pair of waterproof and windproof over-gloves. Our feeling is that the heated liners have much potential and we'll keep you posted on this technology as it improves.
Conclusion
A lot of untapped potential here and we can't wait to try the next version!
UPDATE: See the Warmthru G4 Battery Heated Gloves Review (2010)
w
BW
 Review: Warmthru Fingerheater Battery Heated Gloves
List Price (2008): Gloves £115.98 including VAT at 15%. Liners £87.60
Made In: Unknown
Colors: Black
Sizes: S to XL
Review Date: January 2008 and February 2009.
Note:
 For informational use only. All material and photographs are Copyright © webWorld International, LLC since 2000. All rights reserved. See the webBikeWorld® 
Site Info page
. Product specifications, features and details may change or differ from our descriptions. Always check before purchasing. Read the
Terms and Conditions
!
Owner Comments and Feedback
---
From "W.D.H." (January 2012): "After reading your review of these heated gloves and seeing that you had them for sale, I bought them from webBikeWorld last May.
Well, I finally had cold enough weather here in Texas to try them out. I had turned them on indoors and of course they felt plenty warm.
Last night I wore them outdoors in temperatures in the low 30s F. I was not riding but walking.
To my dismay I discovered that the thumbs on each hand did not warm up. It feels like the heating element is in there on the top side only of the thumbs but they are not heating.
My thumbs actually became uncomfortably cold even with my hands and other fingers warm.
These gloves would definitely not have been useable on a bike at these temperatures.
I admit that my fingers may feel the cold more than some other riders as I have not been able to find any gloves that keep my finger tips comfortable on a long cold ride.
Other than that, these gloves seem well made and are quite comfortable.
I do think they would be more suitable, if the thumb elements worked properly, for other outdoor winter activities rather than serious motorcycle riding.
Reply from Warmthru: "Yes, there is a heat element down the thumb. But there is only one, on the palm side, not on both palm and upper.
There are two elements on each glove, one above, one below the fingers.
But due to the technology we use for the G4s, i.e., a heat element embedded in a thin plastic sheet, there would be wear and tear if we included an element on the top side which would soon lead to bending and ultimately failure.
This is due to the design of the human thumb which has high vertical movement thresholds.
The thumb element is easily detected and with the thumb inside the glove can be pushed down towards the thumb in order to feel the temperature directly.
Hope this helps."