VLAD laws and Vlad Putin are making it difficult for riders trying to debunk the penchant among police and legislators for social profiling of motorcyclists.
A Russian biker club that has close associations with President Vladimir Putin, plans to ride across several European countries to Berlin for a May 9 ceremony recognising the Red Army's conquest of the city 70 years ago.
In these days where social profiling of motorcyclists is an issue in Australia and the US, this brazenly political and controversial ride is yet another thorn in the side for the profile of riders.
It's difficult enough to argue against laws such as the draconian VLAD Act in Queensland without the profile of motorcycling being linked with crime and, in this case, notorious political issues and figures.
Russia's Federation of Motorcycle Tourism has organised for several biker clubs to travel to Berlin for the May 9 commemoration of the allied victory in WWII. The ride will include members of the controversial Night Wolves bike club which has strong links to Putin.
In 2014, the Night Wolves rode to the Ukraine to support pro-Russian protests against the new government and deliver "humanitarian aid" to protestors.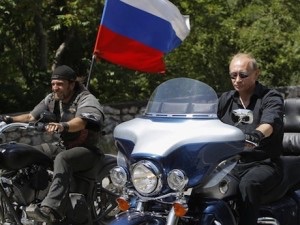 Putin has ridden his Harley-Davidson Ultra Classic and Trike with Night Wolves on several, occasions and is a close friend of their leader Alexander Zaldostanov, nicknamed "The Surgeon".
In 2013, Putin personally decorated Zaldostanov with a state honour after the group helped restore a monument symbolic of Soviet war heroism in the southern city of Volgograd.
In 2011, Putin led a column of the bikers on his Harley at a rally held on a former Soviet warship in the Russian Black Sea port city of Novorossiisk. The club's aim is to "spread Russian influence around the world".
The club will join the ride which is planned to start in Moscow and cross several countries including Belarus, Poland, the Czech Republic, Slovakia, Austria and Germany.
However, Polish activists have started an official petition calling for their government to stop the bikers from entering Poland and have aligned with similar protesters in other countries. It is expected they will physically try to stop the riders.
The Russian Federation of Motorcycle Tourism has denied their event is political in nature and the Night Wolves president Alexander "the Surgeon" Zaldostanov told Russian press that they simply intend to commemorate the defeat of fascism.
It's certainly not a good look for motorcycling.