VINCENT RAPIDE BACKGROUND
Vincent head engineer Phil Irving was working on some tracings of the firm's 499cc single cylinder engine in 1936. As things got moved around, two of the tracings lined up roughly in the shape of a V-twin. With a little cajoling, he quickly lined it up enough to see that it would work. And the Vincent V-twin was born. By 1936, the new bike was in production, designated the Series A Rapide. It was, compared to later bikes, complex to build and maintain, but it was fast, very fast. By doubling their cylinder-count and displacement, the new 998cc V-twin made 45 horsepower, almost unheard of in 1936, not to mention its 110 mhp top speed. The 1939 Rapide was the last of the Series A's, with production curtained by the start of World War 2. When civilian production resumed in 1946, Vincent would introduce the new Series B Rapide with the same displacement, bore and stroke, but with a different V-angle and unit construction.
VINCENT RAPIDE SERIES BREAKDOWN
Rapides are broken down into 4 series, A, B, C and D. Series A were all the pre-war bikes. Series B went from 1946 to 1950, usually with Brampton girder forks. Series C ran from 1950ish to early 1954 and had the new Girling Girdraulic telescopic front forks. Finally Series D took it from late 1954 to the demise of the Vincent Rapide line in 1956. One of the most visible difference between the Series C and D is the seat and seat mounting bracketry.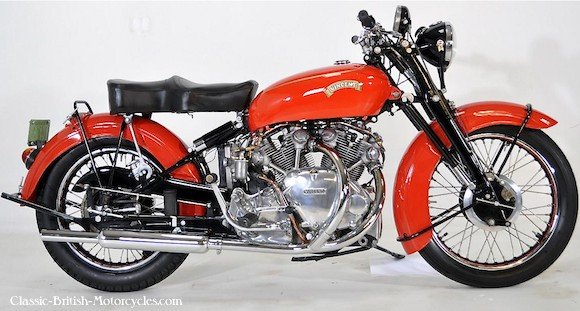 ---
Series A Vincent Rapide 1936-1939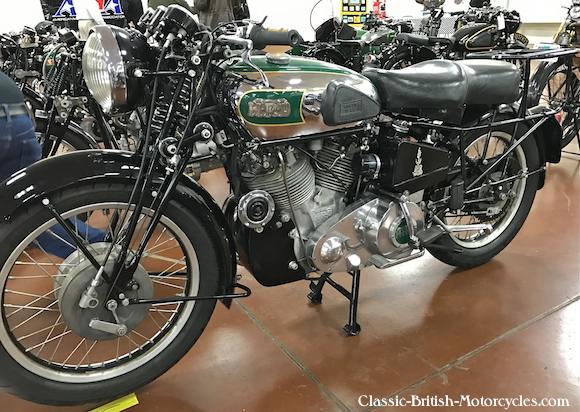 SERIES A RAPIDE CHARACTERISTICS
Vincent's first foray into big V-twins started with the 1936 Series A Rapide. It was a 998cc brute with 45 horsepower at at time when the a Triumph Speed Twin had around 26. Everyone loved them, but few could afford them. Complicated and expensive to build, undercapitalized Vincent was never able to produce them in large numbers. Series A was cut short by World War 2 in 1939, and by the time the war ended, it would be replaced by the vastly-improved Series B. The design solutions that were chosen for the Series A are indicative of pre-war thinking. Non-unitized construction (engine, primary case and gearbox are separate components), external piping for top end lubrication, and an overly-complex valvetrain were just some of the issues that Vincent addressed and improved upon with the Series B.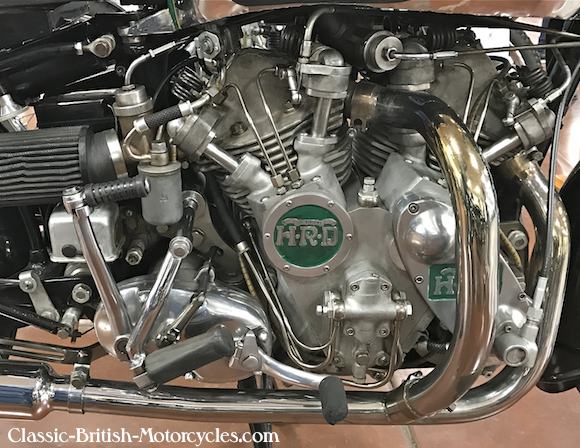 ---
Series B Vincent Rapide 1946-1950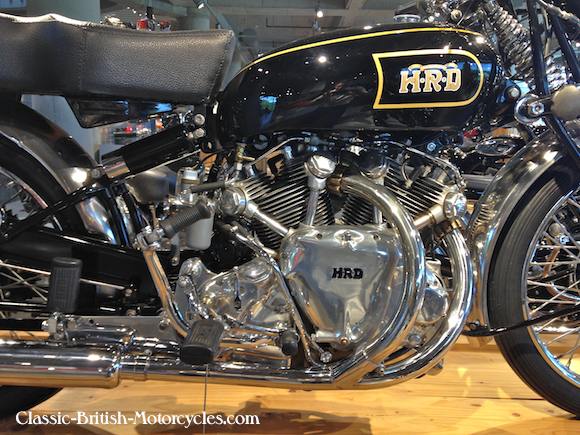 SERIES B RAPIDE IMPROVEMENTS
During the War, Vincent's engineers toiled away reengineering the company's V-twin engine from scratch. Even the V-angle was changed, from 47.5 degrees in the Series A to 50 in the Series B. Top end lubrication was now handled internally, eliminating all external oil lines. The engine, primary case and gearbox were all housed in one unitized casing making for a lighter, stronger, more compact package, and one that could now be used as a stressed member for the frame, thus eliminating the need for front down tubes or an engine cradle.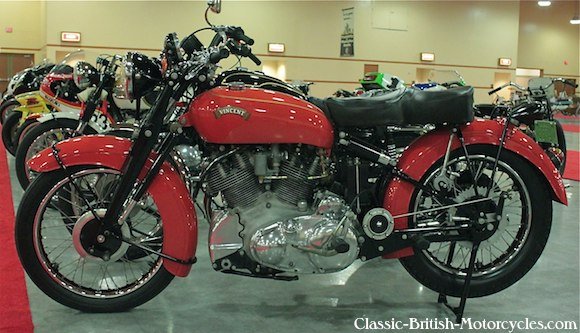 ---
Series C Vincent Rapide 1950-1954
SERIES C RAPIDE DIFFERENCES
The Series C was introduced to the Rapide lineup in 1948, but did not replace the Series B. Instead, they ran side-by-side. The only real difference between the two series was that the Series B used the ancient Brampton girder front forks and the Series C used "Girdaulic" forks, made by Girling and with hydraulic damping, hence the hokey name.
---
Vincent Rapide YEAR-BY-YEAR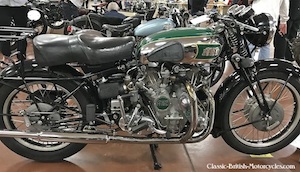 1939 RAPIDE
Series A
998cc V-twin
---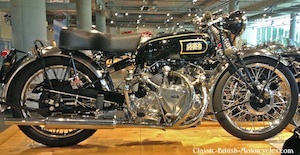 1948 RAPIDE
Series B
998cc V-twin
---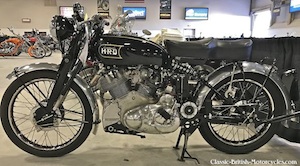 1949 RAPIDE
Series C
---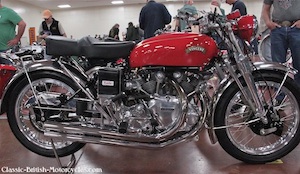 1951 RAPIDE
Series C
998cc V-twin
---
1953 RAPIDE
Series C
998cc V-twin
---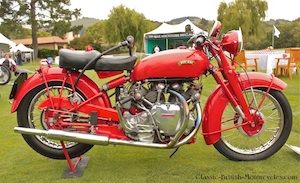 1954 RAPIDE
Series C
998cc V-twin
---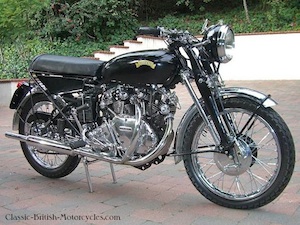 1955 RAPIDE
Series D
998cc V-twin
Vincent's last year of production.
---
Check out these VINCENT BOOKS

Vincent Motorcycles (Crowood Motoclassics)
---

Original Vincent Motorcycle: The Restorer's Guide to postwar singles and twins (Original Series)
---

Illustrated Vincent Motorcycle Buyer's Guide (Illustrated Buyer's Guide)
---

Vincent (Osprey Color Library)
---
---

Vincent from 1938, Road Tests and Features from the Motorcycle & Motor Cycling
---

Know Thy Beast: Vincent Motor Cycles
---

Vincent 1945-1980 Gold Portfolio
---
---

Vincent Motorcycles: The Untold Story since 1946
---
For more like this, please visit our
---