Ducati could be launching a Scrambler 1100 Pro and possibly a Scrambler 1100 Pro Sport in Miami on Monday (27 January 2020), judging by this video.
The video is not on the official Ducati or Scrambler Ducati YouTube channels, so we're not sure of its veracity.
However, late last year, Ducati filed documents with the US emissions agency for a "Scrambler 1100 Pro" and "Scrambler 1100 Pro Sport" with the same 1079cc, L-twin motor with 62kW and 88Nm.
These were expected to be released when the Italian company unveiled its blitz of 2020 models in October, but the only new Scrambler was the Icon Dark.
However, they did also unveil two artist impressions for a Motard 803cc version and a Desert X with Dakar Rally styling and powered by the 1100cc engine.
Last week, Ducati announced its 2019 sales figures and ended with the vague announcement that they would add another Scrambler model to its fleet "in the coming months".
That signified only one model and as much as many would like to see the Desert X, the video seems to suggest it will be the Scrambler 1100 Pro.
However, the video ends with "JUST PROs" which indicates two models.
We see one model with gold Ohlins forks as in the main photo at the top of this article and likely an Ohlins rear shock.
Ducati already has a Scrambler 1100 Sport model with Ohlins suspension.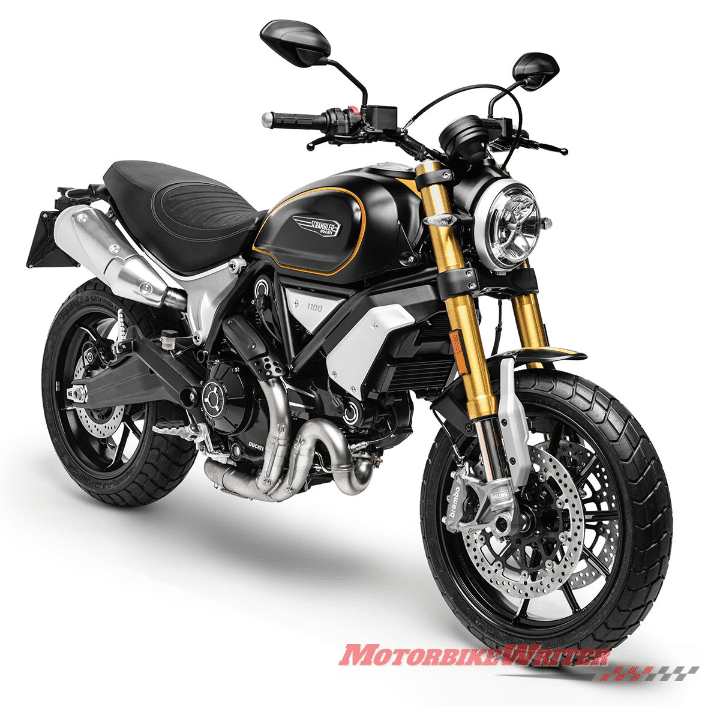 However, in one frame we notice a second bike which has standard black forks, so there could be two models.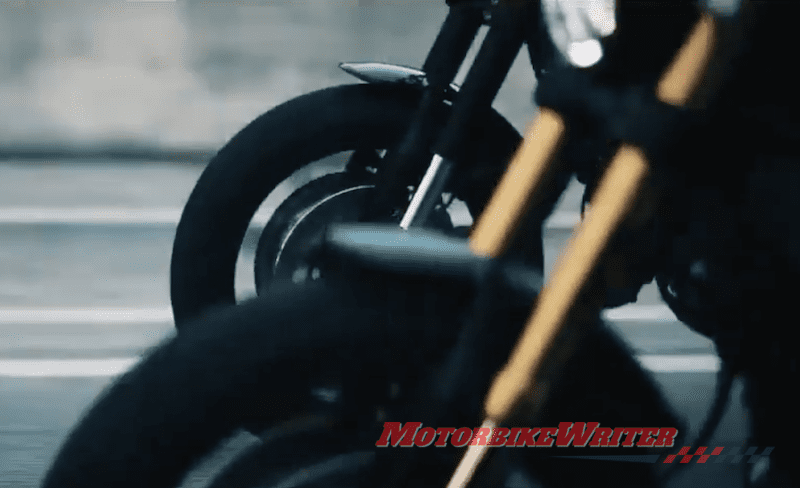 We also notice early on in two other shots what appear to be hydraulic cables coming from the tops of the Ohlins forks, so it could have electronic suspension adjustment.
Meanwhile, we can see that the throttle, clutch and brake cables have been tidied up!
It is interesting that the video dwells on the gear shifter for a few seconds. Could it also have a quickshifter?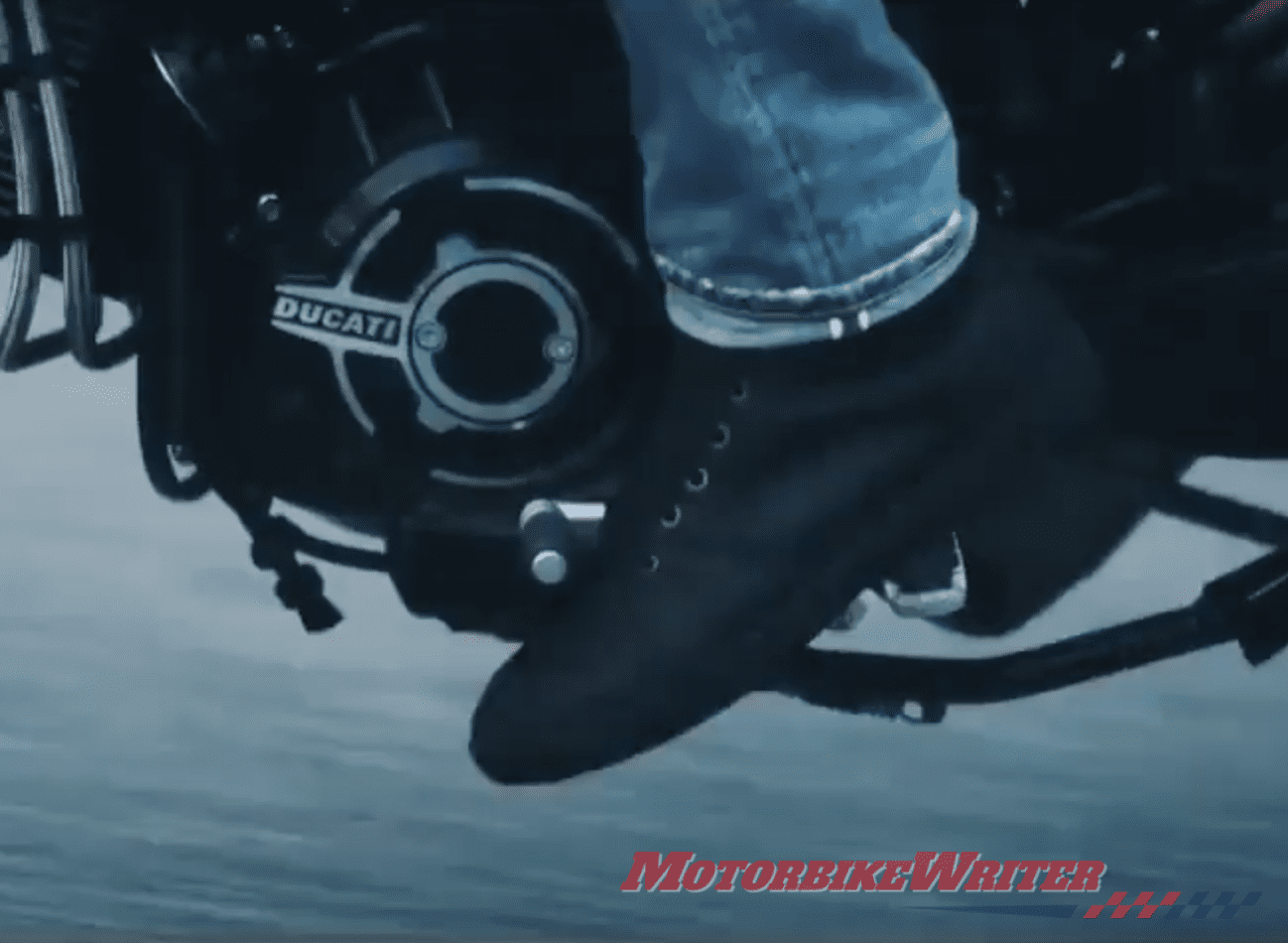 The only other changes we can see is a possible carbon-fibre front guard on the Ohlins-equipped model and double exhausts mounted high on the right rather than either side under the seat.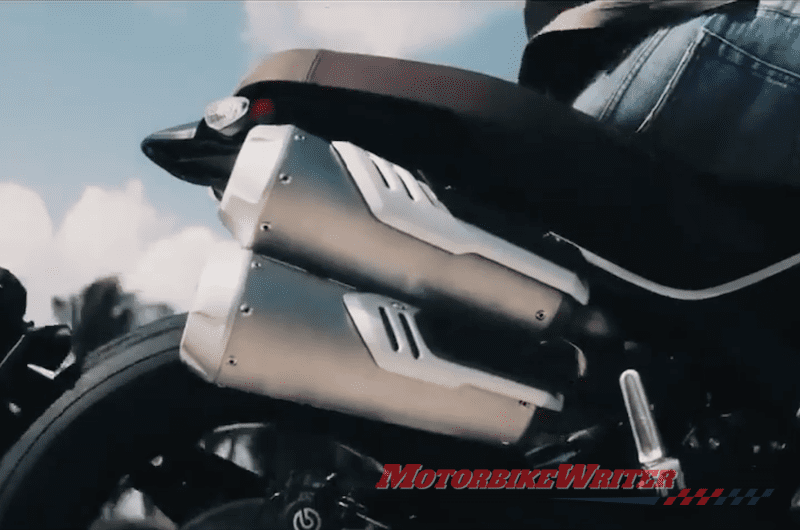 Unfortunately, Ducati persist with ugly "aluminium soft drink can" mufflers, probably because most people swap them for aftermarket models such as Termignonis.
Maybe the Scrambler aficionados can spot more changes from the current Scrambler 1100s.