THE VELOCETTE LE – A BEST-SELLER?
Immediately following World War 2, there was a pressing need in the UK for simple, inexpensive, utilitarian personal transport to get to-and-from work. Velocette attempted to tap into this market with their radical new "LE" in 1948. LE stands for "Little Engine", and it certainly was. The 149cc water-cooled, side valve, flat-twin made all of 8-horsepower. It was mounted in an unsightly pressed-steel frame with a swing-arm and telescopic front forks. Designed by Charles Udall, it was supposed to be cheap and easy to produce, so that it could be delivered to the market at a very low price. But the radical new design (including one of the earliest examples of unitized engine/transmission/gearbox construction) proved to be complicated and expensive to produce. Strangely, despite all this, it proved to be a runaway best-seller for Velocette, in fact their best-selling model ever! Still, the high cost of tooling and manufacture made it almost impossible for Velocette to make a profit. One nice feather in their cap was the wholesale adoption of the LE by British Police. It was produced, pretty much as-is, until Velocette closed their doors in 1970.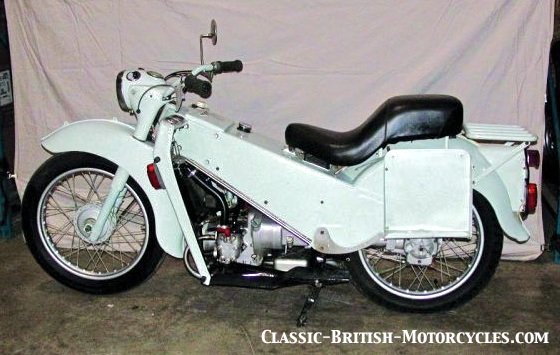 ---
Velocette LE SPECIFICATIONS
Model designation
Years in production
Series
Engine type
Valve gear
Displacement
Power output @ RPM
Gearbox
Final drive
Suspension, front
Suspension, rear
Frame type
Brake, front
Brake, rear
Tire size, front
Tire size, rear
Seat height
Weight
LE
1948-1970
MkI 1948-59; MkII 1951-57; MkIII 1958-70
Water-cooled, horizontally-opposed twin
Side-valve (flathead)
MkI: 150cc / 9.2 ci; MkII: 192 cc / 11.7 ci
MkI: 6hp@ 5,000rpm; MkII: 8hp @ 5000rpm
MkI & II: 3-speed; MkIII: 4-speed
Shaft-drive
Telescopic fork
Swing arm w/2 shocks
Pressed steel monocoque
5-inch SLS drum
5-inch SLS drum
MkI 3.50″ X 19″; MkII & III 3.25″ X 18″
MkI 3.50″ X 19″; MkII & III 3.25: X 18″
28″ / 710mm
260 lb / 120 kg
---
Velocette LE YEAR-BY-YEAR
---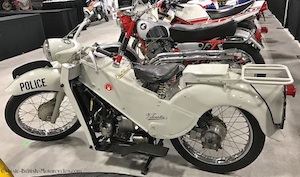 Among other things, the Velo LE was a top-seller to British police forces.
---
Check out these VELOCETTE BOOKS
---
---

BOOK OF THE VELOCETTE ALL SINGLES & TWINS 1925-1970
---

Velocette: Production Motorcycles (Crowood Motoclassics)
---

Velocette Motorcycles – MSS to Thruxton: New Third Edition
---

The Velocette Saga: The Story of a Great Motorcycle
---

Velocette 350 & 500 Singles: All 350 & 500cc models 1946-1970 (Essential Buyer's Guide)
---

Always in the Picture: History of the Velocette Motorcycle
---

Velocette: The Racing Story (Crowood Motoclassics)
---

Velocette (Illustrated Motor Cycle Legends)
---

Velocette – Technical Excellence Exemplified
---
For more like this, please visit our
VELOCETTE MOTORCYCLE BOOKSTORE
---

Comprehensive Vintage Motorcycle Price Guide 2020-2021
---