Vega Summit II Helmet Image Gallery
No doubt about it: the original Vega Summit has been the most popular motorcycle helmet of webBikeWorld visitors.
Logs show more people visiting our Vega Summit XPV review article than any other helmet review posted on the site.
We haven't spent much more time analyzing the data, but it's obvious that motorcycle riders are looking for a decent flip-up, DOT-approved helmet at a reasonable price.
Flip-up (or "modular") helmet fans really don't have much of a choice. I first started wearing a flip-up about 6 years ago because it was the only type of helmet that would fit over my eyeglasses.
It wasn't until later that I discovered other advantages of the flip-up.
That's for things like refueling, allowing the security guard to see my face when driving through the front gate and for helmet-on Payday stops at the local 7-11.
Six years ago many motorcyclists thought that the flip-up was the helmet of the future.
They also thought that many different brands and styles of flip-ups would be available and that a Snell-approved modular helmet was just around the corner.
They're still waiting…
I started wearing full-face helmets because I found there were more style and fit choices and because of the added (albeit theoretical) safety factor.
I also discovered that if I cut the ear pieces off of my eyeglasses that I could slip the straight arms between the helmet liner and my head on any full-face helmet, and from then on it was full-face only for me.
The lack of flip-up choices has been frustrating.
Modular helmet evolution has been very slow indeed. Take the Shoei Syncrotec (review), for example; it's been around for longer than I can remember and no one's more surprised than me that Shoei hasn't updated the thing yet.
It seems like a distant cousin to the rest of the otherwise excellent Shoei lineup.
I'm not sure why no Snell approved modular helmet is available yet — Snell claims that no manufacturers have submitted one for approval.
I have in my possession a copy of a test from a helmet testing lab in Europe that demonstrates that a well-designed modular helmet can indeed pass the Snell certification tests.
The European manufacturer decided not to distribute the helmet in the U.S. for several reasons, and no one really cares about Snell approval in Europe, so that's where the story ended.
Please don't ask me for the brand of helmet, we've been sworn to secrecy as part of the deal to obtain the test results!
That flip-up or modular helmets sold in Europe must meet ECE 22.05 certifications also demonstrates that there's nothing apparently wrong with the intrinsic design of this type of helmet.
Anyway, the big news in Modular-World is that Vega has updated the Summit, and it's now called the Vega Summit II.
But don't get too excited, Vega fans, because our feeling is that the Summit II is only a minor updating of the original Summit XPV, Vega marketing collaterals notwithstanding. Even the Vega website simply states that the Summit has "updated styling for 2006".
By the way, it seems that Vega is now either manufacturing or distributing Nitro helmets. Photos and information on the "Nitro Racing Full Face" helmet are now available on the Vega website.
They look very similar to the Nitro N1200-VX we reviewed not too long ago. The new helmet is made from a fiberglass Kevlar composite and is claimed to meet DOT and Snell approval.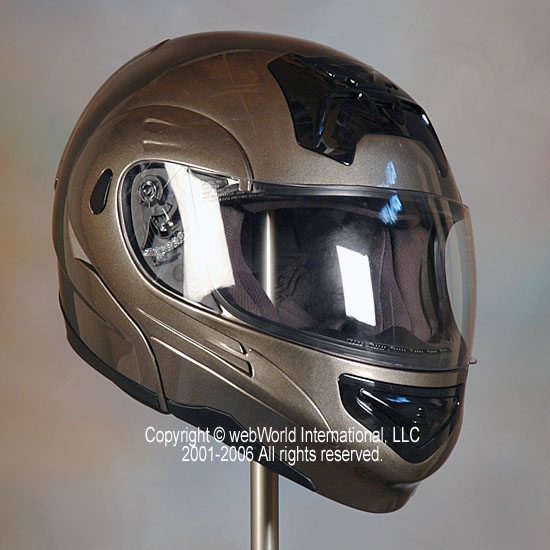 The Vega Summit II feels just like the Summit XPV in most regards; that is, it has a relatively tight "round head" fit on top and the sides are slightly tapered, causing some discomfort on a round-head rider's cheek area.
But it's a pretty neutral fit, meaning that it should fit round and "long oval" head shapes equally well, or nearly so.
The Summit II is slightly shorter in the top-to-bottom shell dimension than the Summit XPV, and the Summit II feels like it fits lower on the rider's head, unlike the XPV, which feels like it sits high with a higher center of gravity.
The Summit II feels slightly more comfortable when riding. It also has plenty of chin room, unlike other modular helmets we've tried, one or two of which have very limited internal front-to-back dimensions.
I'll take a guess that Vega is trying to save a few yuan on the manufacturing costs. The Summit II seems to us to have slightly lower levels of quality than the Summit XPV.
For example, when we tried to remove the (removable) liner, a section of glued-on liner that backs up the cheek pad (and that is supposed to be permanent) pulled away from the inside of the shell.
The flip-up visor on our example also doesn't work as smoothly as the Summit XPV.
Otherwise, the paint and overall finish is roughly the same, appearing to have good quality with no glaring mistakes in paint, at least on our example.
The "Titanium" finish on our size XL is well done, although for some reason it was very hard to photograph, appearing rather muddy in our images. The Summit II is not offered in a graphic pattern.
In addition to the Titanium color shown here, the Summit II is available in Black, White, Silver, Pearl White, Pearl Yellow (cool), Candy Red, Dark Grey, Bright Blue, Dark Red, Gold (claimed to match the Honda Gold Wing) and Red (bright).
Yellow helmet fans will be happy about that color's availability, which theoretically makes the rider more visible in traffic. See the note at the bottom of this page from Vega Helmets regarding the availability of graphics.
The Summit II is also made in two shell sizes, a smaller shell for XS, S and M and a larger shell for L, XL and XXL.
The liner is acceptably comfortable; again, nothing fancy, just a decent liner for the price. It is also removable and washable and Vega says that it's shaped to fit communication devices.
There's actually a thin flap over the ear concave that could probably be sliced open and fitted with a speaker.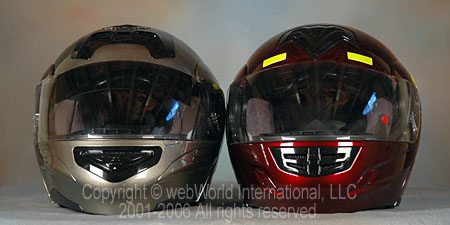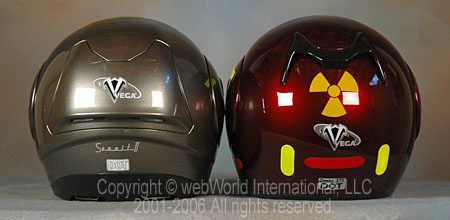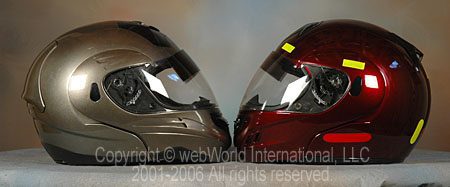 Visor Operation
The flip-up front visor section uses plastic hinges. It doesn't seem to work quite as smoothly as the Summit XPV's visor, but this may also be because the Summit II has some very stiff detents to keep the flip-up visor in place when it's open.
The clear visor also has strong detents, which work well to keep the visor in place in numerous positions for more ventilation.
The button latch that opens the flip-up visor is centrally located under the chin bar, but it is smaller and relatively hidden when compared to the larger latch on the Summit XPV.
It also works differently; the XPV's button pushes up to open the flip-up visor, while the Summit II's button pushes out.
This may also contribute to the feeling that the visor on the Summit II is slightly more balky when opening.
The clear visor is thick enough to prevent bending when it's opened though, and it has good optical qualities.
It's easily replaceable, using quick-release side latches much like the standard seen on many helmets today and, I think, pioneered by Shoei. Vega offers 6 different types of accessory tinted visors for the Summit II.
Noise Levels
No real breakthroughs here — the Summit II has about the same noise levels as the original Summit XPV, which is to say not bad, but it's not real quiet either.
The helmet feels like it fits slightly short under the chin.
And there's a bit of wind rushing noise from that area, not the low frequency "booming" noises typically associated with that area, but a general wind rushing noise that is noticeable when riding behind a half-fairing.
The noise levels are slightly reduced when riding an unfaired bike.
Don't forget that we always wear ear plugs when riding, and suggest that you do also. Riding a motorcycle with (or without) a helmet is a noisy endeavor, with a high risk of hearing loss.
It's our opinion that there is no such thing as a quiet motorcycle helmet — the scale runs from loud to louder.
See the wBW Earplugs and Hearing Protection page for more information on choosing and fitting ear plugs.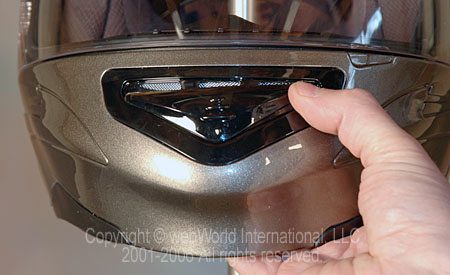 Venting
The Summit II has about the same levels of venting as the Summit XPV; that is, not much. The air through the chin vent is directed only up on to the back of the clear visor and not on to the rider's chin or mouth.
I don't notice a difference whether the top vent is open or not.
But the helmet seems to get enough air from up underneath the chin bar to provide adequate ventilation, and the ability to crack open the clear visor and have it stay in place is a plus.
Chin Strap
The Summit II has a chin strap that appears to be identical to the one on the original Summit. It uses D-rings, which is a plus, but has no snap on the end of the loose end of strap.
There's a cheesy elastic O-ring that's supposed to be used to tuck in the loose strap end, but c'mon Vega, get with the program!
Weight
The Vega sales representative at the 2006 Powersports Dealer Expo in Indianapolis back in February emphasized how much lighter the Summit II is than the Summit XPV.
Our size XL Summit II weighs in on the webBikeWorld scales at 1615 grams, or 3 lbs., 9 oz.
The original size XL Summit XPV weighs 1760 grams, or 3 lbs., 14-1/8 oz., so the Summit II is definitely lighter. The Summit II feels lighter when being worn and it also seems to have a lower apparent center of gravity.
(Note: I originally grabbed the HJC SyMax by mistake for the weight comparison in this section, now corrected).
See the wBW Motorcycle Helmet Weights page for a comparison table and chart illustrating the weights of all of the helmets we've reviewed.
Conclusion
The Summit II doesn't impress us quite like the Summit XPV did when we first reviewed it about 3 years ago.
It may be because we've seen a lot of helmets during that time and most of us here at webBikeWorld have been wearing full-face helmets, although Burn is still a fan of his Syncrotech and I don't think he'll give it up for anything.
But overall, the Summit II is a decent helmet (or excellent helmet when its $139.99 price is taken into consideration).
And it probably really isn't worth spending more money on more expensive flip-up helmets because the choices, even at the upper end, just aren't that good, in our opinion.
w

BW

 Review: Vega Summit II
Manufacturer: Vega Helmets
List Price (2006): $139.99
Colors: Solids and metallics
Made In: China
Review Date: June 2006
Note:
 For informational use only. All material and photographs are Copyright © webWorld International, LLC since 2000. All rights reserved. See the webBikeWorld® 
Site Info page
. Product specifications, features and details may change or differ from our descriptions. Always check before purchasing. Read the
Terms and Conditions
!
Owner Comments and Feedback
---
From "P.A." (November 2011):  "I just recently purchased The Summit II from a dealer five hundred miles away.
Due to inclement weather my wife need to up-grade to a full face helmet. I will be the first to say that I am no expert on full face helmets!
I've ridden for 45 years, mostly Harleys and have just recently gotten a Versys hence the need for a full face! I took the Summit II as my wife liked my Fulmer!
As for as the quality / price of the Summit II I really can't kick! I am sending it back to the dealer for a bit of a different reason.
The modular part of the helmet actually scratches the body of the helmet when actuated and was wondering if anyone else has had this problem!
The scratches are on both sides on the same path of the modular actuation. The scratches appear to be coming from the inside of the modular portion and are deep enough to be felt with a finger nail! Any feedback would be greatly appreciated."
---
From "B.S." (4/10):  "Just thought I'd submit my review of a recently purchased Vega Summit II modular helmet. I bought it mainly to teach MSF classes with. It's nice to be able to flip up the chin bar and talk if I need to.
I paid about $50.00 for it from an online dealer. It's a pearl white which I guess is about as ugly of a color as you could imagine. I guess it was a closeout.
Ok, to me, this helmet feels cheap. My biggest complaint is the visor fit to the gasket. This particular helmet visor has about a 1/4 inch gap just where you least need it, above the eye brow.
This will naturally leak water and air almost like it's not even there. There is no way to adjust the visor to fit closer to the gasket that I can tell. The mounting plate has a screw but even if I loosen it, there's no room to move the visor back, closer to the gasket.
In short, I can overlook other minor issues with helmets no matter if they cost $50.00 or $500.00, if the visor doesn't fit tight then the helmet is unacceptable. In this case the Vega Summit II is a failure.
I think I'll try to contact Vega and see if there's any way to fix this problem but I doubt there is.
I think the best thing to do with this helmet is to donate it to my local community college MSF program for students that may not have a helmet for class.
I'm thankful that I only wasted $50.00 on it."
---
From "S.S." (5/09):  "I have owned the Summit II for 2 1/2 years and 40,000 miles now with no complaints or failures of any kind. I ride a Valkyrie with a National Cycle large windshield.
The helmet isn't any noisier than the full face Arai Signet that I had before the Vega. I like the fact that when I get into town I can open the front, and ride that way.
Yes, I know that you aren't supposed to do that, but I still have the protection value of a 3/4 helmet while riding like that.
I have a 144 mile round trip commute to work every day, and ride rain or shine.
There are minor issues with fogging in the rain, but the shield can be cracked to the first notch for added air flow up the inside of the shield, without letting water in. Over all, I would buy another in a heartbeat."
---
From "T.D." (12/08):  "I have had my Pewter Summit II modular for about two years now (it appears that they have changed designs a little since I purchased it).
Overall, I have been, and still am, very happy with the helmet. It actually fits a lot better than my older Snell 2000 rated Vega Daytona XPV. (which I still use). I have had no problems with the visor, it's very easy to pop it in and out for cleaning.
No real fogging issues. Opening the vents does not let in a whole lot of airflow, but then again, if I crack the bottom of the visor up one notch, I'm good to go. Sound wise, it's no worse than the Daytona.
It does have a couple of issue though, and I do not know if Vega has addressed them yet in the newer versions:
1) Unlike most other helmets I've owned (including the Vega Daytona), the chin strap does not have a comfort liner that acts as a barrier between the strap and the neck.
So the strap has a tendency to rub the crook of my neck raw on long rides. I do not have a big head, nor a fat neck, so it's definitely an ergonomic design flaw.
2) It always sat on the crown of my head beautifully, but sat about a half an inch off the nape in the back. Finally, I added a small strip of foam that cured that issue.
3) Like one of the other reviewers, I also have issues with the chin bar. . . one good tug, the flip face pops up. I have no doubt at all that this helmet would fail a Snell test. The plastic tabs just would not withstand an upward direct impact.
Of course, I didn't buy my modular helmet thinking that it would protect me like a Snell rated helmet. . . I bought it because it's convenient.
I have brought it into a couple of motorcycle shops, and the clerks are always surprised to learn that it's a Vega; even more surprised when I tell them what it cost me. Liked it so much, I bought one for my (now ex-) girlfriend.
My only wish is that local shops would carry the helmets so that I don't have to buy them online."
---
From "M.H." (9/08):  "I really wanted a modular (flip-chin) helmet, so I took a chance on this one for $110 + $15 shipping from a Oz Powersports on eBay.
Would I do it again, knowing what I know now?  Probably not, because of a variety of little annoyances. But the helmet does have some very good features, too.
The flip-up chin bar works well and it's just as useful as I thought it might be for taking a sip of a drink, kissing girlfriends (usually my own), leaving glasses on while donning or removing the helmet. That's a major plus.
The ability to raise the chin and actually SEE my pants when I'm trying to fasten them is quite the advantage. So the main reason I got the helmet has paid off.
I got the "Pearl Yellow" color because I'm a visibility nut. Turns out a better name would be "School Bus Yellow" or "Taxicab Yellow". Still, I'm happy with the color, and the quality of the finish is very nice.
The protective bag has a drawstring system that attaches at two points, making it possible to sling the bag over your shoulder. Good way to carry the helmet.
The venting system is pretty effective.
It's a fairly noisy helmet, like most, but it's all higher-frequency rushing-wind noise. It has virtually none of the low-frequency booming turbulence that I heard in my full-face HJC.
Negatives:
1. The rear vents are located beneath a palm-sized cover, same color as the helmet shell, that is way too delicate.
I put a crack in this cover in the first TWO MINUTES I ever used the helmet, just from a soft bump against a door jamb while carrying the helmet in its bag. Pissed me off.
2. The eye port is noticeably smaller than it was with HJC or KBC full-face helmets.
When I turn my head to check before changing lanes on the freeway, I can't see all the way behind me. I COULD see completely behind me with the other helmets. I don't like reduced fields of view. Bad.
3. The visor is optically correct except at the very edges of the eye port, where it has severe smearing distortion. This is very distracting when doing a head check or anything else that requires peripheral vision."
---
From "D.M.R.":  "(I have) about 42 years of on/off riding experience—including 93,000+ on a 1972 CB750 Honda.
I am currently an aviation safety inspector with the FAA, a pilot, ex-school teacher, and have been a licensed aircraft mechanic for most my entire adult life.)
I read your report on the Vega helmet and thought it would be perfect for a second helmet to crawl under during a rainstorm (I'm taking my '07 BMW 1200GT out to the Grand Canyon area at the end of this month: standard helmet is a 3/4 Dainese).
I received my Vega 2 yesterday (ordered from Iron Pony) and was pleased with the overall quality for a $140 helmet.
Yes, the flip-up part and its visor were both tight–better that than too loose. But other problems quickly became evident.
1) As I tried on my new head-house I noticed both the L and R ear pads were loose: each is held in place with three plastic snap fasteners fixed to a rigid plastic fabric backing.
In just a few moments it became clear the snaps were improperly placed; only two could be engaged at any one time.
Even then, no matter which two were "snapped" in place, the pad's shape could never be arranged in such a manner as to fit the contours of the helmet.
I planned to resolve this by simply cutting off these snaps and gluing in Velcro, but then I noticed another issue….
2) While studying the ear pad problem I checked the flip-up lock for proper operation: it's rather rinky-dink but functional—except the Left/hand male locking lug was missing.
No—examination with a strong flash-light revealed it was broken off. I shook out the helmet's protective cloth bag and out pops the broken, black PLASTIC part. Folks, we're not talking hi-resin, carbon fiber plastic here.
This is "break with your fingers" plastic. In short, very stupid engineering—a simple steel hasp on the outside with a safety pin would be ugly but about 1000 times stronger, cheaper to build, and far far more reliable.
3) The vent system looks interesting, but the build quality is silly.
Shutting off the upper vent holes to seal against rain will require a three inch strip of duct tape—the slide type, plastic hole-blocks lack sufficient tension and elasticity to be effective seals against anything.
4) The "D" rings are "rectangular" shapes of punched metal—not round stock steel wire. As result the unfinished edges are sharp and not smooth in operation as is typical of "D" rings.
As mentioned in your article, the strap's position I too found positioned too far aft.
Vega need not feel lonesome. Even when one speaks with representatives of large companies such as BMW it quickly becomes apparent their corporate spokespersons don't even have motorcycle experience (they think changing tires or setting valves are high-tec operations).
Obviously, the people who make decisions about making these helmets (as with bikes) don't actually wear helmets. They would find much in common with BMW corporate over a power-lunch.
Thanks, but no thanks, Vega. It's obvious you (decision makers) have never spent even a brief moment using your own product, much less hundreds of hours with your head in the wind.
You do, however, have an eye for a pretty paint job."
---
From "C.S.":  "I read the glowing reviews you gave the Vega Summit. I also liked the one I bought….. right up until I pressed the release button and heard a "snap" and now the thing won't release and is useless.
I have used the helmet for about three months. I called Vega and asked if I could order parts to fix it and they refused, saying I have to go through a dealer….. and so I am waiting for them to get back to me and tell me who their dealer is in my area.
Terrific customer support: won't give me parts to fix a defective helmet. I will have to get reamed by a dealer to get it fixed.
This thing is going in the dumpster."
---
"Dear Rick,
Thank you for the generally positive review you gave to our Summit II helmet, and for the other reviews we have received over time.
I recall in the review of the Summit helmet, you said you didn't know much about our company, and while I thought about writing to you to tell you a bit about us, running the business got in the way, and I didn't do it.
VEGA Helmet started in 1994 with the goal of providing high quality yet affordable motorcycle helmets (and later other accessories) direct to motorcycle dealers, without going through distributors.
Our model was to purchase exclusive products directly from the factory, import and distribute it ourselves. We sell only to retail dealers, and we do not sell directly to the consumer.
That remains our model today, the only change being that Lou Xu, one of our founders, has established a totally new factory manufacturing our proprietary brand exclusively for us the US. In addition to motorcycle helmets, we also offer proprietary lines of apparel, footwear and accessories.
You raised a few points in your review that I would like to address.
The flip up visor:  Because the original Summit (and some of our other full face models that used the same shield and quick release system) had some issues with the visor not staying up in various positions, we modified the detents on the quick release for a firmer feel throughout the arc.
The latch mechanism for the jaw:  The mechanism on the original Summit was prone to problems inherent in the design. The new latch mechanism is a much simpler, more reliable design, and much easier to replace should a user run into problems over time.
Some users found the upward push on the original Summit latch awkward; the Summit II is a squeeze and lift motion, and the red button is a bit smaller.
Cheek pads:  We have addressed the problem of the cheek area EPS that you encountered. As far as the snug fit of the cheek pads you felt might be an issue for "round-head" riders' cheeks, I would point out that our removable liner offers the opportunity to swap out cheek pads within shell sizes.
If the large cheek pads squeeze your cheeks, you can move to the XL cheek pads for a bit more room, without changing the head liner portion. This enables a rider to achieve a more customized fit. Replacement liners are available, and the SRP is $15.00, certainly reasonable.
Our first shipment of graphic Summit II's will be available in July (2006), in Black, Red, Blue, Yellow and Green base colors with a black, white and silver tone graphic. A picture is attached.
Finally, the Snell issue: The Snell Memorial Foundation is willing to test any modular helmet submitted to it for testing AS A FULL FACE HELMET.
That means that a modular helmet must pass the same impact test on the jaw area as a full face helmet with an integral jaw piece.
The inherent structural characteristics of a two-piece object where the join is 2 points that have to be able to pivot (i.e. move) make the current modular technology unlikely to pass this impact.
While I am not as familiar with the ECE standard, I do not believe there is any jaw impact requirement, thus modular helmets can meet that standard.
Rick, you have a great website. We often hear from dealers and consumers who have referred to it when making purchasing decisions. Thank you for including us even back when you didn't know who we were!"
Best regards,
Jeanne DeMund
Vice President