Varla Pegasus Scooter Review Summary
Review Summary
The Varla Pegasus Scooter offers a solid commuting or weekend riding experience—especially given its relatively modest price. While not packed with bells and whistles compared to other scooters, it comes with a few welcome rider aids, which improve the value it offers as well. However, its considerable weight and a few design issues may impact your experience with this otherwise good buy from Varla.
Pros
Great performance for its price point
Solid rubber tires are low maintenance and puncture-proof
Cons
Locking mechanism is too hard to unfold
Weak deck loop design needs to be more robust
Heavy and lacks portability
Commuter + Weekend Warrior Riding on the Varla Pegasus Scooter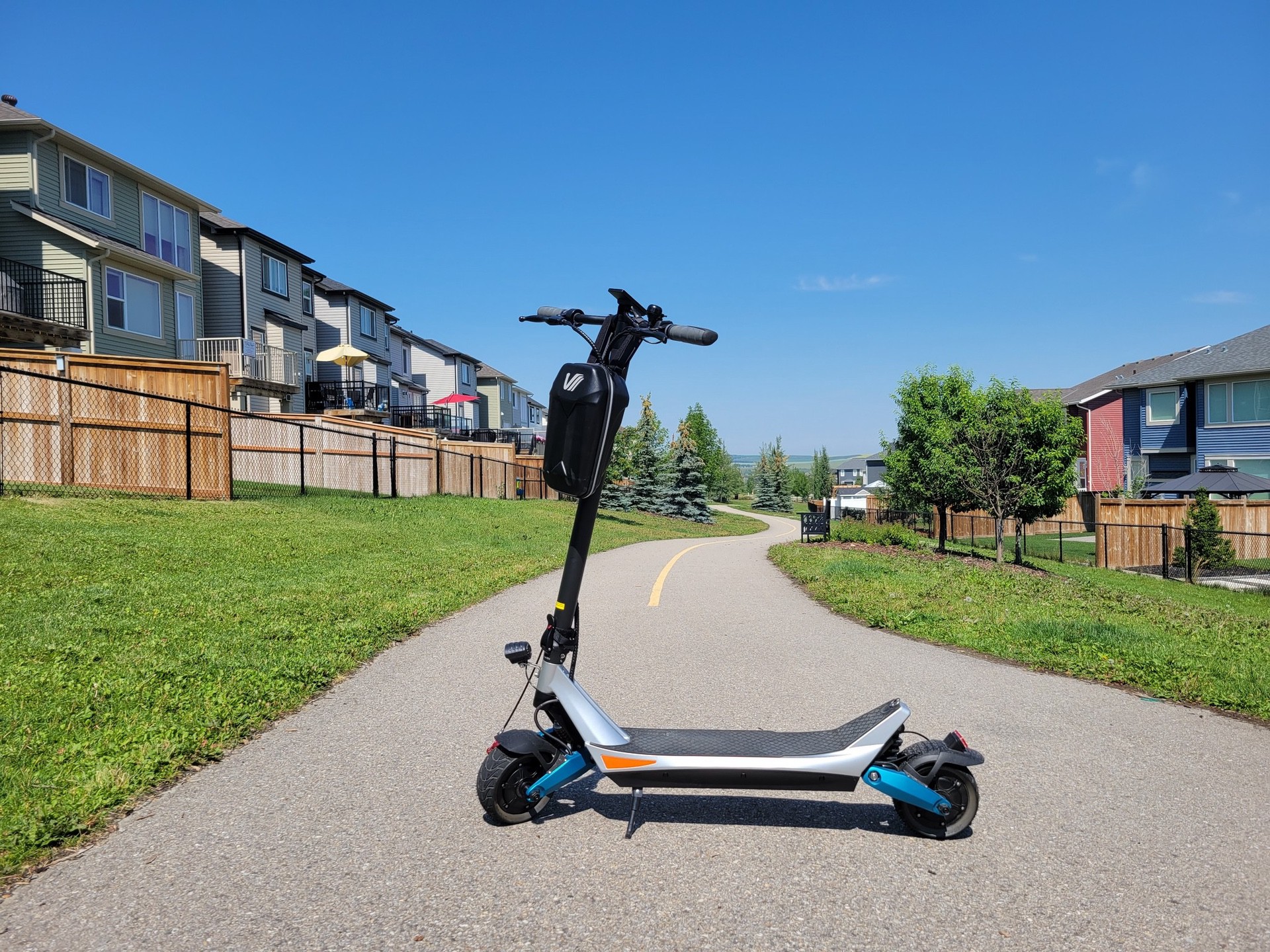 After a lengthy Canadian winter and an initial unboxing review, it was time to roll out the Varla Pegasus and put it to the long-term test on the streets—much as I did with the Eagle One.
As the PEV industry continues to grow, Varla is one of the many promising companies with offerings that are sure to please both the average commuter and enthusiasts with a need for speed.
The Varla Pegasus City Commuter scooter is a prime example of a scooter with long-range capabilities and enough oomph for your fun weekend riding.
Varla Pegasus Specifications
Motor: Dual 500w Hub Motor
Battery: 48V/15.6Ah Lithium-ion battery
Range: 28 Miles / 45 KM
Top Speed: 28 MPH / 45 KM/H
Display: LCD backlight
Brakes: Dual Disc Brake
Tires: 8" Solid Fat Rubber Tires
Weight (w/ battery): 30 kg / 66lb
Charging Time: 7-8 hours (single 2.0A charger)
Waterproof Rating: IP54
Varla Pegasus Performance
Acceleration and Braking
The Pegasus allows for 3 different PAS levels. In a real life setting (170lb / 77kg rider), I was able to reach the following speeds:
PAS Level 1 – 14km/8.6mph
PAS Level 2 – 32km/20mph
PAS Level 3 – 48km/30mph
While many entry-level and/or commuter scooters tend to use rear-hub motors to produce a more affordable product, I'm a big fan of dual motors, as I think the experience justifies the price premium for a commuter scooter.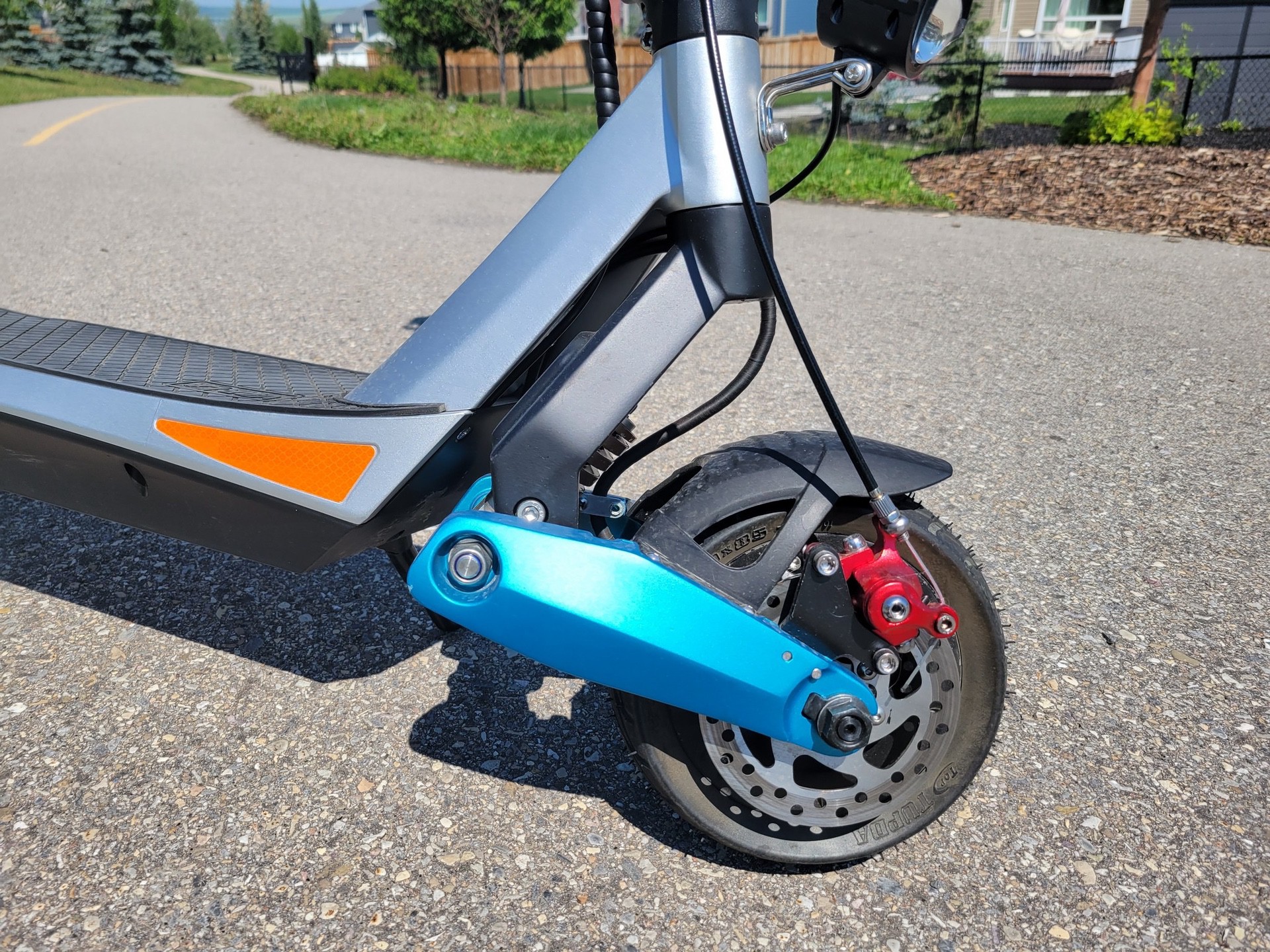 The dual 500w wheels on the Pegasus provide substantial acceleration, and I topped out at roughly 48km / 30mph. For the average commuter, you won't need to go any higher than PAS Level 2—especially if you are observing Canada PEV laws, which federally regulate the max speed at 32km/h (20mph). Still, it's nice to have the option.
Rider weight considerations are also important. Varla markets the Pegasus to those who want to save time running errands or hitting the gym, and then some. You can tell by the build quality that it offers more than your average metropolitan rent-a-scooter and it lives up to its looks.
The TurboAnt M10 scooter is a commuter scooter in the sub-$500 segment with a single 350w rear hub motor. It's substantially cheaper, but the Pegasus almost makes hauling 30lb/13kg of groceries home a lot easier.
As for its braking capabilities, the Pegasus uses a mechanical dual disc brake system.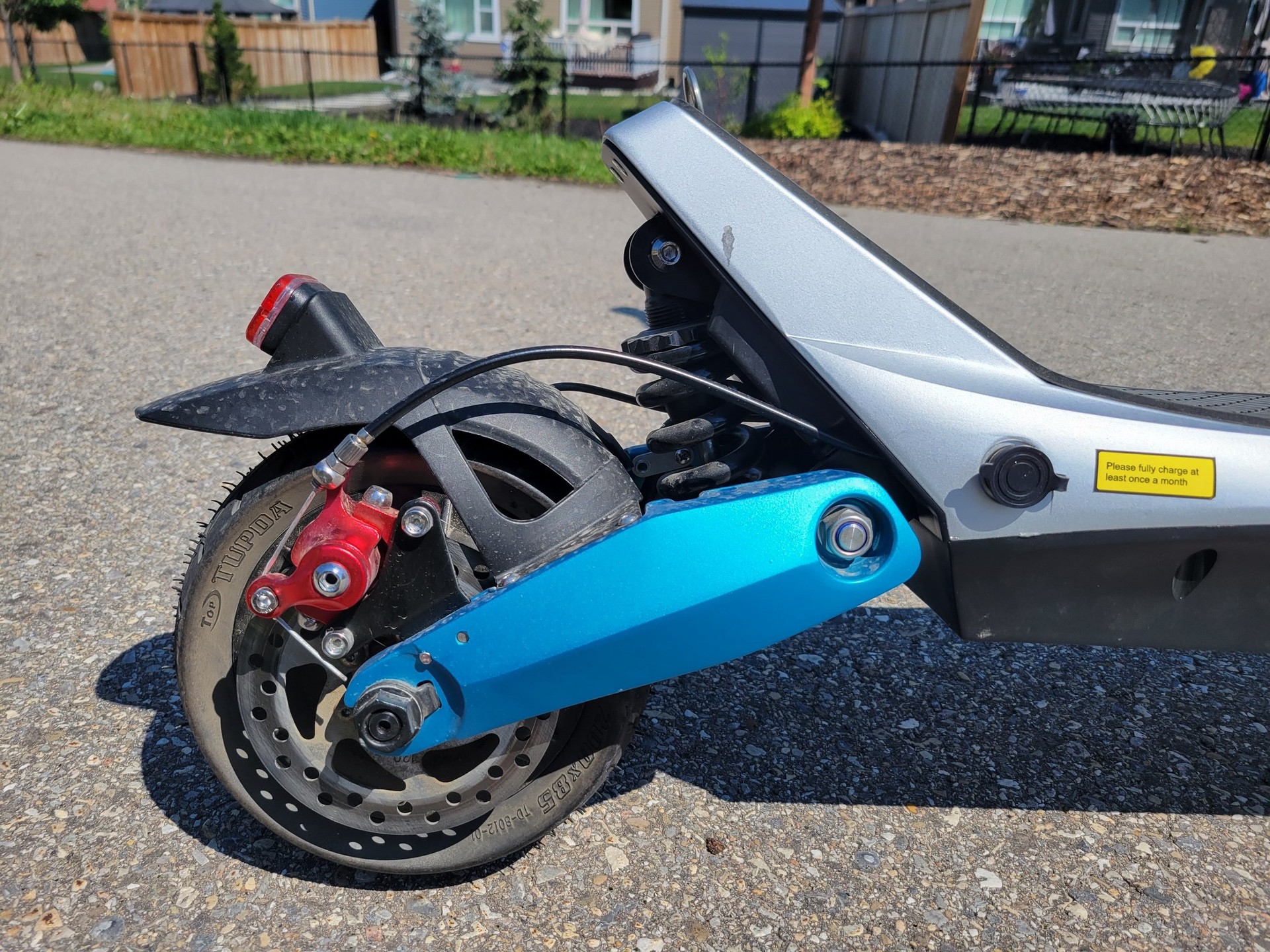 The brake feel was firm and inspired confidence. During our entire long-term review, we did not have to adjust cable tension, nor did we experience any squealing disc brakes. At a speed of 30km/h, it came to a complete stop in 3.0 meters.
Regular maintenance for ebikes or scooters is always recommended, and for anyone looking to make adjustments to the Pegasus, Varla has a video on just how to do that. Replacement brake pads are also available on their website.
Battery and Range
Unlike its seasoned sibling, this winged equine only has one charging port—resulting in a charge time of 7-8 hours to fill up its 48V 15.6aH battery.
On a single charge, I was able to squeeze out roughly 45km of range on various flats, hills, turns, and stops. PAS level 1 is a bit too pedestrian for me, so I found myself mainly on PAS 2 and 3 which undoubtedly led to shorter battery life.
As the battery neared depletion, the controller suddenly cut power delivery to the scooter, which resulted in an abrupt halt that startled me. The LCD display showed error codes 06 and 10:
Error 06 – "Battery under voltage"
Error 10 – "Faulty comms between controller and LCD"
It's something for riders to be aware of, as it disconcertedly felt more like a malfunction than a design element if you didn't know what the symptoms meant.
For a full list of error codes to assist with troubleshooting, please visit Varla's help center.
Tires and Suspension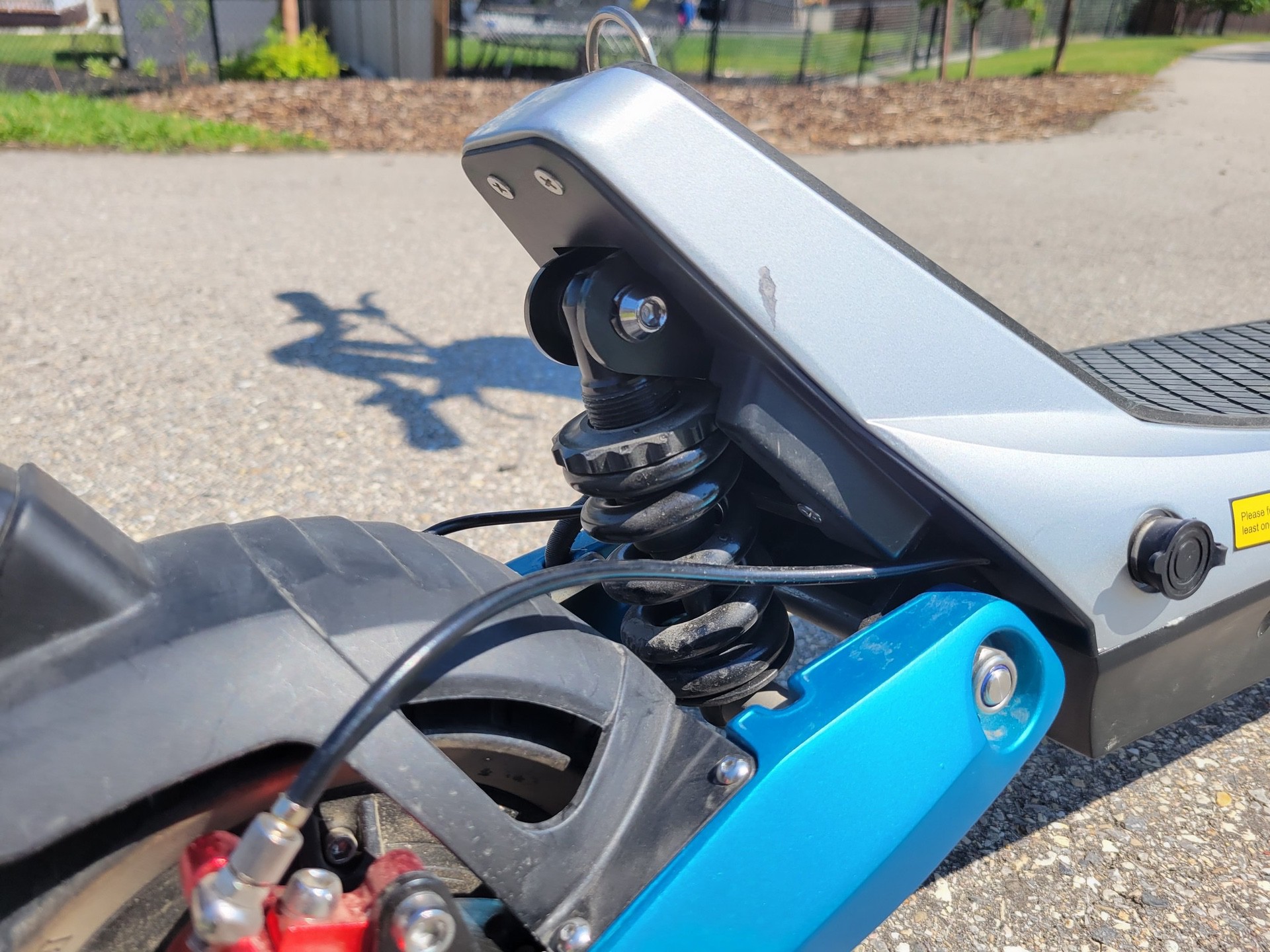 The 8-inch solid rubber tires on the Pegasus are a huge boon for maintenance as they are puncture-proof and provide ample traction. It's a commuter scooter designed for the pavement, and ride quality was smooth on bike paths and sidewalks alike.
However, the flat profile of the tires limited the amount of nimble handling possible, and the solid rubber compound was loud when it encountered bumps in the road.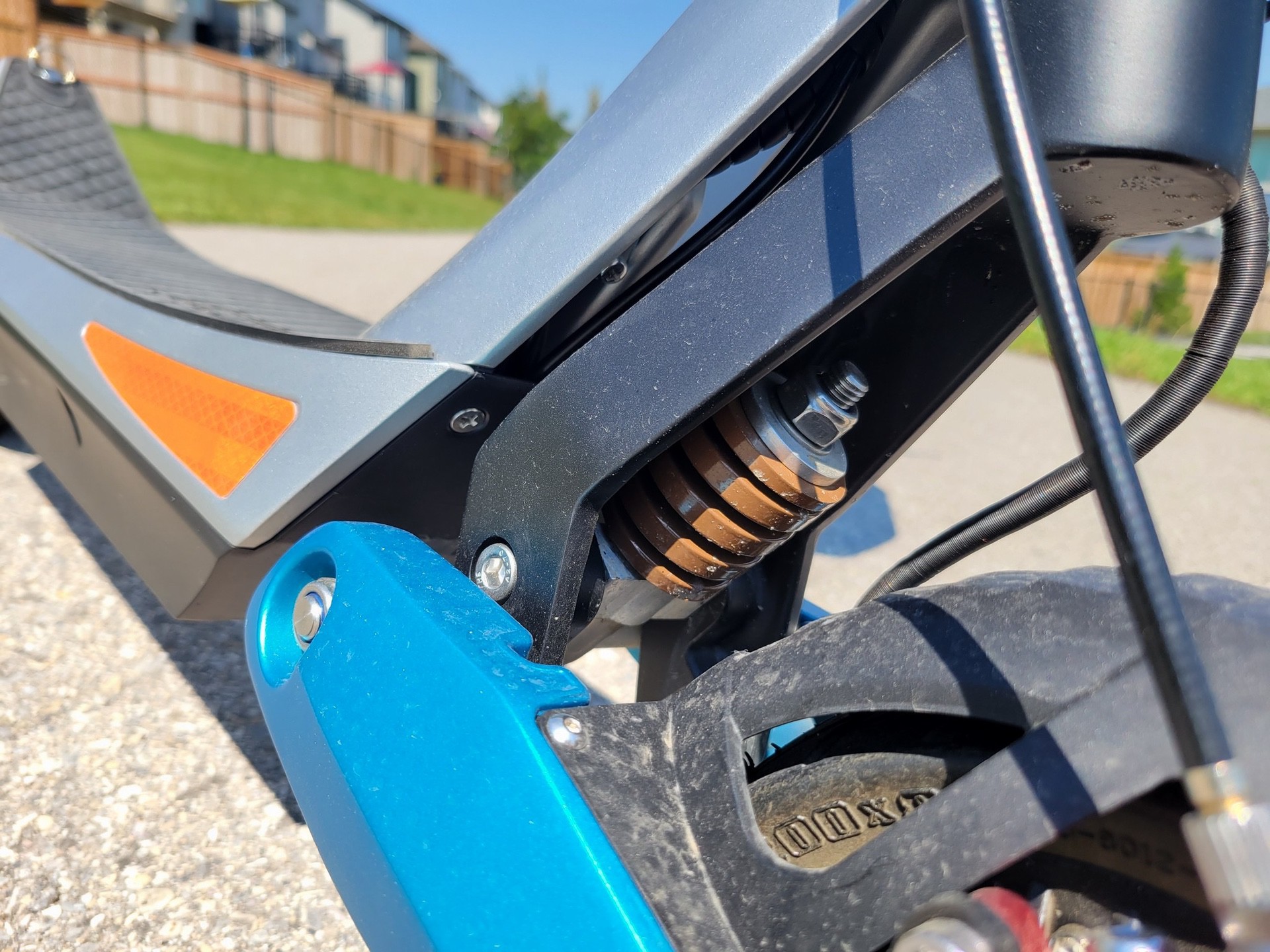 It's also no surprise that this scooter did not perform as well on off-road terrain such as gravel and dirt roads. I rode the Pegasus on both, and while the spring suspension does its best on uneven terrain, pavement is where this scooter shines.
As the old adage goes, use the right tool for the right job. If you're an intrepid rider wanting to explore the beaten path, a dedicated off-road scooter with more power is the way to go.
Varla Pegasus Build Quality and Style
LCD Display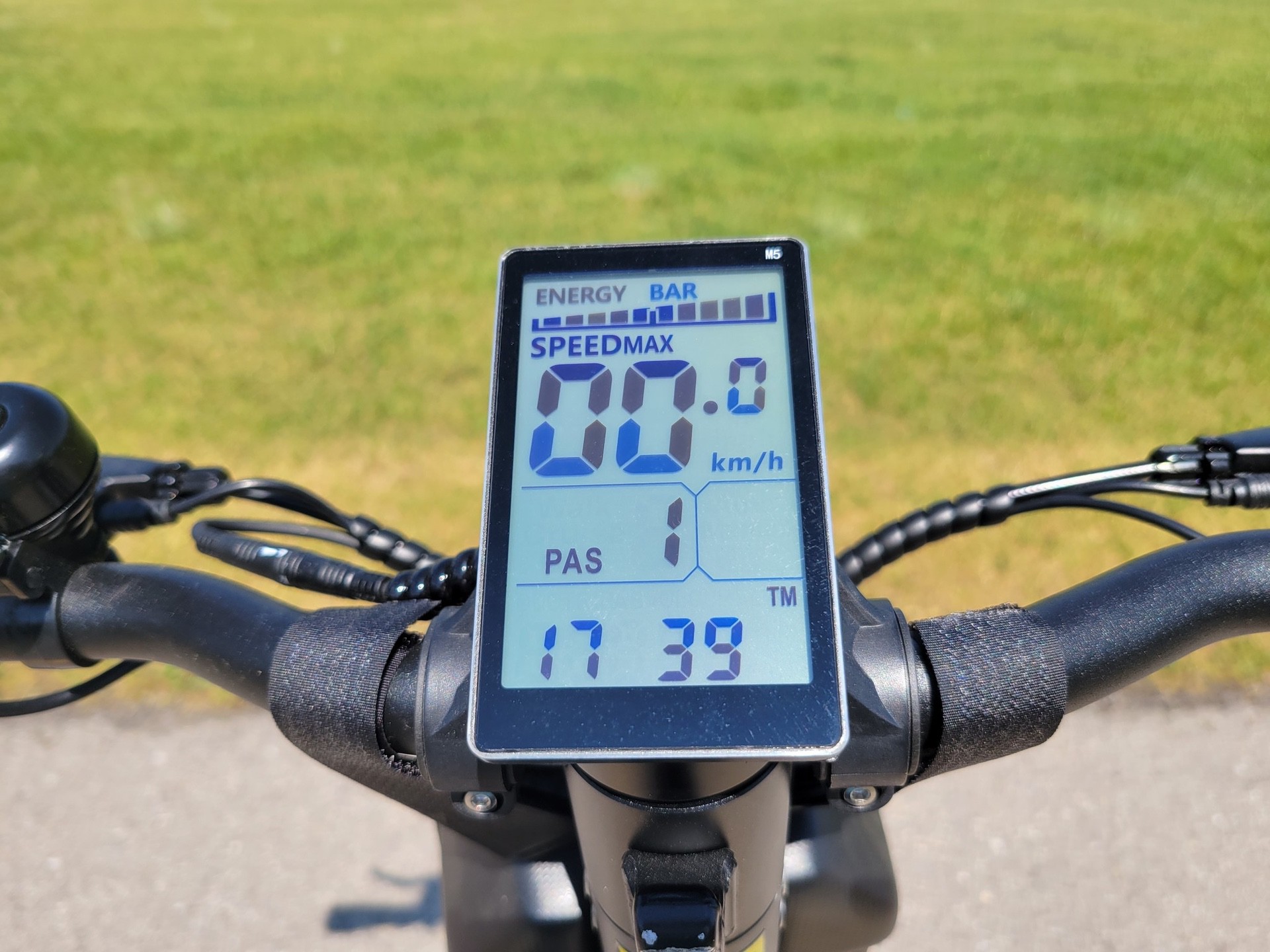 The LCD display is a welcome feature due to its size. The easy-to-read screen displays speed, PAS level, battery life, and trip mileage. Additional views can be toggled with the M (mode) button on the left side of the handlebar.
The display did not suffer glare even in bright daylight, and it's center mounted, too.
Headlight and Taillight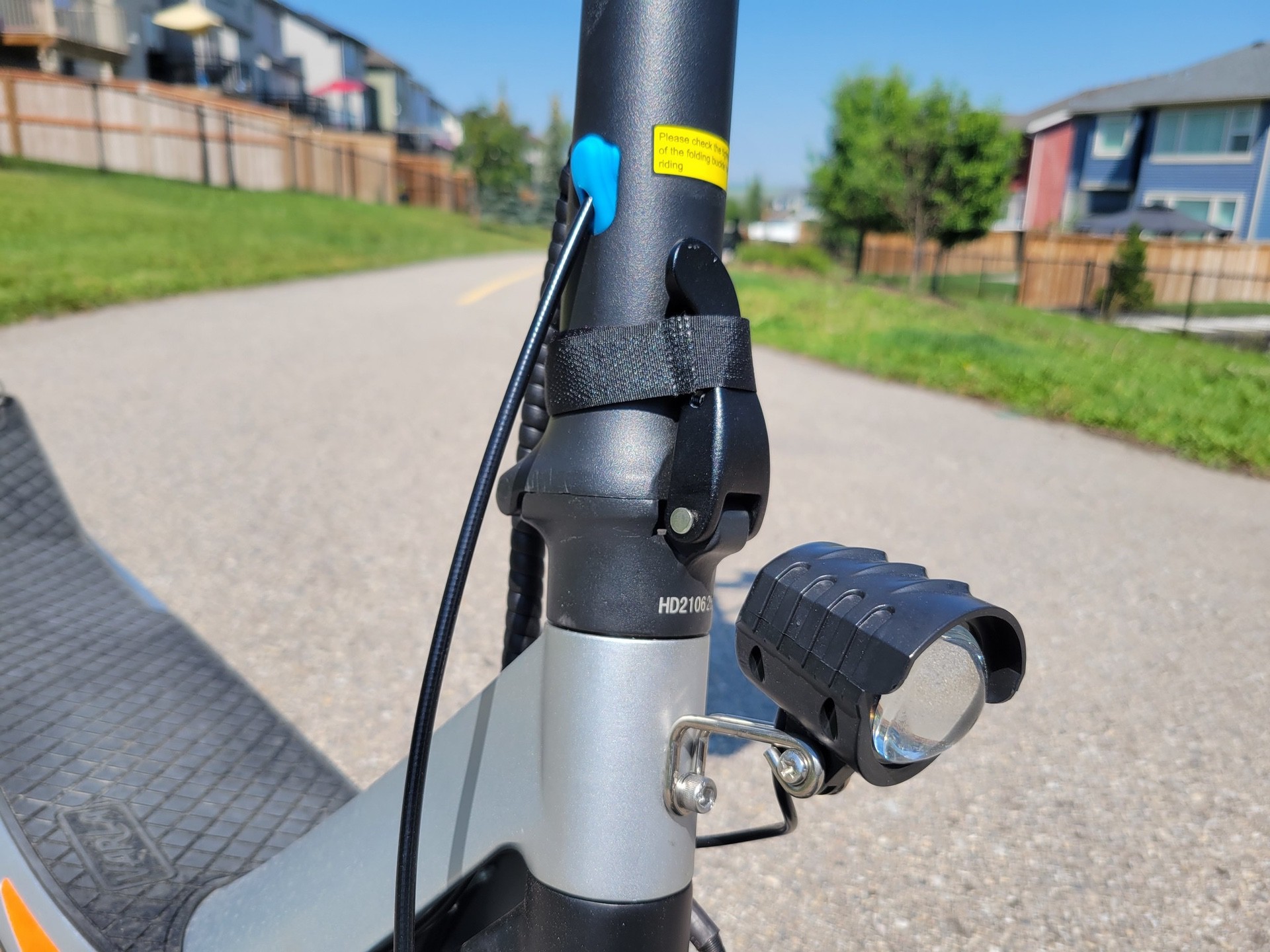 The headlights on the Pegasus can be toggled by holding the Up button and do not do much to illuminate the road. Much like other scooters we have reviewed, they primarily exist for the benefit of others on the road and alert them to your presence.
The tail lights are bright, and they flash, which is a functional design feature that is always appreciated when seen on scooters.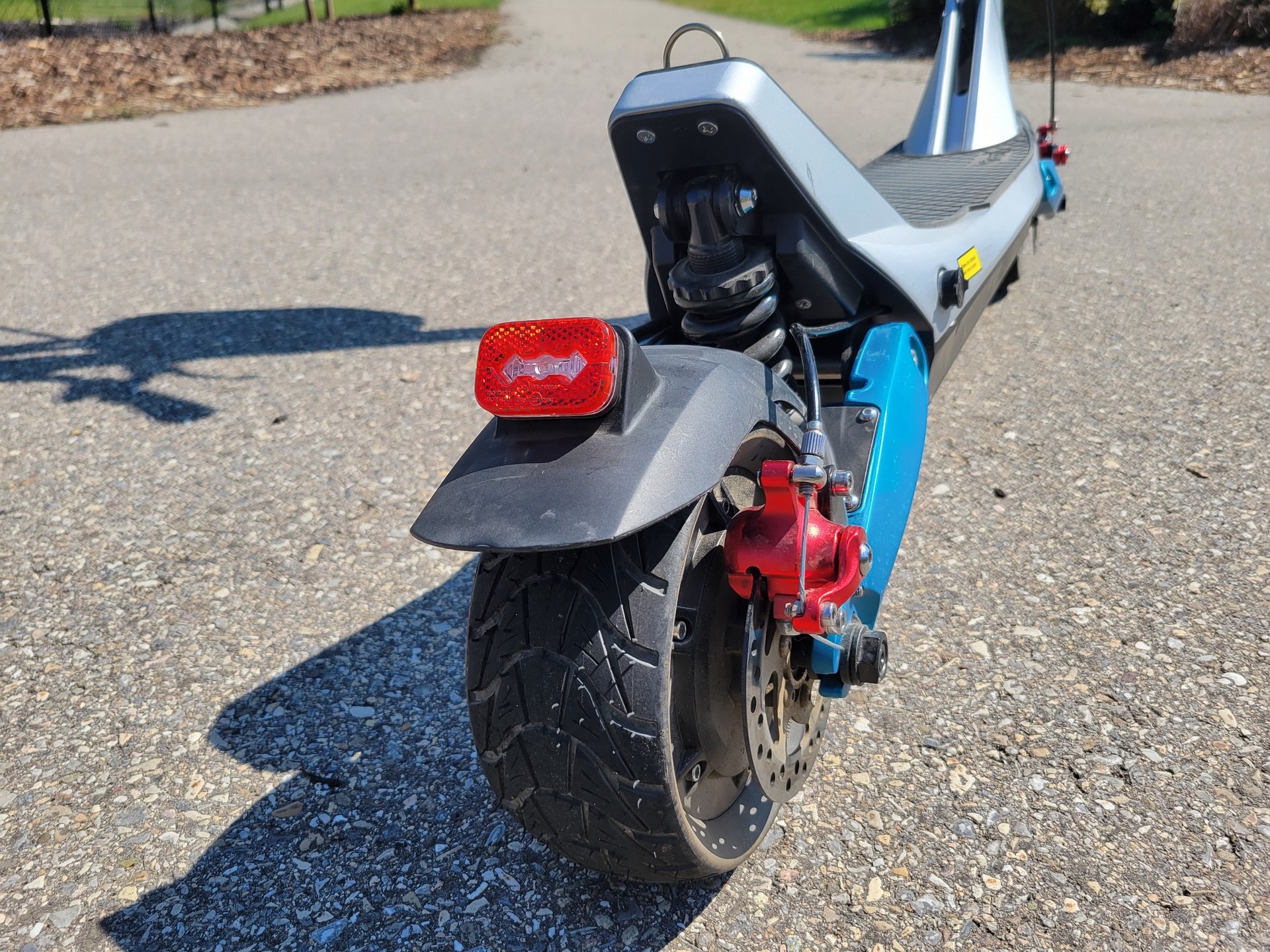 Cockpit and Thumb Throttle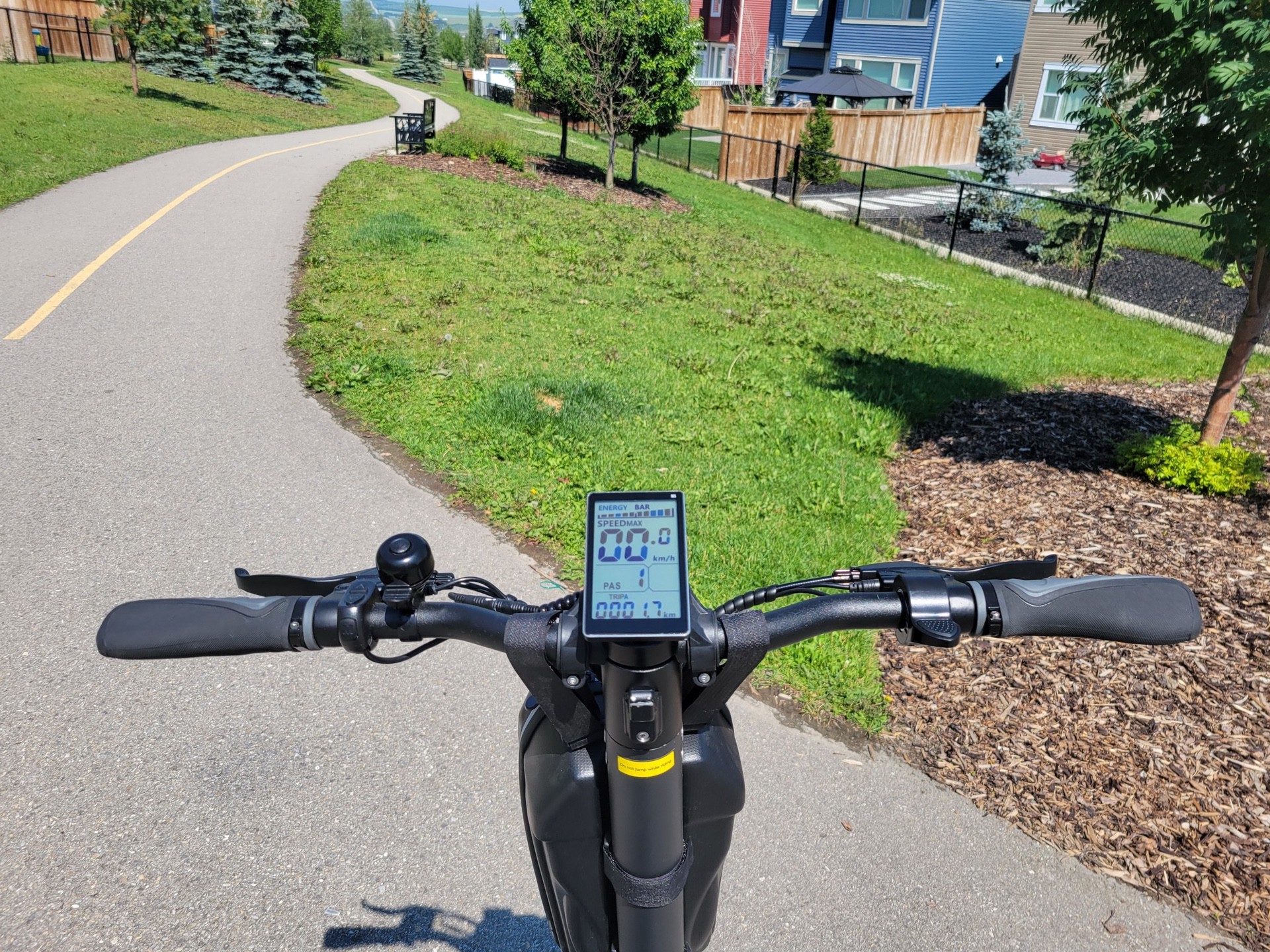 The handlebars have an ergonomic rubber grip that inspires confidence when riding. The center-mounted display makes it easy for the rider to change and read settings on the fly while paying attention to the road.
The thumb throttle is located on the right side of the handlebar. While robust, it took getting used to, as I was constantly feathering the throttle to control my speed—especially during instances where I was wanting to ride slower than what PAS Level 1 offers (~15km/h).
Feathering a thumb throttle is fatiguing, but there are ways around this—such as modifying your P-settings to control acceleration sensitivity, etc.
Acceleration on the Pegasus can be abrupt, so this level of customization can be helpful for suiting your riding style.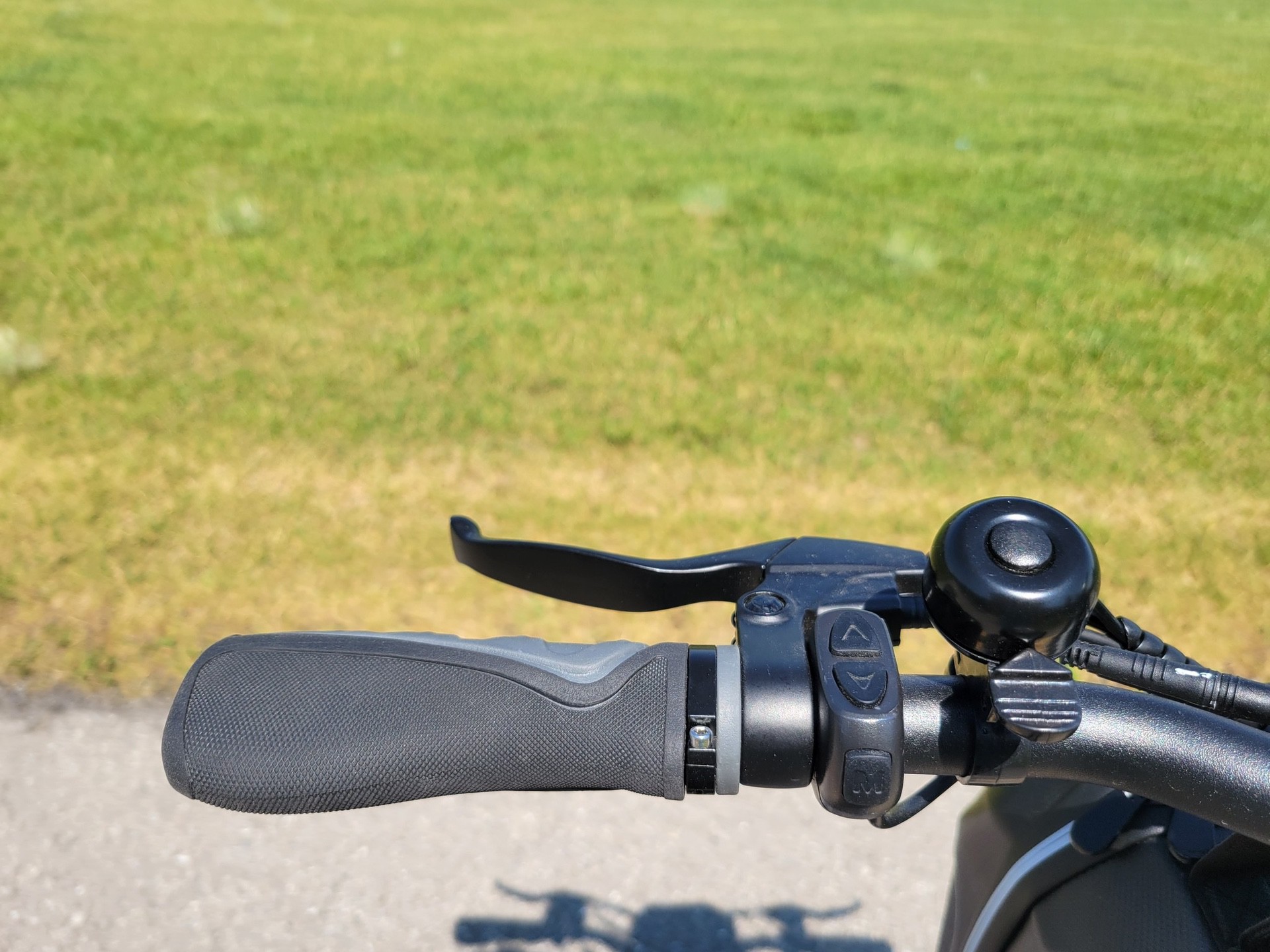 On the left hand side of the handlebars are your Up/Down arrows and Mode buttons. The arrows control the 1-3 PAS levels, while the Mode button allows you to toggle through various displays such as Trip and Total Odometer.
Aesthetic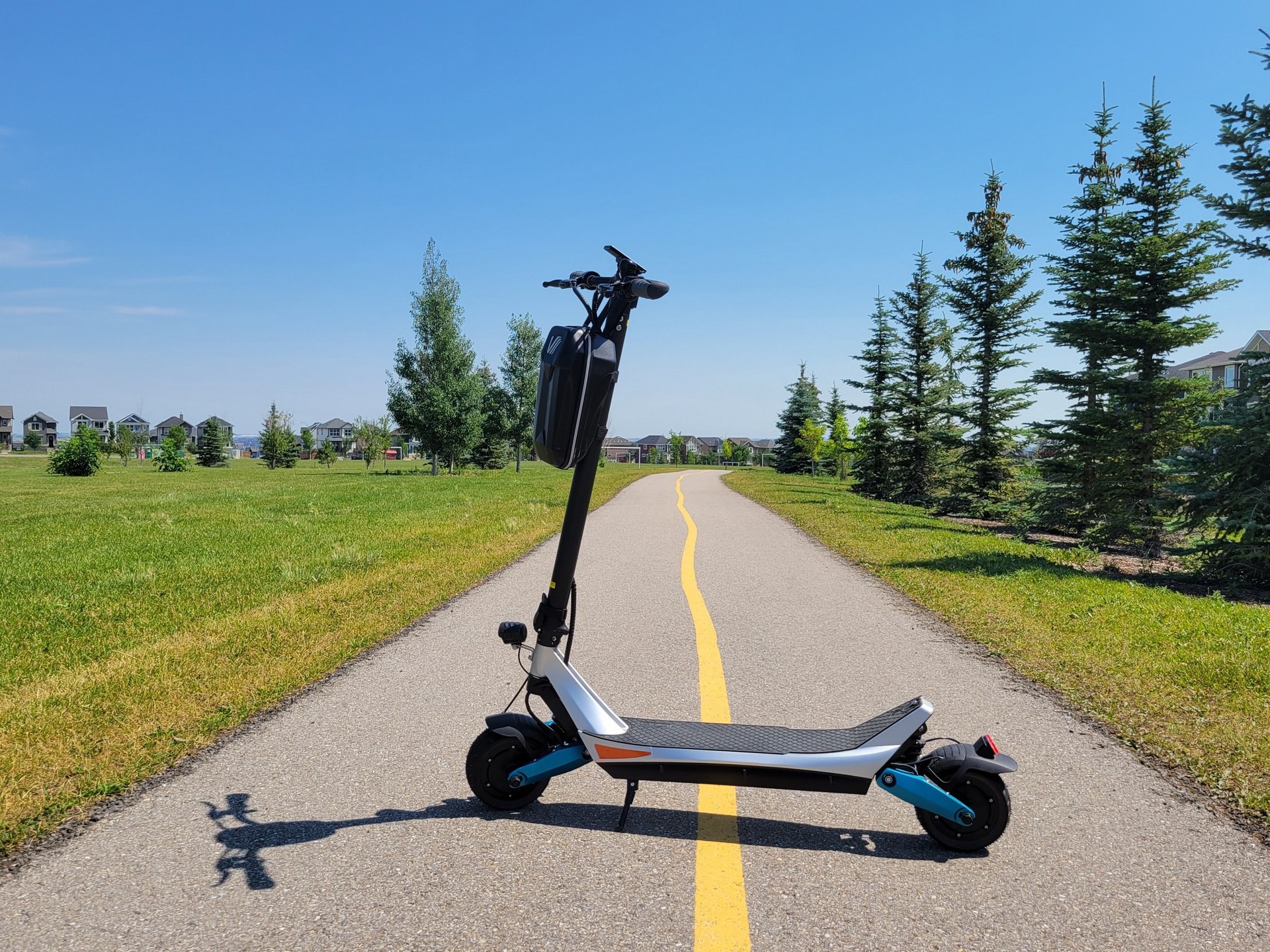 The Varla Pegasus features a brushed aluminum body with a teal blue front/rear swing arm. While there are competitors out there with more aggressive designs, the colour scheme gives the Pegasus a personality and a unique look.
Functional elements such as the orange reflectors on both sides of the deck are a thoughtful safety feature.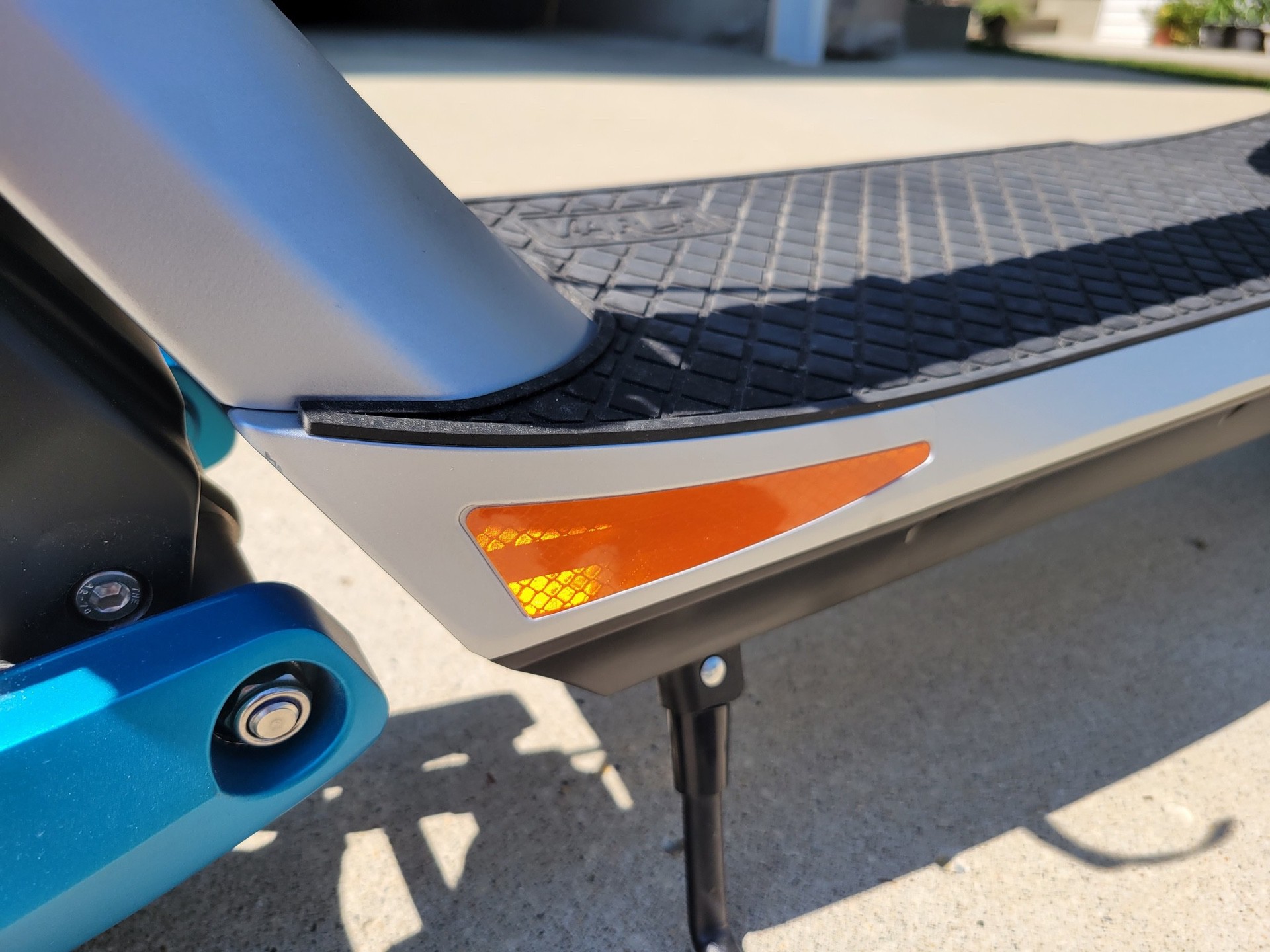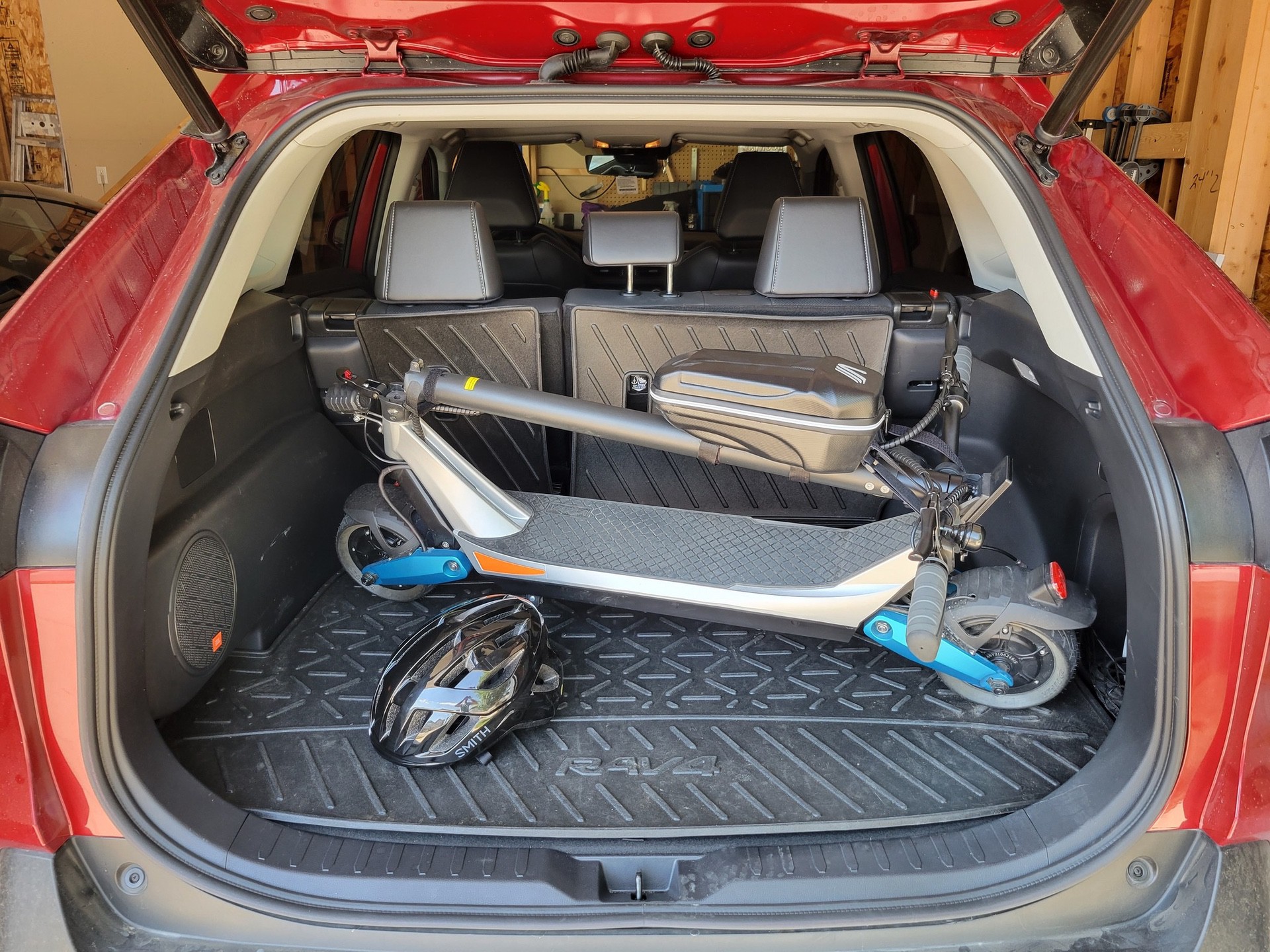 Minor Troubles with the Pegasus
Deck Loop
I experienced quality control concerns with the deck loop, primarily with the construction of how the loop hooks into the bolt. It doesn't go all the way through and is simply held in place at the ends by two divots on each side.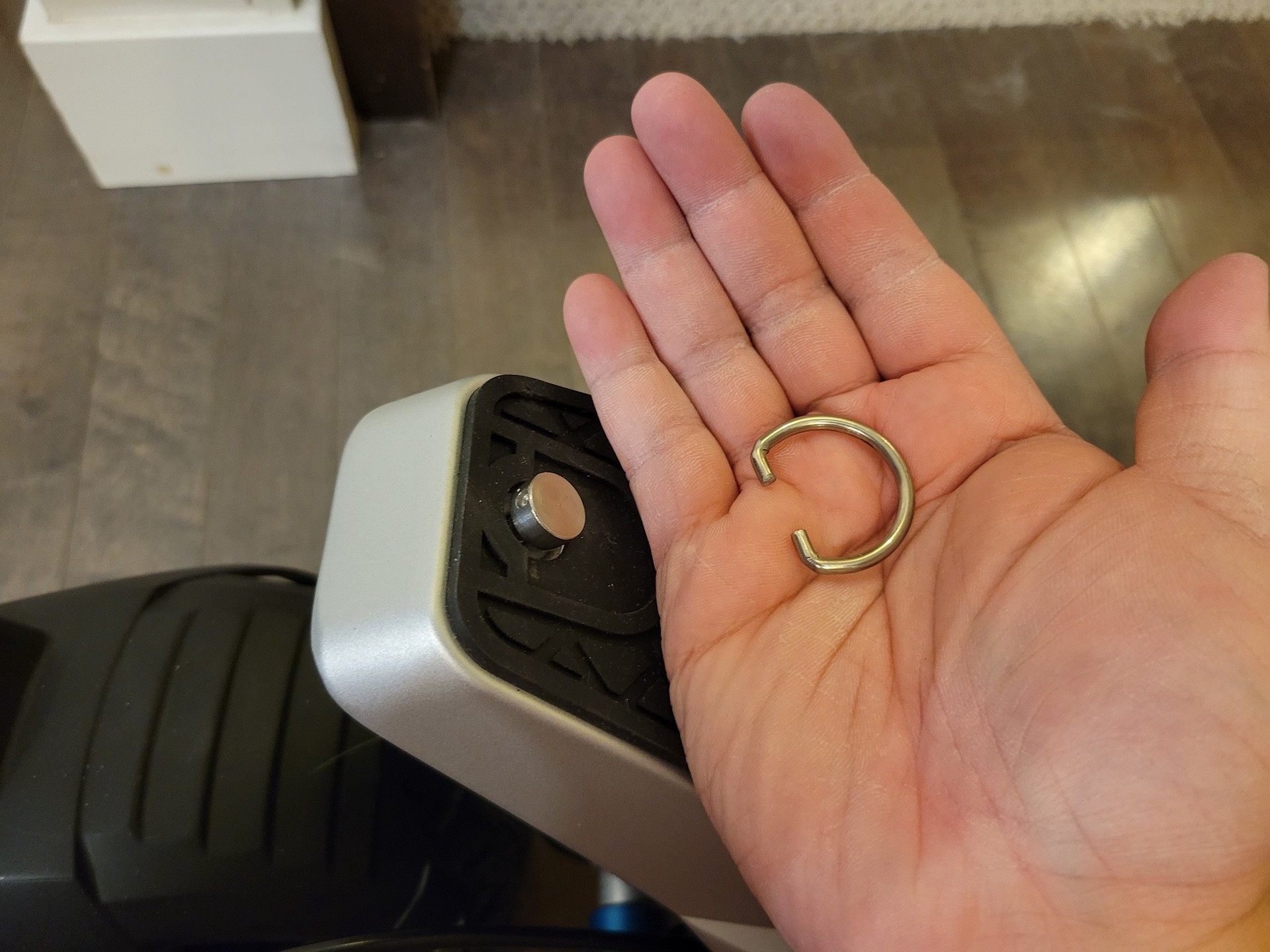 This can present a risk as the scooter is a hefty 66lb / 30kg. With the stem latched onto the deck loop, riders will want the confidence that the connection points are strong enough to hold the weight of the scooter.
Thankfully, I did not drop the scooter during transportation but I would like to see Varla address the deck loop design with something more robust.
Stem Lock Clamp
The locking mechanism on the Varla is hard to undo. Lock clamps should be sturdy, but I found that I had to use way more force than necessary to unclasp the lock.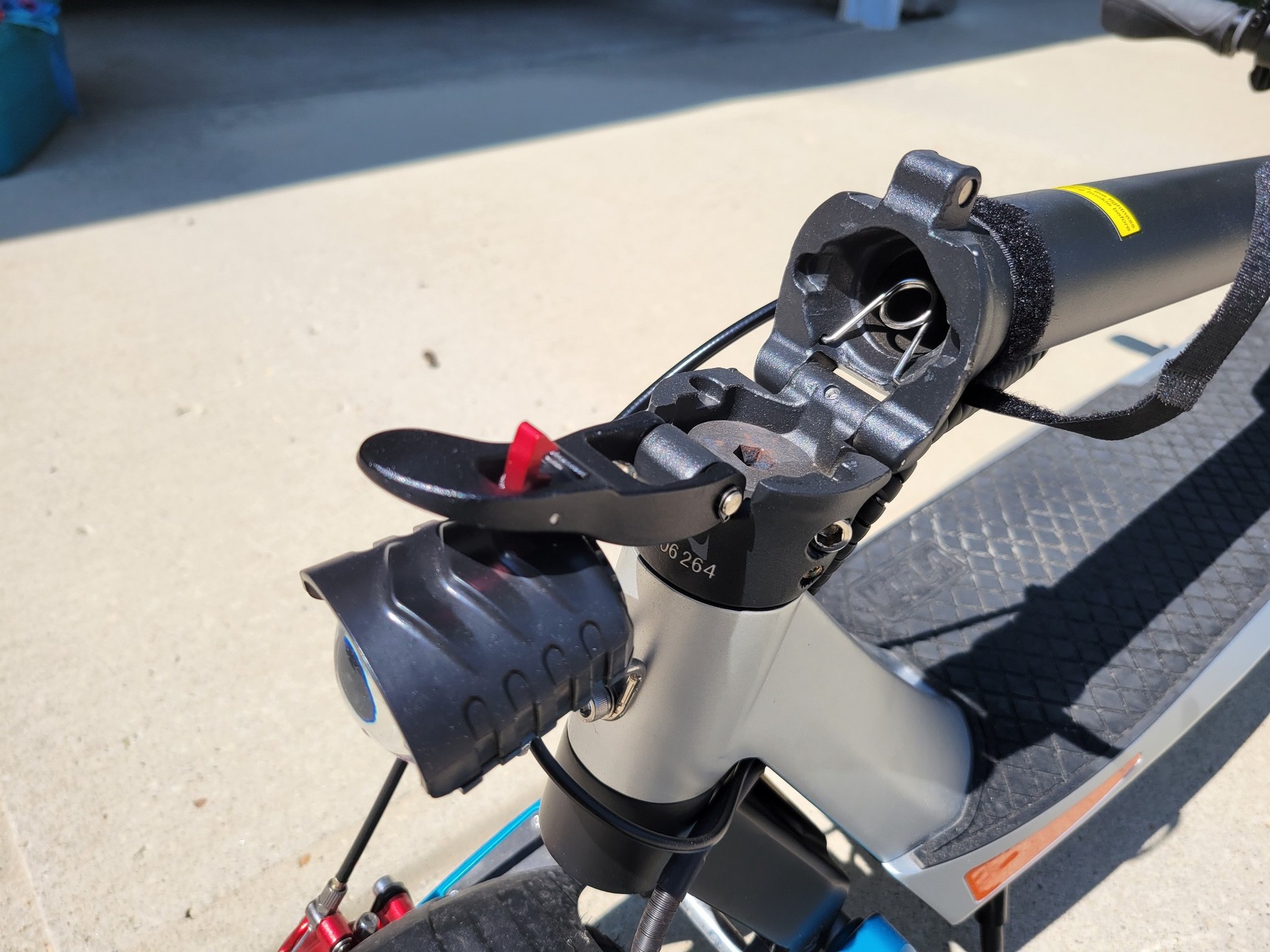 the design choice behind having something hold the lock in place. However, the velcro does not appear to be an appropriate choice here.
If anything, the entire stem locking mechanism could have used the same setup as the Eagle One.
Varla Pegasus Value for Money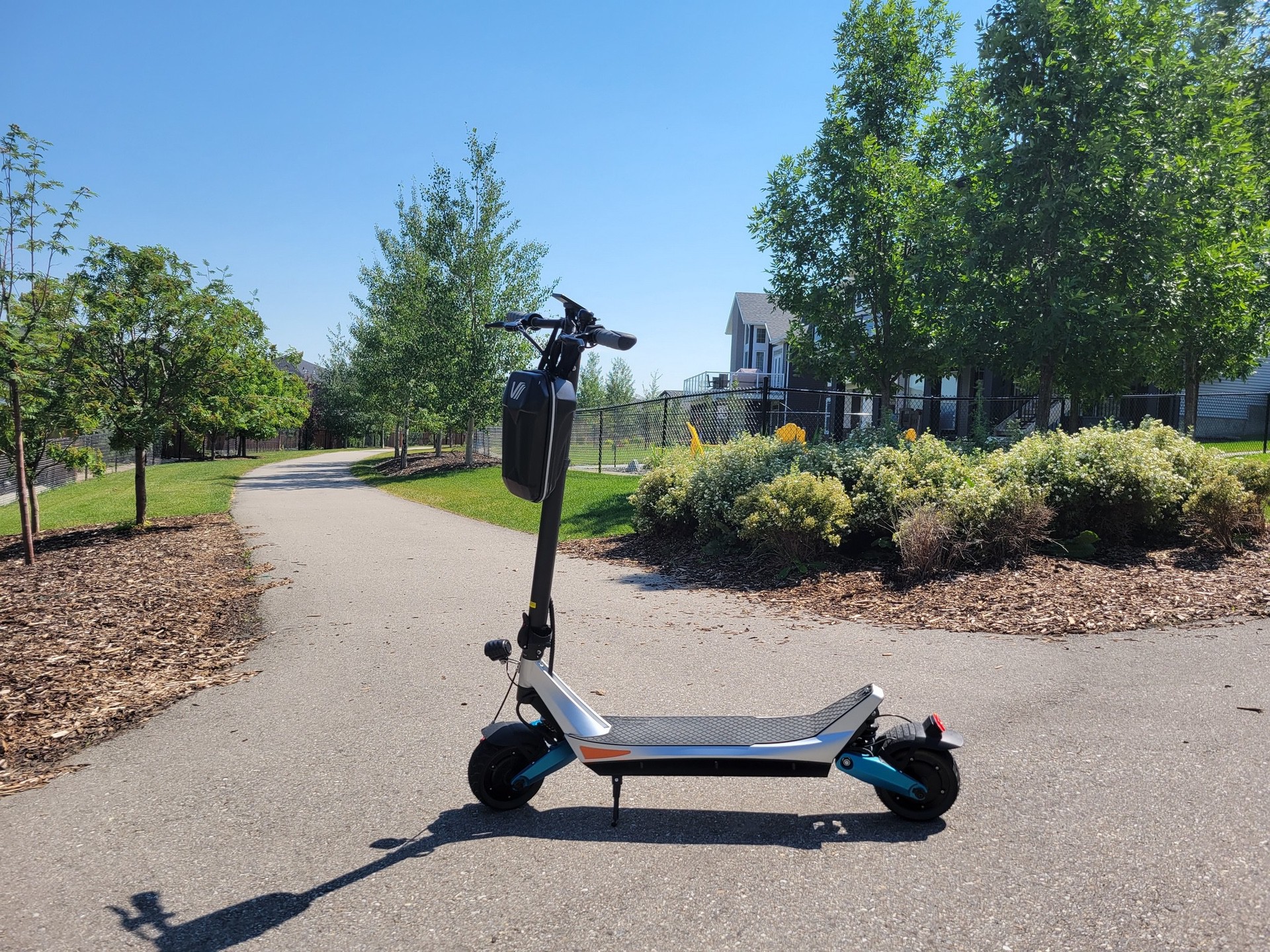 At $1199 USD / $1500 CAD, the Varla Pegasus is a strong contender for the segment but with some caveats. This dual motor scooter is priced modestly for what you get, but the solid rubber tires take away some of the ride quality and nimbleness.
There are aspects of the Pegasus that lend themselves to city life, but other factors—such as its heavy weight and longer charge time—may not make it the most suitable option for those looking for a more functional riding experience. It may also be more scooter than they really need.
If you can overlook these points and are also looking for decent power and range on a modest budget, the Varla Pegasus is a great choice.
Pros
Great performance for its price point
Solid rubber tires are low maintenance and puncture-proof
Cons
Locking mechanism is too hard to unfold
Weak deck loop design needs to be more robust
Heavy and lacks portability
Important Links / Where to Buy
Direct from Manufacturer: Varla