Breakdown
The Varla Eagle One Pro is the newest addition to the 2023 collection and is a powerful beast scooter offered at entry-level prices compared to competitors within the segment. While it comes with some enhancements, some design features such as portability are lacking compared to its sibling, the Eagle One, when we reviewed it back in 2021. Overall, the Eagle One Pro is a pleasure to ride and offers plenty of power.
Pros
Well-balanced with plenty of power
Tall handlebars, large deck, and 330lb load rating means it's a great choice for big riders.
Comfortable ergonomics and well laid out cockpit
Smooth dual suspension and high clearance
Silicone covered deck and kickplate provides excellent grip for your feet
Cons
Lacks portability and cumbersome to transport
The LCD color display is difficult to read in sunlight
Thumb throttle can be somewhat sensitive awkwardly positioned
Review Summary
At 40kg (90lb), it's 17% heavier than its sibling, the Eagle One, but no portability features have been added in the form of deck loops or handles. In fact, the relocation of the rear taillight makes it even more difficult to move around.
At $2099, it's a strong competitor to other mid-level offroad scooters at a fair price point with its dual power motors.
It's capable enough as a commuter scooter due to its battery capacity yet gives you enough juice to go exploring offroad. Charging can take as little as 7 hours if you leverage the dual charge capability.
The wide deck and tall handlebars make it suitable for a variety of riders, even those with bigger physiques as it has a 330lb max load rating.
A combination of dual suspension, tubeless air-filled tires, and higher ground clearance make it a comfortable and smooth ride.
Varla's New Flagship Scooter: Eagle One Pro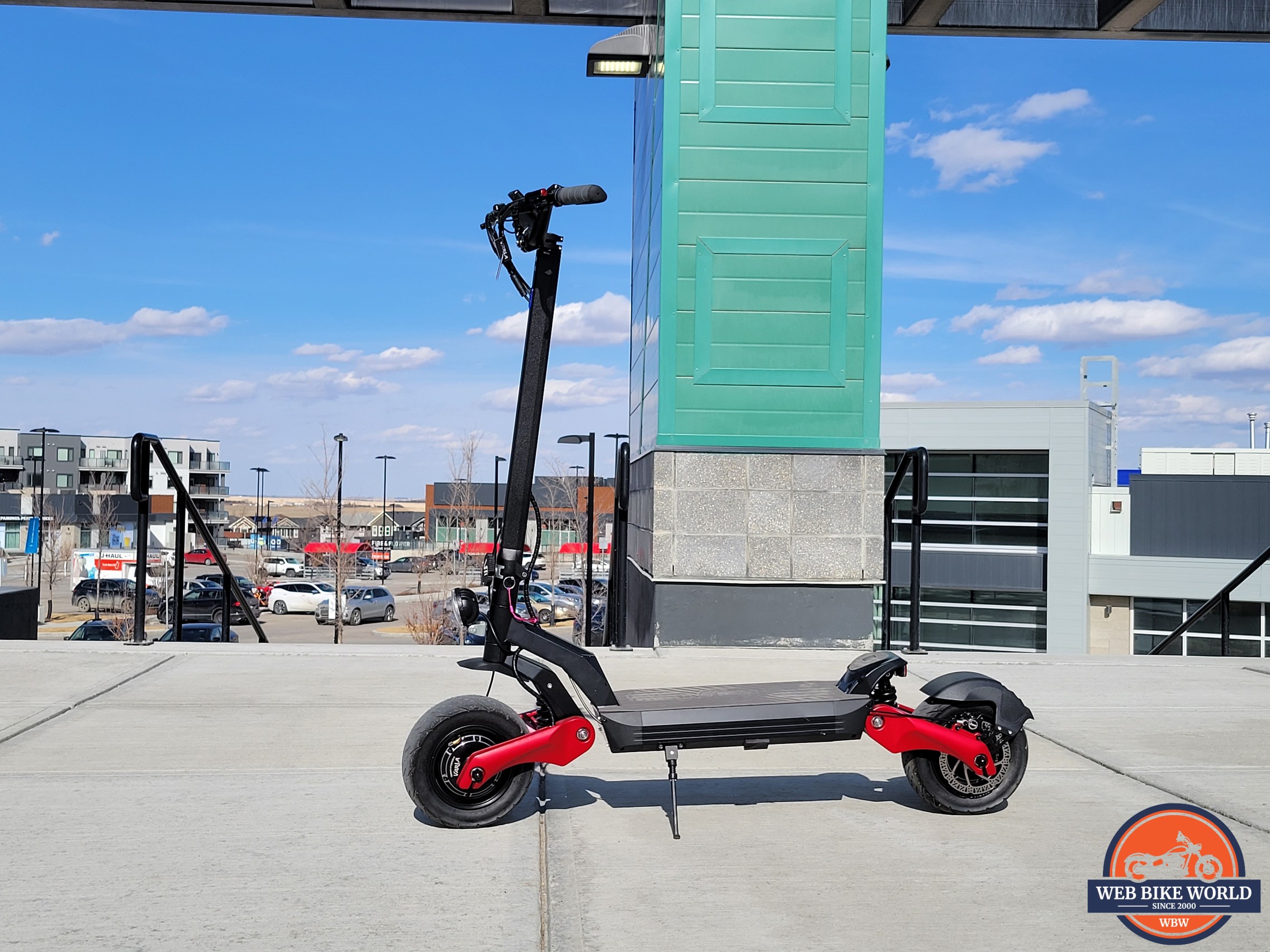 The Eagle One Pro is the newest addition to the Varla electric scooter lineup. The Eagle One represents their flagship scooter and is aimed at enthusiasts who feel the need for speed and raw power for exploration.
Varla has also released two other models in this year's 2023 lineup: the Wasp and Falcon.
Specs-wise, the Eagle One Pro is very similar to the Eagle One, with some interesting design features that have been incorporated.
How does it stack up to its younger sibling?
Note: Varla provided this Eagle One Pro at no cost for our use in this review (and future pieces of content). Brands collaborating with us must agree to our impartial review policies. We do not have a financial relationship with Varla Scooter. Thank you for supporting us.
Specifications
The Eagle One Pro comes equipped with the following features:
Motor: Dual 1000w Hub Motor
Battery: 60V / 27Ah Lithium-ion battery
Range: Up to 45+ Miles / 72+ KM
Top Speed: Up to 45 MPH / 72 KMH
Display: LCD display with NFC card
Brakes: Dual Hydraulic Brake + ABS
Tires: 11" Air tubeless tires
Weight (w/ battery): 41 kg / 90lb
Charging Time: 13-14 hours (single 2.0A charger) and 6-7 hours (dual 2.0A charger)
Waterproof Rating: IP54
Overall, compared to the Eagle One, the primary performance differences are a larger capacity battery and a bump in top speed and range resulting in a slightly heavier scooter and longer charge time.
The Eagle One Pro has also moved to an NFC card authentication whereas the Eagle One employs a key ignition.
For a full list of specs, check out Varla's Eagle One Pro product page.
Unboxing and Assembly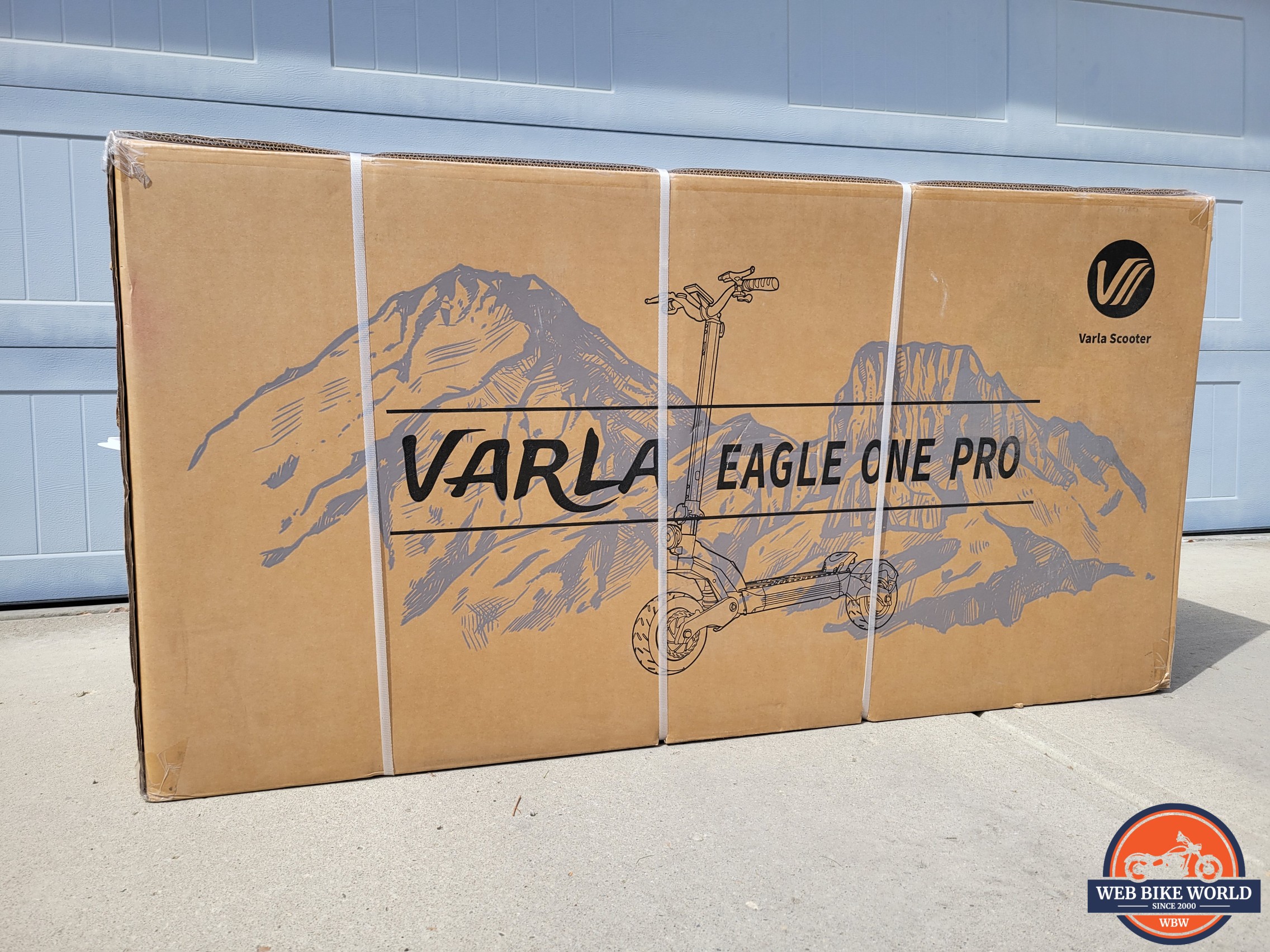 The Eagle One Pro comes in a well-packaged cardboard box but is quite heavy weighing in at around 43kg (95lb). Be sure to have a second person help you move it around.
I tugged at the sides a bit too hard trying to move the box myself by sliding it.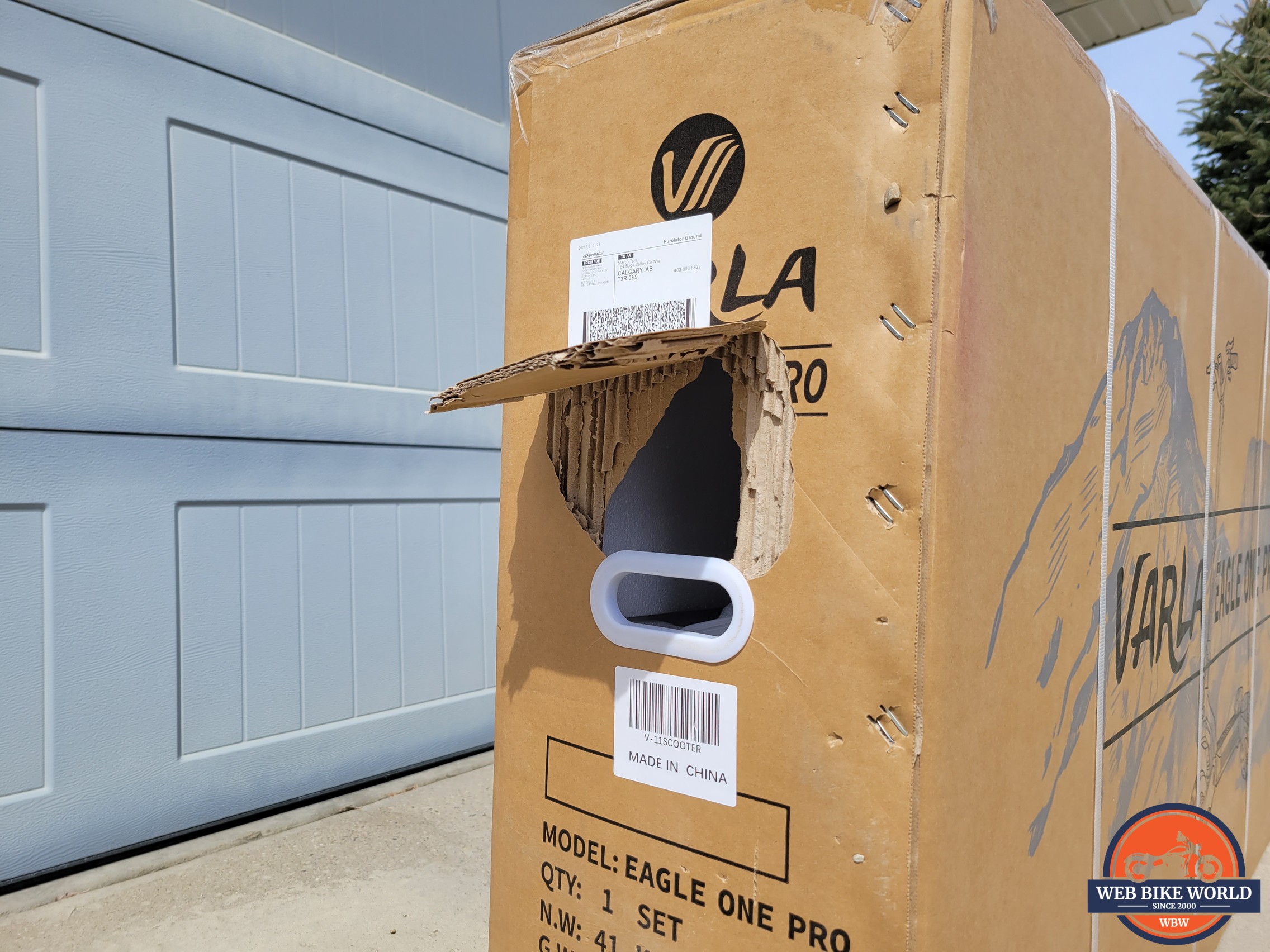 It's well protected with the deck peeking out from within its thick styrofoam packaging.
Electric scooters are extremely easy to put together as 95% of them already come pre-assembled. For the most part, all you need to do is attach the handlebar, connect your electrical lines to the LCD display, retorque your nuts and bolts to ensure that they're up to spec, and you're off to the races.
Box Contents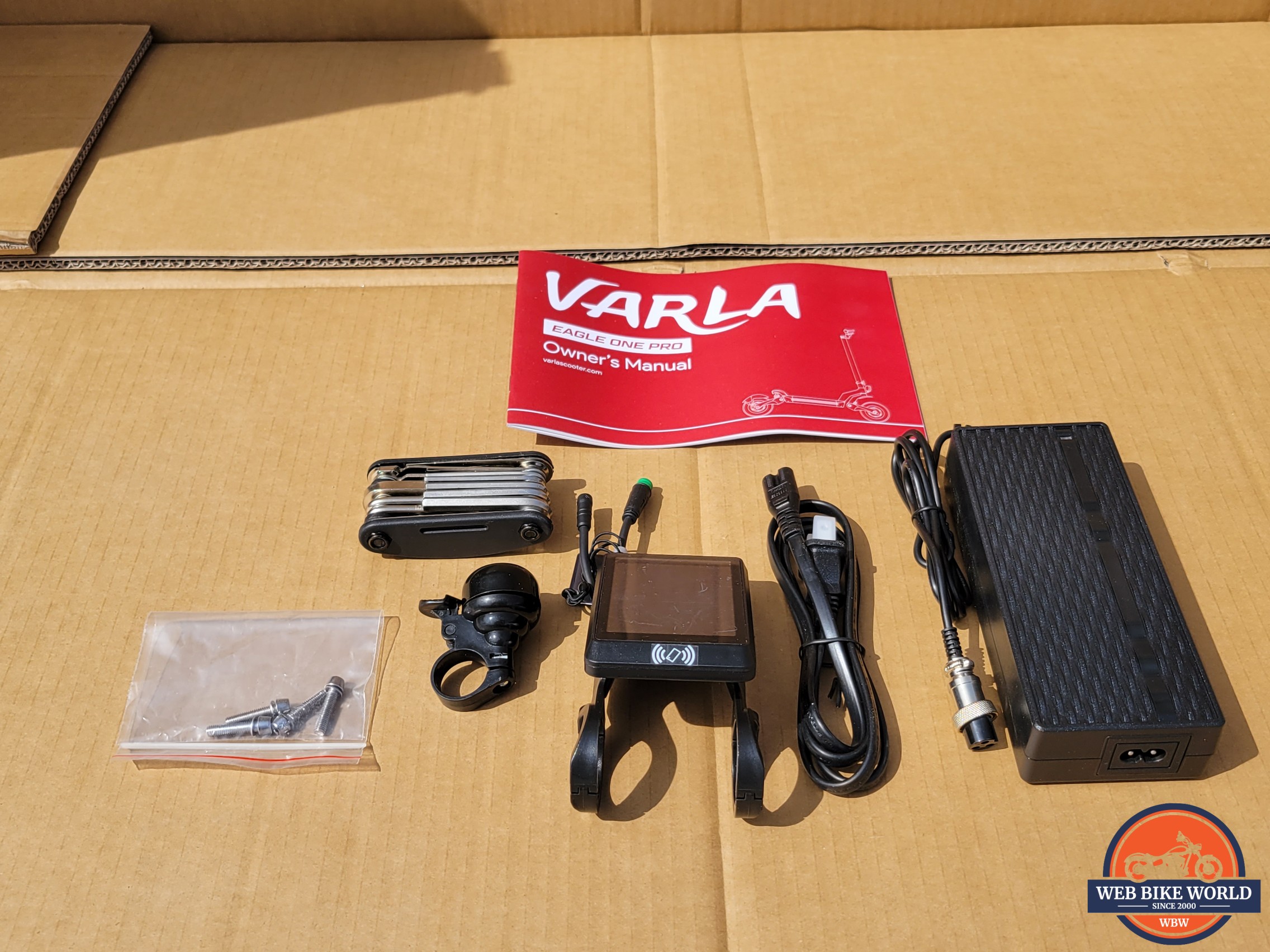 There's a smaller cardboard box containing the following:
User manual
Multi-tool for hex bolts
LCD display
A single 2A charger
4 hex bolts to affix the handlebar
A bell
Attach Handlebars
Once you've gotten all the styrofoam out of the way, attach your handlebars by removing the 4 bolts and positioning your handlebar. Tighten the 4 hex bolts to lock the handlebar in place. You'll want to play around with the ergonomics and the angle of the handlebar so that it's comfortable for your height and grip.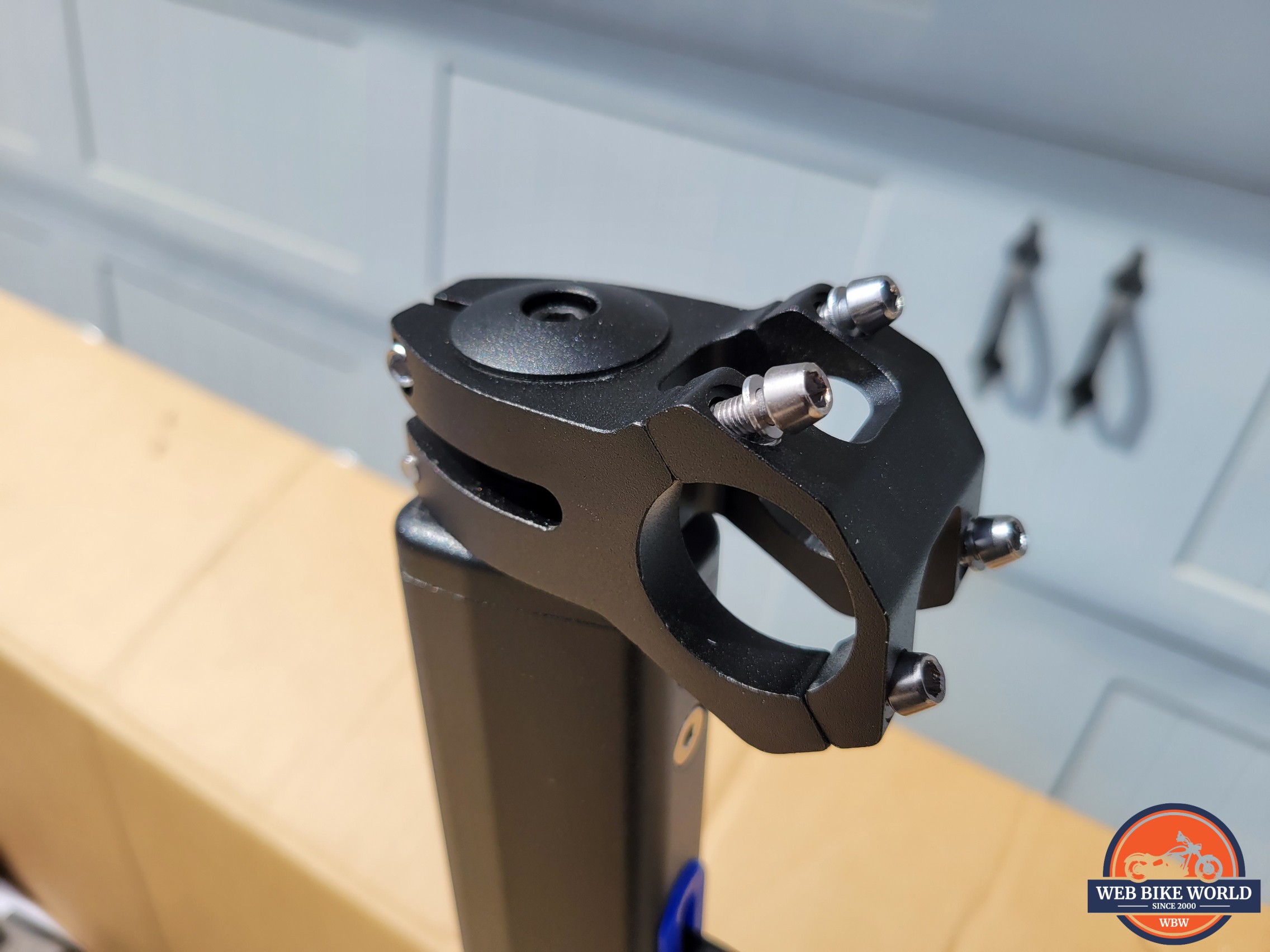 The LCD display is in a separate box and can be added to the handlebar afterward. Once you've gotten the preferred angle, tighten the bolts and connect the lines which power the screen.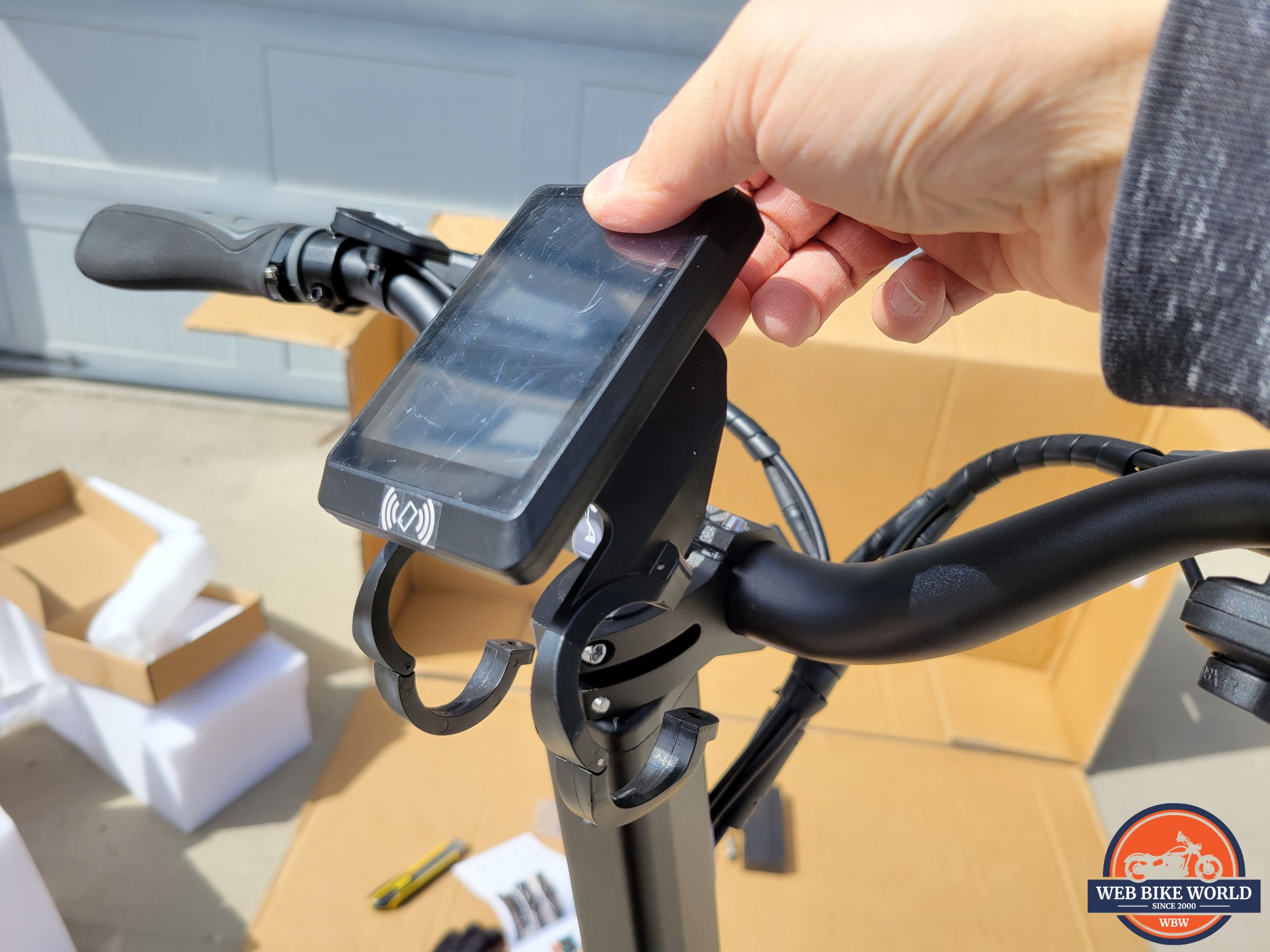 Lastly, prop the stem in an upright position and lock it by tightening it clockwise. There's also a locking bolt that goes into the stem in case the mechanism loosens during riding.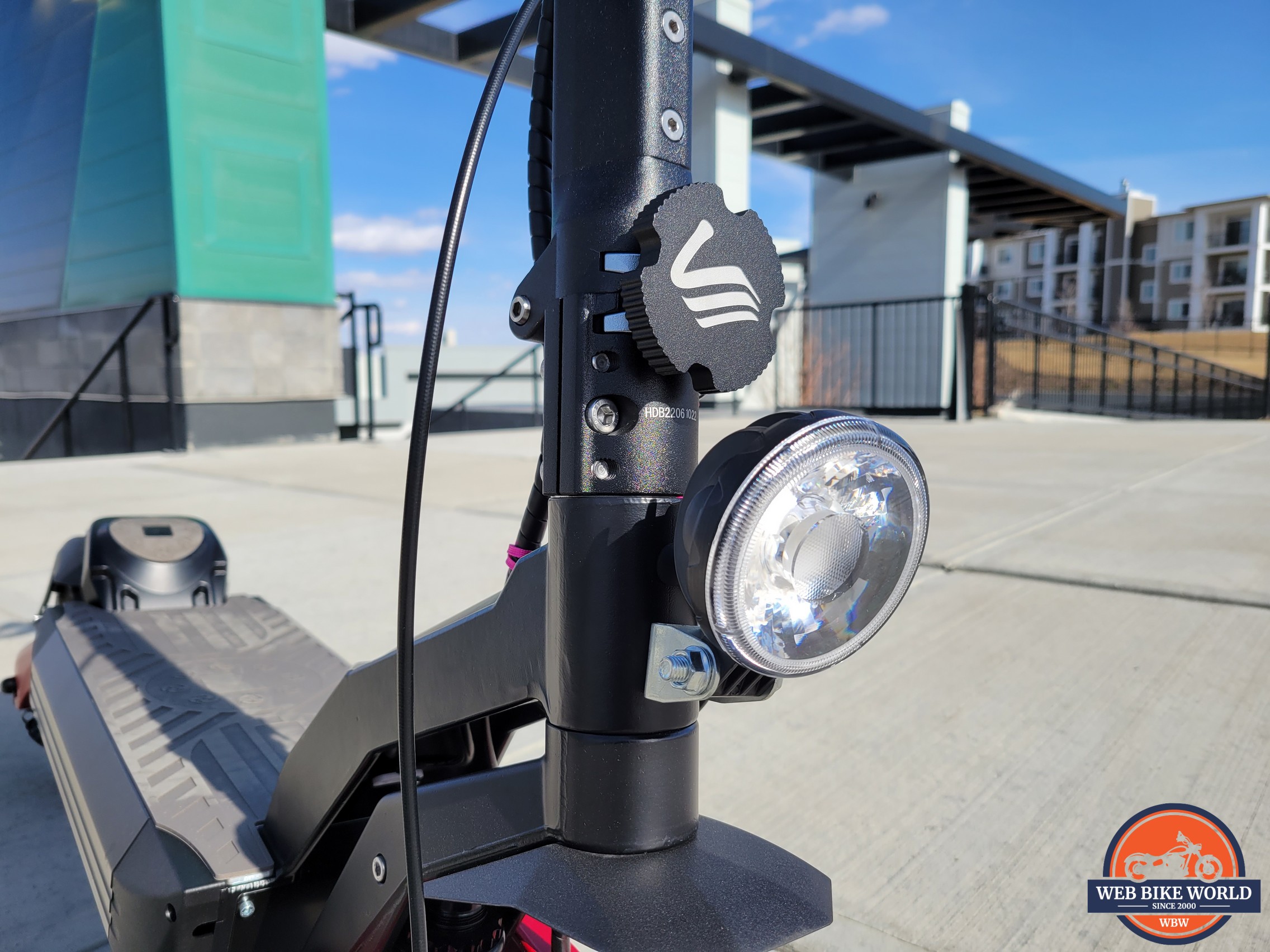 Assembly was lightning quick and I was done in less than 15 minutes.
Design and Styling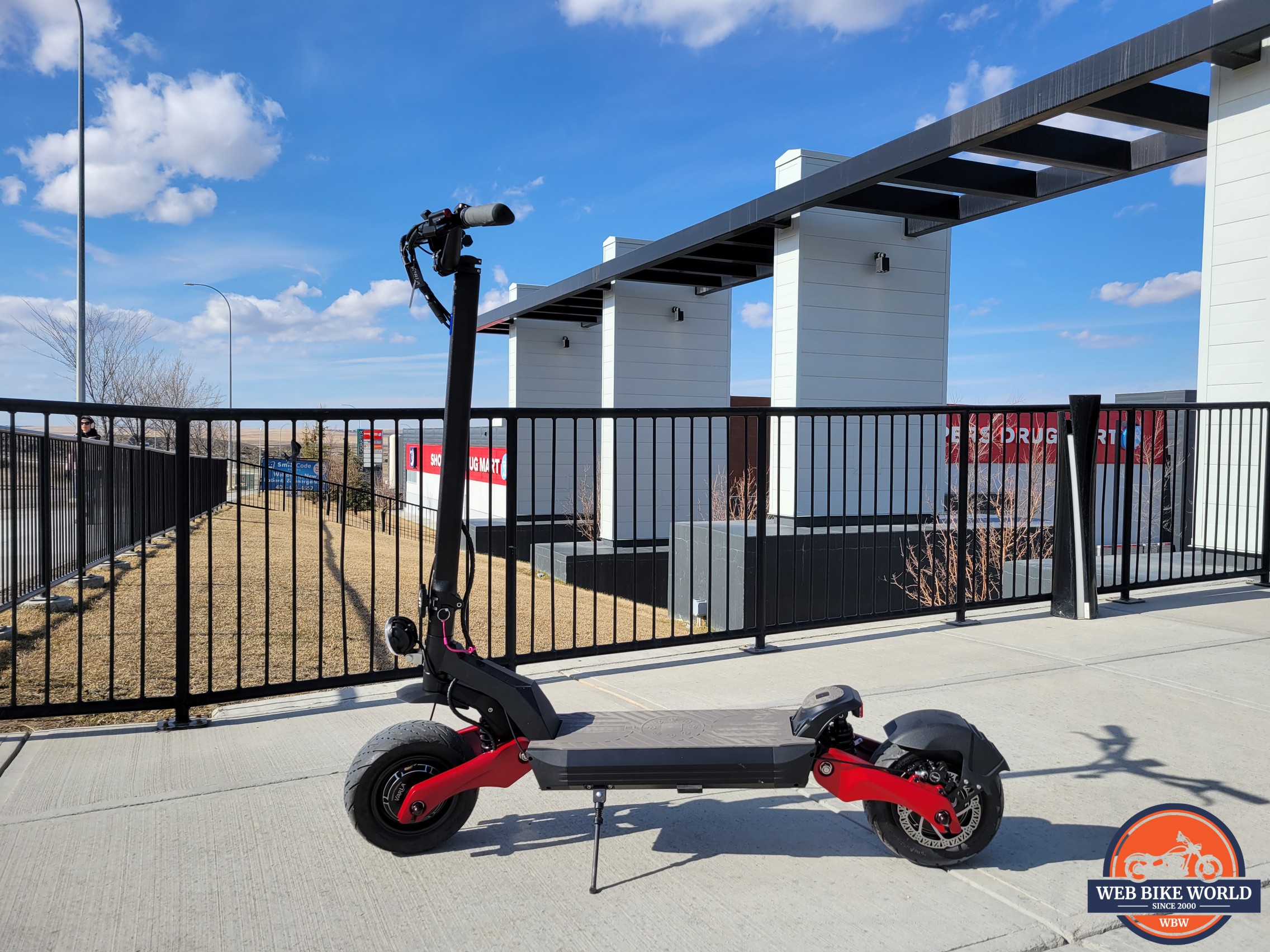 The Eagle One Pro features a handsome rugged design and some additions such as the modern-looking headlight mounted to a metal bracket. The deck itself utilizes a silicone surface with an aesthetic pattern.
The scooter itself comes in 2 colour variants: blue and red. It is made from a sturdy aluminum frame that supports a max load of up to 150kg (330lb).
The geometry of the Eagle One Pro has stayed relatively the same with a wide deck. Being a 5'6 rider, it allowed for both feet to be positioned comfortably and the rear kickplate also has the same silicone covering for grip.
Cockpit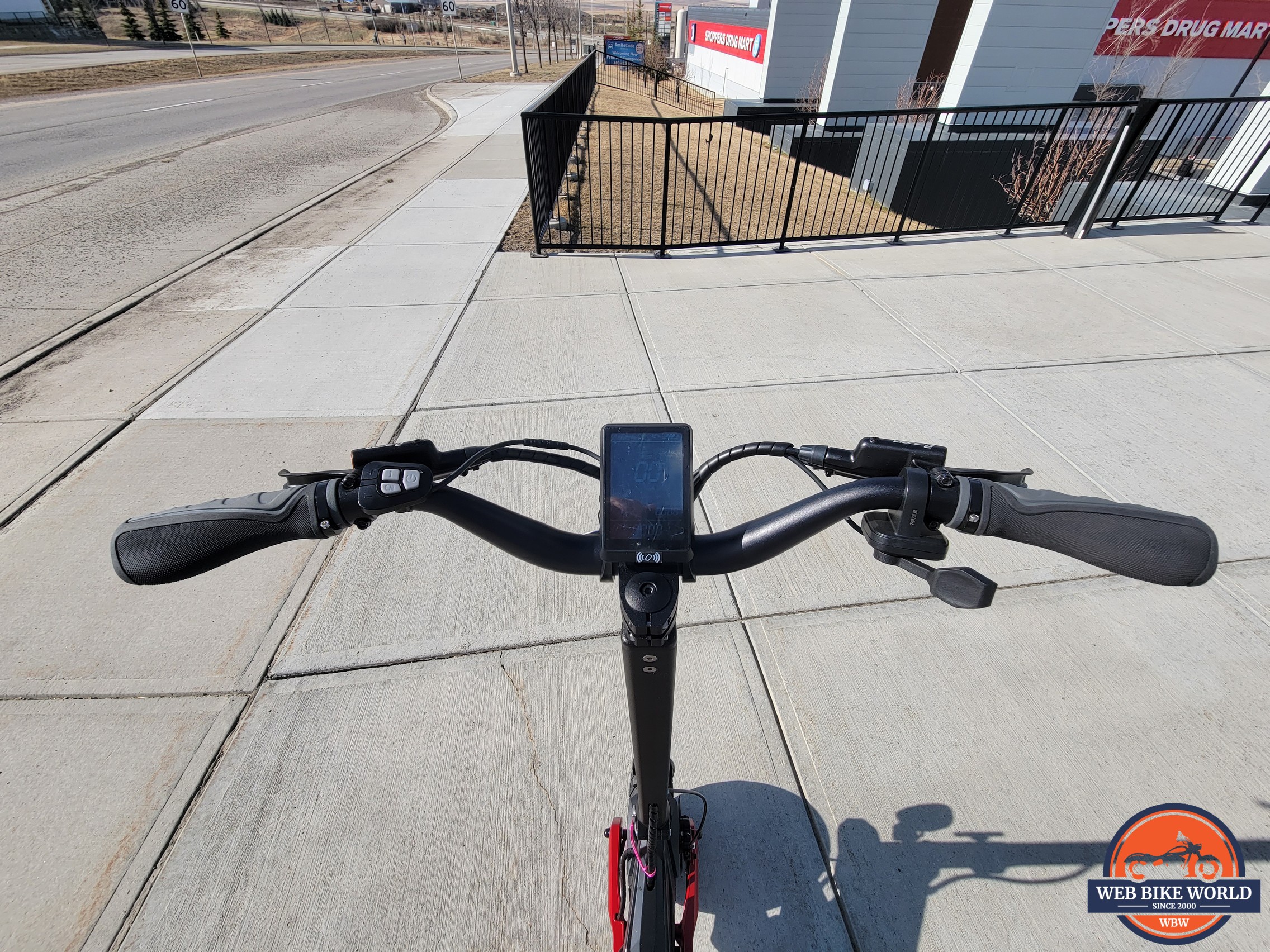 The Eagle One Pro cockpit is well laid out and elements are easily within reach. On the left handlebar is your power button and level control while the right side contains the thumb throttle.
When assembling the scooter, I wasn't able to find a good spot for the included bell so I opted to leave it uninstalled.
The rubber grips are ergonomic and comfortable to hold. Everything is spaced out evenly, the brakes are easily within finger reach. The width of the handlebars are neither too narrow or wide so it's been designed to suit a wide range of riders.
LCD Display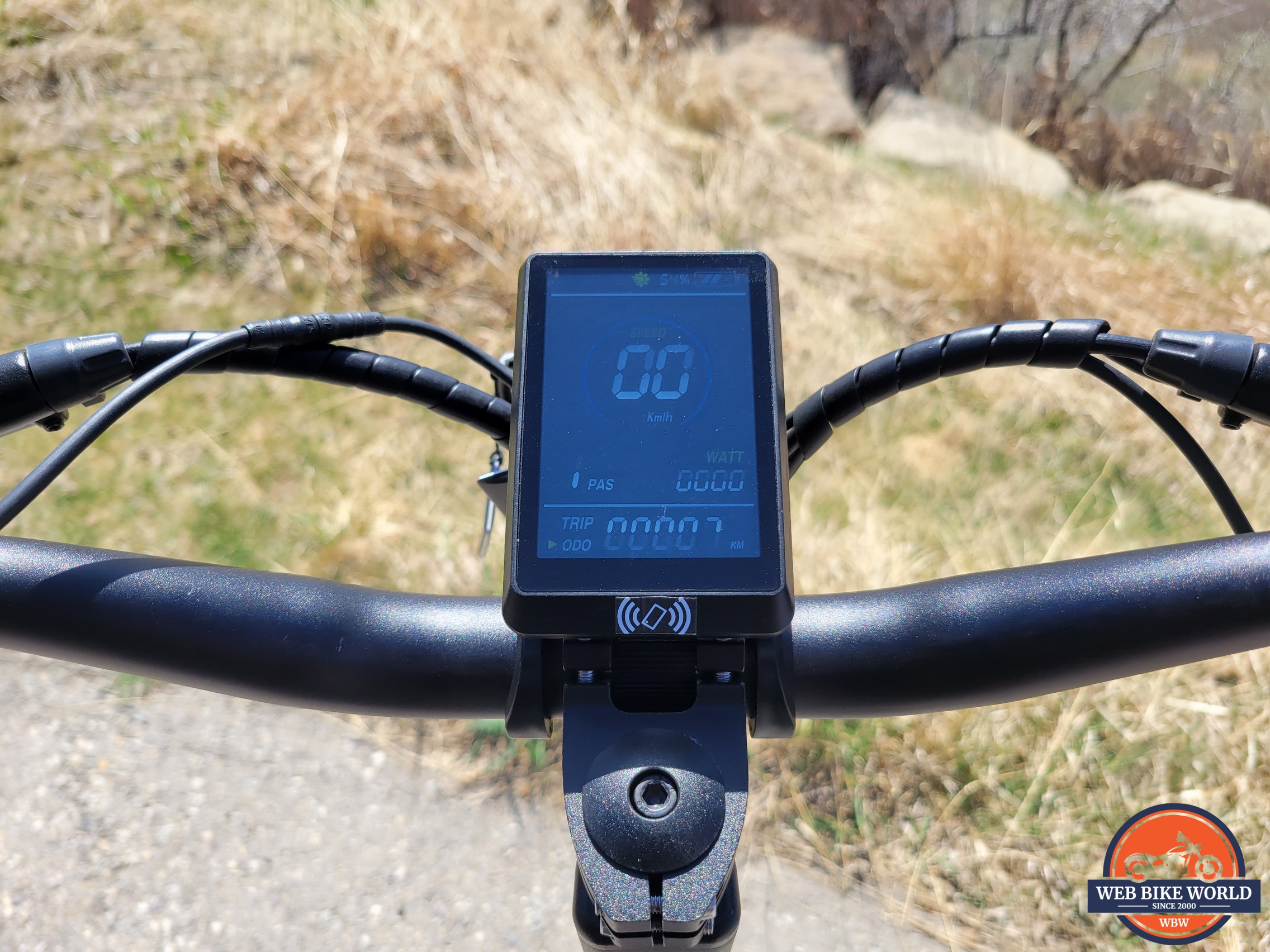 The Eagle One Pro brings a new design element in the form of NFC card authentication. When you press the power button on the left handlebar controller, the LCD screen will activate and require you to tap the NFC card before powering on.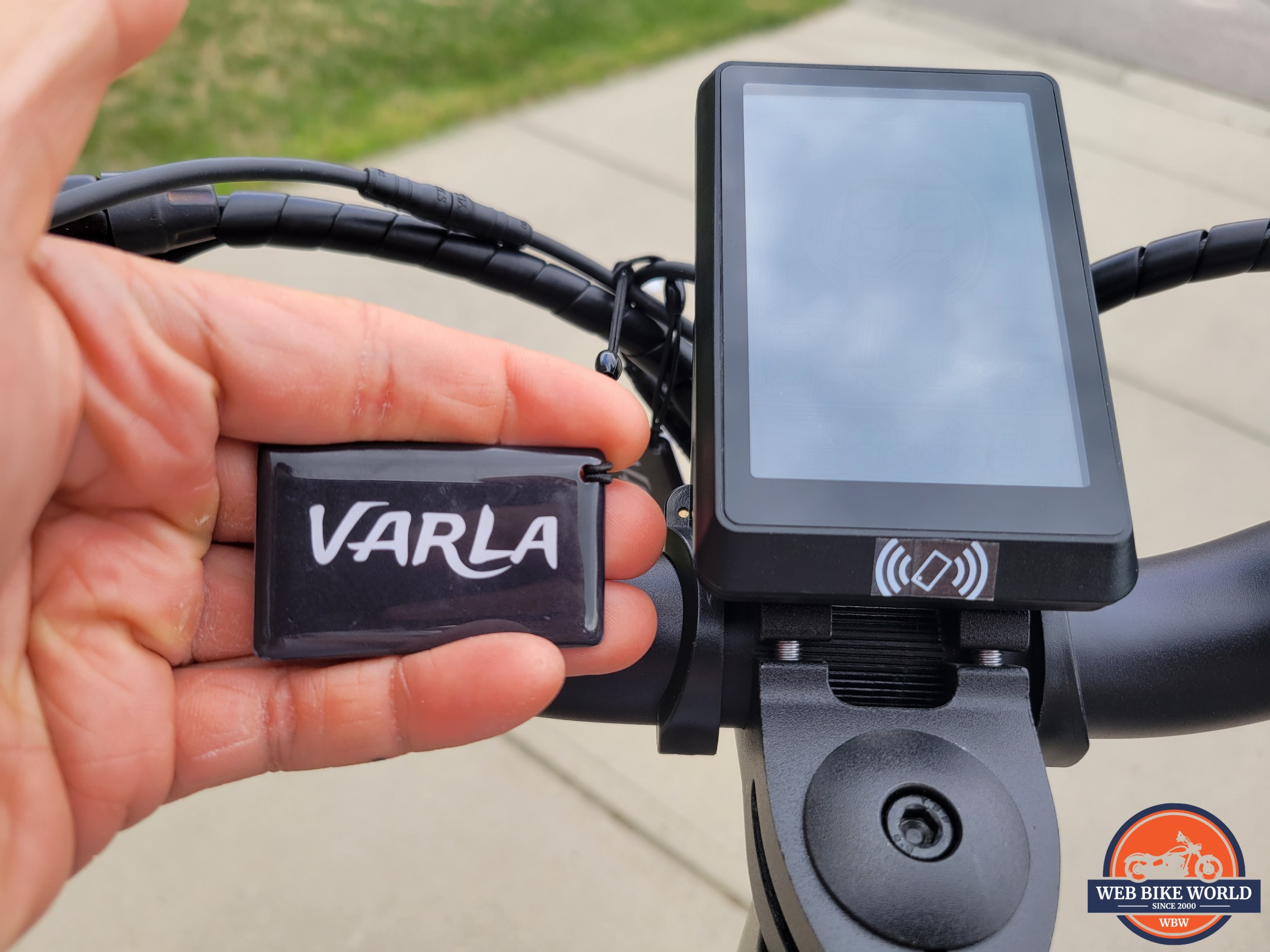 The display itself is clear but like most LCD screens, there is substantial glare in direct sunlight that makes it difficult to see and discern smaller numbers on the screen. However, the display shows your speed level and current speed in large numbers which also happens to be one of my favorite features about the Varla Pegasus display.
You'll be able to access all of your typical metrics including trip and total odometer, voltage, and remaining battery percentage.
The user manual also shows you how to adjust different P-settings. As we look at the performance aspect of this scooter, you'll see where this customization can come in handy.
Throttle
There's a debate between twist, thumb, and finger throttle. The Eagle One utilizes a pointer finger throttle whereas the Eagle One Pro has opted for a thumb throttle.
I wanted to dedicate a section to this because I've experienced all of the above, with twist throttle primarily on e-bikes while scooters deploy either a thumb or finger throttle.
Personally, I prefer finger throttles as I find they give me a better way to control and feather the throttle while maintaining a strong grip on the handlebar. When you're riding a scooter, your center of balance is heavily dependent on the weight you're placing on both handlebars.
Ever try to ride a scooter one-handed? You get the idea.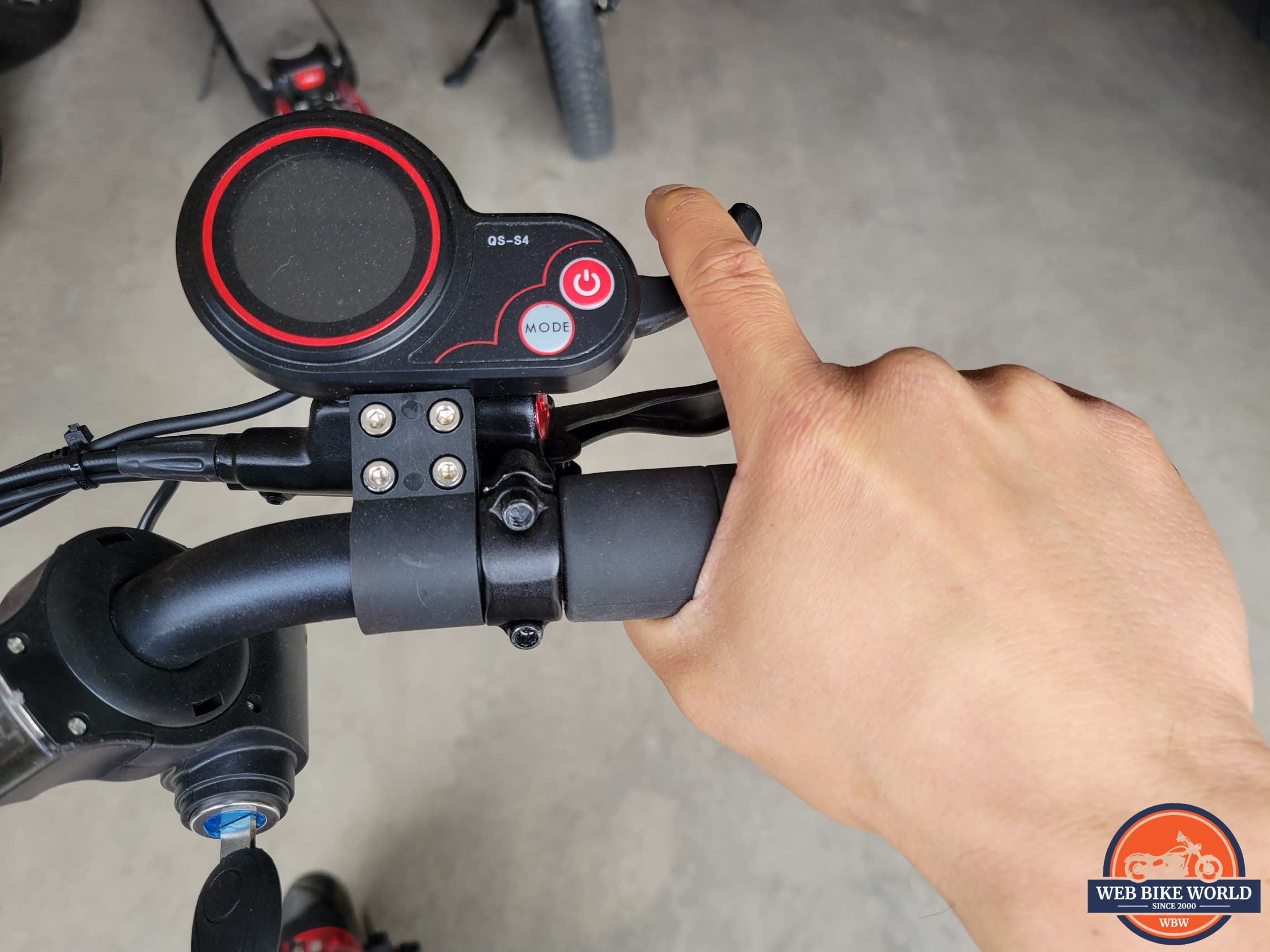 I did find that while the thumb throttle didn't compromise my grip on the handlebars, I did start to get thumb fatigue after about 15-20 minutes of riding. The throttle itself is made from a longer piece of reinforced plastic, but I found that the length of the throttle was wasted as putting my thumb closer to the base gave me more nuanced throttle control.
The throttle design could use some revision as I don't think the lever needs to be that long. If you look at thumb throttle designs on ebikes, there is less travel on the mechanism which makes it more ergonomic to use.
Deck
From an aesthetic standpoint, I appreciate that Varla has gone with a more professional design compared to the grip tape on the Eagle One. These enhancements give the product a clean and sleek look which I prefer.
Cheesiness is good, but only on things like nachos and burgers.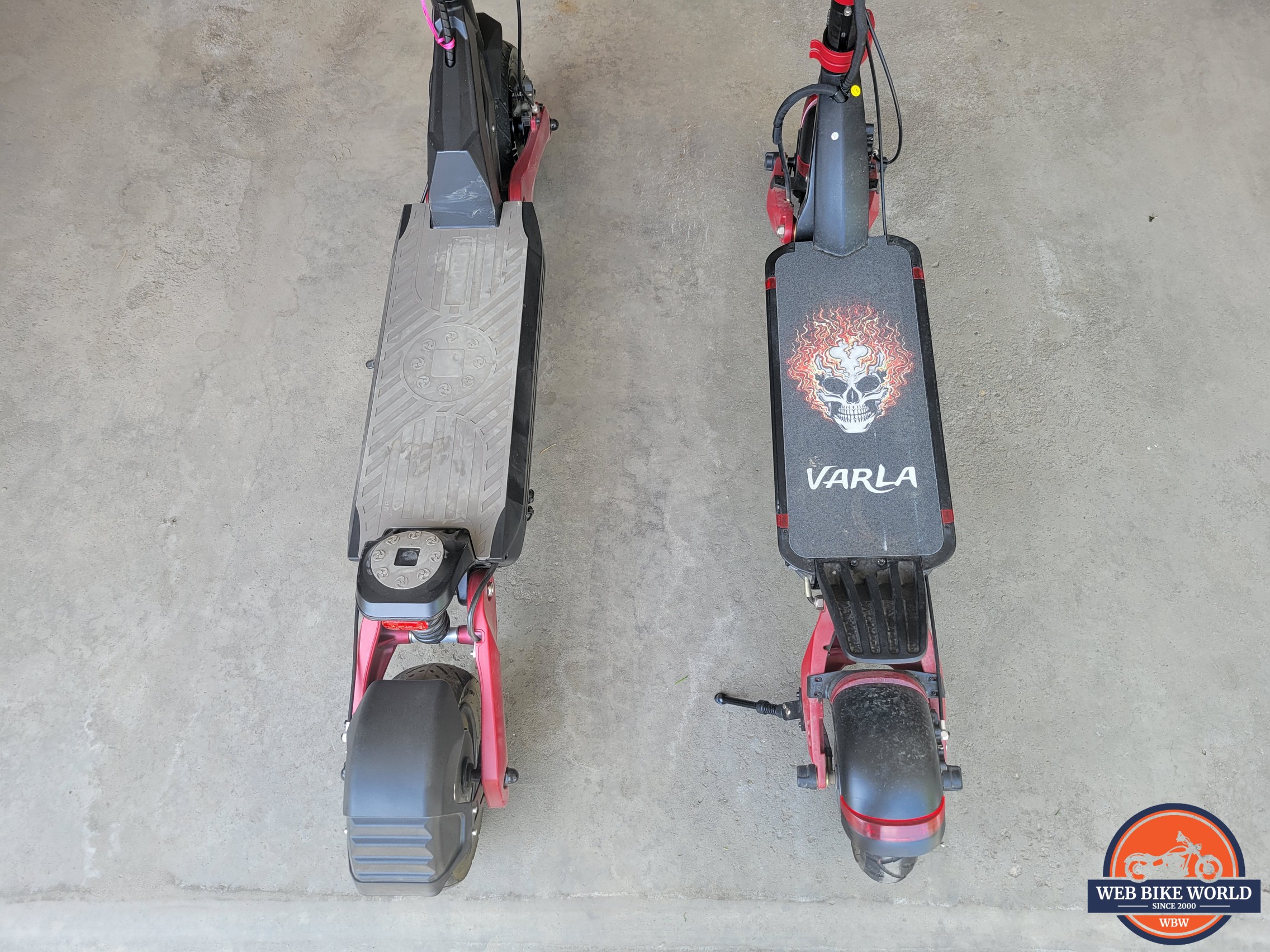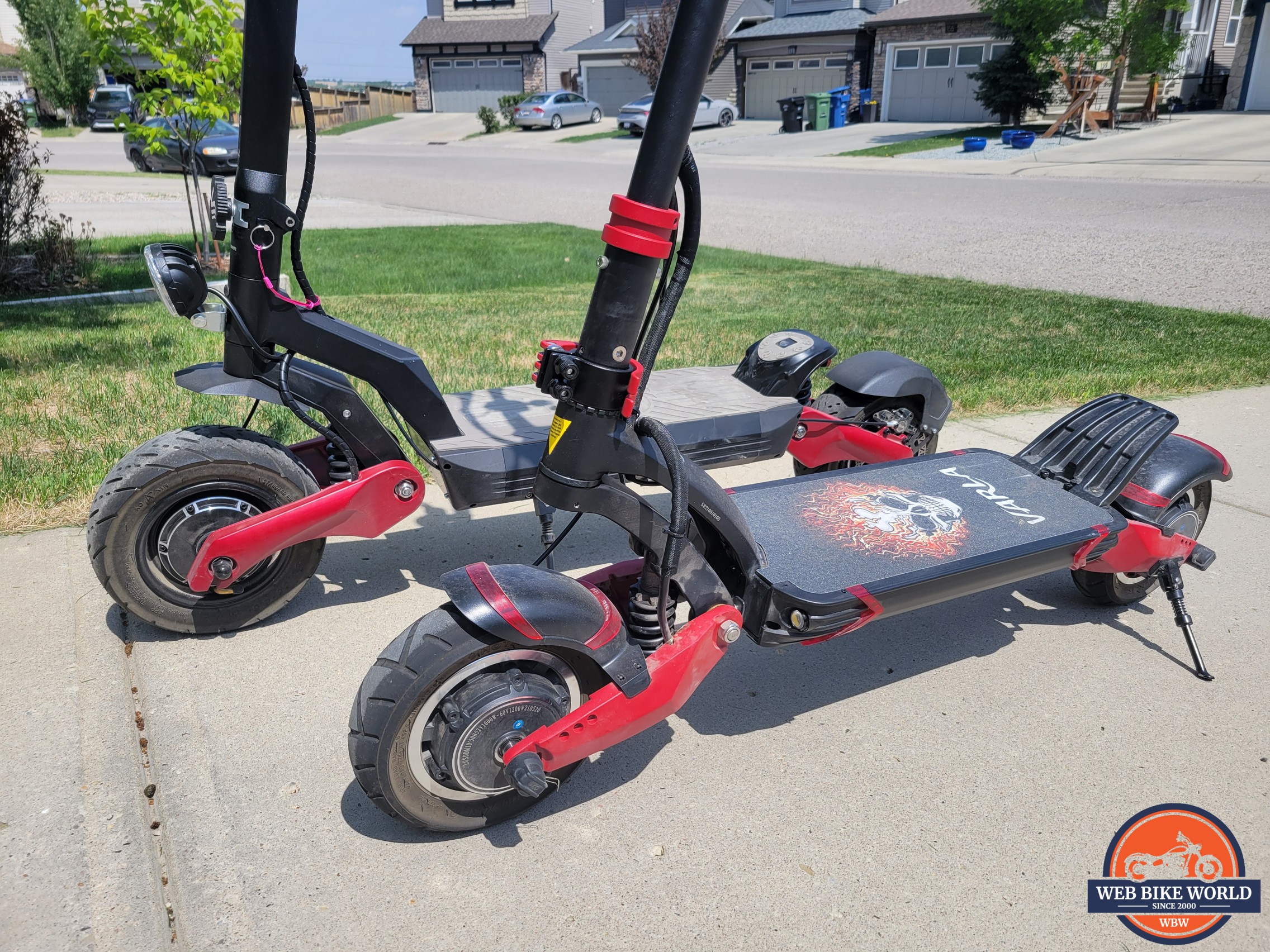 The deck measures 19" x 7¾" so there's a bit less width compared to the Eagle One which has 19" x 9" of space. It is a relative non-issue as foot positioning while riding a scooter is not side-by-side but rather a staggered stance.
Performance and Acceleration
The Eagle One Pro touts itself as a powerful entry-level beast scooter and I'd have to agree. The dual 1000w front and rear hub are no joke. When you hit the throttle, you'll take off like a rocket and it's actually quite jarring for anyone who has not ridden a scooter before.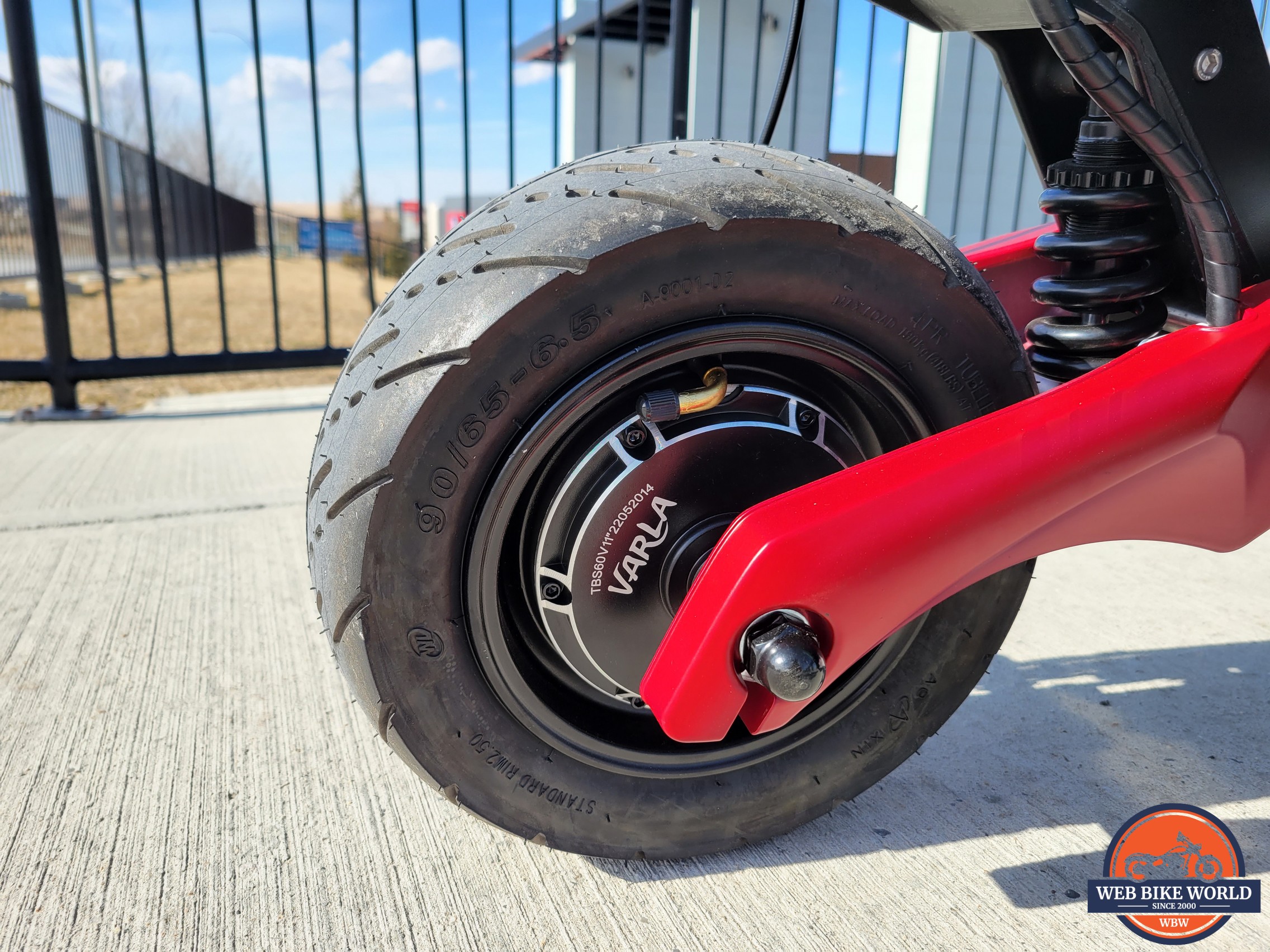 With 36nM of torque at your literal fingertips, this scooter delivers a peak 3600w of power.
That said, let's talk about the acceleration and speed for a moment. PEV's such as ebikes are federally regulated in Canada and the USA. Many of these products are capped at Class 2 speeds which is around 20mph (32km/h) but you can remove the speed limiter.
The Eagle One Pro has no such qualms and has a top speed of up to 45mph (72km). It's fast as balls and more than enough to satisfy your speed demon.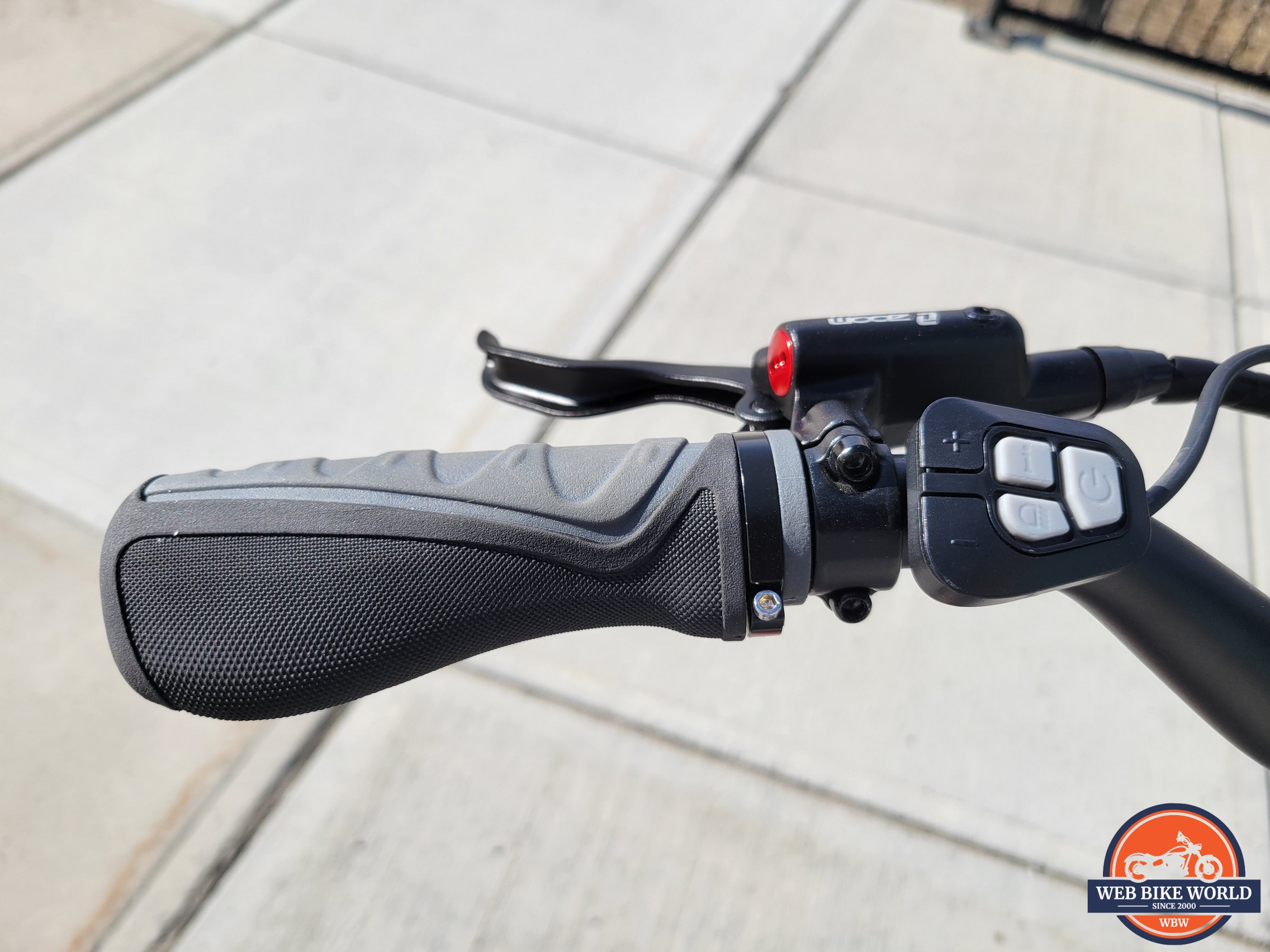 Speed is controlled via 3 levels which you toggle using the – and + buttons on the controller on the left side of the handlebar. From testing, these are the approximate speed limits for each level:
Level 1 – 12mph (20kmh)
Level 2 – 26mph (42kmh)
Level 3 – Up to 45mph (72kmh). Untested.
I did not test out the max speed on Level 3 and want to point out that the speed itself is not an issue. Obviously, you'll want to consider wearing protective gear if you're going at those speeds. Motorcycle gear such as full-face helmets and riding jeans are popular choices for enthusiasts as they offer abrasion resistance.
However, I did find that the substantial speed gap between Level 1 and Level 3 limited the usability and enjoyment I got out of the Eagle One Pro.
Level 1 (12mph / 20kmh) is the perfect speed for leisurely cruising along walking/bike paths. Shared by other pedestrians and dogwalkers, this speed works well in a public space. When you're wanting to amp it up, I found that Level 2 was unfortunately too fast for these same roads.
As a result, Level 1 was too slow sometimes but Level 2 was too fast. I'd have to stay on Level 2 to get a bit more speed while continuously adjusting my throttle response.
I am curious why the designers would see fit to more than double your speed from Level 1 to 2. I would have liked to see a couple more speed levels to help evenly scale the distribution of power, much like the 5 levels on the TurboAnt Nebula N1 electric bike.
Handling and Suspension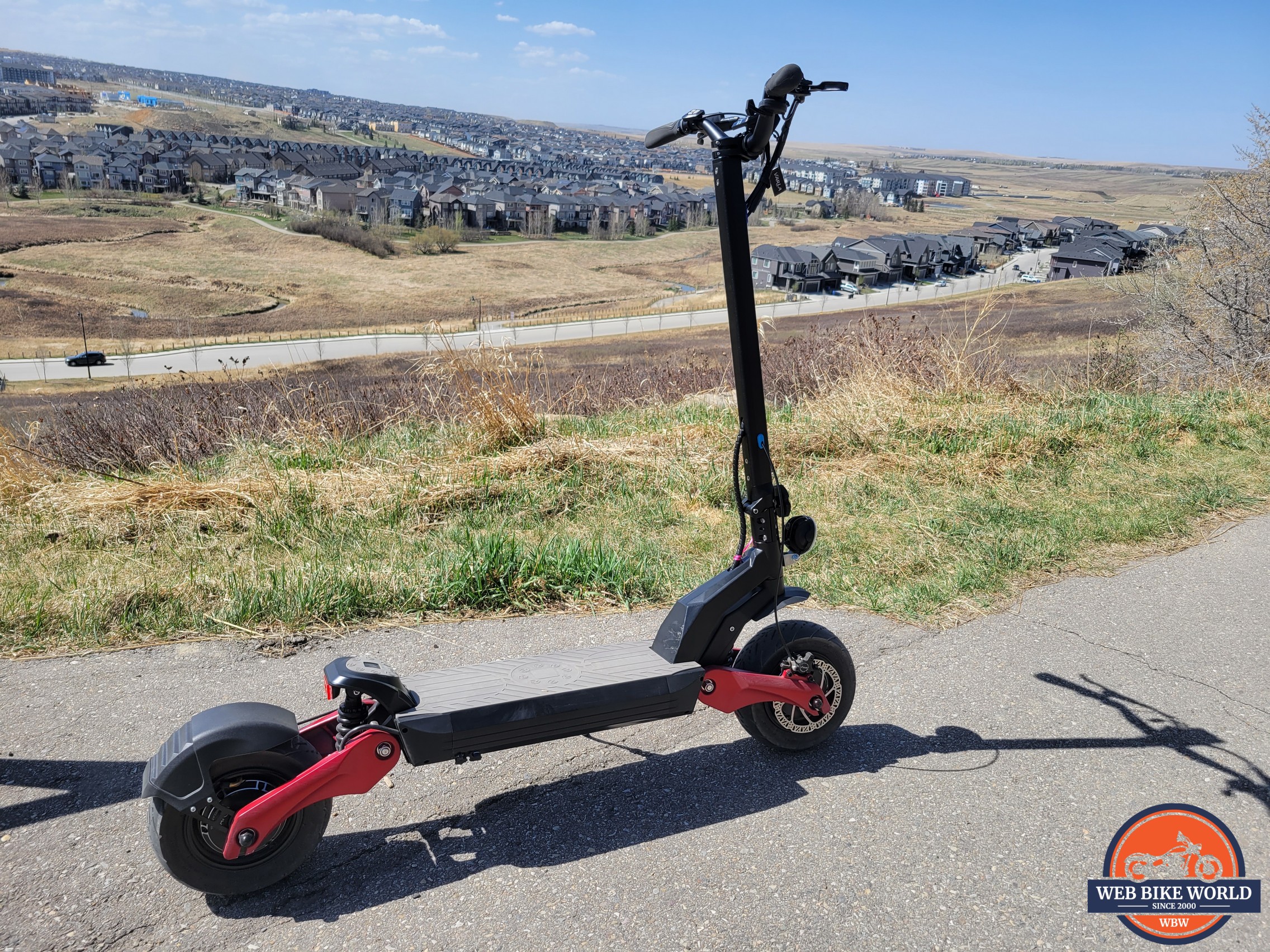 The Eagle One Pro is a capable scooter that handled the majority of the terrain we tested it on.
With its 11" tubeless air tires and dual shock suspension, it delivered a comfortable ride on pavement including speed bumps and cracks. Compared to a scooter with solid rubber tires, riding the Eagle One Pro was like gliding on clouds.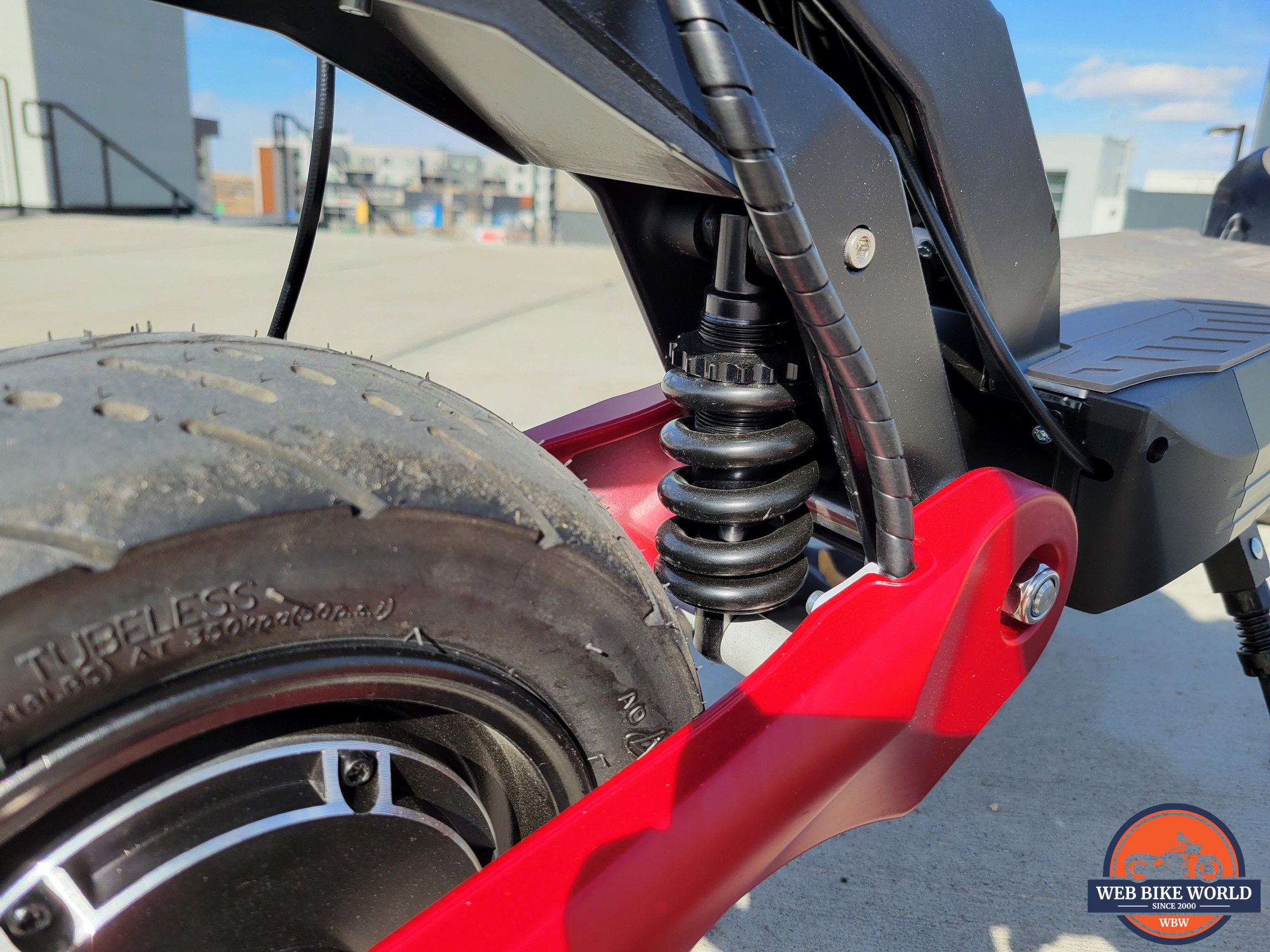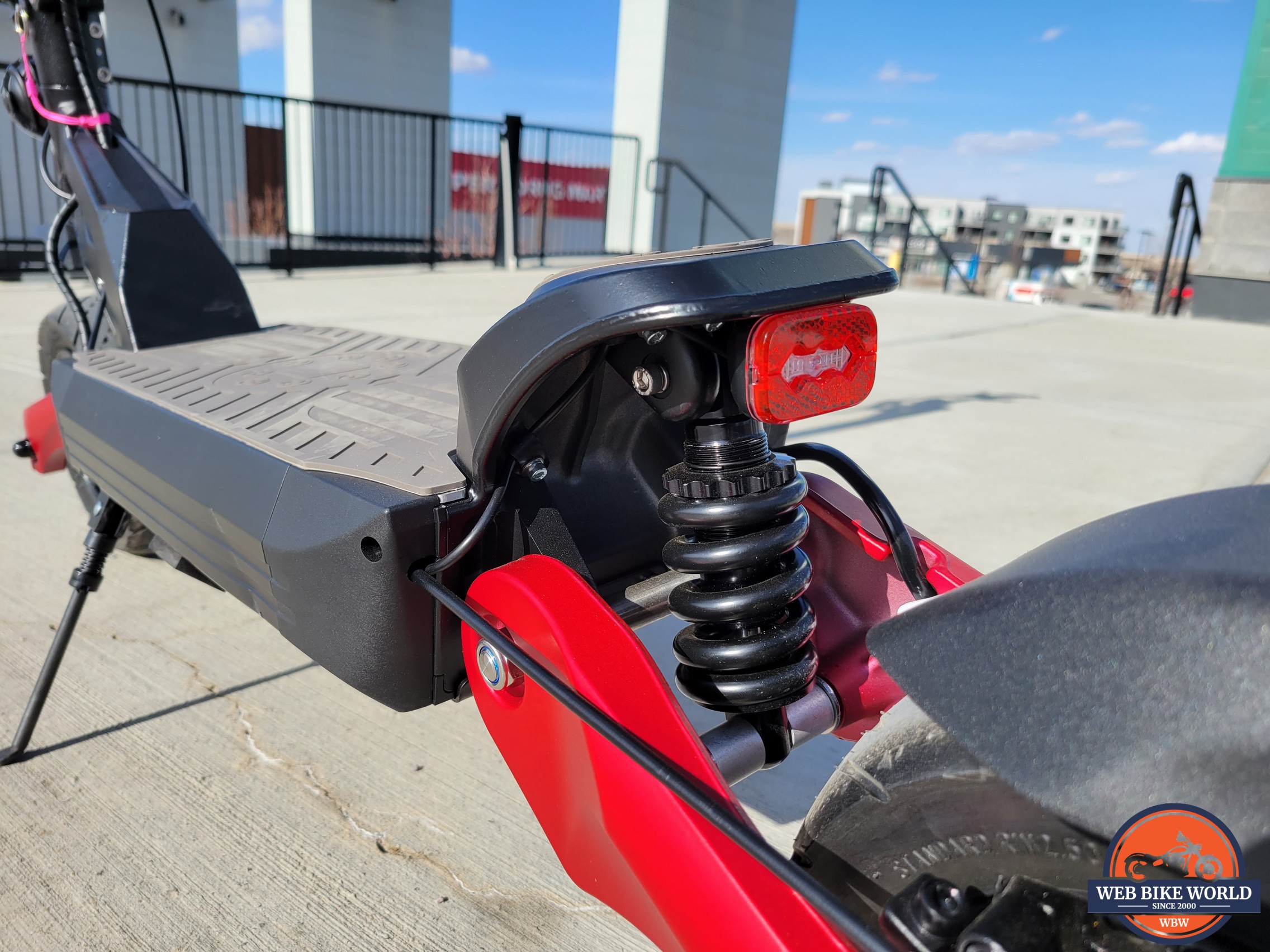 The large tires also bode well for enthusiasts looking to explore offroad. They're slightly larger in diameter than its younger sibling but are also wider so traversing dirt paths and grassy hills are easily done. It also has a higher clearance than its sibling so you can go over bigger bumps than before.

The scooter does have limitations, though. As an entry-level beast scooter, it does a decent job at flatter terrain but when you'll want to exercise more caution when it comes to rocky and jagged terrain. I made my way near a construction site where rocks of various sizes had been dug up and others were strewn about the area.
I had to avoid jagged rocks as the pneumatic (aka air-filled) tires are susceptible to punctures. The wider profile of the tires made for a very smooth ride but I did find it was a tad less nimble than the rounded tires on the Eagle One.
Add in steep slopes and I found that the Eagle One Pro performed best during light offroad activity. If you're serious about offroad, there are better options available such as the Kaabo Wolf Warrior which have grippy knobby tires and even more power.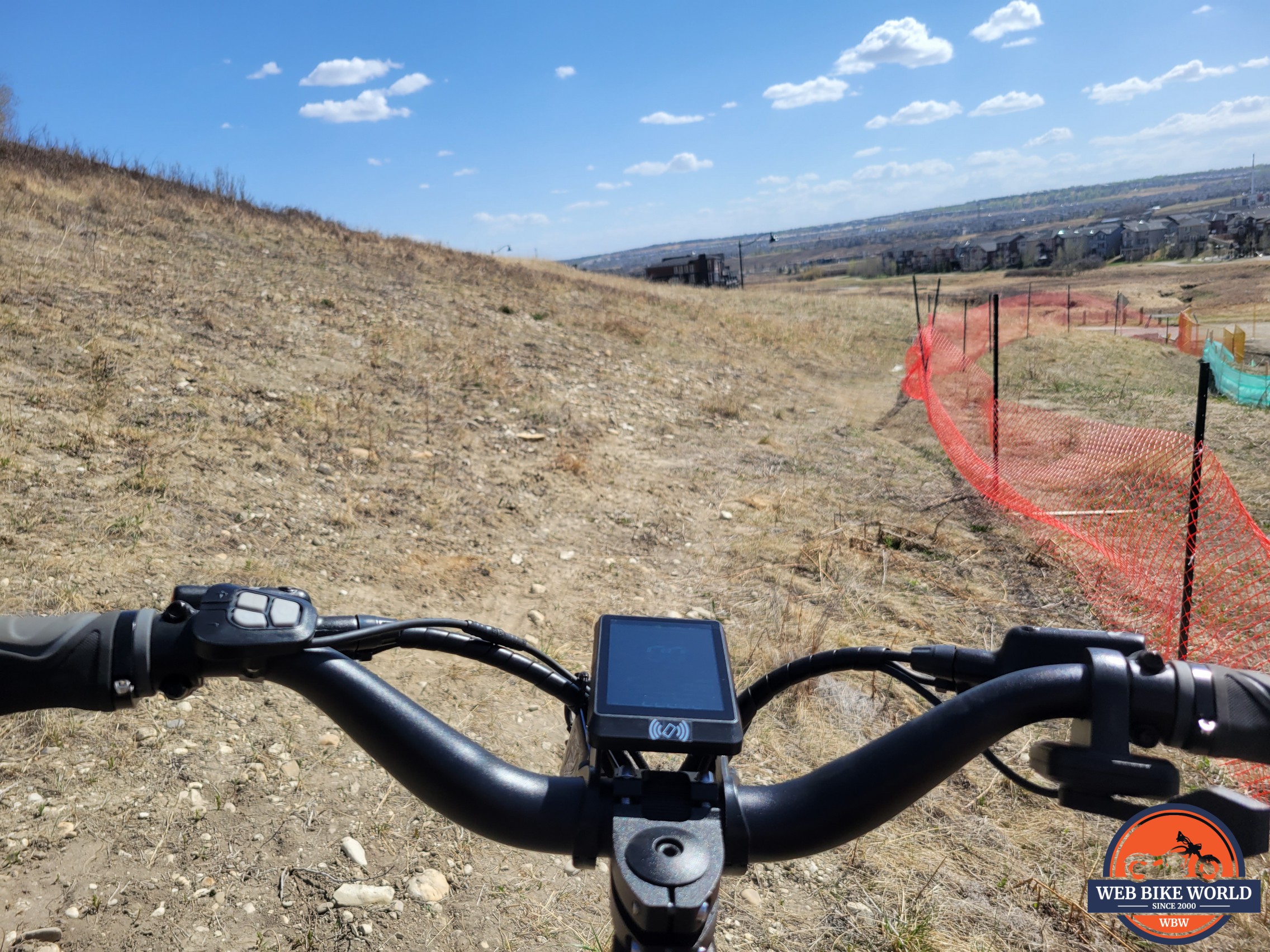 The hydraulic brakes inspire confidence and provided a smooth braking experience. Given how powerful this scooter is, I was curious how well it would handle but was pleasantly surprised. With proper braking technique and body positioning, it'll stop on a dime.

Battery Life and Charging
The battery capacity on the Eagle One Pro is impressive.
While it did take more than 10 hours to fully charge the 60V / 27Ah battery, this is expected given its capacity. The availability of dual charging ports further reduces this time to 6-7 hours which is fairly quick and a common sight for many beast scooters.
The bigger the battery, the longer it takes to charge.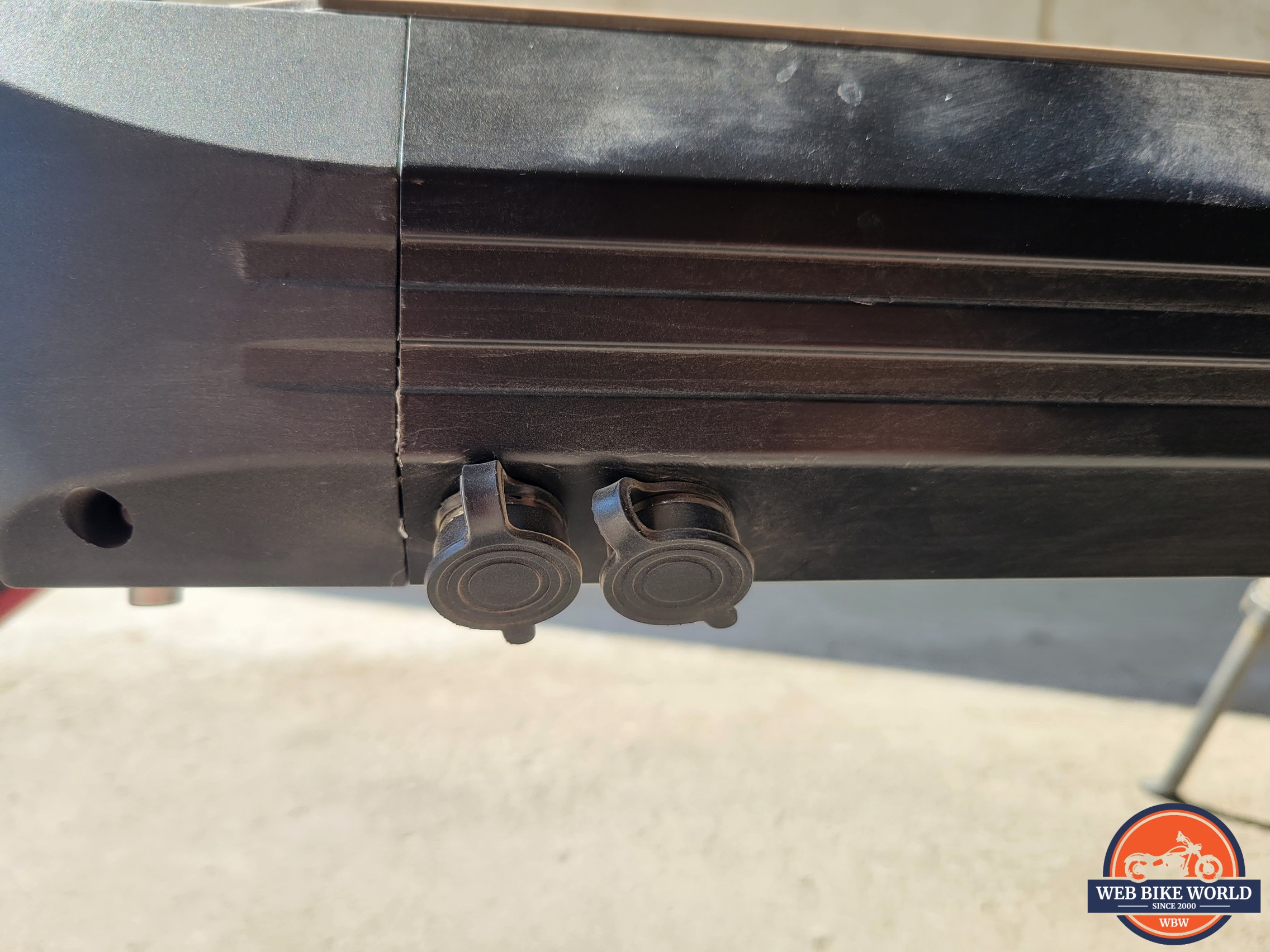 Varla claims a top range of 45 miles (72km) on a single charge which was relatively in line with our testing. We averaged 35 miles (56km) of range out of the Eagle One Pro over the course of testing under various loads.
Range and battery life are dependent on factors such as rider weight, terrain, speed, etc. You can squeeze out more range by adjusting the settings so that it uses a single rear hub motor.
As I mentioned before, we did not utilize Level 3 as Level 1 and Level 2 more than handled the majority of our riding. I'm 5'6 at 68kg (150lb) and most of the testing took place on pavement and light offroading in the form of grassy hills and dirt paths.
Should You Buy It?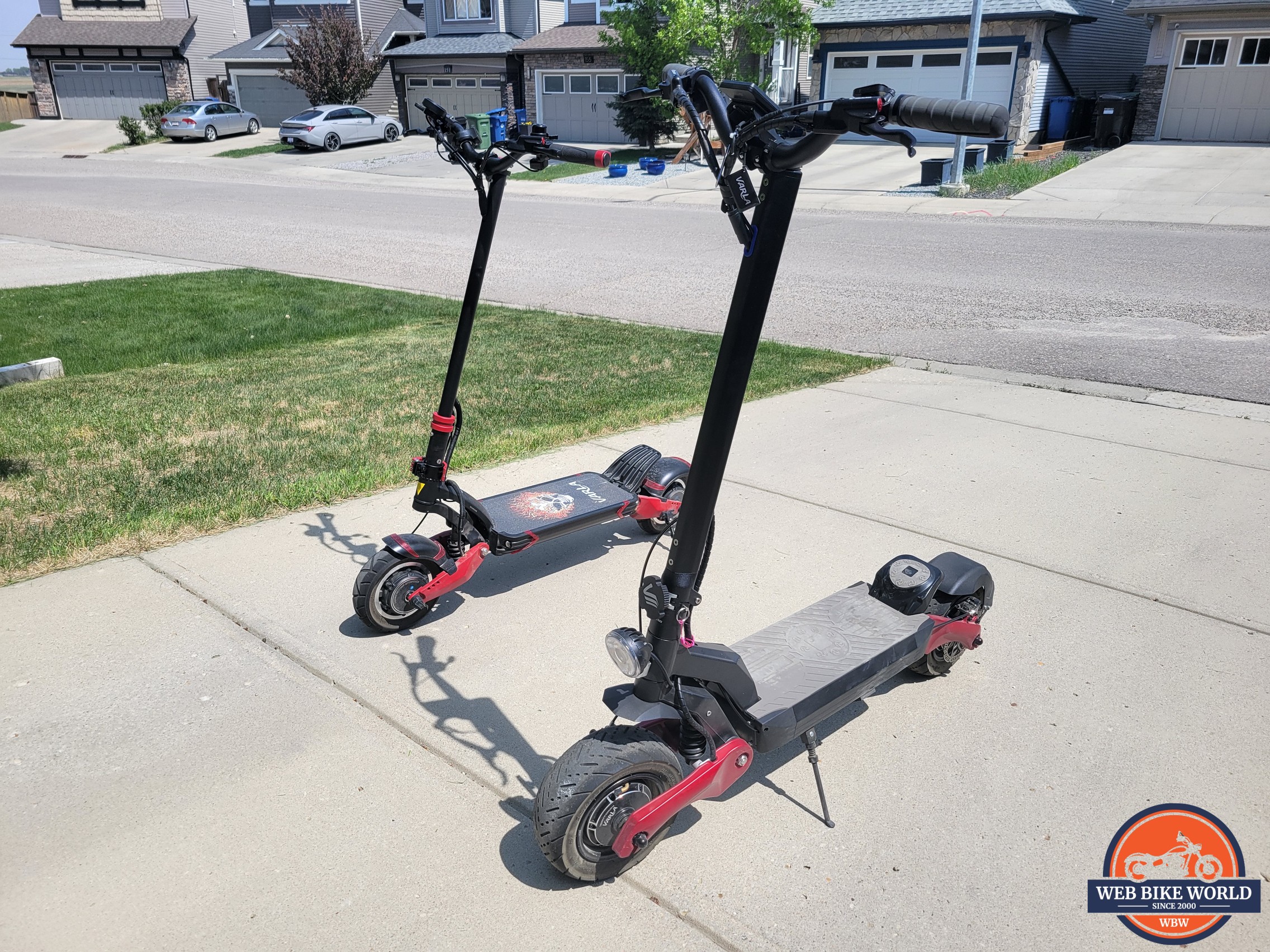 Naturally, I found myself comparing the Pro to the Eagle One. I love both of these scooters and they each have something to offer.
The dimensions of the deck, while a bit short in length for both models, allow a rider to position themselves comfortably. It's ergonomically comfortable and is easy to operate.
It's got plenty of oomph and will allow you to go adventuring without having to shell out thousands more for a premium offroad scooter.
At $2099 USD, it's a direct competitor to models such as the Apollo Phantom and Mantis King GT, both of which are in the same price segment with powerful dual motors. At its full price of $2299, I would consider shopping around a bit knowing that other models are available with a bit more power in the same price segment.
What I'd Change About The Eagle One Pro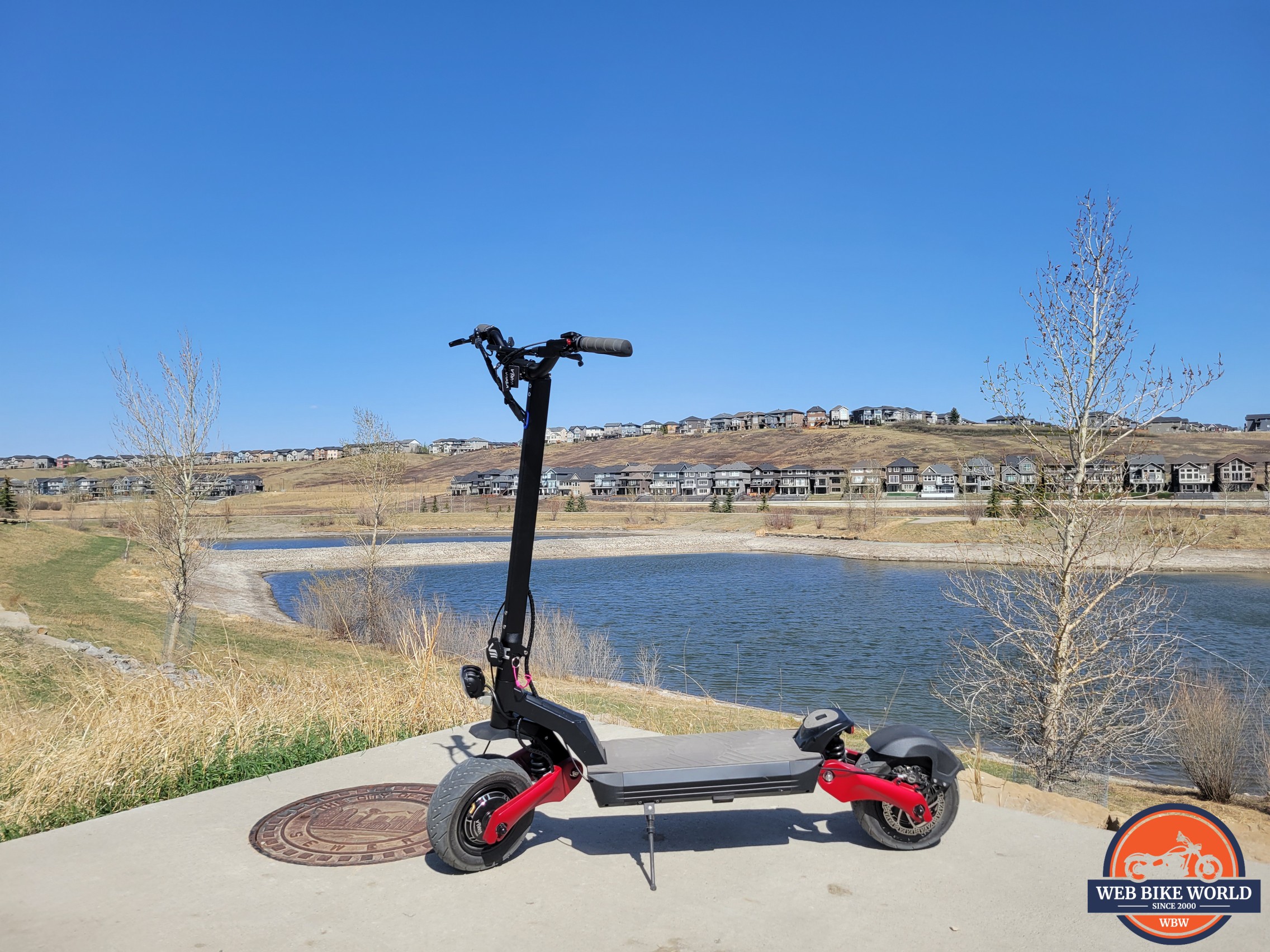 While Varla may not consider the Eagle One Pro as the next iteration of the Eagle One itself, I think their team took a lot of queues from the success of the Eagle One. Additional features such as incorporating a headlight and new stem locking mechanism design serve to strengthen the Pro version. However, the Pro is not without its flaws.
One of my chief concerns about the Eagle One is that it lacked portability features to make transporting it easier. I was surprised to see that Varla did not opt to address portability issues and I get it, it's a 90lb beast scooter so how much portability can you expect?
However, if you look at other models available, many of them incorporate a small handle into the rear kick plate on the deck, giving your hand a place to grip and lift, especially in the absence of a deck hook.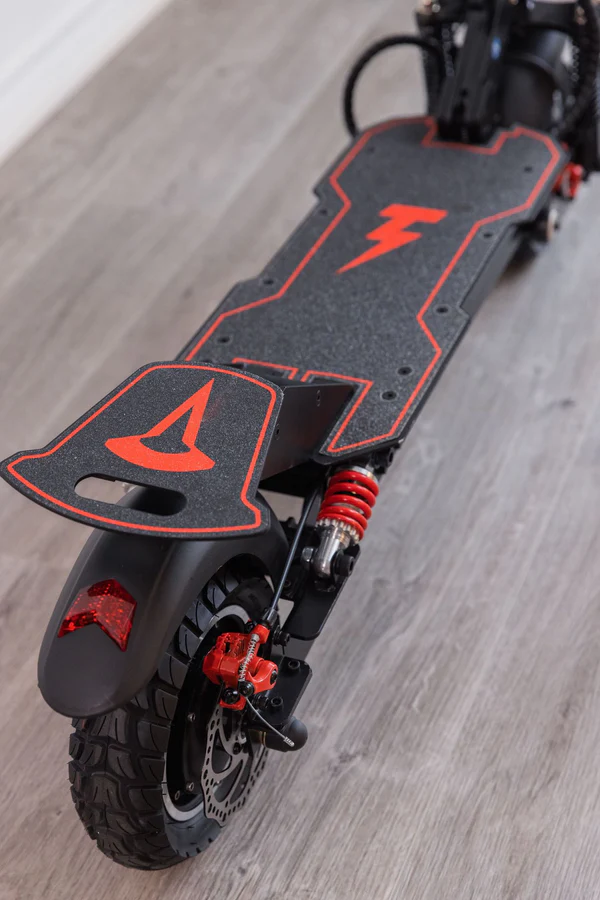 Instead, what Varla has opted to do is mount the taillight directly under the kick plate which means that you can't even lift it from that position anymore.
The tiny kickstand has also made a return and has been relocated to be closer to the middle of the deck. When the kickstand is closed, it sits flush against a piece of foam mounted to the deck presumably to prevent any scratching. I did find that the kickstand was difficult to open with my feet.
The kickstand could also use some beefing up given that on a slight grade, the 40kg (90lb) scooter has no problem sliding away under its own weight.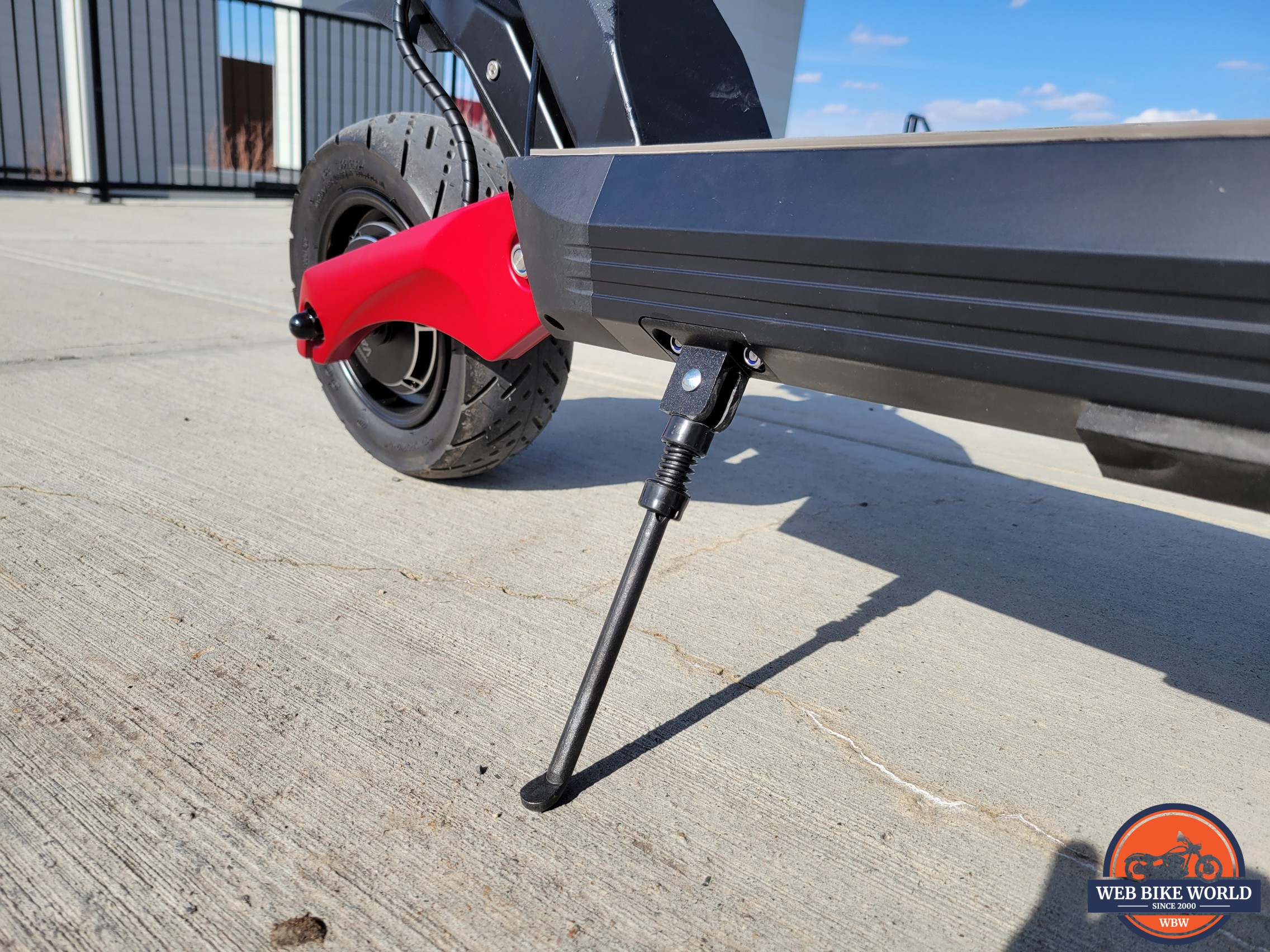 These are VERY minor nitpicks, to be clear, but they were ultimately annoyances that detracted from the overall experience particularly because they seem so easy to implement yet Varla did not address them in their flagship model.
The LCD display could also use refinement as it gets washed out in direct sunlight. The Varla Pegasus has an effective yet monochrome display that can be seen clearly at any angle. A color display is fancy but if you can't read it, it's a moot point.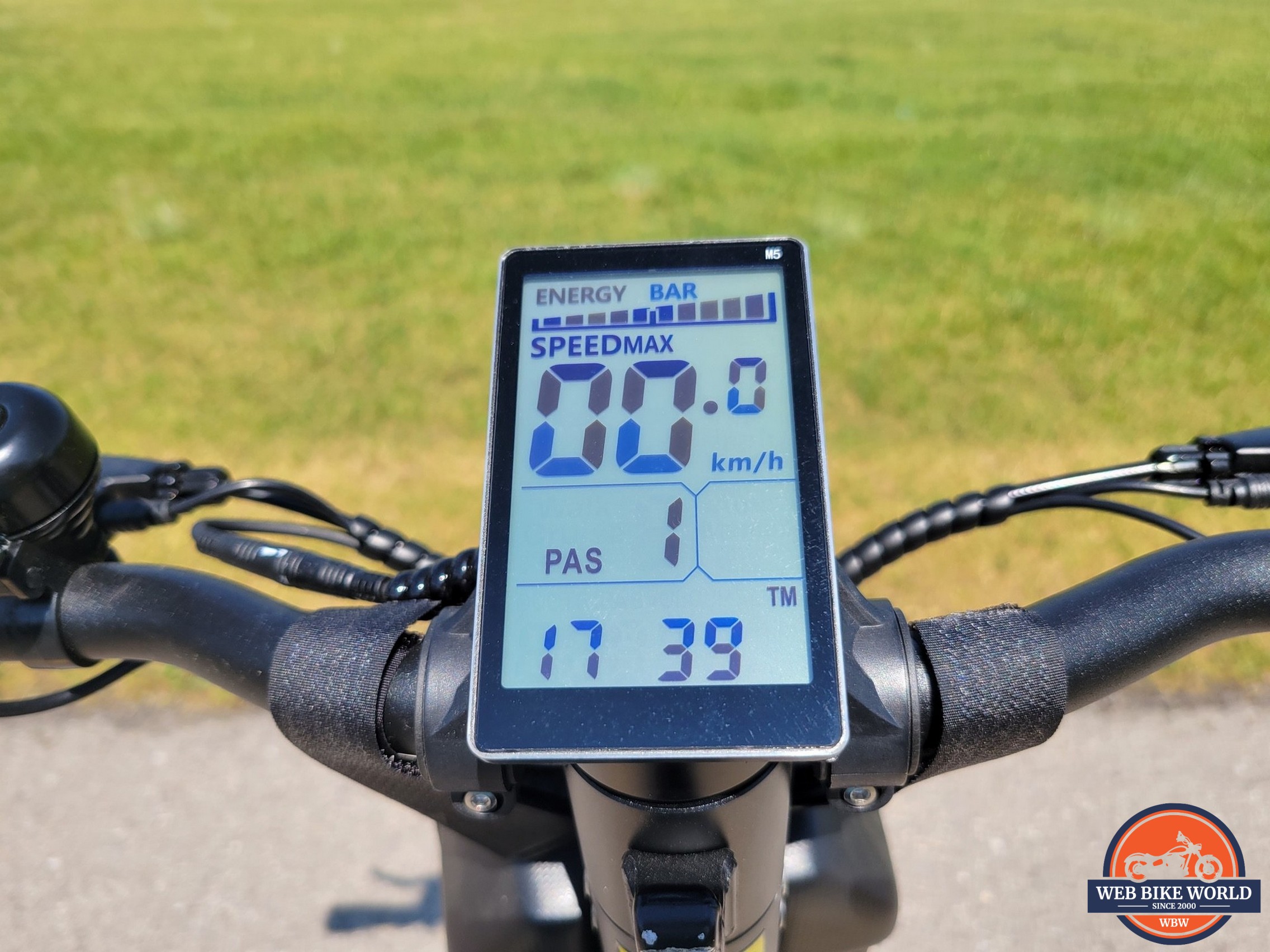 Beyond this, I have greatly enjoyed the Eagle One Pro and cannot wait to see what else is in store.
Verdict

If you're in the market for an offroad scooter, the Eagle One Pro should be on your list to consider. Varla's got a wide range of offerings so whether you're just looking for a long-range commuter or something more fun, they've got you covered.
The Eagle One Pro is well-balanced but isn't without its limitations. The heavy frame and lack of portability features mean that it can be cumbersome to carry. This doesn't stop it from shining with its exceptional range and impressive power which will give you hours of enjoyment off the beaten path.
The Varla Eagle One Pro is currently on sale for $2099 USD (regular $2299) and you can use code BIKEWORD50 to save an additional $50.
Pros
Well-balanced with plenty of power
Tall handlebars, large deck, and 330lb load rating means it's a great choice for big riders.
Comfortable ergonomics and well laid out cockpit
Smooth dual suspension and high clearance
Silicone covered deck and kickplate provides excellent grip
Cons
Lacks portability and cumbersome to transport
The LCD color display is difficult to read in sunlight
Thumb throttle can be somewhat sensitive awkwardly positioned
Important Links / Where to Buy