2021 Varla Eagle One Off-Road Scooter Review Summary
Review Summary
The Varla Eagle One offers amazing acceleration/torque, decent range, and staggering speeds at a reasonable price point. If you're looking for a scooter that doubles as both a commuter and weekend toy, this model has enough features to satisfy any rider looking for an entry-level offroad scooter.
Pros
Plenty of power with dual 1000w motor
Can tackle 30 degree inclines with no issue
Wide deck is comfortable and inspires sturdy footing
Pneumatic tires and spring suspension offer a smooth and cushy ride
Decent range capacity of 40mi / 60+km
P-settings allow rider customization
Wife thinks it's fun and also wants to ride it too
Cons
Not enough handlebar space to comfortably fit throttle and right-hand brake
Shaft locking mechanism is a mediocre design
Weak LED headlights lack meaningful functionality
72lb is heavy and lacks portability
Long recharge time on single charger
Wife thinks it's fun and also wants to ride it too
2021 Varla Eagle One Off-Road Scooter Image Gallery
For Kids Only. Not.
In the suburban neighbourhood where I live, kids frequently ride in the street on their scooters. I never owned a scooter growing up. It looks fun but I'm 35 years old now and doubt that I could find something suitable at Toys R Us. That, and I'd have to use my legs to actually roll the scooter along. Who wants that?
While Cameron and I both have an appreciation for automotives and powersports, we also like to enjoy the benefits of living in Calgary, Alberta, a city that offers gorgeous outdoor scenery next to the Rocky Mountains.
We've got great mountain biking paths, an urban provincial park, and the Bow River pathway which runs along the river banks across the heart of the city.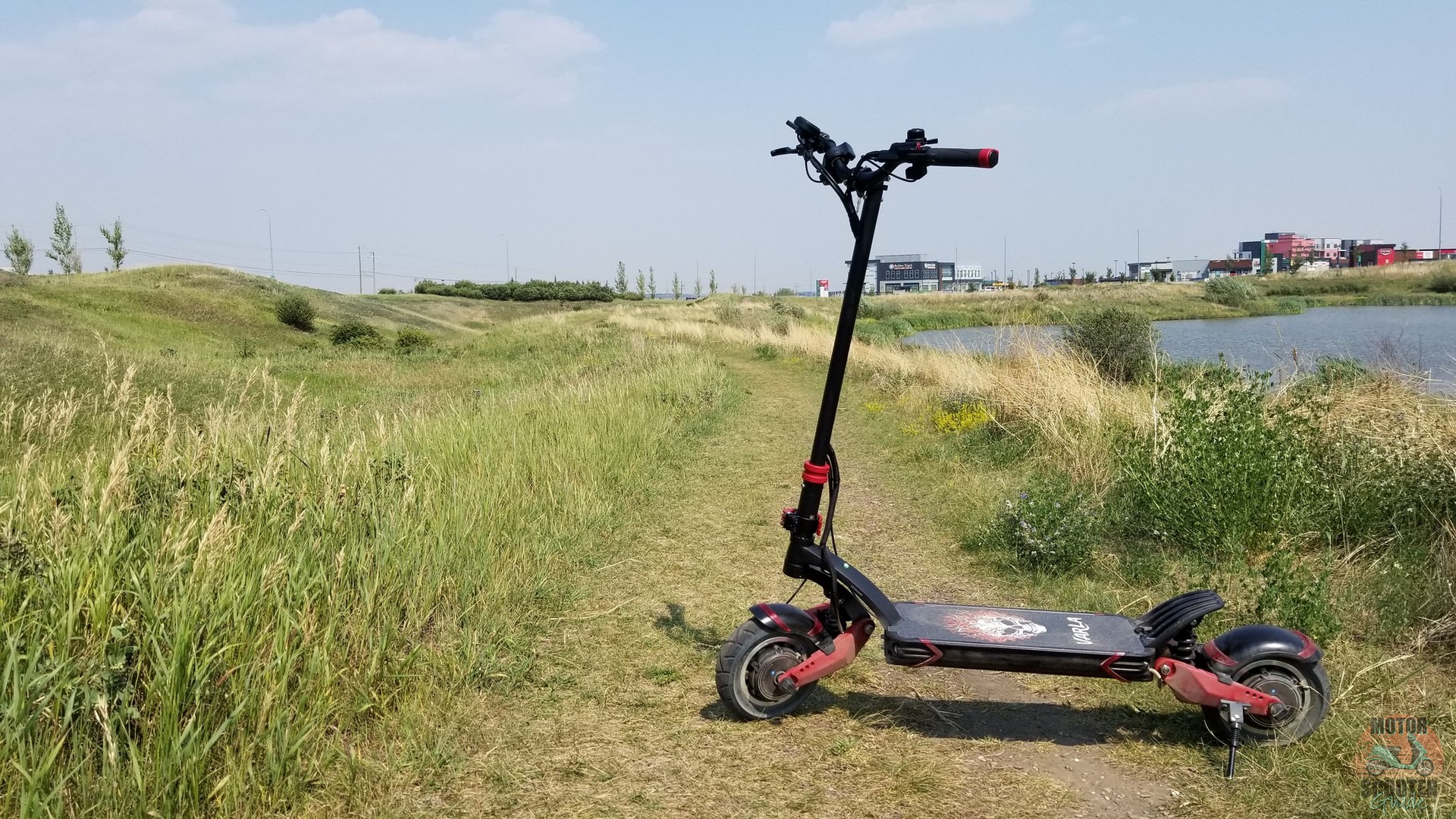 Naturally, electric bikes and e-scooters were on our list as we took to adding PEV's into our professional and personal lives.
This is where Varla comes in. We met them through our collaboration with Himiway when we did the All-Terrain and Step-Thru Cruiser review.
Varla subsequently set us up with their premier offering and we did an Eagle One unboxing review where we assembled it and took it for our first ride.
Kids shout and watch in awe while I do jumps off curbs. I can't help but feel a sense of elitism as I blow past their manual locomotion with the press of a trigger and electric power at my fingertips. So, how did the Eagle One fare during our weeks of testing?
You're about to find out about all the fun we had for the next 100km's and what we learned along the way.
2021 Varla Eagle One Specifications
The Eagle One comes equipped with the following features:
Motor: Dual 1000w Hub Motor
Battery: 52V/18.2Ah Lithium-ion battery
Range: 40+ Miles / 64+ KM
Top Speed: 40+ MPH / 64+ KMH
Display: LCD backlight
Brakes: Dual Hydraulic Brake + ABS
Tires: 10 x 3 Inch Pneumatic Tires
Weight (w/ battery): 35 kg / 77lb
Charging Time: 8-9 hours (single 2.0A charger) and 4-5 hours (dual 2.0A charger)
Waterproof Rating: IP54
For additional specs, check out Varla's website.
Exploring the Eagle One's Features
1000W Dual Motor and 52v/18.2Ah battery
One of the most notable features of the Eagle One is the dual 1000w front and rear hub motor, powered by a 52V/18.2Ah lithium-ion battery. If you're a heavier rider, the model can accommodate a max weight of 330lb / 150kg.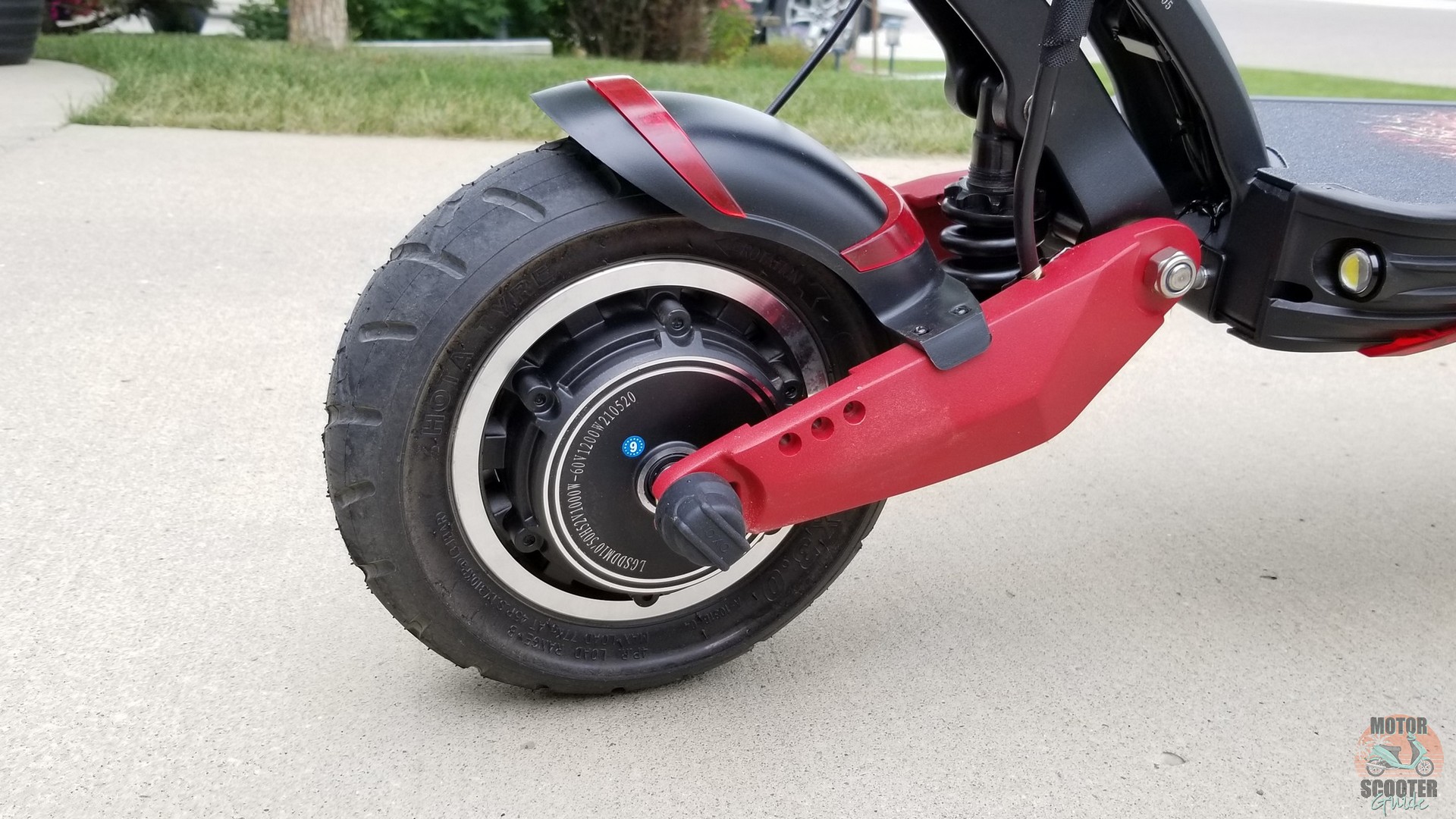 This rear hub motor delivers 1000w of power.
Working together to deliver a powerful riding experience, it allows this offroad beast to achieve a staggering top speed of 40mph / 64kph and a range of up to 40 miles / 64 kilometers.
Spring Suspension
The Eagle One features full spring suspension and pneumatic tires in order to crush off-road terrain such as dirt paths. While this offers a very comfortable ride, the downside of pneumatic tires is that they are vulnerable to punctures.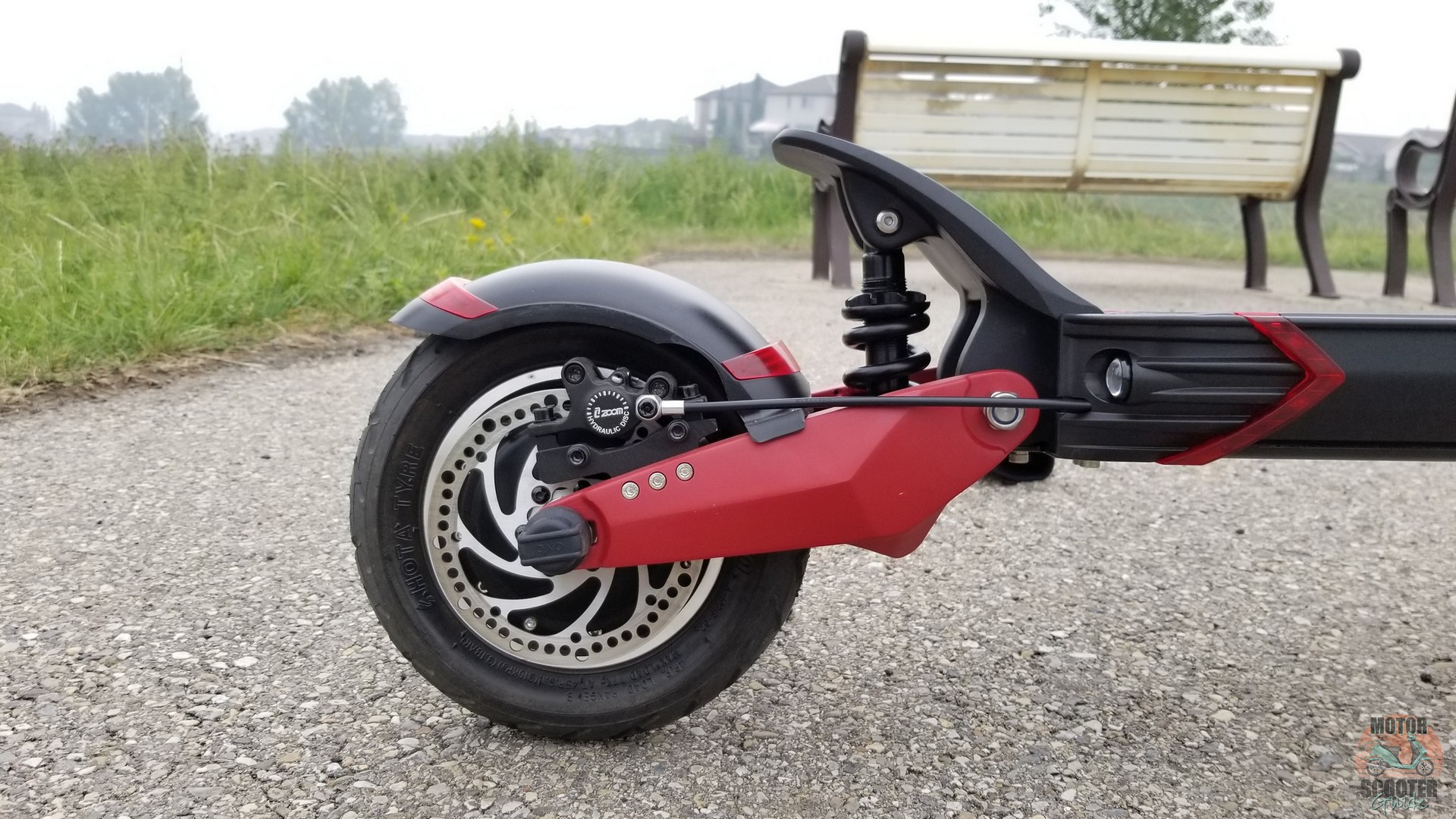 As of the time of publication, Varla includes an extra set of inner tire tubes should you need to replace them.
Varla does not recommend that you ride over extremely rocky terrain, but I dared to venture and made my way onto a construction site to test out its capabilities. We'll get to that shortly.
10 Inch Tires and ABS Disc Brakes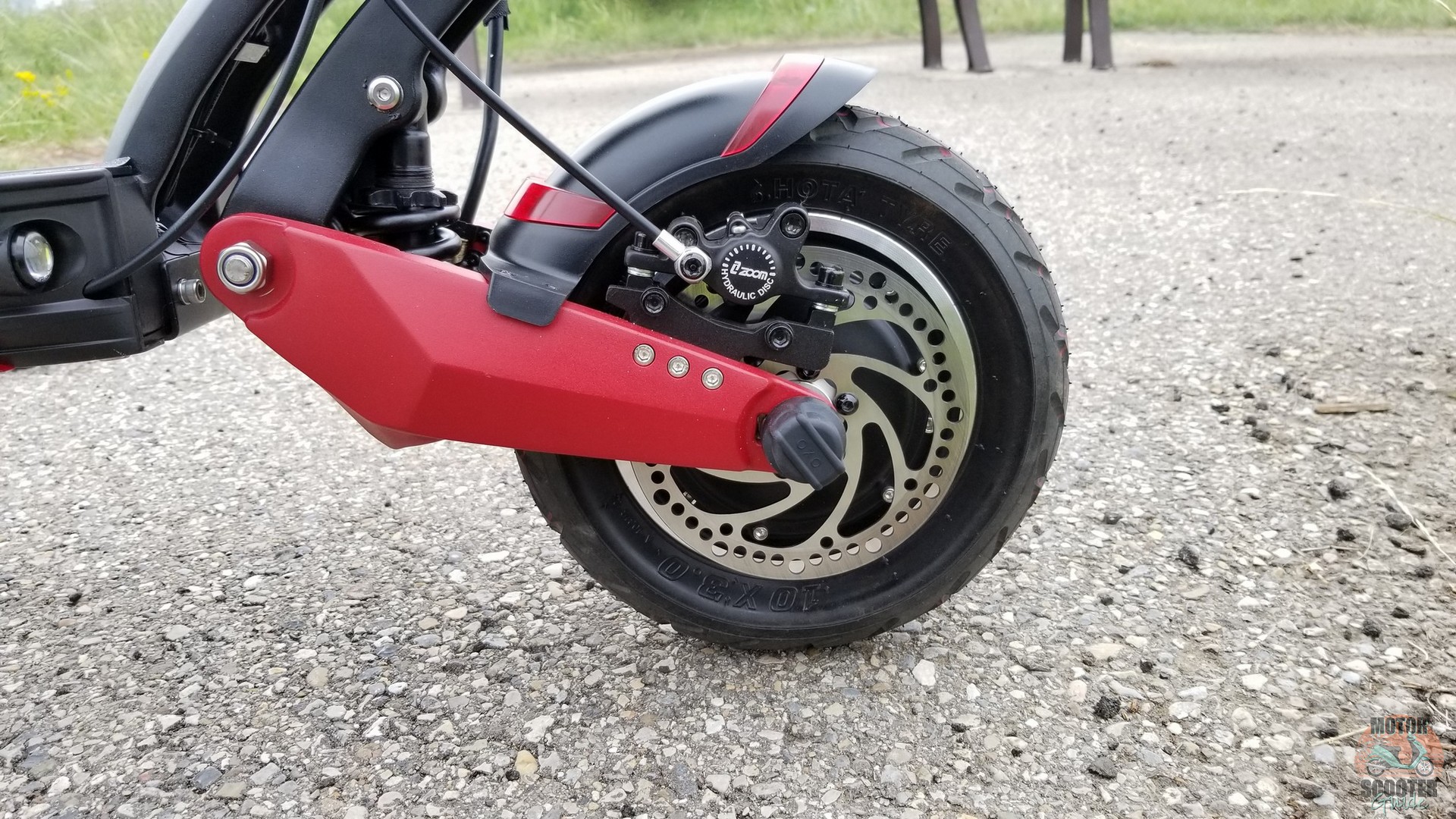 This offroad scooter comes with 10-inch pneumatic tires and ABS disc brakes for plenty of stopping power. Braking can be further customized using the P-settings. Varla offers additional accessories such as a treaded tire for those who really want to take the Eagle One to a whole other offroading level.
QS-S4 Trigger Throttle and LCD Display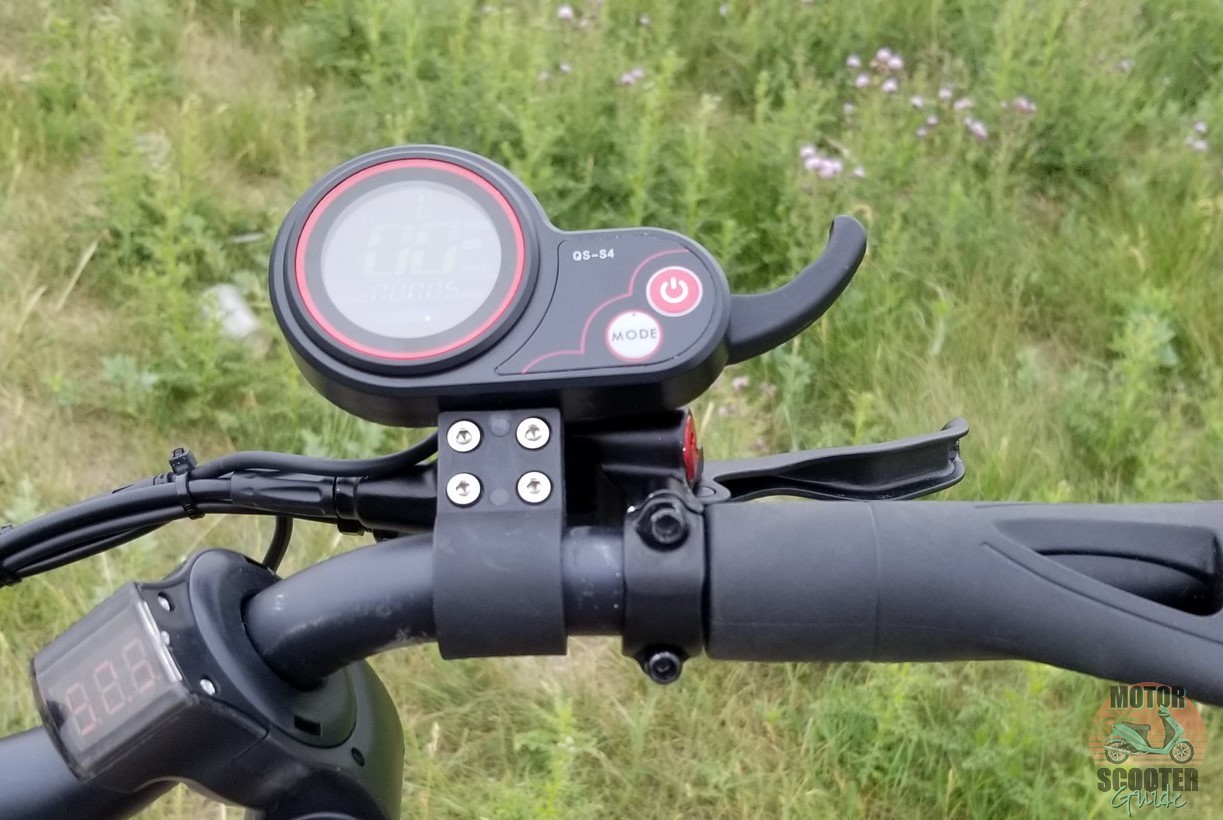 The Varla Eagle one uses the ubiquitous Chinese-manufactured QS-S4 throttle. This part can be found on a variety of electric scooters such as Apollo, Kaabo, and other popular brands.
It has your power button and provides a readout of things such as your speed, odometer, battery life. Other functions such as the LED headlight and program settings can be accessed here.
Riding the Varla Eagle One Offroad Scooter
The best thing about owning an offroad scooter is that you don't have to use it for offroading purposes. During the weeks of testing, I rode it on everything I could safely find.
City Commuting and Walking Paths
It's a no-brainer that the Varla Eagle One was super comfortable to ride throughout the city. The full spring suspension and pneumatic tires made for a smooth and silky ride.
I take it on walking paths, sidewalks, and occasionally onto the street if there are no cars nearby, only in the suburbs. Riding it through the parks downtown was a blast, which is no surprise given the popularity of e-scooters for rent in major cities.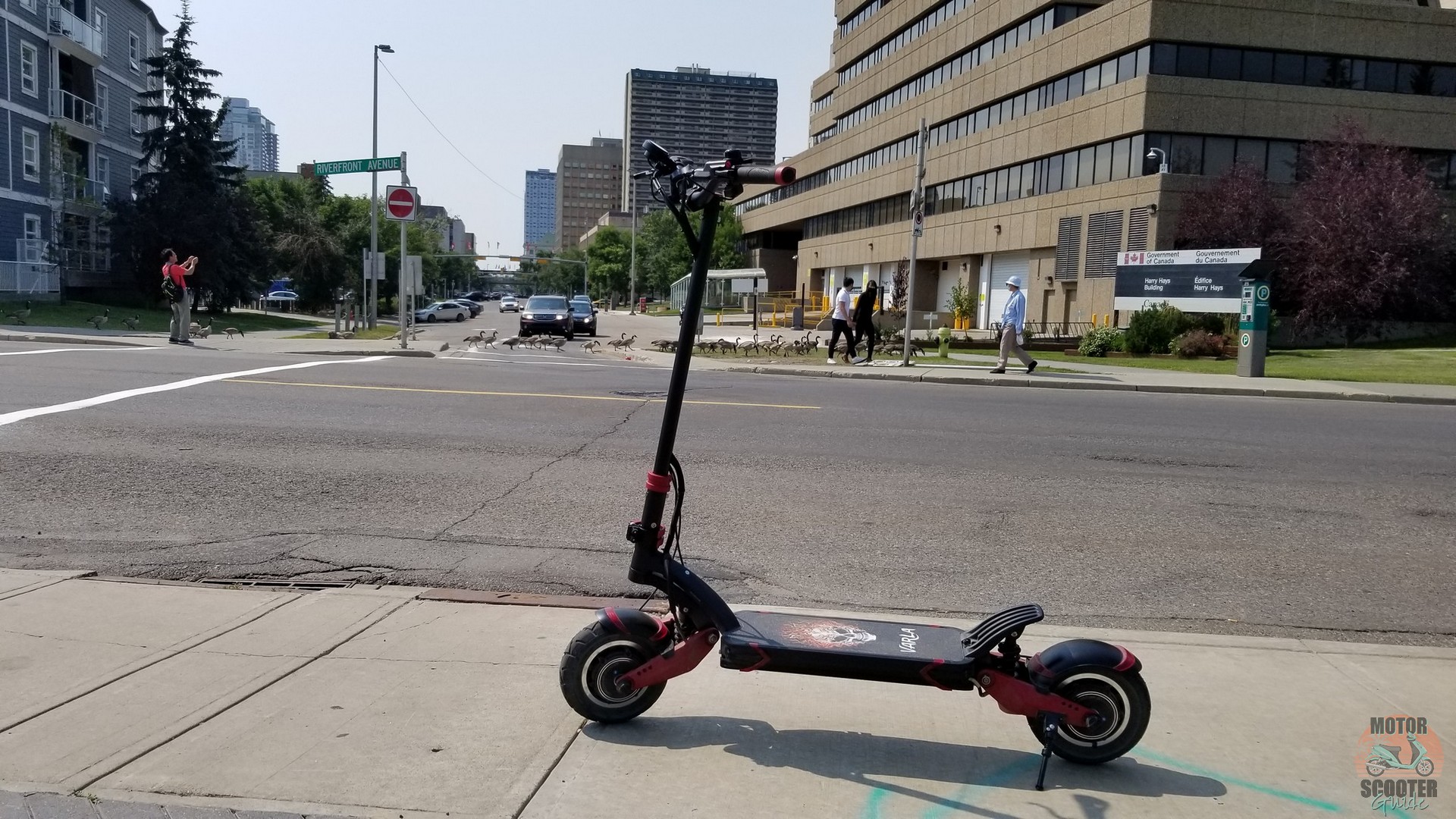 Yep, that's a gaggle of geese crossing the street. Just another day in downtown Calgary.
This scooter has a max speed of 40mph / 64kmh. That's a lot of speed when you consider that you're rolling down the street with 10" tires on a 77lb/35kg piece of metal. I ended up maxing out at 33mph / 54kmh (on the road with 2km of visibility ahead of me) but at that speed, it didn't feel safe and falling off is a bad day even if you're decked out in moto gear.
Off-Road / Dirt Paths
The Eagle One shines on offroad paths. The wide deck allows for steady footing and the ground clearance is much higher than your average commuter scooter, allowing you to ride it over small shrubs and bumps on the paths. Grass fields are bumpier than you think.
My first choice of test terrain was Nose Hill Park, the 4th largest urban park in Canada. Mountain bikers frequent this natural park and there are numerous trails for you to take advantage of. A mix of inclines/declines and beautiful scenery at the top of the hill overlooking the city is exactly what I'm looking to experience riding this offroad scooter.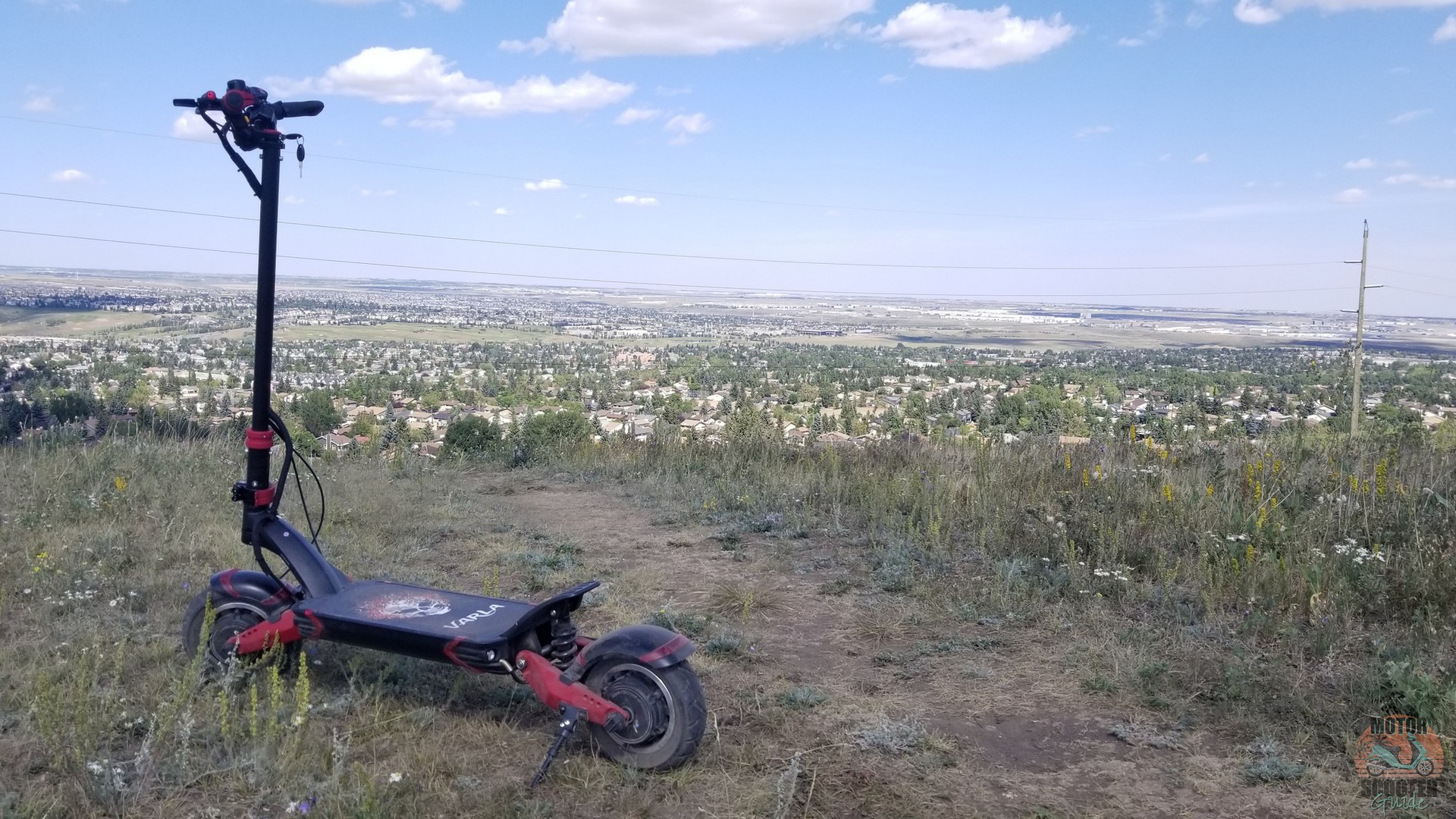 The top of Nose Hill Park overlooking the NW communities.
I got stuck after losing traction going uphill in some loose pebble substrate, but it handled dirt and rock paths with ease. The spring suspension makes a significant difference as it mitigates much of the vibration you get from uneven terrain.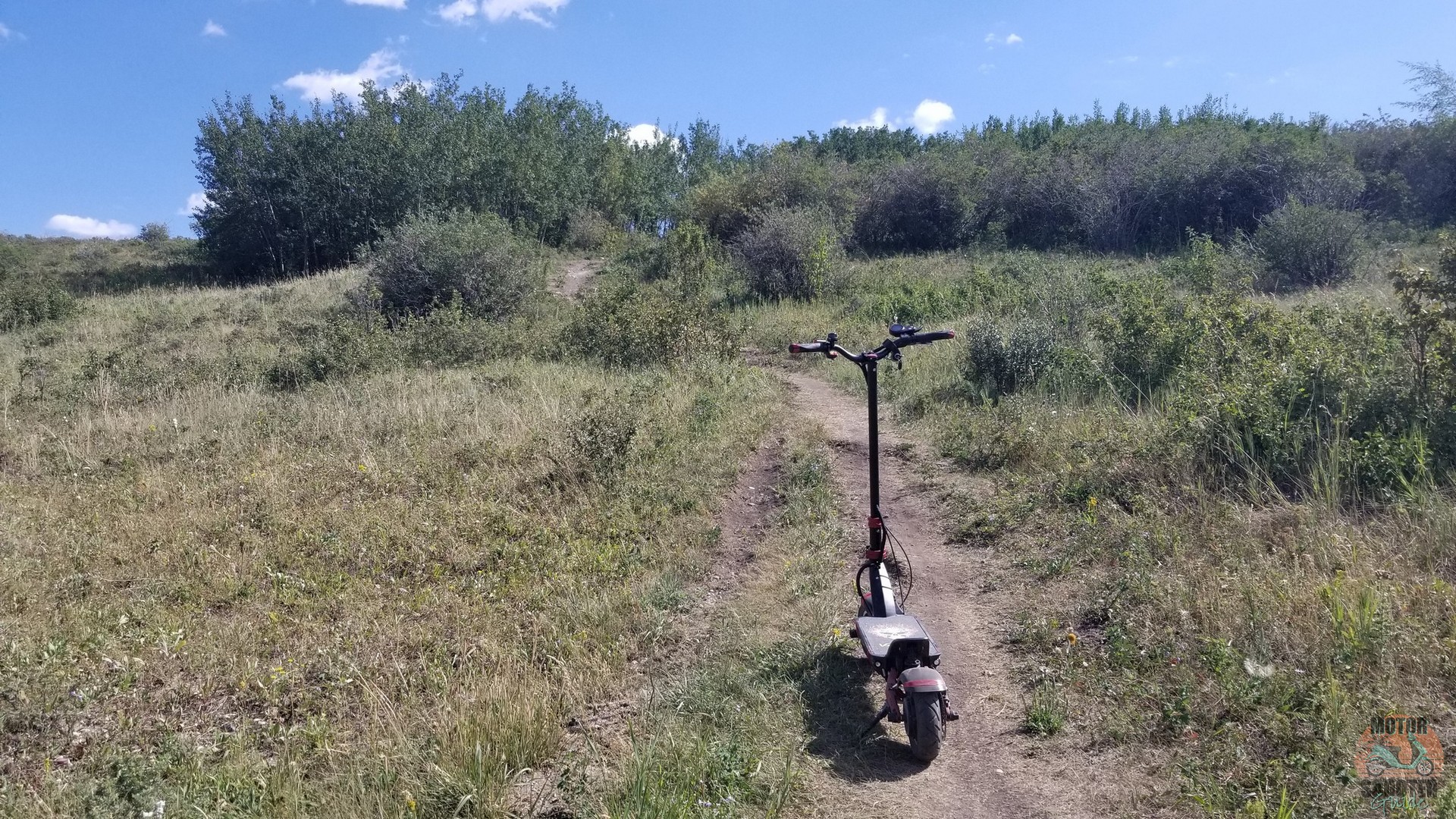 This dirt path was a 25 to 30 degree incline.
While the 10" tires do an appreciable job, I was hesitant to go off jumps or engage my inner speed demon. I do feel that the 10"x3" tires are just a tad small to treat the scooter with the same capabilities of a full mountain e-bike, whereas riding the Himiway Step-Thru Cruiser and the Surface 604 Shred inspired more confidence.
Varla doesn't recommend taking the Eagle One onto rocky terrain but I wanted to put that statement to the test so I hit up a construction site during off-hours. As expected, it doesn't do well over big chunks of rock and dirt (you should avoid those anyway) and to be honest, it wasn't as fun as I thought since the Eagle One just isn't made for terrain that rough.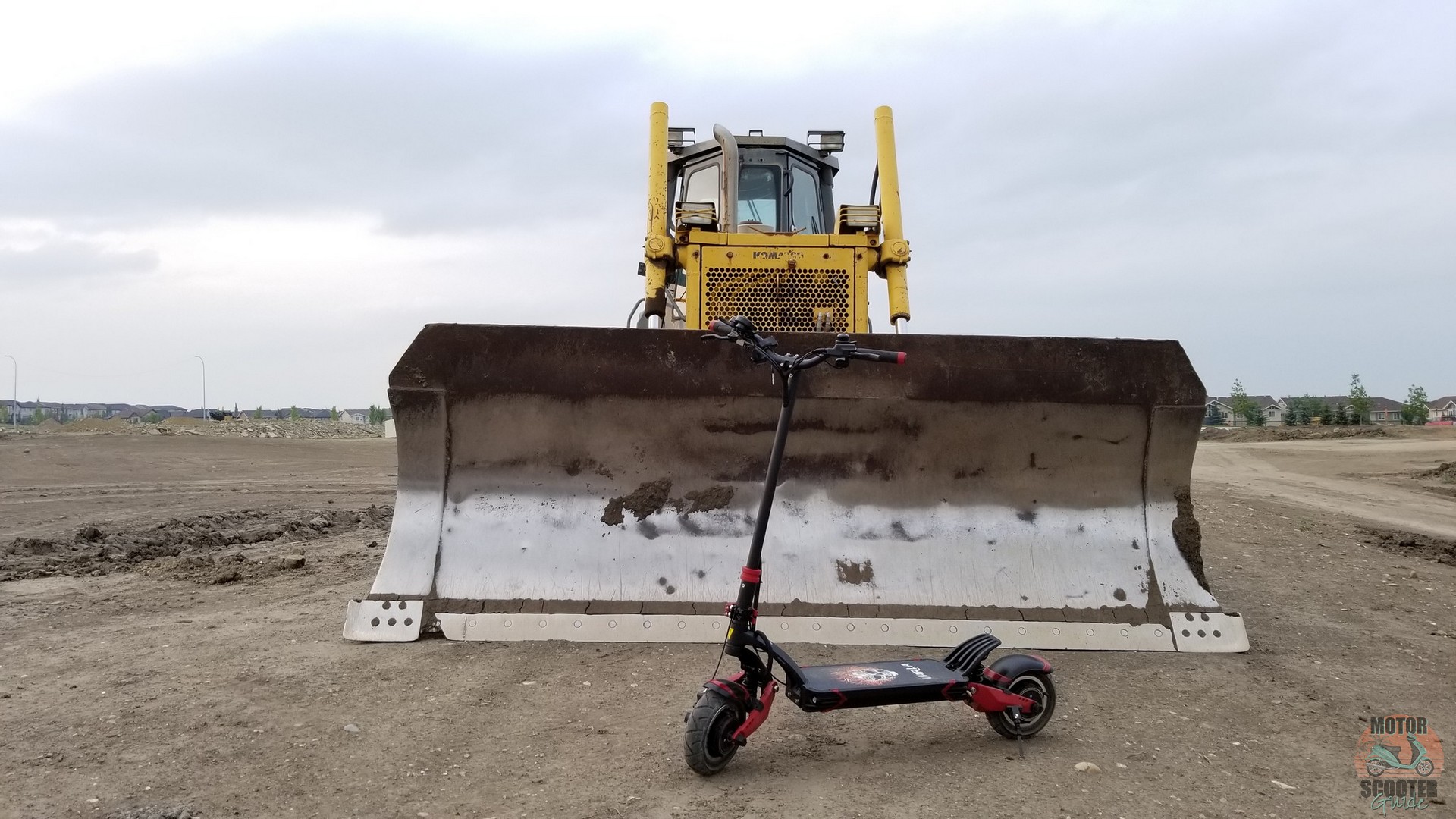 Just in case you're ever debating between purchasing an offroad scooter or a bulldozer.
After riding around the construction site with a white knuckle grip for about 15 minutes, I rode on home and noticed immediately that the handlebar shaft had loosened up. I pulled over and readjusted the two screws to tighten and fix any play in the handlebar shaft.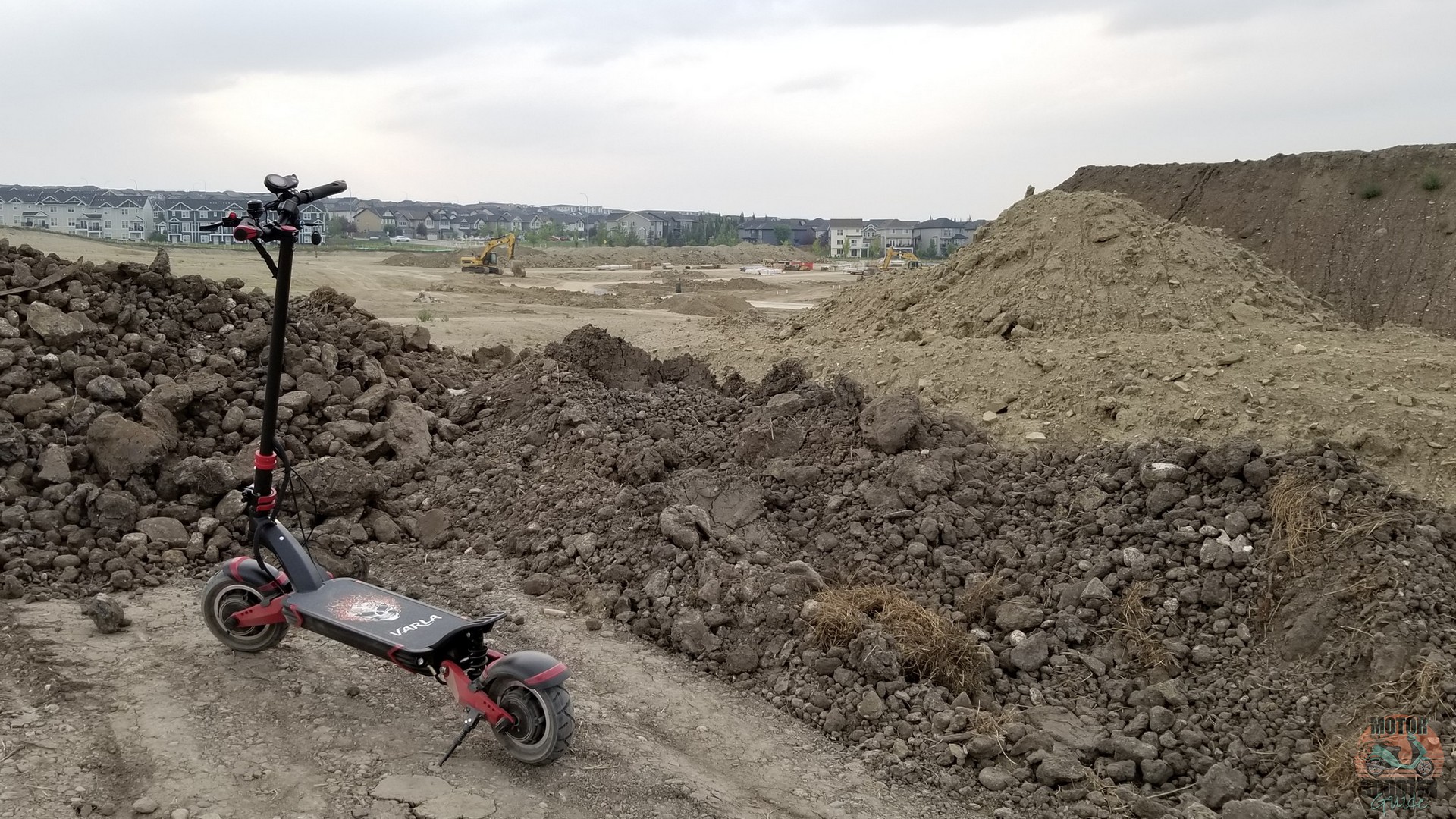 The Eagle One is designed for offroad scooting but it's always a good idea to invest in proper protective gear when riding. As such, offroad moto gear makes a good option for those who are looking for suggestions.
I ride with Racer Pitlane gloves and a basic MIPS mountain biking helmet, but will be adding in gear with protective pads as I do more offroad riding. Motorcycle jeans can be a good substitute for added protection but are usually aimed at abrasion resistance when falling off a bike and sliding on asphalt at high speeds.
2021 Varla Eagle One Looks and Style
The Eagle One is one decent-looking electric scooter but the same design can be seen across several other models such as the Apollo Pro and the Zero 10X. It's hard to fault a brand for using ubiquitous components but when you're trying to set yourself apart from other brands, it takes more than a stamp on the deck to make it happen.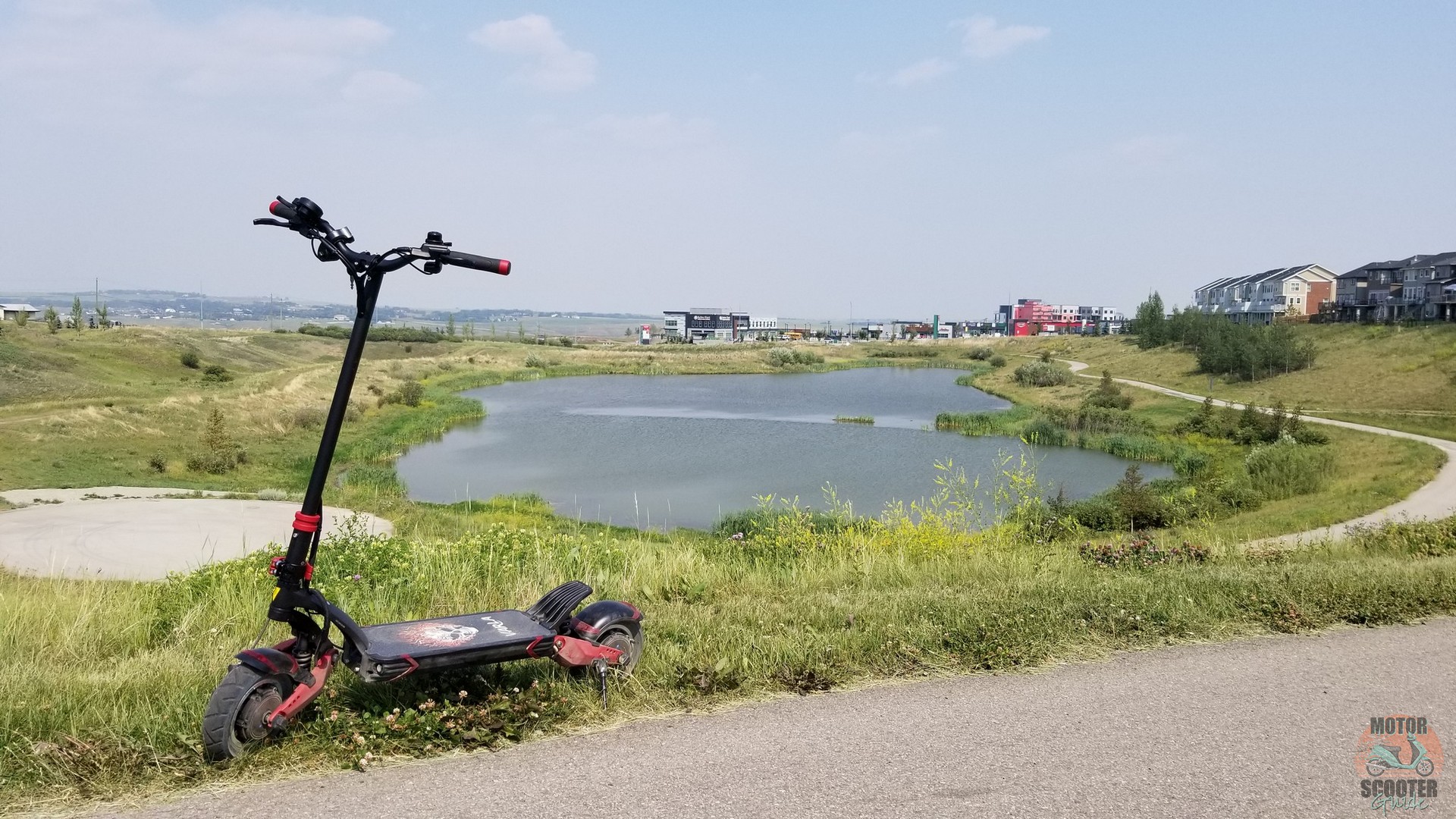 Speaking to the aesthetic of the Eagle One, the flaming skull head is a bit cheesy even if they offer 4 different grip tapes for riders to change up the look. Personally, I prefer a tactical and militaristic style. In Varla's case, I think a simple logo and the name would have made a larger impact.
That said, one look at the scooter and you know exactly what it's built for. The dual swingarm, disc brakes, large deck, and fenders tell you that you're not just in it for a simple leisurely stroll. It's more than your average Bird or Neuron rent-a-scooter.
2021 Varla Eagle One Performance
Acceleration and Braking
If I had to choose one word to describe the Eagle One: FAST. The amount of torque and acceleration on this scooter is spectacular and I found myself actually feathering the throttle when accelerating because it's just that responsive.
The dual 1000w motors were powerful enough for me to accelerate up 30-degree inclines on dirt paths with no issues or slow down, even with my 200lb weight. The disc brakes also do a solid job of stopping the scooter and I experienced no issues with the brakes locking up.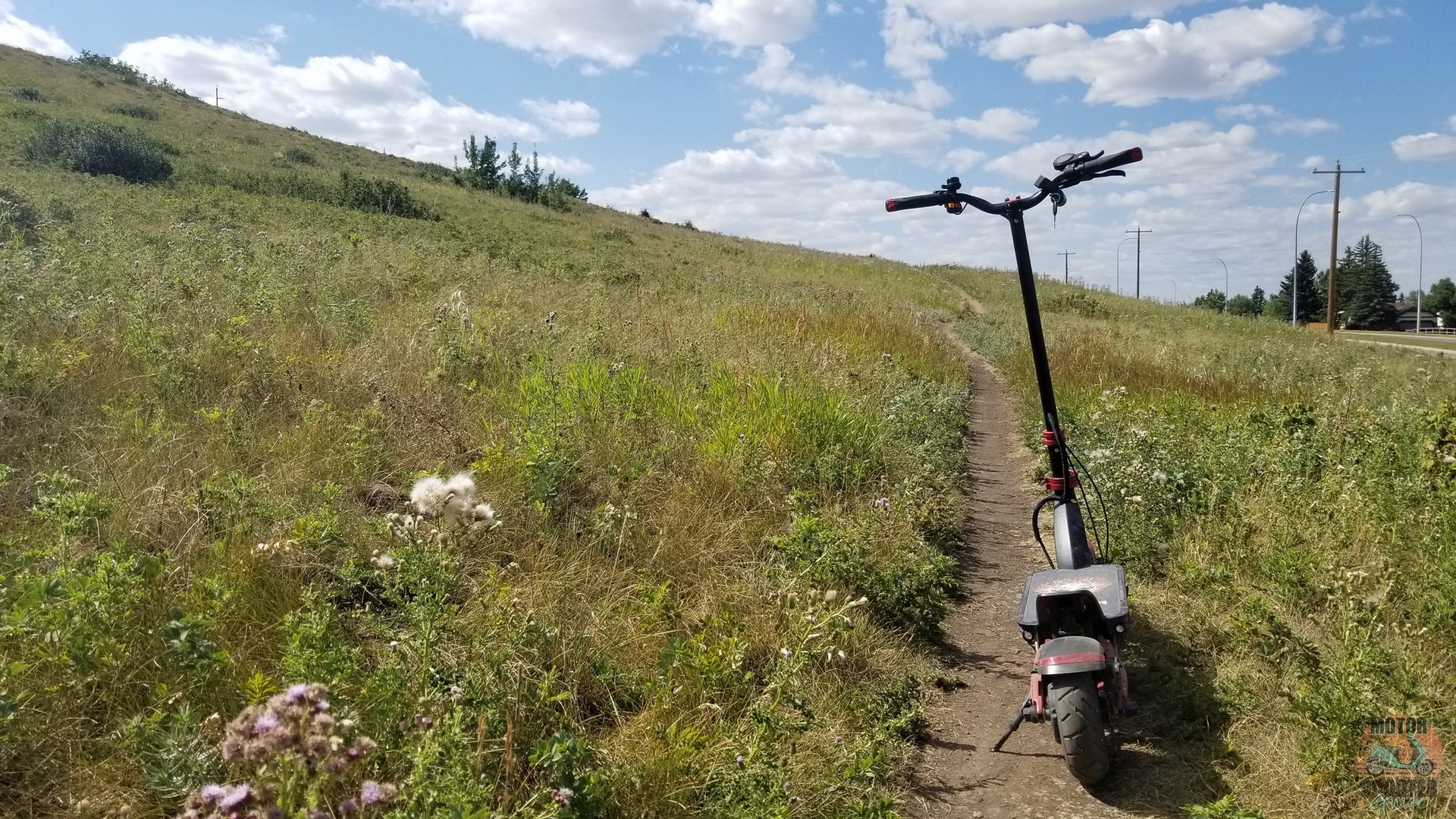 Traversing up a dirt path on Nose Hill Park.
However, I did find that the acceleration and braking were over-responsive at times. This became problematic when I was travelling at higher speeds of 20mph/32kmh+ and even the slightest pull on the brake engages the discs harshly. If the rider isn't careful, you'd be looking at going headfirst over the handlebars.
I tried feathering the brakes but this is not something you want to be focused on while travelling at max speeds and need to rely on reflexes and responsiveness for safe riding.
Luckily, there's a way to get around this. Learn more about this in the Rider Customization Settings section.
Battery and Range
The 52v/18.2Ah lithium-ion battery is rated for up to 40mi / 64km of range. During my 100km of testing, I had to charge it fully twice. For each of those charges, I averaged roughly 45-50km of range. Once the battery was around 10% based on the LCD display, I wasn't able to achieve any meaningful speed.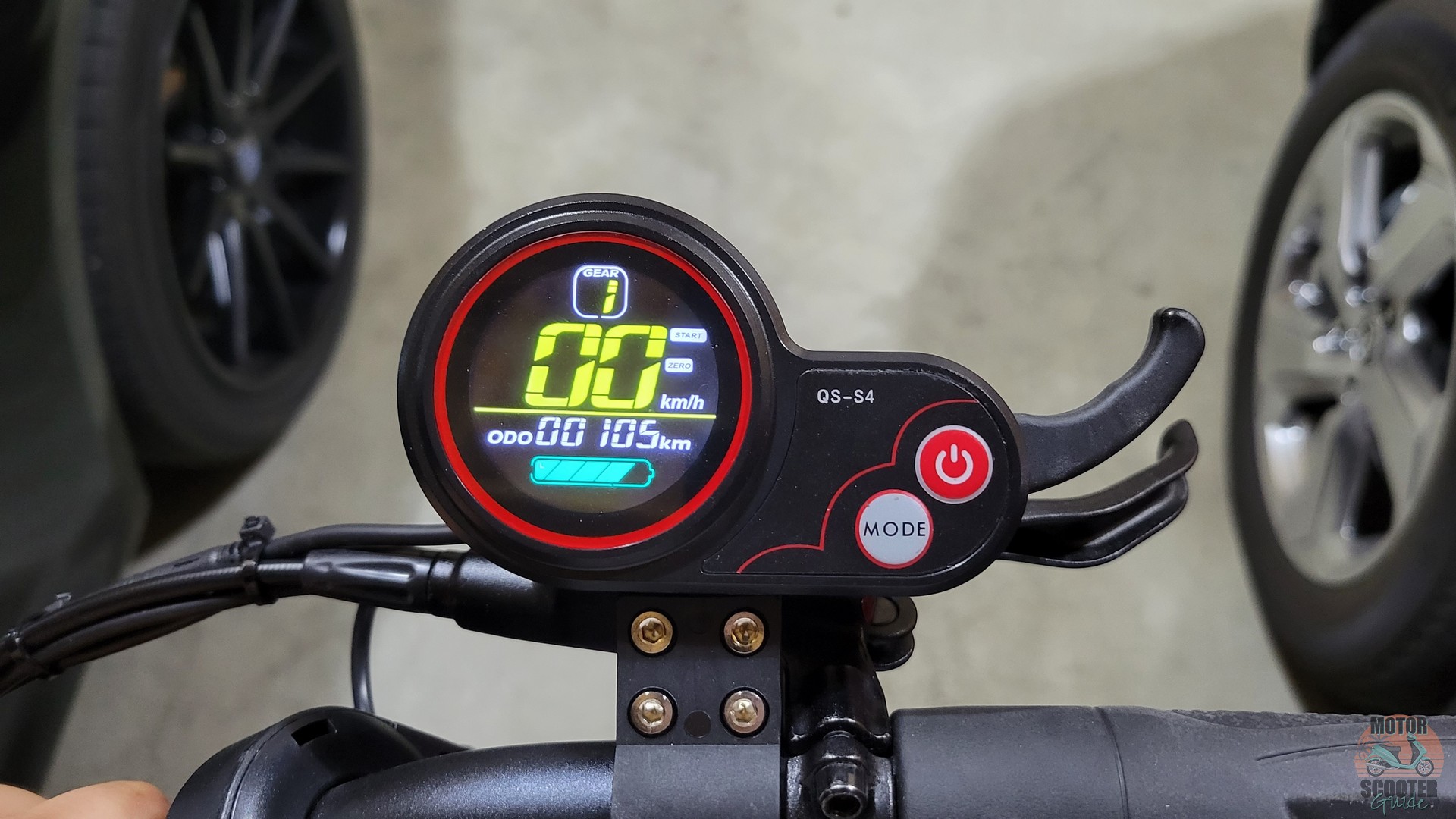 As advertised by Varla, it took about 8-9 hours to get a full charge (using a single charger) and all of my testing was done using a combination of turbo mode and dual motor. The fact of the matter is that this scooter is way too much fun to dial down using eco mode and a single rear-hub motor.
The Varla Eagle One also has a regenerative braking system but I did not test how much farther it increases the riding range.
You get plenty of playtime with a single charge and the charge time is a non-issue if you prepare the day before.
Tires and Suspension
The 10"x3" pneumatic tires and spring suspension mitigated much of the shock (as it should) when going over bumps which made for a very smooth riding experience. As I mentioned, the Eagle One fares extremely well on paved paths and I have not experienced any tire slippage when riding in a carving motion.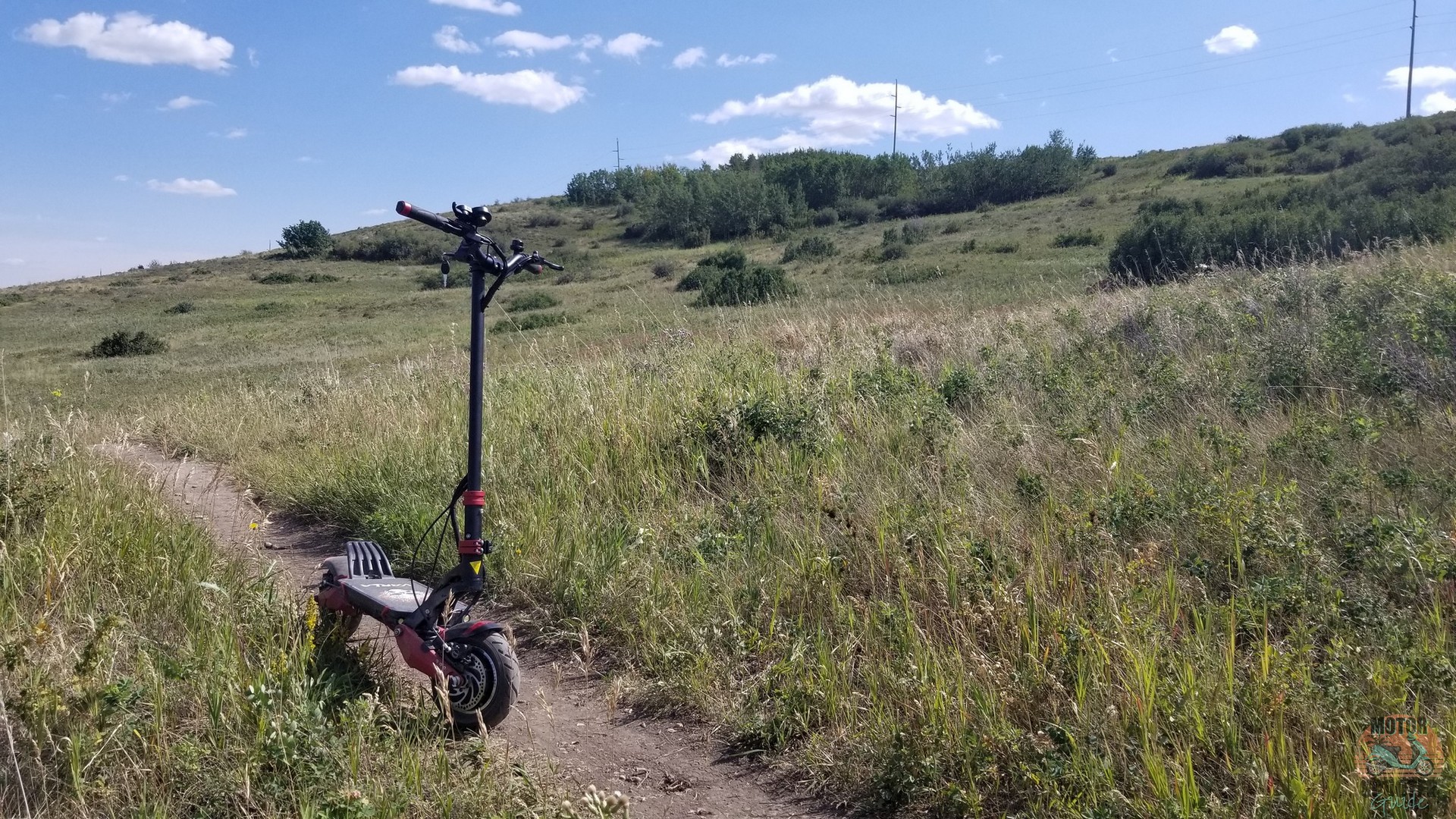 The tires grip well on pavement, grass, and dirt which is what you'd expect from an offroad scooter.
I had to be discerning with the type of terrain I rode on so that I did not puncture the tires. Sharp rocks and other jagged terrain are not recommended.
2021 Varla Eagle One Build Quality
Despite a similar design and reliance on run-of-the-mill electronic bin parts, the Eagle One has a solid construction and uses durable material. The frame is aluminum alloy, the handlebar grips have an ergonomic design, and none of the components have failed on me in the 100km I've ridden it across different terrain.
Unlike Cameron and his Himiway durability testing, I opted to be more conservative in my riding. My body and wallet both thank me for this.
As I continue to ride it, I'd be interested in how the brake discs perform. I've encountered no squeaking or play in the parts, save for the handlebar shaft but that's not a defect as much as it is the design. I've only had to re-tighten the screws a couple of times during my entire time of ownership.
The brightness of the front LED headlights wasn't enough to illuminate the road ahead of me.
The only gripes that I have about this scooter is that I'm not a fan of the clamp lock mechanism and how it loosens over time. The other aspect that could use some improvement is the tiny LED headlights. I did not find them functionally useful enough to ride at night but the taillights do flash red when you apply the brakes to alert others of your presence.
If it's just about making your presence known, the LED headlights/taillights are acceptable.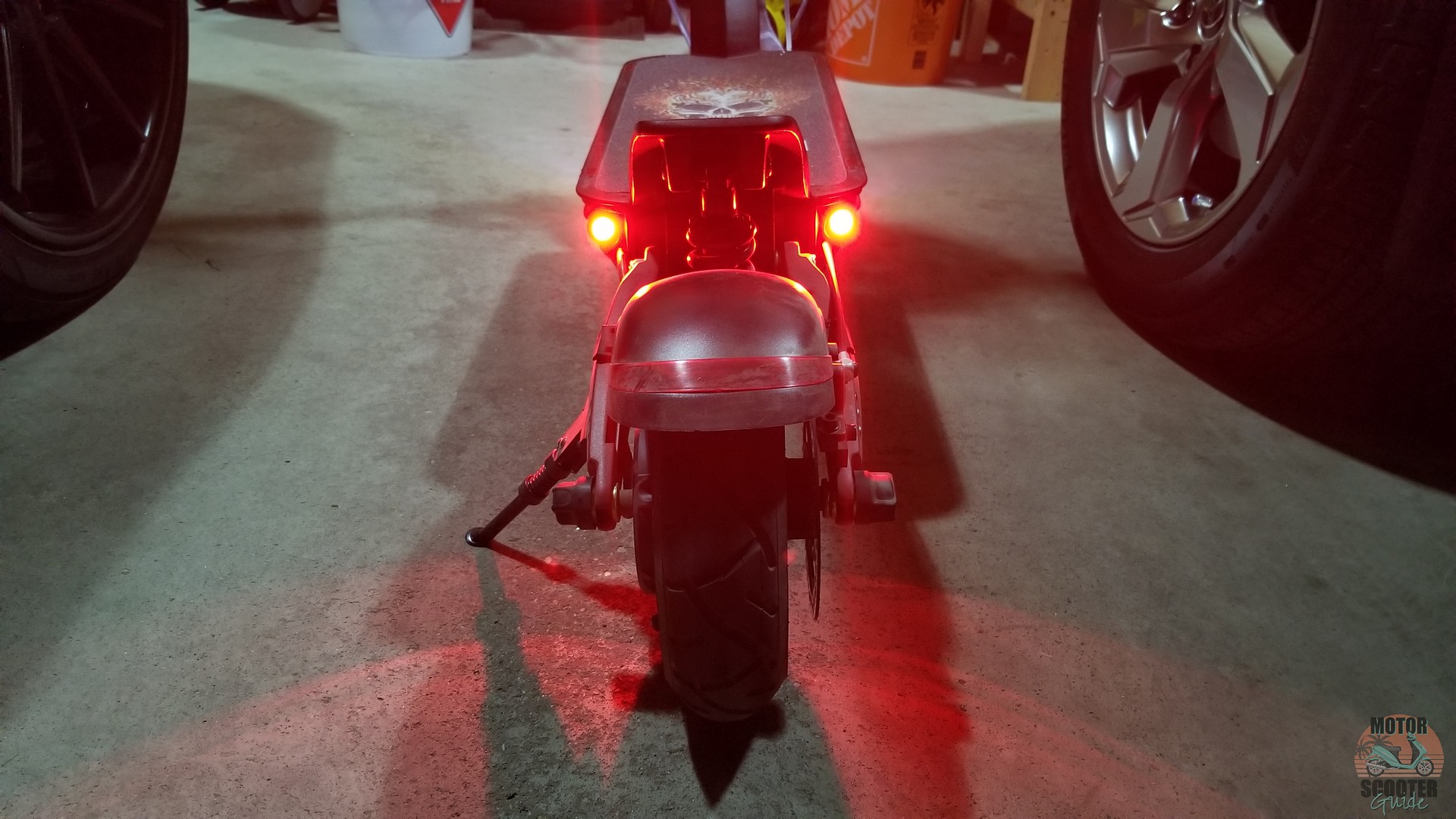 The rear LED taillights flash when you apply the brakes.
2021 Varla Eagle Value for Money
The Varla Eagle one is great value for money and is capable on various terrain for a versatile riding experience. Short of spending $3000USD on a rough terrain scooter like the Kaabo Wolf series or Dualtron Ultra, what are you getting for $1600USD?
A powerful dual 1000w front/rear motor that delivers plenty of power.
The ability to ride anything from grassy fields to dirt paths and forest trails.
A large battery capacity that nets you up to 40mi / 64km of range.
Dual swing arm and spring suspension.
For comparison, the Apollo Explore is $1299USD (usually $1399USD) but only has a single 1000w motor. If you bump it up to the more-comparable Apollo Ghost, it's got a dual 800w motor and the same battery 52v/18.2Ah capacity.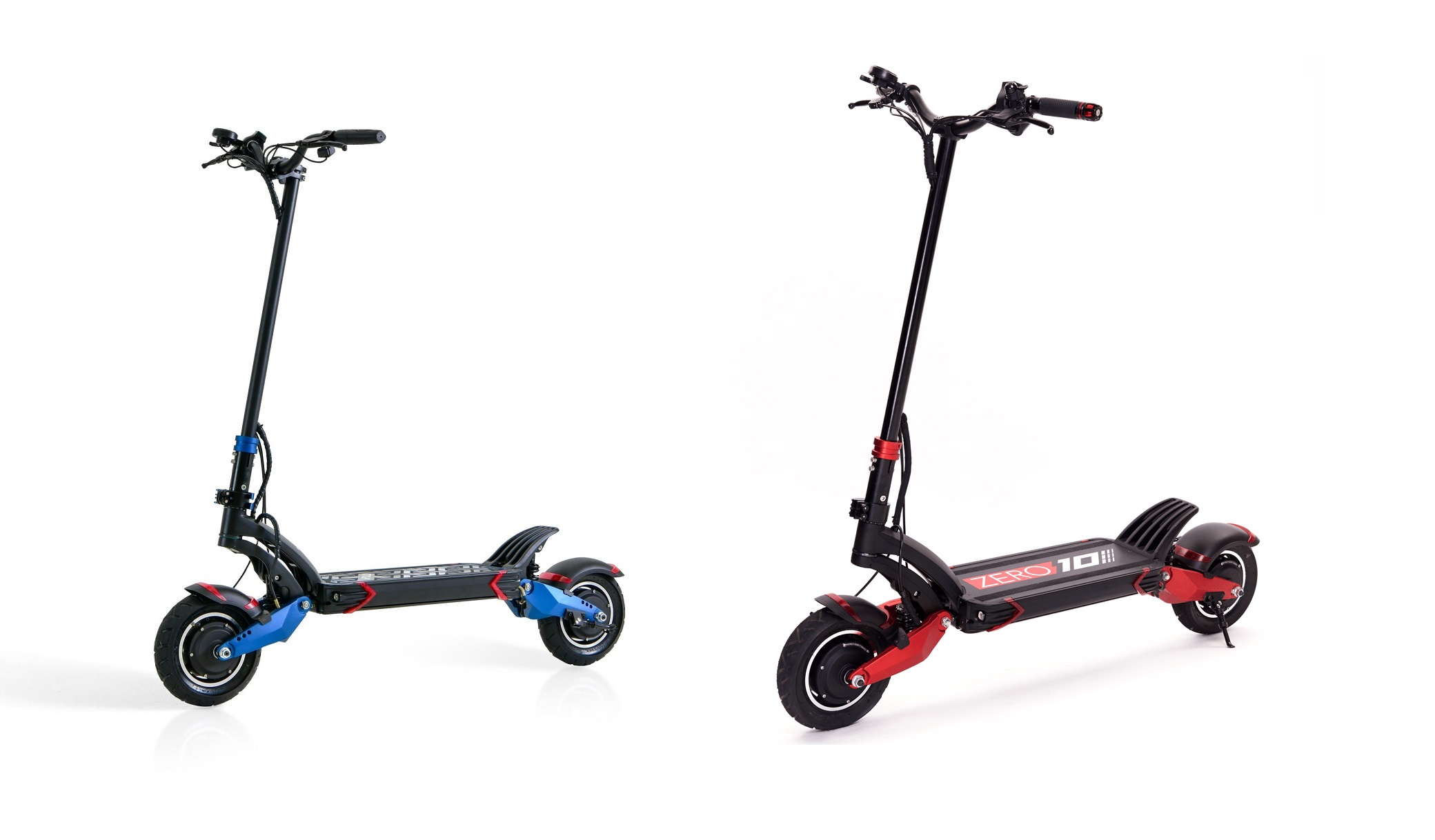 The Apollo Pro and Zero 10X scooter designs.
As mentioned, the Apollo Pro and Zero 10X look exactly like the Eagle One. I don't know which came first, but Apollo prices a refurbished Pro at $1700USD / $2099CAD. If I had to choose between the two, I know I'd be getting more value with a brand new Varla scooter for $1600USD.
Varla tends to sweeten your purchase by throwing in some extras such as inner tube replacements or an extra charger, which I think is a fantastic value. Unless you're pining for a specific aesthetic or brand, the Varla Eagle One is a superb contender.
Rider Customization Settings
Also known as P-settings, the owner's manual gives you a breakdown of what each setting does, the recommended setting/value, and what you shouldn't adjust (or can't adjust).
Lost your owner's manual? No problem, Varla's got a P-settings page and Youtube video with instructions.
Obviously, this is incredibly useful for riders who want to finetune their Eagle One. As I mentioned, the acceleration and braking were too responsive for my liking. I found the following settings worked best for me:
P11 (Regenerative/Electronic brake strength) – set to 1 (default is 3)
P12 (Acceleration) – set to 2 (default is 3)
I'm not looking to take off the line like a drag race and I also don't need braking power to throw me over the bike with the lightest tap, so the above suited my riding style.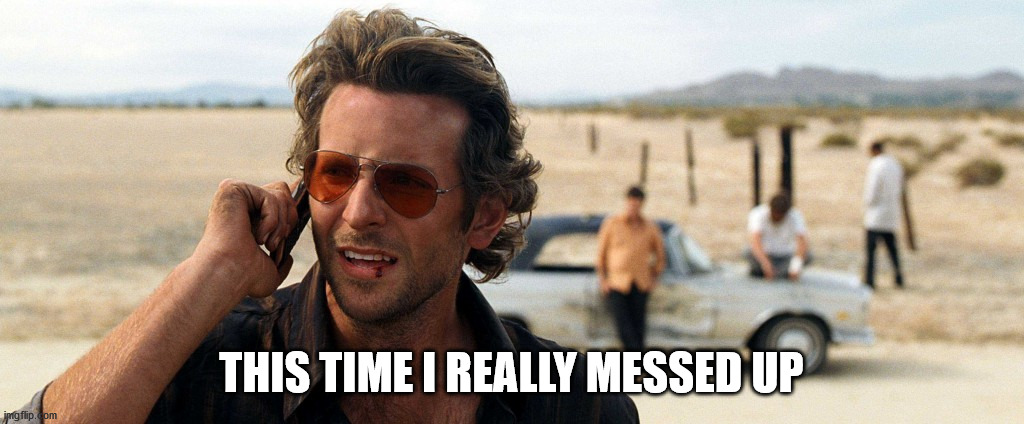 Don't be like me and hop into the P-settings without reading up on it first. At one point, I haphazardly changed my settings which resulted in my scooter being unable to accelerate past 6km/hour.
Like a total chump, I had to email Varla's support team just to realize that I could have avoided all of this if I read the manual beforehand (and afterward to readjust the P-settings back to default).
Embarrassing.
Additional Scooter Goodies
Varla also sent a scooter seat and handlebar bag at my request. The handlebar bag attaches to the handlebar and shaft via velcro and is made from EVA plastic. It's good for keeping your wallet and other goodies inside while you ride around and there's nothing particularly special about it. There are no anti-theft features and it's just nice to have. Once you've mounted it, you might want to consider trimming the excess velcro just to tidy it up.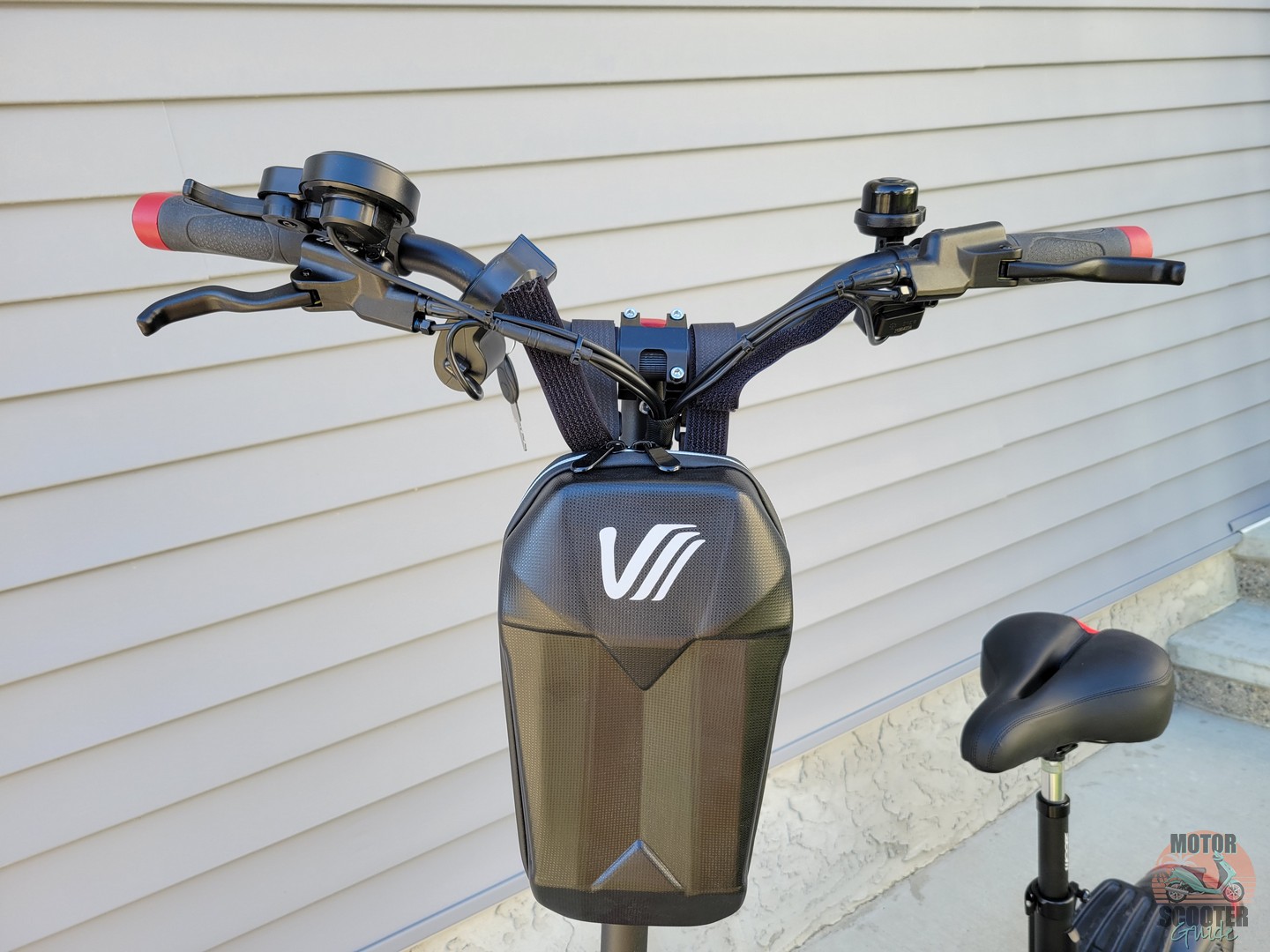 The seat itself is easy to detach and can be affixed to the scooter deck by tightening 3 screws by hand. It has spring shock absorbers and can be adjusted between 17.5" and 21.5" of height.
I consider the clamp locking mechanism to be a design flaw because it uses circumferential clamping force to keep the height locked. After going over several bumps, it was no longer set at the same height.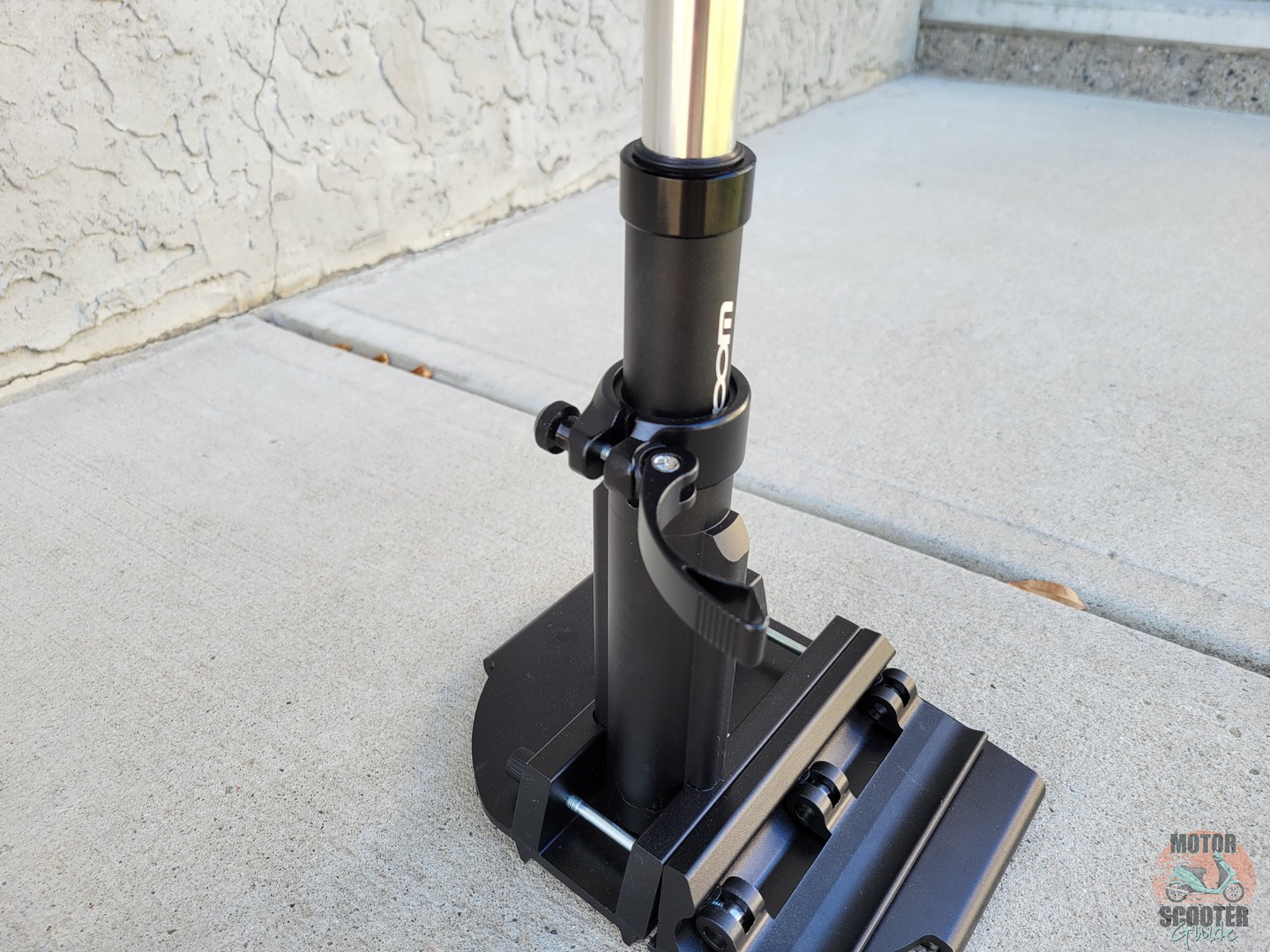 The lock clamp mechanism was not strong enough to prevent the height from slipping back into the lowest position.
The seat didn't inspire confidence and was also a potential safety concern because the clamping force just might not be enough to prevent the entire shaft from bottoming out when going over bumps. Imagine that you're riding offroad and having the seat fall out from under you like Disney's Tower of Terror. That's what it felt like.
To address this issue, having some sort of locking pin or lock design would help ensure that your seat height adjustment doesn't suddenly change while riding.
Lastly, I'm 5'7 and I just couldn't raise the seat high enough for a comfortable riding position. It felt like I was riding a chopper motorcycle with my hands at shoulder height or higher.
Considering the $129USD price tag for the seat, I really can't recommend it to any rider. The Eagle One is best enjoyed standing, no matter how much you like sitting.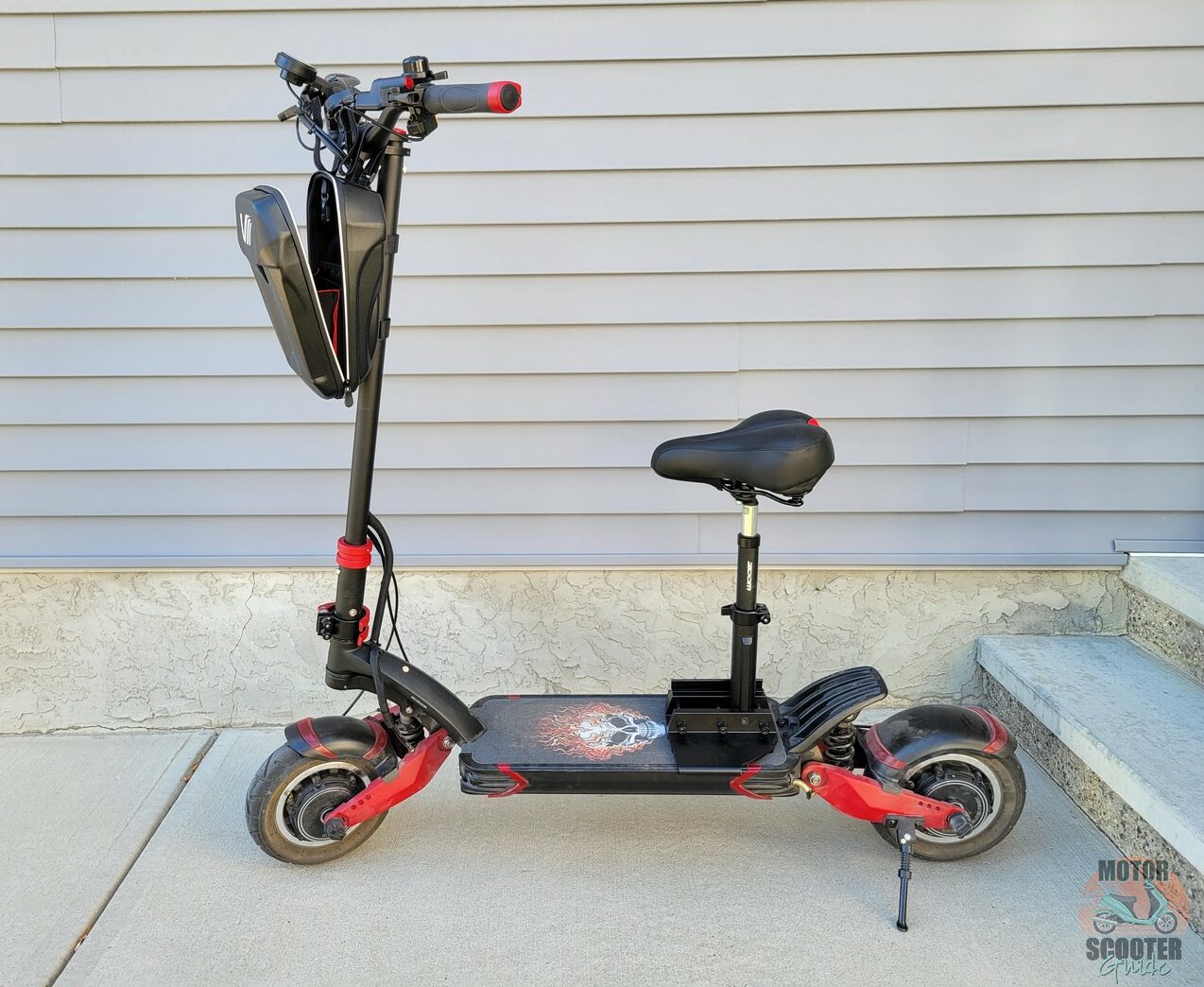 Changes I'd Like To See
A Sturdier Kickstand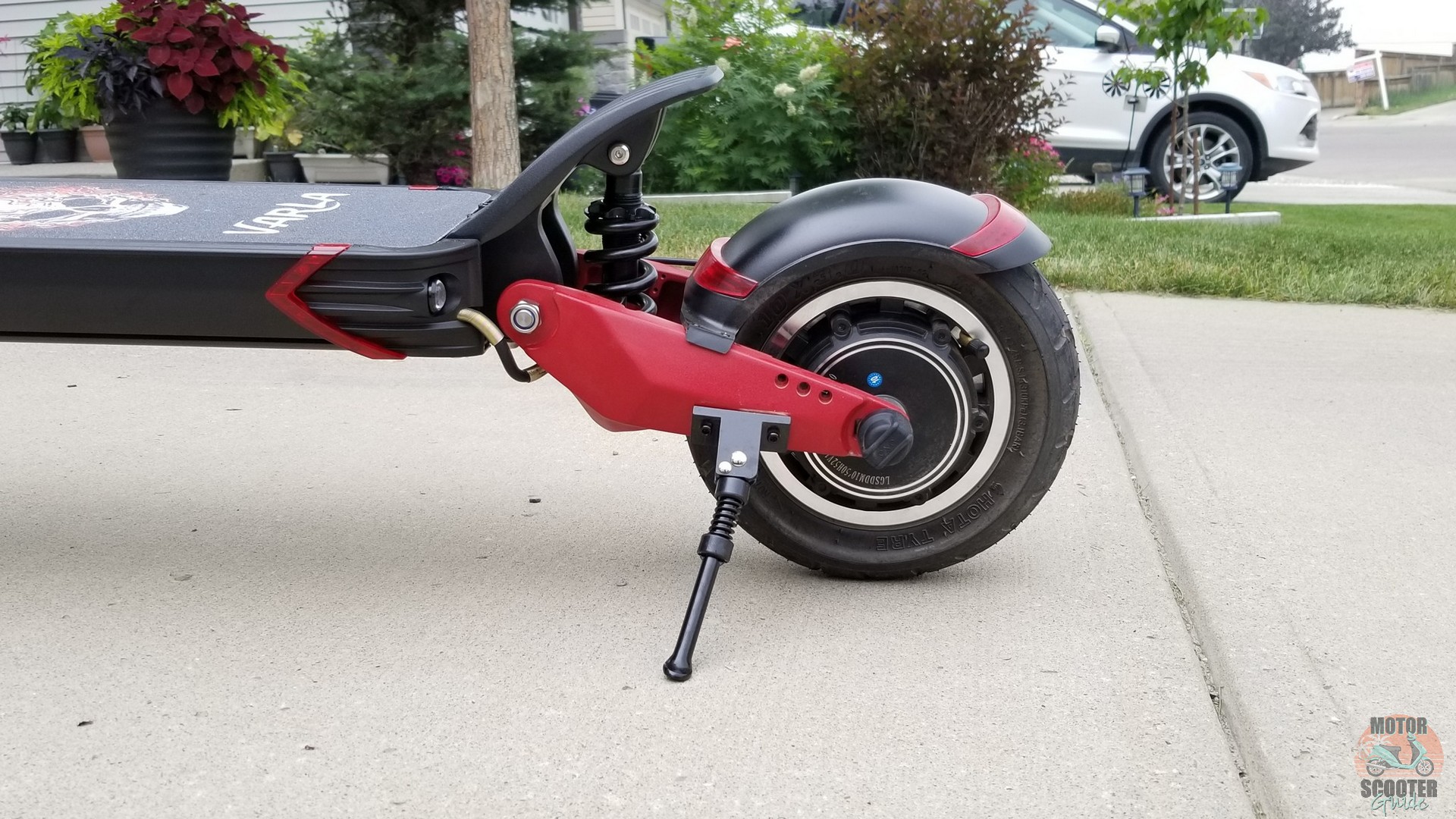 There's no other way to say it: the kickstand is tiny and on any slight slope, the 70lb+ scooter will roll away like the kickstand doesn't exist. I'd really like to see Varla beef up this part of the bike or incorporate some sort of rubber stop to give it more traction.
Better Ergonomics
I'm not a fan of how the QS-S4 trigger throttle competes for space on the right side of the handlebar. It forces you to choose between a comfortable grip for acceleration while sacrificing your ability to reliably reach the right-side brake, which controls the front brakes.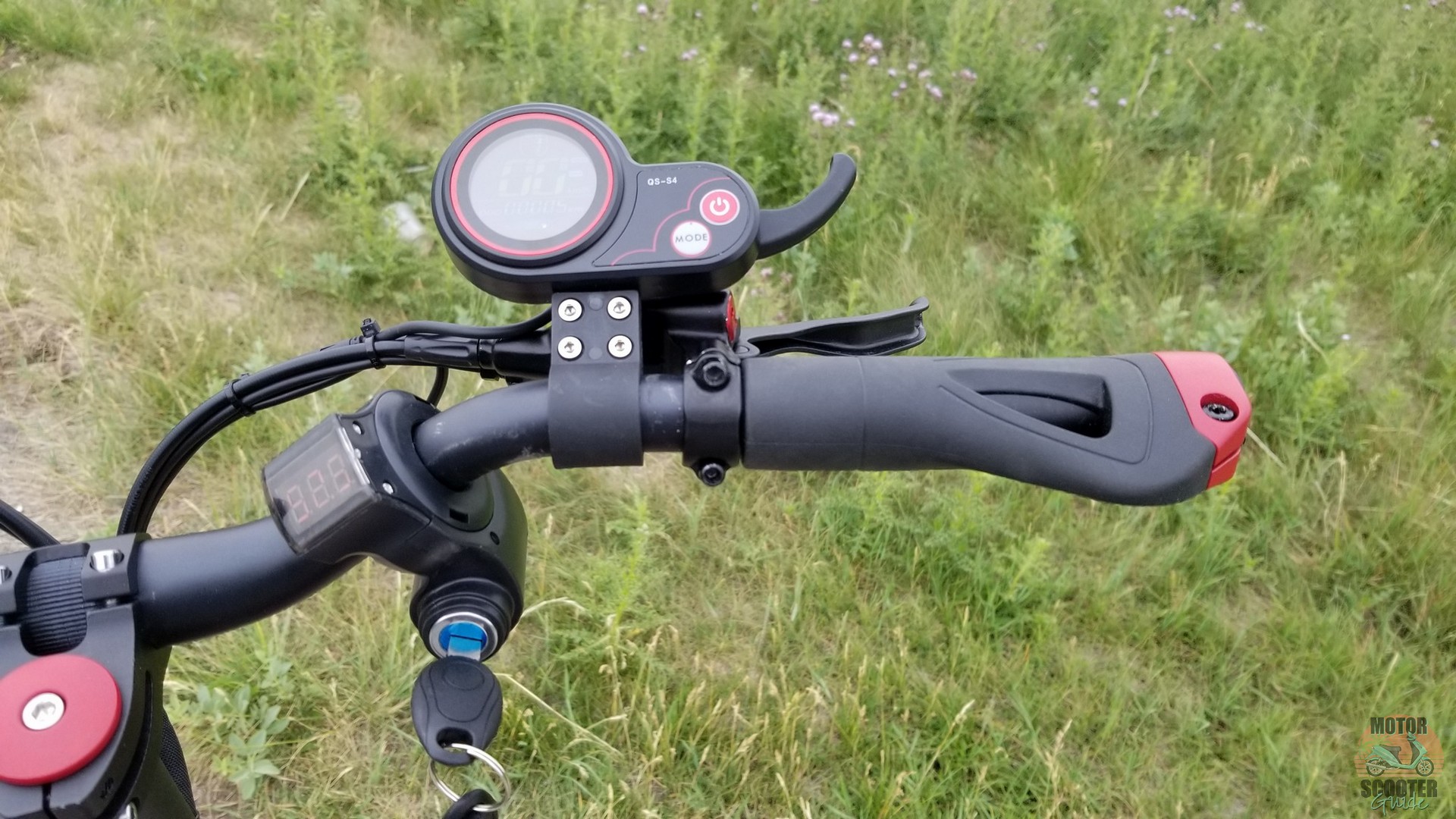 The trigger accelerator and right-hand brake compete for space.
I had to make space for the trigger accelerator which meant moving the brake into a lower position and having to reach further for it which is not ideal.
Switches VS Buttons
Lastly, I personally prefer switches because it is very clear which setting you are on. To illustrate the counterintuitiveness, you have a yellow button to toggle between Eco and Turbo mode, and a red button to engage either single or dual motors.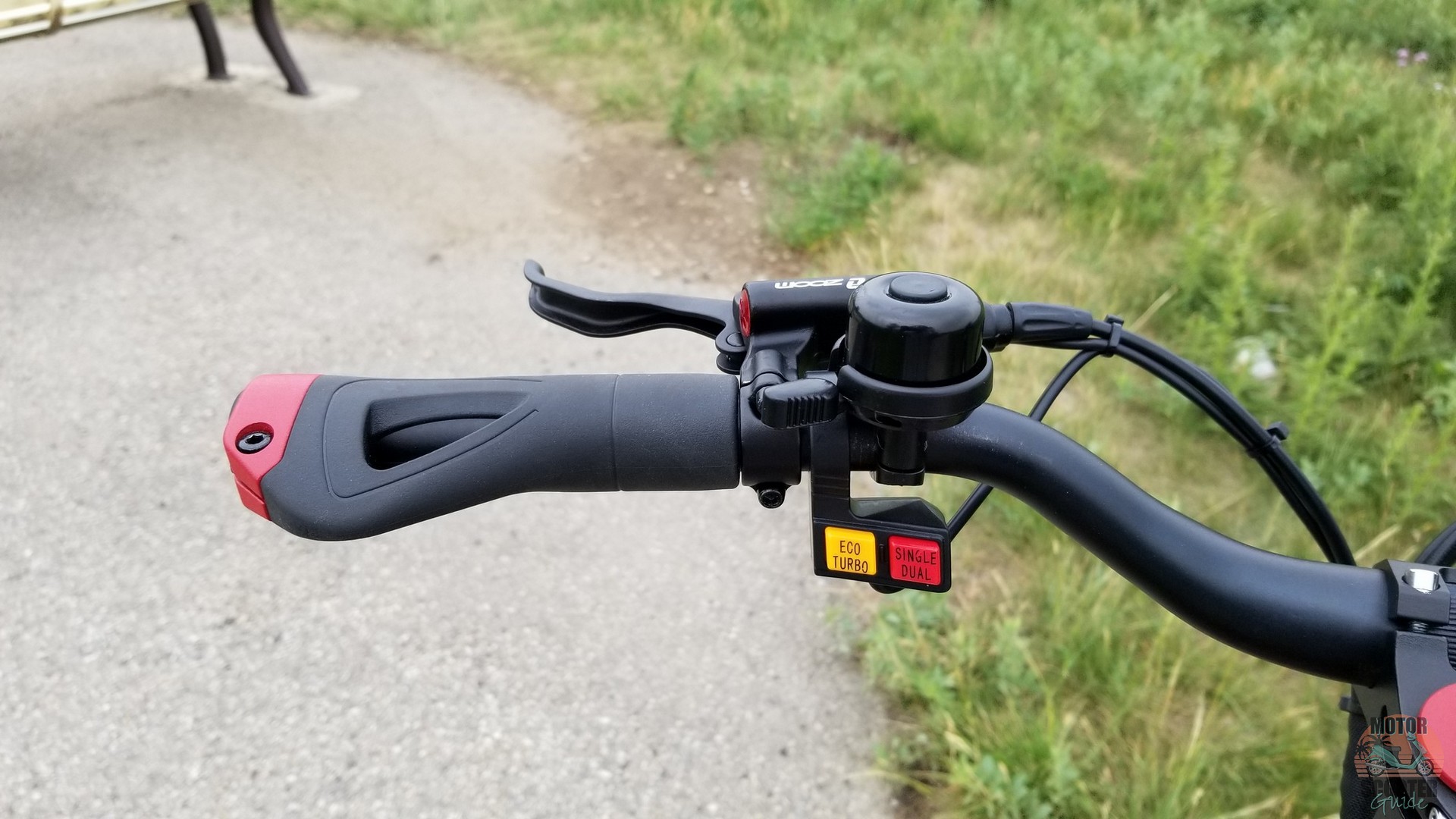 Can you tell what settings are toggled based on the buttons?
Pressing down on the red button engages the bottom option, the dual motor.
Pressing down on the yellow button engages the top option, the eco mode.
What? I can appreciate that the ergonomics of switches might not be as feasible as pressing a button when you're riding, but if you're going to use buttons, at least have consistency between the two.
I thought I was crazy when I first found this quirk but having tested it multiple times, I can confirm that pressing down on the yellow button engages eco mode because the scooter accelerates much slower which is exactly what's supposed to happen.
Am I being neurotic about this? You tell me.
Final Thoughts
After 100km of riding and testing the Eagle One, I think it's one of the coolest toys in my fleet. I own other PEV's such as a Onewheel XR and I use the Eagle One more by far. It's super easy to hop on and get lost in the neighborhood without worrying about battery life or range, it's comfortable as hell, and it's fun enough to satisfy any adrenaline cravings with its blistering speeds.
This scooter can easily handle inner-city commutes and for the price you pay, you get enough power and features to explore most mountain bike paths.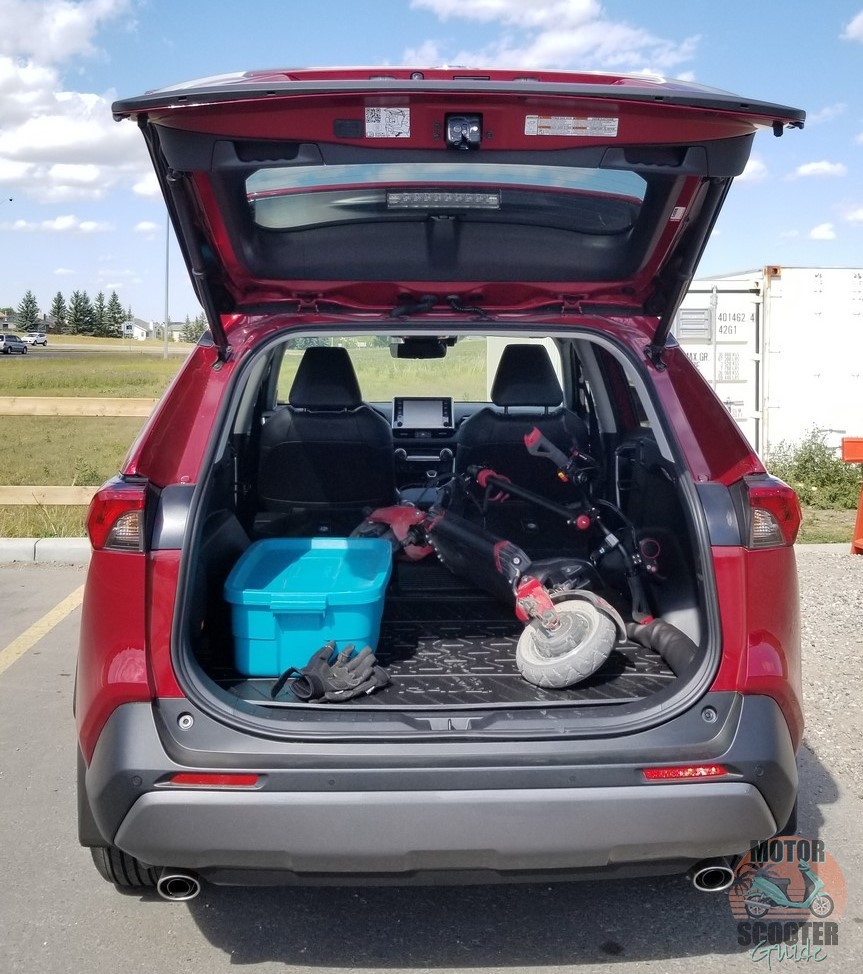 Most people know how to ride a scooter, but not everyone has the balance for an electric skateboard. I like that I can load it up in the SUV and bring it to the park for others to enjoy.
Varla's only got 2 scooters in their current lineup but I can't wait to see what new models 2022 will bring.