Speed cameras in tunnels account for three of the top six sites in Queensland and NSW for speed camera offences.
Total speeding fine revenue across Australia easily tops $1.1 billion annually and Victoria leads the revenue grab.
But Transurban tunnels seem to be among the biggest revenue collectors.
In Queensland, there were more than 36,000 speeding fines in the Legacy Way Tunnel, Brisbane. That's 100 a day and it makes the tunnel the biggest speed camera money maker in the state.
It was followed by speed cameras on the Gold Coast Highway at Broadbeach, the Pacific Motorway at Loganholme, Main St at Kangaroo Point and then two more tunnels: Clem7 and Airport Link in Brisbane.
The top money-making camera locations in NSW are led by the Eastern Distributor in Darlinghurst, then the Cross City Tunnel (westbound at East Sydney), Botany Rd at Rosebery, Cleveland St at Moore Park, then the Lane Cove Tunnel both westbound and eastbound.
Why are tunnels such speed traps?
There could be a number of reasons for tunnels being among the top sites for speed camera offences.
Among motorcyclists it could be the amplifier affect. We simply love the big sound of our exhausts in a tunnel and may get a bit over-exuberant!
That's our fault and we need to learn to pull the clutch in when we rev, rather than speeding.
However, there may be other more insidious reasons:
Most tunnel speed cameras are located near the entrance which slopes downward, so vehicles tend to pick up speed even if using cruise control;

Speeds are usually reduced in tunnels, so traffic is still slowing as it enters;

Despite lighting, tunnels are dark and motorists' eyes take some time to adjust to the lighting conditions, so they might misjudge their speed or not notice their speedo;

Most tunnels have several fixed cameras, rather than just one;

We suspect they may also have a lower tolerance before being triggered; and

Tunnels are narrow with no safe shoulder, so motorists concentrate more on not sideswiping traffic rather than keeping an eye on their speedo.
Is it fair?
No, it's not fair that tunnels are collecting so many speed offences.
And it's not safe either. Just ask the Ipswich rider who had nowhere to go when a mattress fell of a ute in a Brisbane tunnel.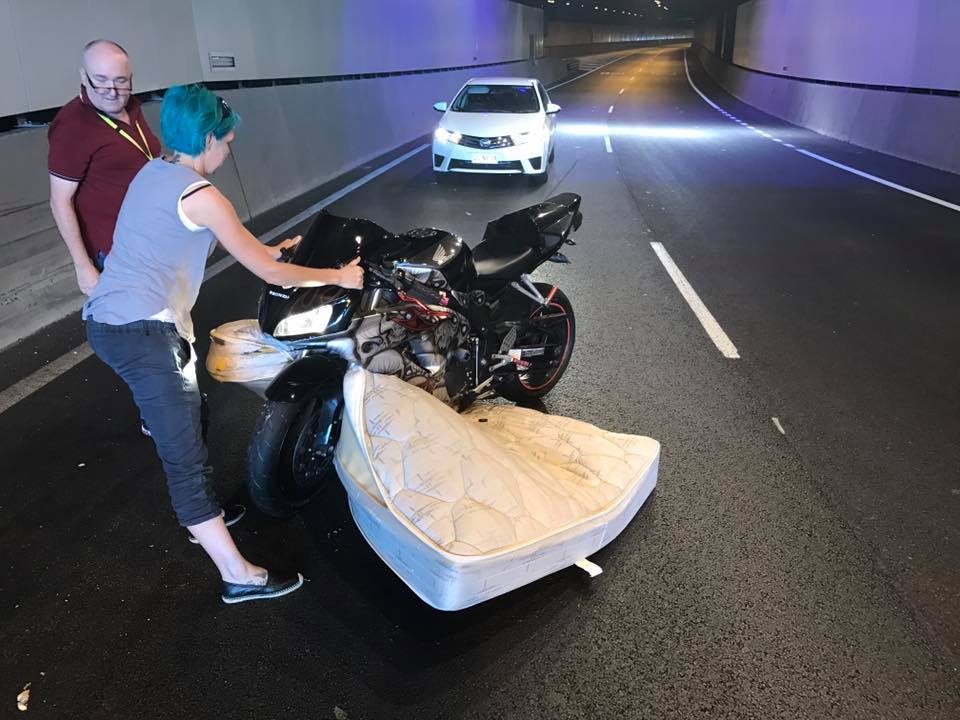 While motorists are trying to navigate the darkened and narrow tunnels but also keeping their eyes on their speedos, it is a dangerous scenario, especially for vulnerable and "invisible" motorcyclists.
In fact, Suzuki Motorcycles believes riders are so vulnerable in a tunnel where they can disappear into the darkness, they are working on a beacon light that shines on the roof to make traffic aware of the rider's presence.