The new, liquid-cooled Triumph Bonneville Street Twin has more punch, more style and more practical features bound to win a whole new breed of rider.
Traditionalists may not be happy with the styling changes, but even they couldn't ignore the benefits of a lockable petrol cap, fuel gauge and ignition/steering lock in one location on the triple clamp.
The third incarnation of the retro Bonneville range has been a success since 2001 and remained unchanged except for a slight capacity increase in 2004 and fuel injection in 2009, yet even then the injectors were placed inside "carbies" to retain the old look.
Now those injectors are hidden behind stylish brushed aluminium covers.
Some may not like that, but there were a lot of problems with the styling of the "old" model including an ugly bracket holding the engine to the frame, the unsightly regulator stuck up front and messy cabling including a clutch cable that looped around to the top of the gearbox.
That clutch cable now loops more discretely to the bottom of the gearbox. In fact, it's all much neater now despite the extra plumbing required for the radiator which sits neatly between the front struts of the cradle frame.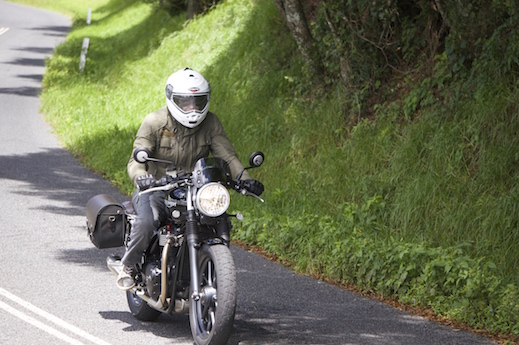 But the biggest concern among traditionalists will probably be the modern 270 crank instead of the lumpy 360 firing interval.
Fire up the ignition and that famed galloping beat of the parallel twin is gone, replaced by a steady cantering beat.
But the good news is that as you pull away and feed it revs, it doesn't feel or sound any different.
Thankfully there is still that well-loved Trumpy exhaust "fart", albeit amplified nicely on our test bike by a Vance & Hines slip-on exhaust. It seems Triumph now has a relationship with V&H rather than Arrows.
Other accessories in the "Urban Inspiration kit" added to this bike by Triumph Australia are lowered Ace bars, a single "city" waxed cotton and leather pannier, fly screen and smaller LED indicators, but there is a host of other factory mods you can make.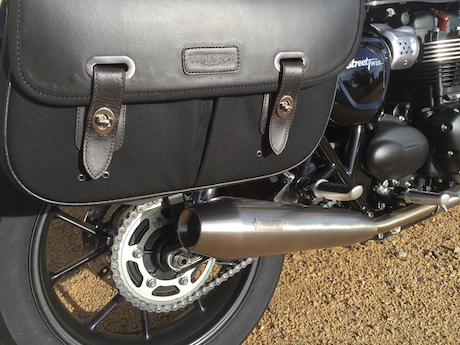 At $13,400 the Street Twin will be the base model for the 2016 range and is the only 900cc model with the rest powered by a 1200cc liquid-cooled engine. The T120 ($17,000) and Thruxton ($18,700) and Thruxton R ($21,100) arrive in April and May.
Even though the new Street Twin comes with a new liquid-cooled engine, fly-by-wire throttle, ABS, switchable traction control, comprehensive instrumentation, slip-assist clutch, LED rear light, a USB charge socket under the seat, and an engine immobiliser with a transponder integrated into the key, it's only $900 more than the previous base model Bonneville SE.
As soon as you ride away, you will be won over by the substantial boost in low-end punch from the new liquid engine.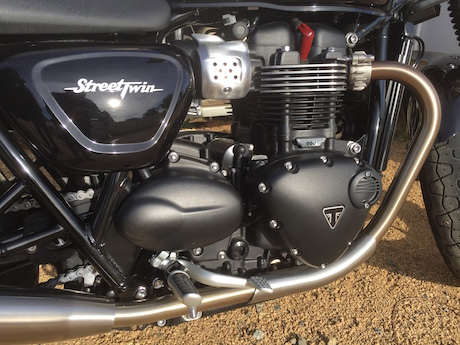 Torque is boosted 18% to a peak of 80Nm at a low 3200 rpm, compared with the previous model's 68Nm at 5800 revs.
However, power is now 40.5kW @ 5900rpm, which is surprisingly down from 50kW at 7500 revs.
Through low and midrange revs where you will be riding this bike most of the time, it feels significantly more punchy which just goes to show how much you use torque rather than power.
At the top of the revs it's a little breathless and you'll now have to drop a gear instead of relying on fifth-gear roll-on overtaking.
That could also be because the gearing is a little higher to utilise the extra torque. It also makes highway riding less "buzzy" and more economical.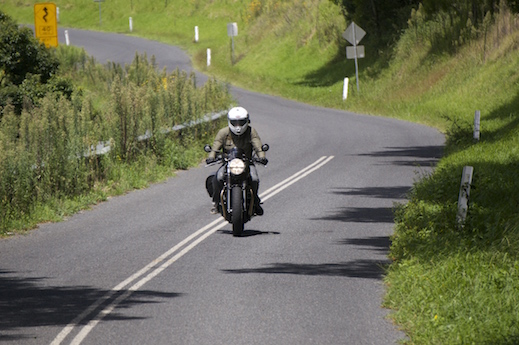 The new engine is also a little smoother at all revs with no visible vibration through the mirrors.
It's a great engine and you can only imagine how much more powerful the 1200cc will be.
It's surprising that there is only one 900cc model, but Triumph wouldn't have made it for just one bike. They haven't yet mentioned what's happening with the Bonneville Scrambler and cruisers, so maybe it will also be employed in those models. However, you can pay extra and get a Scrambler kit to go on this bike.
The liquid-cooled engine runs a little hotter and because the tank is scalloped out you ride with your legs in closer to the valve covers so they get quite hot. In traffic, the radiator fan will kick in and blow hot air on your legs.
The parallel twin engine is married to an updated five-speed transmission which is slicker, smoother and quieter with a much lighter clutch pull. Neutral is easy to find and I didn't hit any false neutrals.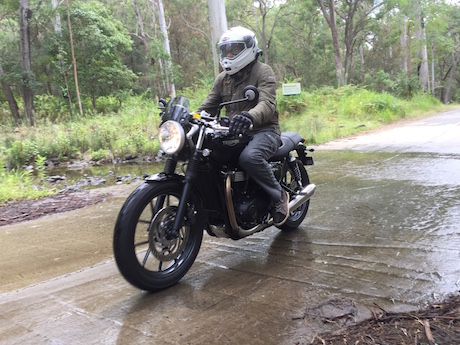 Triumph claims they have improved emissions and fuel economy by 36%. That's about right, too.
It's probably due not only with the new engine and fly-by-wire throttle, but also the higher gearing.
Triumph claims 3.7L/100km and on our 400km test ride up and over Queen Mary Falls to the sweeping Darling Downs and back home we attained 3.9L/100km.
Our fuel light came on at 240km despite some hard charging and mostly two-up riding.
Meanwhile, I brought a friend along on my 2010 T100. Their fuel light came on about 20km earlier.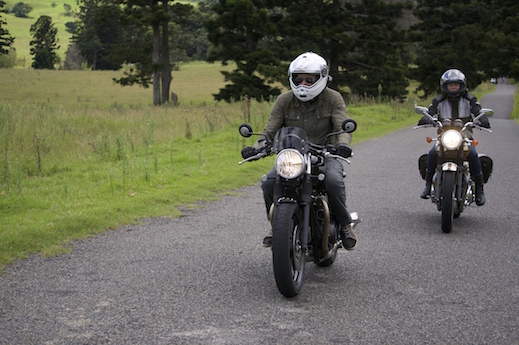 And that's despite the facts that they were riding solo and the Street Twin only has a 12-litre tank rather than 16 litres in my T100.
When filled, the "distance-to-empty" reading on the instruments suggested we would get 290km from the tank and that's quite doable in touring mode.
The single instrument pod with analogue speedo and LCD screen is modern and a lower profile than previously which makes a neater front end.
Traditionalists won't like it, nor the brushed aluminium headlight holder. However, modern retro competitors such as the BMW R nineT and Ducati Scrambler also feature a blend of old and new with great styling success.
Although I'm now used to using the trip meter as my fuel gauge on the T100, it is nice to have a proper fuel gauge. I also found it useful to have other instrument info on the LCD screen such as gear indicator, distance to empty, two trip meters, clock and instant/average fuel economy.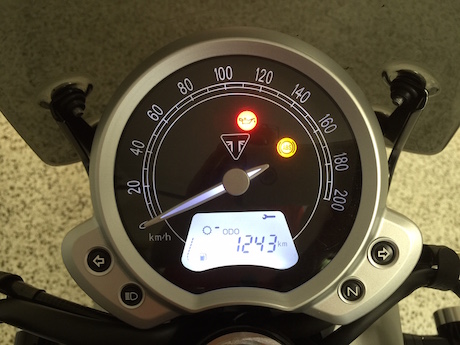 All are available at the touch of a button on the left switch block without having to take your hand off the handlebar to toggle through more-basic info on my T100.
Another major leap forward for the Street Twin is the ride and handling.
Thank god, because the previous model was simply awful.
It now has improved Kayaba 41mm forks and twin shocks that are plush enough to counter road bumps, but also strong enough to avoid hitting the bump stops, even with a pillion on board.
Ride may also greatly be improved because the bike weighs a surprising 26kg less despite the extra plumbing of the liquid cooling. Even lifting it off the side stand is a much easier task.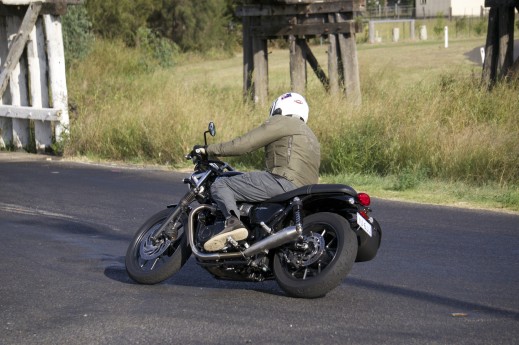 However, handling feels a little slow and lethargic. That's because of the 18-inch front wheel instead of the 17-inch on the SE and the lowered Ace accessory bars which make counter steering more physical.
Despite a sharper steering geometry, it wants to stand up in bends and you have to manhandle the bars to hold a line cornering line. The standard bars may be better.
Turning circle is also wider than before, probably also caused by the lower bars hitting the tank.
On paper, the brakes seem to be the same 310/255mm disc combination with two-pot Nissan callipers, but they have more initial bite causing a little fork dive.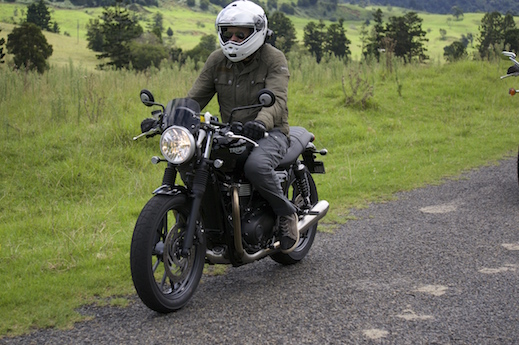 ABS is a great addition as it comes on smoothly and allows you to grab the brakes harder without fear of lock-up.
As an owner of a T100, I really wanted the new models to fail so the value of my bike remained high.
However, the new Street Twin is a winner and will attract a whole new market of younger, trendy riders, while also wooing many traditionalists with its extra punch and practicality.
I'd still like to think there are traditionalists out there who will keep the value of the outgoing Bonnes high.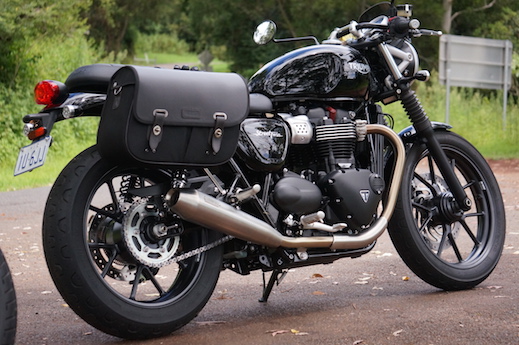 2016 Triumph Street Twin Specs
Price: $13,400 +ORC

Engine: Liquid-cooled, 8 valve, SOHC, 270° crank angle, 900cc parallel twin

Bore/Stroke 84.6 mm / 80 mm

Compression: 10.55:1

Power: 40.5kW (50bhp) @ 5900rpm

Torque: 80Nm @ 3230rpm

Transmission: 5 speed

Frame: Tubular steel cradle, twin-sided swingarm

Wheels: 18 x 2.75in; 17 x 4.25in cas alloys

Tyres: 100/9018; 150/70 R17

Suspension: Kayaba 41mm forks, 120mm travel; Kayaba twin shocks with adjustable preload, 120mm travel

Brakes: 310/255mm discs, Nissin 2piston floating calipers, ABS

Width: 785mm

Height (without mirror): 1114mm

Seat: 750mm

Wheelbase: 1415mm

Rake: 25.1º

Trail: 102.4 mm

Dry Weight: 198 Kg

Tank: 12 litres

Fuel consumption: 3.7l/100 km

CO2: EURO 4, CO2 87.0g/km

Colours: Jet Black, Phantom Black, Matte Black, Aluminium Silver, Cranberry Red