Triumph Motorcycles has become a billion-pound industry and that means more money for research and development that will herald a motorcycle model blitz.

Owner John Bloor, 71, bought the company from liquidation in 1983 for £150,000 (about $A290,000). After selling more than 52,000 bikes last year, the Sunday Times Rich List now estimates the company is worth £1.025 billion ($A1.9).
That's up one third in the past year, alone!
While that's great for the British entrepreneur, it's even greater news for Triumph fans as it should mean the company has more money to spend on expansion of its markets and models.
BMW has accelerated its growth in the past few years with a product blitz and Triumph is following that lead with a host of new model variants in the Thunderbird and Tiger range, as well as rapid expansion in high-growth markets such as India and South America.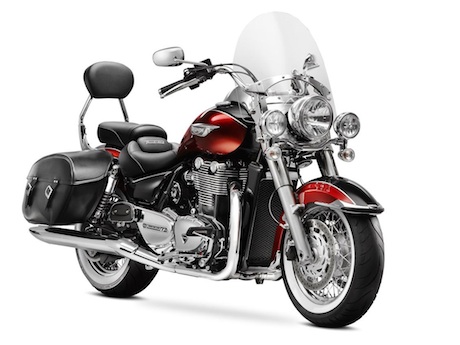 We recently showed spy images of the upcoming water-cooled Bonneville with a near-one-litre engine, which means there should also be other water-cooled models off that same platform – Scrambler, Thruxton and the  America and Speedmasters cruisers.
But the big talk has been about small-capacity Triumphs, particularly for the Asian market, but also welcome here where the LAMS market is booming. (Triumph has already produced a special 660 Street Triple just for Australia.)
It's in this area that Triumph could see real growth as young riders, women and returned riders seek out lower-capacity machines.
Triumph is well situated to produce cheaper machines with factories in Thailand and Brazil and an assembly plant in India, along with its two Hinckley factories.