There is no doubt the new 1200cc Triumph Bonneville Bobber is an elegant styling hit, but does its handling and performance live up to the hype?
Michael Oliver of Oliver's Motorcycles, the top Triumph dealer in Queensland, says there is a lot of interest in the bike, so he asked us to take his demo model for a test. He is also hosting a customer Bobber launch on Wednesday, March 1, at 6.30-8pm at their Moorooka store.
The Bobber is a bold and classic design with a floating solo "tractor" seat, wire wheels, rubber gaiters, bar-end mirrors, authentic battery box, a rear hub that looks like an old drum brake and minimalist lines. However, there is nothing minimalist about its features.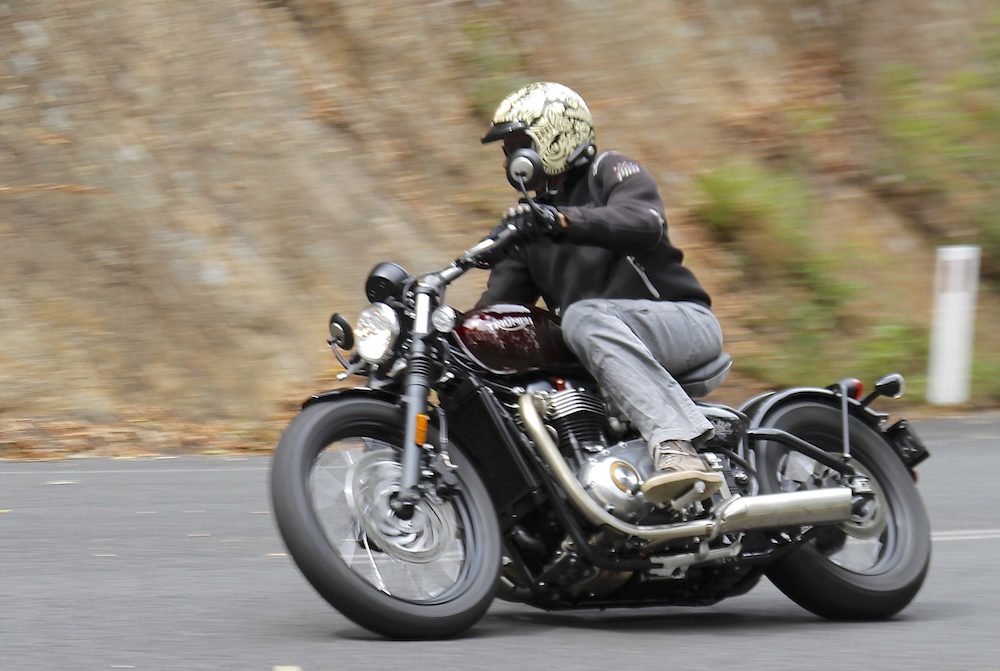 It comes with most of the electronics and classy styling of its Bonneville brothers.
So it is little surprise that at $18,000 it actually costs more than the T120 and T120 Black ($1700), but less than Thruxton ($18,700) and Thruxton R ($20,990).
Classic styling
The new Bonnevilles have been a popular and critical hit since being released and this model has attracted a lot of attention for its classic bobber style.
To create the clean hardtail look, Triumph developed a new rear tubular steel frame and "cage" swingarm with paddock stand bobbin mounts and hidden monoshock, rather than classic Bonneville twin shocks.
The shock is almost horizontal and is the first clue that this bike is going to perform and handle differently to its brothers.
Another clue is that the bike has a different fuel map and split airbox with separate filters for intake and exhaust, providing more midrange performance.
Compared with the T120, the Bobber has 3kW less power at 56kW, but 1Nm more torque at 4000 revs instead of 3100rpm.
But before we experience its performance, we spend a long time just lusting over the bike.
The attention to styling detail is stunning. We love some of the little Triumph emblems on various parts, the brushed aluminium engine covers, the high-gloss black frame, the deep paint of the plum-coloured tank (they call it Morello Red), the deep gloss black rear fender, and the elegant touches of bronze and brass here and there, including the Triumph name plate on the rear of the tractor solo seat and even in the single-pod instruments.
That single pod with an analogue speedo may look classic and minimalist, but it includes an LCD screen with a host of valuable information: odometer, gear position indicator, fuel gauge, range to empty indication, service indicator, clock, two trip meters, average and current fuel consumption display, engine mode display and traction control status display, all controlled by a handlebar mounted scroll button.
The pod can also be quickly adjusted for angle via a handy latch at the back. It helps avoid sun reflection on the dial. We leave it in the upright position and it works just fine.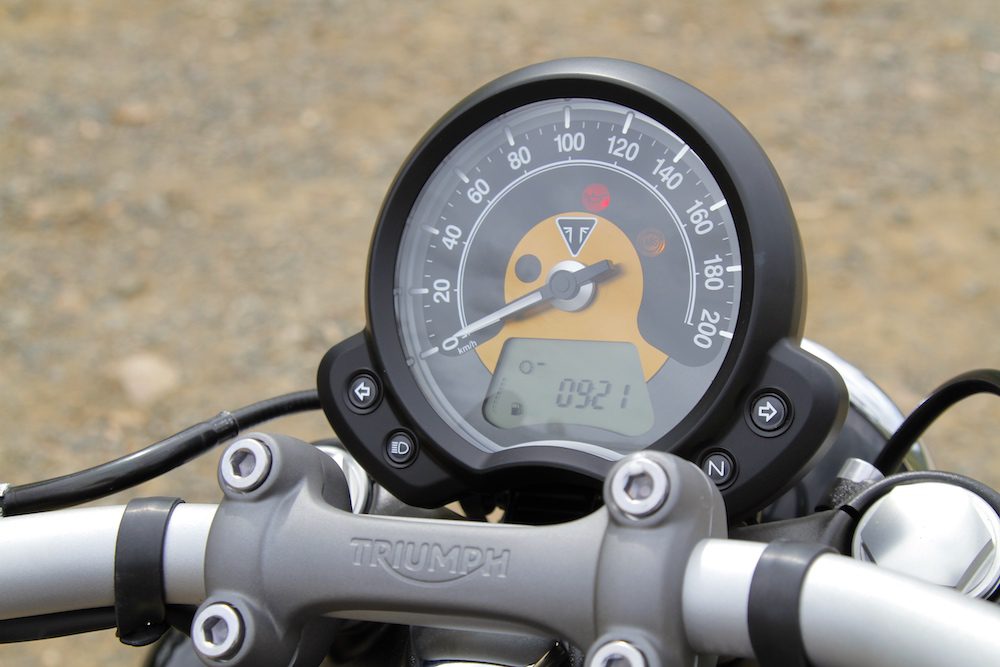 The Bobber might only have one seat, but it certainly doesn't lack for features.
And even the seat is adjustable a few inches forward and back for comfort. We leave it in the middle position simply because it is difficult to access the bolts underneath to adjust it. A handy latch like on the instrument pod would have been better although most riders will find the right position and never again adjust it.
As it is, the low 690mm seat provides a riding position that feels comfortable and relaxed for my 183cm frame, although my knees do feel like they are sitting up a little high.
Move the seat further back and the drag bars might be a bit of a reach. Further forward and it could feel too cramped.
Firing it up
Before firing it up, we fumble with flicking up the sturdy and stubby side stand. It sits in front of the foot controls so your foot annoyingly gets caught up with the gearshift and foot peg.
The new Bonnevilles now feature the ignition key on the triple clamp, but in traditional cruiser style, the Bobber's immobiliser key is located on the right side of the engine, not on the left of the forks like old Bonnies.
We switch it on and fire it up with the single handy ignition/kill switch, click it into gear and notice a slightly clunkier noise in the transmission, thanks to the slightly longer linkage to the mid-control shifter.
Yet gears change with precision, neutral is easy to locate and there are no false neutrals.
Commuters will love the ultra-light torque-assisted cable clutch; easily the lightest clutch we've ever used.
As we loop out of Oliver's parking area, we notice the small turning circle as the drag bars mash your fingers on the tank at full lock.
However, around town the Bobber feels compact and light. Despite its 228kg dry weight, it's easy to manoeuvre and filter through traffic.
The fly-by-wire throttle and fuel injection are very smooth at these speeds and you can get on and off the throttle without any jerking.
However, at constant throttle doing 50-60km/h there is a fair amount of surge and lurch. Triumph claims this will disappear as the engine breaks in. It should be noted the test bike has only 300km on the odo when I pick it up.
I instantly fell in love with the new liquid-cooled 1200cc engine when we rode the T120. It's a lusty and flexible unit with a great exhaust note.
The Bobber has even more urge down low and a deeper bass note from the low-slung, brushed-stainless-steel twin, slash-cut exhausts.
They look stubby and classy and the bulky catalytic convertor is discreetly hidden underneath.
The twin pipes have an absolutely glorious sound when under engine load but they are gentlemanly quiet when cruising along the highway.
Like the other new liquid-cooled Bonnevilles, the engine has a 270 degree firing interval, rather than the lumpy 360 degrees of the air-cooled models. That makes it smoother with a more linear midrange power delivery.
The bar-end mirrors stick out a long way and give perfect rearward vision that is not blurred by the engine at any speed.
Rev it out in first and before you can blink you will hit the 6900rpm redline at around 80km/h.
You can short-shift the gears and ride the midrange torque wave for maximum effect. Revving it doesn't do much more because of the short rev limiter.
Cruising and carving
On the highway, it will cruise efficiently at 2700 revs at 100km/h in sixth gear.
However, because it doesn't start to pull until 3000 revs, you will need to drop back to fifth for prompt overtaking duties.
Between 3000 and the redline, the Bobber delivers delicious linear power.
As it was still in run-in phases, I gave it a mixture of redline sprints, mountain loads and low-rev cruising for the next couple of hundred kilometres.
I was amazed that at the end of my ride the average fuel consumption readout was 3.9L/100km after having reset it before heading off.
That's a lean burn! And just as well as the peanut tank is only 9.1 litres.
I had forgotten how small it was and nearly ran out of fuel because the fuel gauge stayed at a full readout for a long time, then dramatically dropped and the low fuel light came on.
Triumph claims the fuel gauge can sometimes take a while to "learn" how to properly gauge fuel levels. You will certainly need to keep your eye on your range, though.
Not that you will want to take long trips on the bike. The seat is thin and overly contoured, so it becomes a little uncomfortable after about an hour, although I have to admit I have a bony backside.
Heading into the mountains, the mix of spirited midrange and surprisingly light steering for the 19-inch steep-raked front wheel entices you to twist the throttle.
It certainly feels like it wants to play in the twisties, but then the mid-mount controls quickly touch down on corners and momentarily limit your fun.
You quickly have to correct your lines to make wide arcs like a cruiser. It's unfortunate as the handling, steering and suspension feel like they are up to much more sportier riding.
The minimal lean angle is a result of a lowered bike and the mid-mount controls in the middle of the wheelbase. Perhaps forward controls would provide more clearance.
Still, I chuck it into corners over Mt Glorious, grind the pegs and find it enormously entertaining.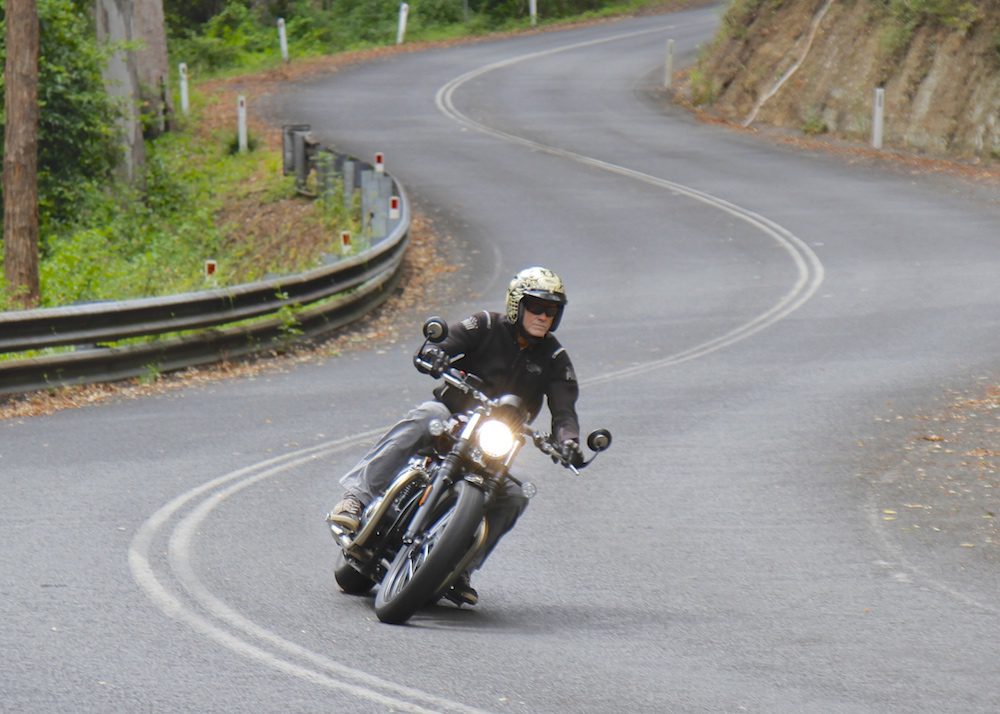 The brakes are strong with plenty of initial bite, but front lever is heavy so you need to squeeze hard.
Meanwhile, the rear brake has more effect because of the bike's low centre of gravity and you can easily activate the ABS.
Consequently, you have to carefully balance a hard pull on the front brake with gentle application of the rear brake. If you get it right, you can brake deep into corners.
Then you arc wide through the bend and hit the gas hard and early to tap that hefty midrange pick-up.
Capable handling
You can also be confident that mid corner bumps won't unsettle the rig, either.
The short frame is taught and rigid and the non-adjustable KYB suspension is well up to the task.
In fact, the conventional telescopic forks are about the best I have experienced. For my 75kg, they need no tweaking.
They are compliant with no jackhammering through the bars. It steers with high-speed stability yet you can easily adjust your lines in the middle of a corner with confidence.
The near-horizontal rear shock has almost no sag load, so you extract full use of the shortened spring.
The result is that it is compliant in the initial part of the stroke, but it can quickly run out of travel and hit the bump stops.
Still, it's quite a comfortable yet sporty ride. Much better than expected.
It sits on 19-inch Avon Cobra AV71 rubber up front for reduced mass and high-speed manoeuvrability while the rear is a 16-inch 150mm-section AV72 radial tyre with cobra tread pattern.
They feel grippy, but you can't really test out the lateral grip because of the limited lean angles.
More options?
Several readers have asked what is happening with a 900cc or 1200cc replacement for the American and Speedmaster cruisers.
We suspect Triumph will release a second tractor seat as an option on the Bobber and that a two-seat version may be coming by the end of the year.
As yet there is no second seat option, but Triumph has more than 150 accessories available for the Bobber, including high 'ape hanger' bars, bar-end "peep" mirrors, comfort seat in a ribbed and quilted version, a heated grip kit and cruise control.
The British manufacturer is also partnering with FOX for a dual-branded adjustable rear shock and with Vance and Hines for exhausts with machined aluminium end caps which are adjustable to change the profile.
I loved every minute on the Bobber after I worked out it had to be cornered like a cruiser and I would gladly add one to my Triumph collection.
Triumph Bonneville Bobber
Price: $18,000 (+orc)

Engine: 1200cc liquid-cooled, 8-valve, SOHC, 270° crank angle parallel twin

Bore x stroke: 97.6 x 80mm

Compression: 10:1

Power: 56.6kW @ 6100rpm

Torque: 106Nm @ 4000rpm

Transmission: 6-speed, Wet, multi-plate assist clutch, chain drive

Frame: Tubular steel cradle, twin-sided swingarm

Wheels: 32-spoke, 18 x 2.5in; 16 x 3.5in

Tyres: 100/90-19; 150/80 R16

Suspension: KYB 41mm forks, 90mm travel; KYB monoshock with linkage, 76.9mm travel

Brakes: 310mm disc, Nissin 2-piston floating caliper; 255mm disc, Nissin single piston floating caliper, ABS

Width: 800mm

Height: 1025mm

Seat: 690mm

Wheelbase: 1510mm

Rake: 25.8º

Trail: 87.9 mm

Dry weight: 228kg

Fuel: 9.1 litre tank; 3.9L/100km (tested)

Colours: Ironstone, with a matt finish (grey), Morello Red, Competition Green and Frozen Silver, and Jet Black.

Ironstone

Competition Green and Frozen Silver

Jet Black

Jet Black