Triumph Motorcycles has almost doubled its annual profit to £16.6 ($A28.4) million while global revenue has jumped £56.3 ($A96.4) million to £407.6 million ($A697.8).
The strong profit result is against a backdrop of falling motorcycle sales worldwide, particularly in the USA, Europe and South America.
However, Triumph has successfully tapped into the more buoyant Asian market, particularly India. Meanwhile, in Australia, Triumph sales are up 5.1%.
Triumph Motorcycles now sells nearly 60,000 bikes a year to more than 57 countries with overseas sales rising from 84.4% to 85.3%.
While it's good news for Triumph employees who will no doubt be enjoying their fat Christmas bonuses, Triumph fans should also profit as it should mean more new and updated models from more research and development.
Triumph says its profit growth is attributed to an increased investment into research and development, including £26.9 ($A46) million in the past year.
Other motorcycle companies should take note that growth in profit and sales requires investment in research and development to create new models.
Other great examples of this successful business plan are Yamaha, Ducati and BMW.
In the past financial year, the Hinckley-based manufacturer which began in 1902, launched an extended 999cc and 1200cc Bonneville range and updated the Tiger Explorer 1200, Tiger Sport, Speed Triple S and Speed Triple R.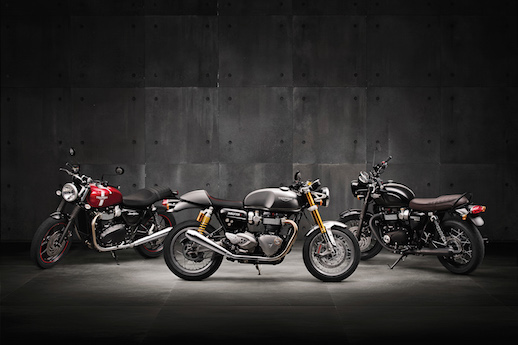 And it doesn't stop there. On January 10, Triumph will launch a significantly upgraded Street Triple with a substantially larger engine capacity.
Here's the video teaser for the new naked.