Have you got what it takes to help save lives by training other riders on how to be an effective first responder at motorcycle crashes?
First Aid for Motorcyclists (FAFM) founders Tracy Hughes and Roger Fance have taken their Motorcycle Accident Management course around the country in the past 18 months, training around 1800 riders and other road users what to do in the event of a motorbike accident.
Along the way, FAFM has inspired other passionate riders to become trainers in Queensland, South Australia, Northern Territory and Victoria to continue the program.
Now they are actively seeking qualified trainers in Western Australia, Tasmania, South Australia and Victoria to make this a truly national service.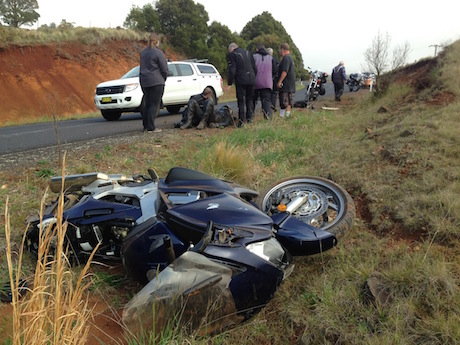 "We get plenty of enquiries about when we are bringing the course to riders or returning to some of the more difficult to reach places like Western Australia and Tasmania" says Roger.
"It's challenging, given the distances and expense involved, but we have had great feedback and we are keen to ensure that local riders in these locations have access to this valuable training.
"This is a great part-time opportunity for someone who is passionate about motorcycling and also wants to make a positive contribution to the motorcycle community by helping to reduce the road toll and consequences of serious injury".
Motorbike Writer is a proud supporter of FAFM and we have reported on several occasions of incidents where the training has helped save lives.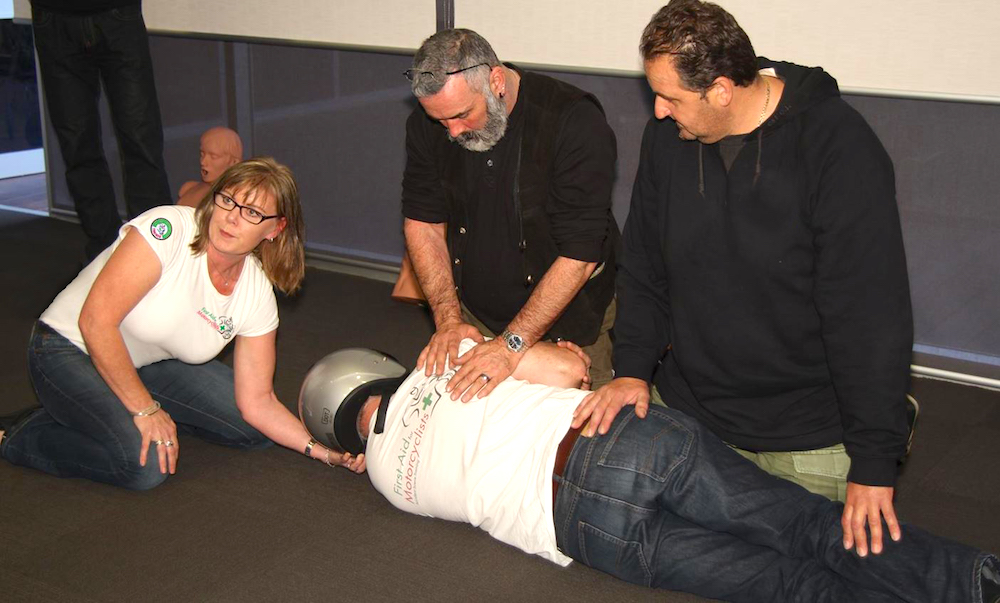 In NSW, the RMS and several local councils are getting behind the course by subsiding sessions in their region. These organisations consider the specialised FAFM training to be a proactive way to help riders manage risk given it's often another rider who is first on the scene.
If you are interested in becoming a First Aid for Motorcyclists instructor, you will need various first-aid qualifications. Trainers will also be trained specifically for motorcycle accident scene management.
More details on qualifications, training and other requirements are available on their website.

2017 FAFM course dates
FAFM have released their course schedule for the first half of next year around NSW, ACT, Queensland and NT with more in the planning stage for later in the year.
Course duration: 4.5 hrs 
Cost: $85 per person
QLD – BOOK NOW
Jan 14 –  MACKAY – The Ocean International Hotel – 11:00am-3:30pm

Jan 29 – TOWNSVILLE – Venue TBA – 11:00am-3:30pm

Feb 12 – CAIRNS – North Cairns Tigers Club – 11:00am-3:30pm

Mar 5 – GOLD COAST – Palm Beach Currumbin Sports Club  – 10:45am-3:30pm

Mar 11 – BRISBANE/Grange – Brothers Leagues Club – 10:45am-3:30pm

Mar 11 – BUNDABERG – Venue TBA – 11:00am-3:30pm

Mar 12 – IPSWICH – Ipswich Country – 10:45am-3:30pm

Mar 12 – ROCKHAMPTON – Venue TBA – 11:00am-3:30pm

Mar 18 – BRISBANE/Birkdale – Redlands Multi Sports Club – 10:45am-3:30pm

Mar 19 – TOOWOOMBA – South Toowoomba Bowls Club – 10:45am-3:30pm

Mar 26 – SUNSHINE COAST/Kawana Surf Life Savings Club – 10:45am-3:30pm

Apr 29 – MACKAY – The Ocean International Hotel – 11:00am-3:30pm

May 13 – BUNDABERG – Venue TBA – 11:00am-3:30pm

May 14 – ROCKHAMPTON – Venue TBA – 11:00am-3:30pm

Jun 3 – BRISBANE/Grange – Brothers Leagues Club – 10:45am-3:30pm

Jun 4 – IPSWICH – Ipswich Golf Club– 10:45am-3:30pm

Jun 10 – BRISBANE/Birkdale – Redlands Multi Sports Club– 10:45am-3:30pm

Jun 11 – SUNSHINE COAST/Kawana Surf Life Savings Club – 10:45am-3:30pm

Jun  17 – GOLD COAST – Palm Beach Currumbin Sports Club – 10:45am-3:30pm

Aug 12 – MACKAY – The Ocean International Hotel – 11:00am-3:30pm

Sep 10 – CAIRNS – Venue TBA – 11:00am-3:30pm

OCT 14 – BUNDABERG – Venue TBA – 11:00am-1:30pm

Oct 15 – ROCKHAMPTON – Venue TBA – 11:00am-3:30pm
NSW – BOOK NOW
Feb 4 – SYDNEY/Ryde – Royal Rehab Centre – 10:45am-3:30pm

Feb 5 – SYDNEY/Sutherland Shire – Venue TBA – 10:45am-3:30pm

Feb 12 – NEWCASTLE – Merewether Surf Life Savings Club – 10:45am-3:30pm

Feb 19 – BATHURST – Bathurst City Community Club – 10:45am-3:30pm

Feb 26 – TAMWORTH – Services Club – 10:45am-3:30pm

Mar 4 – LISMORE – Lismore Workers Sports Club – 10:45am-3:30pm

Apr 1 – COFFS HARBOUR – Coffs Harbour Aero Club – 10:45-3:30pm

Apr 8 – SYDNEY/Ryde – Royal Rehab Centre – 10:45am-3:30pm

Apr 9 – SYDNEY/Sutherland Shire – Venue TBA – 10:45am-3:30pm

Apr 23 – GOULBURN *$45 – Venue TBA – 11:00am-3:30pm  *Subsidised by RMS & Council

Apr 29 – WAGGA WAGGA *$45 – Venue TBA – 11:00am-3:30pm *Subsidised by RMS & Council

May 6 – SYDNEY/Ryde – Royal Rehab Centre – 10:45am-3:30pm

May 7 – SYDNEY/Sutherland Shire – Venue TBA  – 10:45am-3:30pm

May 13 – NEWCASTLE – Newcastle Surf Lifesaving Club – 10:45am-3:30pm

May 21-28 – PORT MACQUARIE – ULYSSES AGM – Dates and times to be announced

Jun 18 – LISMORE – Lismore Workers Club – 10:45-3:30pm

Jun 25 – NEWCASTLE – Newcastle Surf Lifesaving Club – 10:45am-3:30pm

July 1 – SYDNEY/Sutherland Shire – Venue TBA – 10:45am-3:30pm

July 2 – SYDNEY/Ryde – Royal Rehab Centre – 10:45am-3:30p
ACT – BOOK NOW
Apr 22 – CANBERRA – Canberra Labor Club – Belconnen – 10:45am-3:30pm
NT – BOOK NOW
Jan 22 – DARWIN/Berrimah – Kormilda College – 10:30am-3:30pm

Mar 19 – DARWIN/Berrimah – Kormilda College – 10:30am-3:30pm

May 20  – DARWIN/Berrimah – Kormilda College  – 10:30pm-3:30pm

Jul 30 – KATHERINE – Venue TBA – 10:00am- 3:00pm

Aug 5 – ALICE SPRINGS – Venue TBA –  10:00am-3:00pm

Oct 22 – DARWIN/Berrimah – Kormilda College – 10:30am- 3:30pm
VIC – ENQUIRE NOW
SA – ENQUIRE NOW
WA  – ENQUIRE NOW
TAS – ENQUIRE NOW