Just as many of the old motorcycle brands are returning, so are motorcycle clothing brands such as England's famous Goldtop brand.
Motorcycle clothing brands did not exist in the post-war era, so riders used horse-riding equipment or surplus gear from the army, airforce and police.
Goldtop history
Goldtop was established in 1951 by Godfreys of Hull who started by producing horse riding clothing for the British Household Cavalry as well as jackets, boots and gloves for the motorcycle police.
Their gear became popular among motorcycle riders, but like too many British manufacturers in the 1970s and '80s, the brand went bankrupt and closed in the mid 1980s.
However, London ride Kasey Cullen, whose background is in the vintage gloves and clothing industry, bought the rights to the logo in 2012 and began re-introducing some of the old products.
To copy the original designs, Kasey and his son, Joe (pictured at the top), studied historic photos and bought old gear from eBay.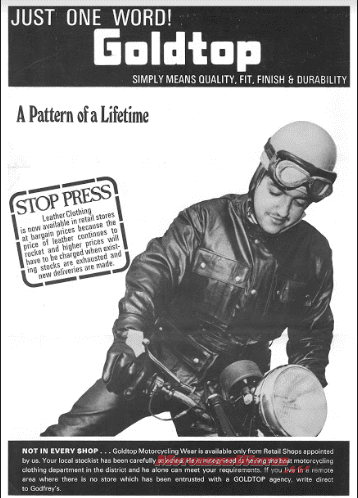 Traditional designs
However, they were re-manufactured using modern manufacturing techniques and only the highest quality materials and fittings they could source. 
"We get the best parts from around the world including stainless steel press studs and buckles from Japan and the zips from Switzerland," says Kasey who rides a 1977 Silver Jubilee T140 Bonneville.
He says most parts had to be re-designed or manufactured from scratch, due to the scarcity of original Goldtop products, and his meticulous requirements for quality.
Attention to traditional detail includes original ball-end zippers and diamond-pattern stitching.
However, their gold satin quilted lining is not traditional. It used to be red or blue but to distinguish their product from other brands that use those colours, they chose gold to reflect the brand name.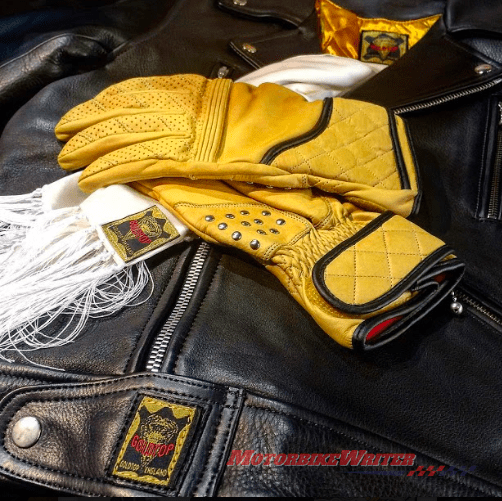 Joe says it's been a hit with old and young riders alike.
"Only recently, we had a conversation with one of the original owners, Ivor Godfrey, who gave us his thumbs up for the work that we are doing in reviving the brand," says Joe.
The revived Goldtop brand started with leather jackets, but have also produced gloves, boots, socks, silk scarves, t-shirts and are now investigating a line of leather bags. They also sell leather-care products and metal wear to repair old jackets.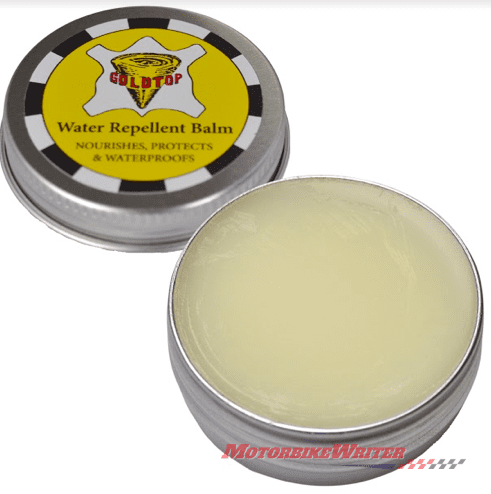 Their products are made in Britain and other countries, depending on quality and price.
Where to buy
Goldtop target UK riders because of their heritage, but they also sell globally through their online presence. 
Joe says they even sell sheep-lined gauntlets in Australia through a new online distributor Motostyle.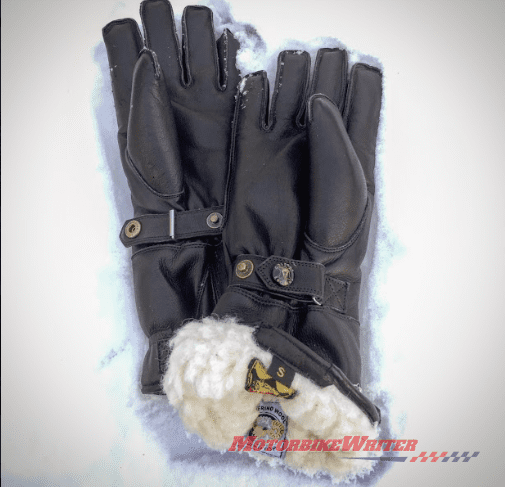 I came across their gear in the Bike Shed in London's now-trendy Shoreditch and liked them so much I bought a jacket. 
I contacted Joe to find out more about the company and he gave me a pair of their bobber gloves to test.
Leather care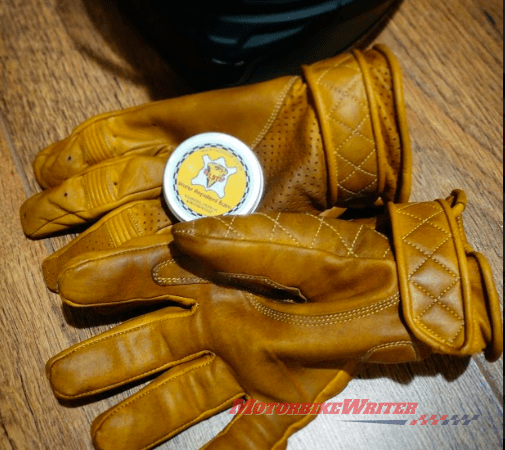 Kasey says their leather gear is not sprayed like most cheap gear.
He says the black leather is hand dyed with an aniline vegetable dye and their brown gear is hand waxed.
Kasey says their waxed leather is weatherproof and water won't leave any marks. He proved it by pouring water on my Flat Tracker jacket.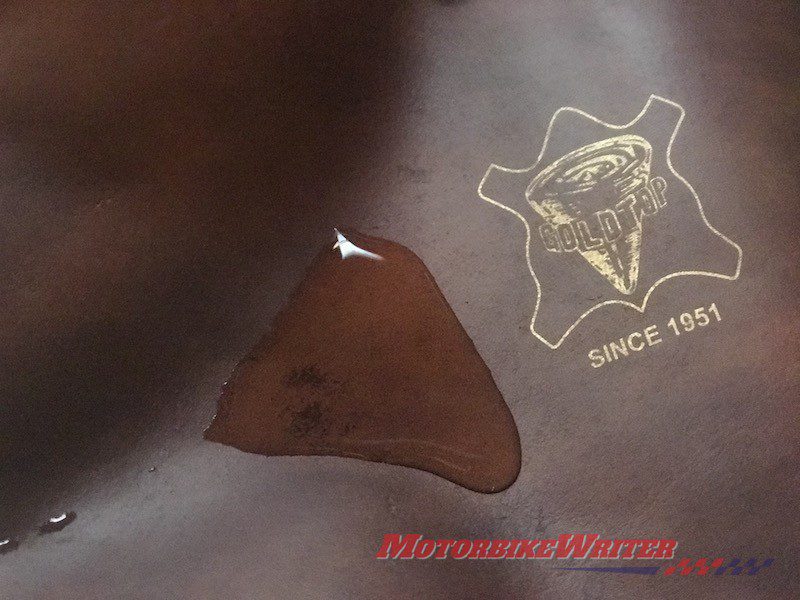 Click here for more information on their aniline leather gear. 
The quality of their gear is evident in the look and feel.
Run your finger up the zip on your jacket and it feels rough, but the stainless steel zips on Goldtop jackets are polished and feel smooth. They also run smoother and are less likely to catch or jam.
The double-stitched seams are also smooth so there is no edge to catch and rip open if you fall off your bike.
Their jackets all come with plenty of pockets for your wallet, phone, keys, etc, including two inside breast pockets.
They don't have any jackets with zip-out liners, so they are more suitable for winter riding with their quilted 5mm polyester padding.
Goldtop will also make custom jackets to fit odd shapes.