Touratech Waterproof Moto Saddle Bags Review Summary
Touratech Waterproof Moto Saddle Bags Image Gallery
The Touratech Moto Waterproof Saddle Bags are made by Ortlieb for Touratech.
As I noted in the first part of this series — theTouratech Adventure Dry Bag review — not all "waterproof" motorcycle luggage really is.
And some aren't very good no matter the list price or features touted.
But the waterproof Touratech luggage made by Ortlieb are extremely good and absolutely waterproof.
With a simple design that provides optimal capacity and a minimal mounting system, these are among the most basic-looking to be found, but looks are truly deceiving.
Well-placed compression and mounting straps along with extra D-rings provide optimal mounting flexibility on a wide variety of motorcycles.
Large reflective panels on the front and back of each saddle bag are not to be missed, day or night, with the "ghosted" tire tread pattern providing an interesting visual spin on things.
Although long-term reliability and performance remains to be tested, the Touratech Saddle Bags made in Germany by Ortlieb are well worth a first and second look.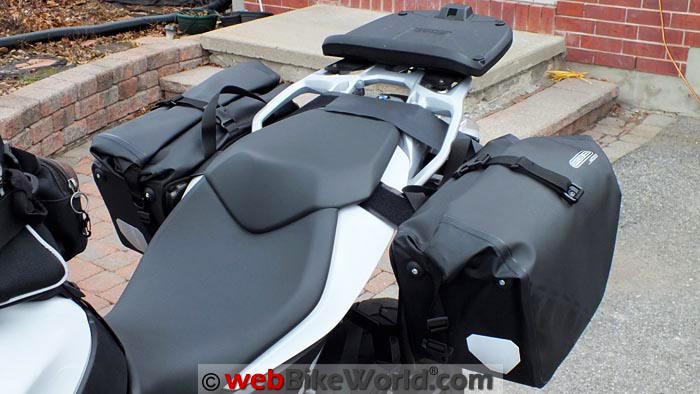 Introduction
One thing about Spring weather: you can typically count on rain — sometimes lots of it — and motorcycle riding doesn't end just because of a few drops, right?
Twenty years ago, it was almost impossible to find waterproof motorcycle gear and luggage that would actually keep you and your stuff dry while travelling. In fact, bags made for scuba diving and surplus duffels lined with plastic bags were the norm.
Zoom forward ten years and things were starting to pick up; speeding ahead to the present day, there seems to be a dry bag for every application.
To a large degree, we have the boom in anything related to adventure travel to thank for this.
A fair number of dry bags have been reviewed by webBikeWorld over the years and some have indeed proven to keep their contents totally dry, while some haven't.
So Spring time seems to be a good time to add three more to the list.
All of these are from Touratech but all are made by Ortlieb, meaning that we have two of the most respected industry names producing and marketing these products.
Choosing a few wasn't a simple task really; the Touratech lineup is pretty diverse.
In the end, however, this review series includes the 31 Litre Touratech Adventure Dry Bag review; this set of the Waterproof Moto Saddlebags and a Waterproof Moto Tank Bag kit comprised of a dry bag, a universal fitment pad and several mounting straps.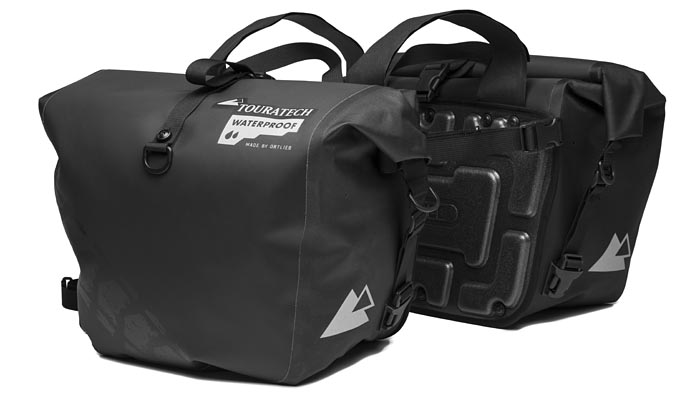 About Ortlieb
Just to refresh your memory, Ortlieb Sportartikel GmbH was started in 1982 by Hartmut Ortlieb, who developed the idea of waterproof seam-sealed luggage for bicycle touring. The products quickly became popular and helped start the waterproof luggage industry.
Today, Ortlieb is a worldwide company offering many different types of waterproof luggage, all still using the Ortlieb-developed high-frequency seam welding process and all manufactured at the company headquarters in Heilsbronn, Germany.
The Touratech/Ortlieb Partnership
Touratech has a history of (and a knack for) partnering with leading companies to co-brand products; an example of that is the Touratech Aventuro dual-sport helmet (review), manufactured by Nexx to Touratech specifications.
In 2016, Touratech entered a joint venture with Ortlieb to develop the new line of waterproof motorcycle luggage, sold under the Touratech Waterproof brand.
Ortlieb and Touratech have developed an extensive line of soft luggage, dry bags, stuff sacks, backpacks and accessories. The range even includes water storage bags and other campsite essentials like collapsible bowls.
Touratech said that each product has been "designed for motorcycle travel and has features and durability built to withstand the rigors of long-distance touring and the everyday commute to the office."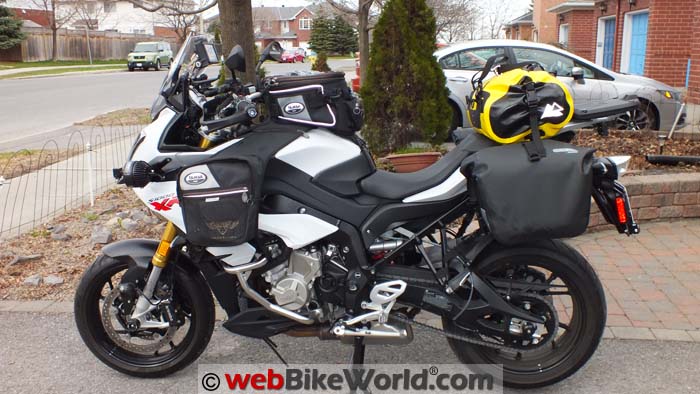 The Touratech Moto Waterproof Saddle Bags
These black 26 litre (each) saddlebags made by Ortlieb for Touratech are so popular, the first shipment was a complete sellout.
Besides performance, part of the reason for that is the list price, which is a reasonable $259.95 for the pair. Don't worry though; more are on the way as this is being written.
One of the main differences with the Moto bags is the side that faces the motorcycle; it's a single piece of thermo-molded polymer. Also, each bag has an internal zippered pocket, a carrying handle, 3M Scotchlite reflective squares in the rear and compression straps with quick-release buckles.
Touratech Moto Saddle Bag Details
Available only in black, these sturdy roll-top saddle bags are made of heavy-duty polyurethane material with welded seams.
Measuring approximately 40 cm (L) x 20.5 cm (W) x 33 cm (H) (15.7 x 8.0 x 13.0 inches) each bag provides up to 26L of storage for a total of 52L for the set.
The full-width wide-mouth roll-down top makes it easy to load and unload your gear and the built-in stiffener edges make rolling and getting a 100 percent waterproof seal just as easy.
And speaking of stiffeners, the saddle bags come with thermo-molded internal custom-shaped pieces that can be installed if users want ongoing shape retention to facilitate loading and unloading and minimize movement of the bags when unloaded, unless they are collapsed.
Each saddle bag also feature an internal (non-removable) organizer with small pouches and slots along with a flat zippered storage pocket. These are stitched into the lower back wall and take little away from available interior space.
Externally, a removable mid-density hard foam plate provides the tough support backing for each saddlebag and this component is key to the versatility of the Moto saddle bags as they allow use on many motorcycles with or without side frames of some sort.
Just remember, however, that despite this heavy-duty backing, clearances between the bags and exhaust systems is needed.
Touratech recommends a minimum of 10 cm (4″) of height clearance (bags mounted above exhaust pipe), although side clearances are another matter (see Fit comments below).
Unlike the Adventure Dry Bag that uses tough bonded overlays for all attachment points and components, straps, the Moto saddle bags utilize a more direct stitched-in approach for D-rings, fasteners and straps.
The two crossover straps measure 7 cm wide and 29 cm long (per side), with full length hook-and-loop pads for lots of grip and easy adjustability. Maximum adjustable width is around 55 cm (21.6″).
For fastening the saddle bags to the motorcycle and compression purposes, a 2.5 cm (1.0″) flat strap is used, along with a combination of D-rings, quick release connectors and slide adjusters.
A lower front strap on each saddle bag, a single upper cross-over strap located on the back of the left bag and compression straps found on the top of each bag provide a simple but effective mounting approach.
Day or night, highly visible 3M Scotchlite reflective front and back panels provide increased visibility and safety. A "ghosted" tread tire graphic on the outer back surface of each saddle bag adds a low-profile but nice visual to the pieces.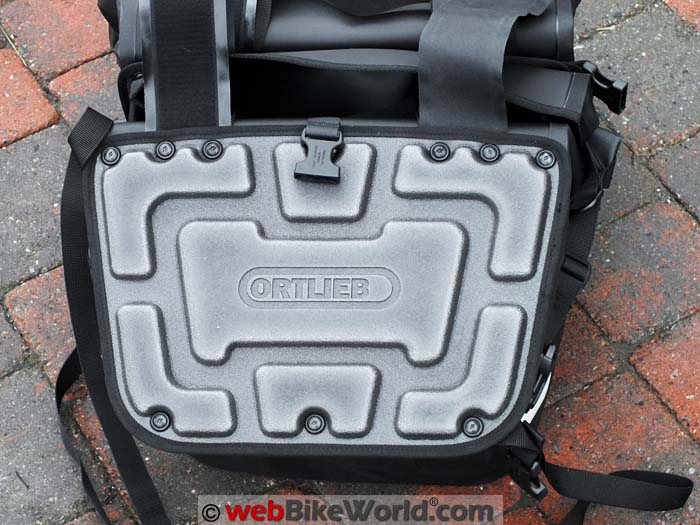 Stiffener Assembly Notes
The Moto Saddlebags can be used with or without the heavy-duty one-piece internal stiffeners. Without them, the bags can be collapsed and secured in a low profile manner to the side of the motorcycle or any installed side bag frame.
But for optimum shape and ongoing use, it makes sense to install the stiffeners, as this keeps the bags looking full even when they're empty and overall it makes them more stable when you're on the move.
If the stiffeners are used, a bit of preparation work is involved.
Many other soft saddlebag kits use a stiffener insert, held in place with end or side hook-and-loop strips or a pass-through strap of some sort. This is typically a quick and effective system.
The Touratech/Ortlieb saddlebags are different, however. The mounting process and components used are in reality more complex than needed and can introduce a potential weakness — leakage.
Each corner of the stiffener has a hole drilled into it with a matching small hole punched through the appropriate section of the dry bag itself.
This means that even without the stiffeners installed, the screws and plastic washers need to be installed to maintain the waterproof integrity of the bags.
Simply marking or dimpling the dry bags at the appropriate spot would have been effective, without actually punching through the material unnecessarily…but I digress.
To install the stiffeners in each bag, take one of the eight supplied sheet screws, fit it through one of the cup washers and push the screw through the one of the pre-punched holes.
With the screw protruding into the bag, line it up with the larger hole in the plastic stiffener…although that's easier said than done.
Now take the included small wire compression tool and start one of the inner cap washers onto the screw and tighten it up; repeat for the other seven points.
Make sure all eight assemblies are tight but not torqued.
In theory, these assemblies will maintain waterproof integrity of the bags. Just be sure to put the wire tool somewhere where it can be found and used again if needed in future.
And while it might not be needed, if you have concerns about leakage at these points, some black silicone seal added to the wall-side of each external or internal plastic washer before assembly should help.
Attachment Points and Straps
While the Adventure Dry Bag duffle has lots of external attachment points, it did not come with any mounting straps as part of the kit. That's not a deal-breaker overall, but it was still a bit puzzling.
On the other hand, the Moto Saddle Bags, by design and function, do come with the requisite straps, along with a few well-placed D-rings, all of which makes getting the saddle bags mounted on many motorcycles a pretty easy task, generally speaking.
The crossover straps are wide and sturdy, but in doing a length comparison, they come up short (literally) compared to some other bags I've owned.
But admittedly, the typical use envisioned for the Moto bags would be on smaller lighter off-road/dual-purpose motorcycles, so slim and trim is the game and cross-seat girth is often not an issue.
For the most part, the Moto saddlebags sit in place and mount quite well on dual-purpose motorcycles.
That includes bikes like the KLR650 and Suzuki DR650 (Blog) (wish I still had one) singles, along with the BMW F 650/700/800 GS twins, with the primary considerations being side support and attachment points.
However, my trusty "go-to" bike — the 2014 F 800 GS Adventure — with its "wide-load" expanded fuel cell residing under the seat wasn't going to be a candidate for the Moto bags.
That's because the crossover straps would need to be 15 to 20 cm (6 to 8 inches) longer, although a custom set of extenders could probably be fettled.
So I decided to throw the Moto saddle bags over the BMW S1000XR (Blog). This is definitely doable and they instantly add some of that sought-after adventure look to this multi-faceted machine.
With the crossover straps adjusted to about 3/4 of their total length, the front strap runs under the seat while the back one sits at the back of the seat up against the luggage grid on that bike.
When they're mounted, the Moto saddle bags sit nicely against the upper horizontal and vertical front tubing of a SHAD 3P side case brackets.
Each of the lower front 50 cm adjustable straps is looped through or around the lower passenger peg frame sections, buckled into the fastener and adjusted for length.
The front sections of the SHAD 3P brackets, like other side frames, provide additional support.
The single 65 cm back strap is stitched into the upper left inner corner of the saddle bag and I routed it between the license plate/fender sections over to the right bag, a length adjustment was made with the slider and then it was connected.
While this minimalist approach was initially suspect, in checking out bag stability loaded and unloaded, my initial concerns were alleviated.
D-rings stitched into the main side compression straps used to secure the roll top lid and another single D-ring is found on each of the top compression straps; these provide the ability to add additional strapping as needed, but none are provided in the kit.
This is why I carry at least two 1.5 cm wide flat straps in the tank bag or stashed somewhere on the motorcycle at all times, along with a set of the large ROK straps.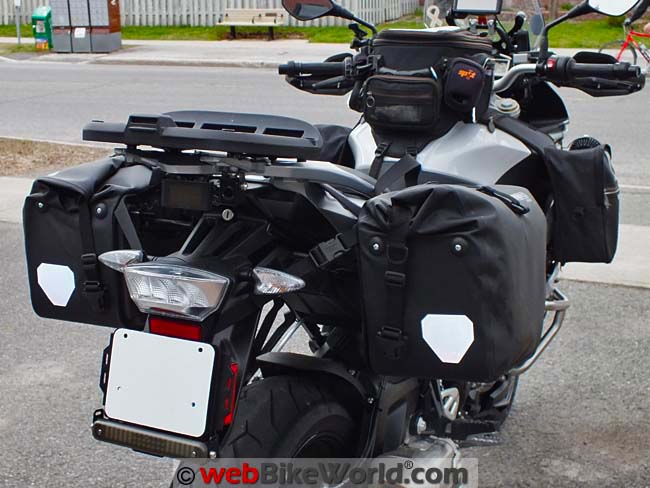 Clearance Issues
The sturdy mid-density foam backs of the Moto saddle bags are a big reason why they can be adapted for use on so many motorcycles, large or small.
Those back pieces provide inherent shape and rigidity to the bags, which is needed whether the bike has a side luggage frame or not.
If the bags are mounted without a side frame of some sort, it is very important that they be adjusted to sit up as high as possible on the bike to gain side support and leverage from the seat or side pieces.
Also, the bags should be mounted as tightly as possible when they're loaded or packed, to minimize movement and thus mitigate potential suspension, final drive or exhaust system clearance issues.
And regarding exhaust systems, the lowered positioning of the exhaust system on the S1000XR prevents heat issues with saddlebags, but mid- or high-mounted exhaust systems will or could be a problem, even if the bike has a luggage side frame of some sort.
In these instances, an add-on third-party or custom-fitted heat shield is needed.
In the past, there were some heat shields available that actually fit to the inner and lower edges of the saddle bags, but I haven't seen them around for a while.
Other bike-specific or generic heat shields are available from various resellers, including Touratech, which lists the Giant Loop Hot Springs Exhaust Heat Shield (PN GLHS).
I have an early variant of the Giant Loop shield and it still works well on virtually any mid or high-rise exhaust system, providing an effective physical barrier between exhaust system and properly mounted saddlebags or across the seat pieces.

On the Road With the Moto Waterproof Saddle Bags
With the internal stiffeners mounted and the individual saddle bags rolled and sealed, the Moto waterproof bags really do keep their shape, empty or full.
This is aided in large part by their sturdy construct and firm back supports.
The bags can be packed whether they're mounted or not, because the full access wide-mouth top accepts almost anything you might want to put in — less the kitchen sink, that is (unless it's small enough).
Remember, however, that these are not aluminum panniers or hard-sided cases…
Once they're fully loaded, with the side and top compression straps tightly adjusted, all serving to form a compact firmly shaped bag, the Moto Saddle Bags sit securely in place, even on some wash-board roads.
And just for evaluation purposes, I mounted an extra cross-over flat strap between the top D-rings and an additional lower cross-over strap through the license plate frame.
I used the D-rings mounted onto the side compression straps to do this and it revealed that the bags just don't move around, even on some rough trails.
The Moto Saddle Bags, along with the Touratech Adventure Bag slung across the back of the seat, have been exposed to smooth and rough road use in a variety of weather and road conditions.
Also, I even tried a prolonged pressure spraying (a more rigorous version of the webBikeWorld "Bucket Test") and there was no ingress of moisture or dirt.
If a little less space or lower profile is needed, removing the internal stiffeners (and resealing the holes) is totally viable as well, and with the saddle bags empty, they can be compressed and a short strap used to secure them so they don't flop around when empty; the choice is yours.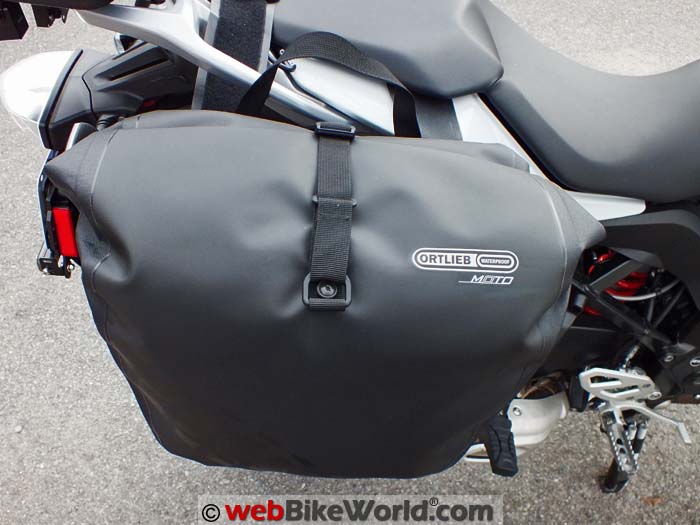 Conclusion
In owning and having used more than a few sets of waterproof saddlebags through the years of all different shapes, types and styles, I can say that the Touratech Moto Waterproof Saddle Bags stack up very well.
One of their best traits is simplicity.
Also, the durable materials, the sturdy stitched attachment points, the minimalist but very functional strapping and of course, a roll-top design that achieves a true waterproof cargo capability all make a difference.
While the internal stiffener solution for these bags is probably more complex than needed and introduces a need to make sure the mounting points are sealed, there isn't anything else to pick on.
As with the Touratech Adventure Dry Bag, a five-year warranty covering manufacturing defects along with the Touratech and Ortlieb names identify the Moto Waterproof Saddle Bags as a premium product.
These are well worth the investment and you definitely get what you pay for.
The next and final item in this three-part series is the Touratech Waterproof Moto Tank Bag. Will it stack up as well as the Adventure Dry Bag and the Moto Saddle Bags? Stay tuned…
In This Series:
▪ Touratech Adventure Dry Bag Review
▪ Touratech Moto Saddlebags Review
▪ Touratech Moto Tank Bag Review
w

BW

 Review: Touratech Moto Saddle Bags
List Price (2016): $259.95
Made In: Germany
Colors: Black
Sizes: 23L each
Review Date: June 2016
Note:
 For informational use only. All material and photographs are Copyright © webWorld International, LLC since 2000. All rights reserved. See the webBikeWorld® 
Site Info page
. Product specifications, features and details may change or differ from our descriptions. Always check before purchasing. Read the
Terms and Conditions
!
Owner Comments and Feedback