Touratech's waterproof Overgloves arrived by post in a plastic postbag and were further wrapped inside another plastic bag.
I immediately thought Touratech didn't have much confidence in their product!
However, their new Overgloves outer waterproof gloves really are waterproof.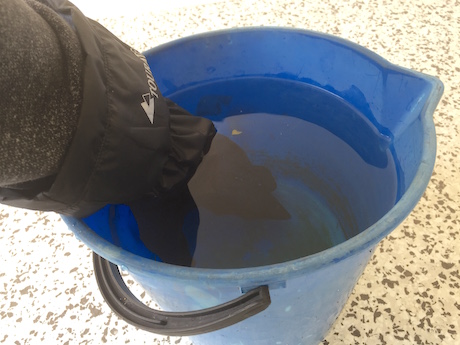 I know, because I sat like a goose in my garage with my gloved hands in a bucket full of water for a quarter of an hour listening to some music to while away the dull minutes.
When I pulled my hands out of the gloves, they were totally dry.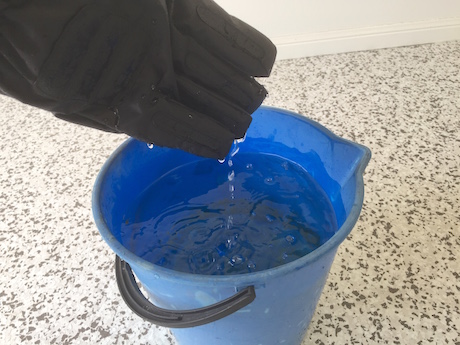 The gloves are designed to be worn over the top of your normal gloves and in winter that can be difficult pulling gloves over another thick pair of winter gloves.
I have another pair overgloves that recognises this problem and the solution is to provide only three spaces for fingers. You put your index finger down one "finger", your other three fingers down the other "finger" and your thumb in the third "finger".
You look like Dr Spock, but it's also a bit uncomfortable and awkward on the levers.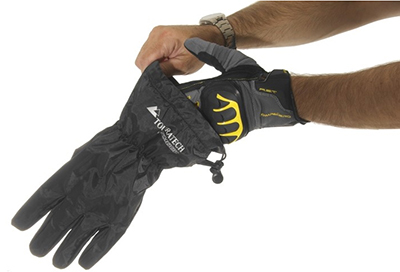 I was a bit suspicious that these gloves with five fingers would be big enough to fit over thick winter gloves, but they did. Even a pair of sports gloves with massive knuckle protectors proved no problem.
Check out the chart at the end of this article to see what size you should order to fit over your gloves.
Like the other waterproof overgloves I mentioned, these have a drawstring top so you can close them tight to prevent water dribbling down your sleeves and into the tops of the gloves.
They aren't super-protective with just small abrasion pads on the palms and fingers, but they are designed to be worn over your other gloves, which will offer you protection in a fall, anyway.
The abrasion pads on the fingers also allow a bit of grip on the levers and bar grips.
I like the idea of overgloves as they are small enough to pack away in a pocket, and it means you don't have to bring another set of gloves.
They will, of course, also go over summer gloves and with the perforated inner fabric liner your hands won't get too sweaty, depending on the temperature. But in summer, I just let the rain cool me down and don't worry about waterproof gloves.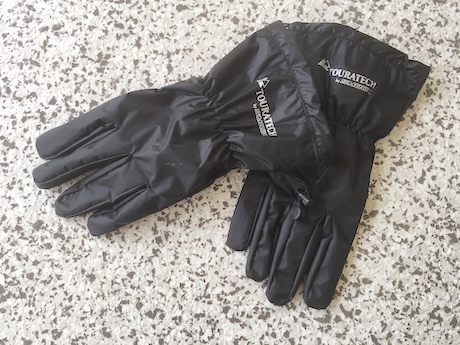 Touratech Overgloves
SIZE CHART
(for motorcycle gloves with built-in armour)
Size 6 = S

Size 7 = M

Size 8 = L

Size 9 = XL

Size 10 = XXL

Size 11 = 3XL
(for thinner motorcycle gloves without built-in armour)
Size 7 = S

Size 8 = M

Size 9 = L

Size 10 = XL

Size 11 = XXL

Size 12 = 3XL

Size: S-3XL