The Touratech Aventuro Mod Companero2 flip-up adventure helmet is one of the first Euro-approved helmets imported to Australia under new, relaxed helmet laws.
It's not the first flip-up adventure helmet in the world. That honour goes to the Caberg Tourmax.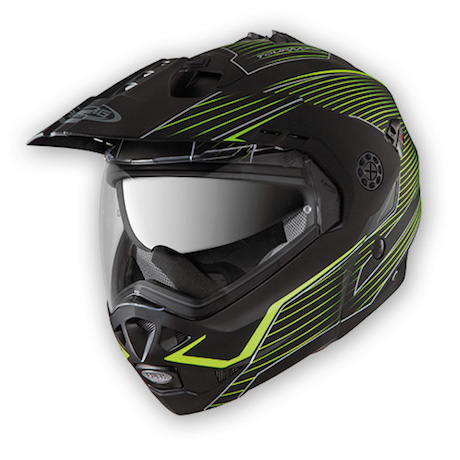 But it's one of the first UNECE 22.05 helmets imported since all states and territories, except WA and SA, have allowed the helmets to be bought and worn without separate Australian approval.
The other two states are expected to fall into line soon.
Meanwhile, adventure specialist Touratech of Germany, have joined forces with fellow countryman Schuberth helmets, to produce this flip-up motorcycle helmet.
It's certainly not cheap at $1261 (plus delivery cost) compared with the Caberg at less than half the price.
Modular helmets are versatile because they allow riders to take photos, talk to mates and sometimes even fill their bike's tank without having to take off their helmet.
Now adventure riders can enjoy the versatility of a flip-up design that many touring riders have been enjoying for years.
The Aventuro helmet was designed by Touratech's Bart van den Bogaard and numerous parts were supplied by the adventure specialists and TT-3D, its plastics competence centre.
The Aventuro Mod uses the same basic structure as the C3Pro flip-up helmet, but features numerous detail enhancements.
The helmet shell is made of special glass fibre laminate, a technology developed by Schuberth to produce glass fibre reinforced plastics that combine high strength with low weight.
It features an anti-fog, distortion-free visor that meets European "class 1 optics" standards, a continuously adjustable sun visor, washable Coolmax liner, goggle strap holder at the back, ratchet chin strap, detachable chin wind guard and aerodynamically optimised helmet shield – with cover caps included – that can be fitted without tools.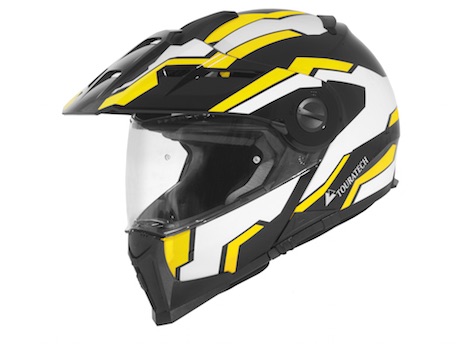 The peak has a memory function so when the chin section is flipped up, it remembers the position it was set to and then rebounds to the rider's chosen position when the helmet is closed.
Touratech claims it has optimal cooling with larger air inlets and improved ventilation.
It comes in seven sizes (XS to 3XL) and colour variants, and is ready for fitting Schuberth's SRC-System C3Pro Bluetooth communications.