What are the best motorcycle songs?
Listen to Keef's chord changes at the start of "Brown Sugar". Go on, do it now. It sounds like he's starting up a motorcycle engine and then changing up the gears doesn't it? It always gets me doing the same thing whenever I hear it. And that's what makes it one of my top 10 favourite motorcycle songs.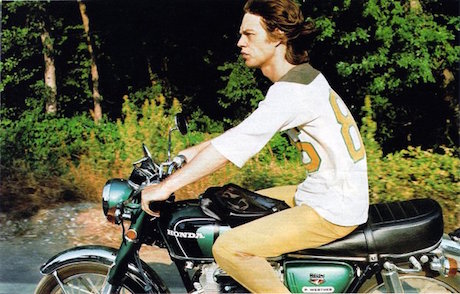 With Bluetooth in helmets and all sorts of special earplugs for listening to music while you ride, music is an integral part of many people's rides. Music has not distracted from my riding, but given it an extra dimension. Sometimes I put my iPhone on random and let it choose my playlist. It brings up some surprising choices sometimes like there is a poltergeist in there.
For example I rode past the smoke stacks at Tarong power station and Greg Lake from ELP was singing about "dark satanic mills" in Blake's "Jerusalem". And I don't know how many times John Fogerty has asked "Who'll Stop the Rain?" just when it starts to belt down.
Some songs are relevant because the lyrics mention motorbikes:
"Take a long ride on my motorbike", Queen, "Crazy little Thing Called Love";
"You and me will go motorbike riding in the sun and the wind and the rain. I got money in my pocket, got a tiger in my tank and I'm king of the road again," David Dundas and Keith Urban, "Jeans On"; and
"I don't want a pickle, I just want to ride on my motor-cicle and I don't want a tickle, I'd rather ride on my motor-cicle, and I don't want to die, I just want to ride on my motor-cy-cle," Arlo Guthrie, "Motorcycle Song".
But there are some misnomers too:
For example Foghat's "Ride Ride Ride" is about catching the train not riding bikes and "Slow Ride" is about sex but is used to great effect in the too-close-to-the-returned-rider's-bone "Wild Hogs" movie.
Similarly, War's "Low Rider" is not about a Harley, but custom cars with low suspension.
Fogerty's "Hot Rod Heart" is about cars and bikes as he sings about a "big ol'Harley" and a "big ol' Buick". Still, he captures the essence of having "a one-way ticket to the open road" and "cruisin' down the open road".
Another singer who captures that essence in songs about cars, bikes and roads is Bruce Springsteen. There are too many songs to quote, but my favourite, "Hungry Heart", also has rock's greatest opening verse: "Got a wife and kids in Baltimore, Jack; I went out for a ride and I never went back. Like a river that don't know where it's flowing; I took a wrong turn and I just kept going." (Notice how both Fogerty and Springsteen have "Heart" in their titles? That's where riding really gets us – in the heart.)
I didn't mention the obvious: "Born to Run"! It's about driving "in suicide machines", "chrome wheeled, fuel-injected" (written at a time when bikes didn't have EFI). Ok, he does tell his passenger to "just wrap your legs round these velvet rims and strap your hands across my engines" and sing about "riding", but Americans refer to "riding" in their cars which they call a "ride".
Still a great song on a ride, but it doesn't make my top 10 because it's also a little bit twee as is "Born to be Wild" from Easy Rider.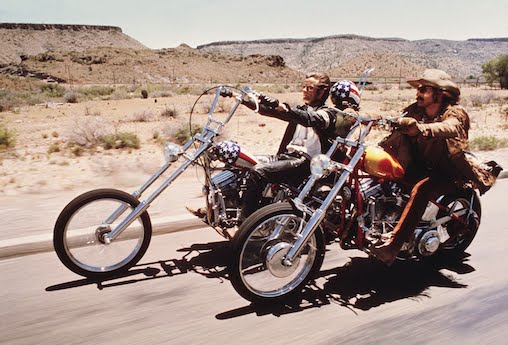 Coincidentally Springsteen sang at the 105th Harley anniversary in Milwaukee five years ago while sitting on a Harley. One thing that makes "Born to Be Wild" a little more cringe-worthy is the Harley engine at the start. Yes, it was used in the soundtrack of "Easy Rider", but even that is just a little too contrived. Better songs from that soundtrack were The Band's "The Weight" which truly sums up the open-road wanderer and the basic sentiment of The Byrds' "Wasn't Born to Follow" written strangely by a New York female Jew (Carole King) and everyone knows Jews don't ride, or at least their mothers won't let them!
Not that motorcycle sounds in a song make it twee. Just listen to the "motorcycle" on Meatloaf's "Bat out of Hell". Brilliant! However, it was actually producer Todd Rundgren playing it on a guitar and it leads straight into a hair-raising axe solo. And who could deny the song's irresistible plot about a motorcycle crash (a modern-day take on the Shangri-Las' "Leader of the Pack") and lines like "I'm gonna hit the highway like a battering ram on a silver black phantom bike"?
There are many obvious songs and that's exactly why they haven't been chosen. Too obvious. Such as AC/DC's "Highway to Hell", although I do have room for their "Gone Shootin'" which is nothing about bikes at all, but has a great swagger and does include the line "She was running on overdrive, a victim of overkill". Hey look, I'm not going to explain myself on every song; after all, it's not a definitive list, just my personal faves.
MOTORBIKE WRITER'S TOP 10 MOTORCYCLE SONGS
So what are your favourite songs? Please tell me in the "Comments?" box below.