Toby Price is "in shock" after creating Dakar Rally history as the first Australian to win the 37-year event, stretching his lead in the final stage for a convincing victory.
I don't know what to say, I don't know what to think. I'm in shock, I never would've thought I could win this race in my second participation. This is incredible for my family, my friends and my fans back in Australia! Winning in my second participation is awesome, but being the first Australian to win the Dakar is just insane. I would've never imagined this two years ago. Finishing the rally is already a triumph. Winning it is amazing! I tackled the race in true Aussie style. I attacked when I had to, when the time was right, and I kept an eye on my bike during the all-important marathon stages. I also navigated rather well. I hope this is just the start, to win again. It won't be easy, so I've got to savour this victory."
Send your congratulations to Toby on his official Facebook page.
After two weeks, 12 stages (one was cancelled), 9000km and five stage wins, the KTM factory rider from NSW finished the event 39:41 minutes in front of fellow KTM rider Stefan Svitko of Portugal.
It was the 15th consecutive win for the Austrian factory.
The final stage was won by overall third-placed Pablo Quintanilla of Chile on a Husqvarna.
Our only Australian competitor was fourth on the final stage into Rosario, Argentina, just 4:22 behind Pablo. With his five stage victories, he was the only rider this year to score more than one stage win.

Tomorrow, the 29-year-old Hunter Valley rider, five-time Australian off-road champion and four-time Finke Desert winner will stand on the top step of the podium after last year claiming a surprising third place in his debut appearance.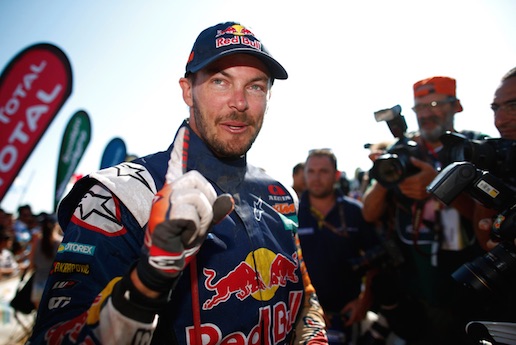 Australia has a long history of Dakar entries, most notably rookie and privateer Andy Haydon who placed third in 1998, Simon Pavey who has competed 10 times and the late Andy Caldecott who competed from 2004 to 2006 when he tragically died during the race.
Toby's victory is stunning given the harsh conditions of the event this year when searing temperatures and violent storms caused the cancellation of the second stage and the shortening of two stages in the sand dunes.
The winner of the car section was French legend Stephane Peterhansel in a Peugeot. It was his 12th Dakar victory; six times in cars after winning six times in the 1990s on Yamaha 750 and 850cc motorcycles.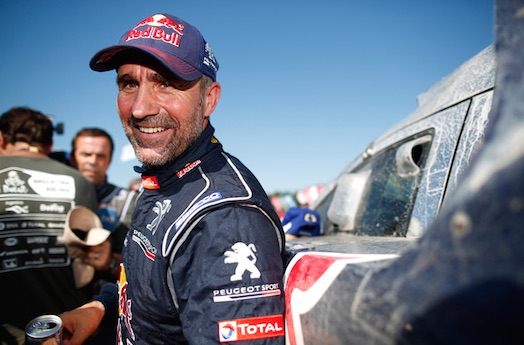 The quad category was won by Marcos Patronelli of Argentina ahead of his brother Alezandro, both on Yamahas.
Today's stage and tomorrow's podium presentation will be broadcast on SBS at 5pm. Let's hope Australian mainstream media now gets behind Toby and gives him the coverage he so richly deserves.