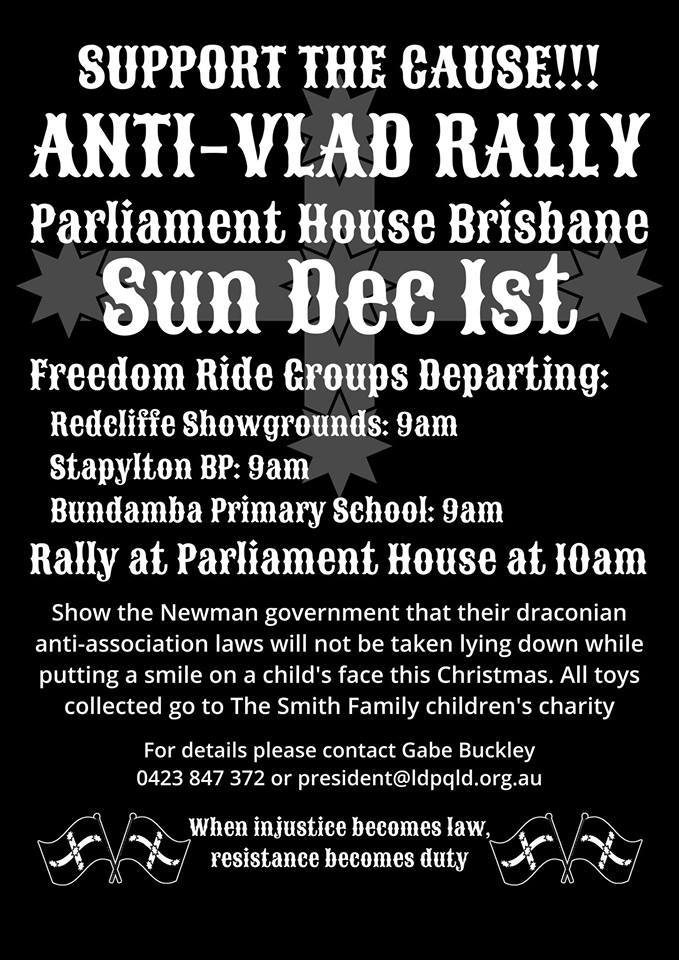 Sunday's Freedom Ride to Parliament House in all states to protest against the world's toughest anti-bikie laws looks like becoming the biggest motorcycle rally in Australia's history.
It won't be the biggest single protest in Australia's history. That record belongs to the 1970 mortoriums against the Vietnam War with 200,000 nationally and 100,000 in Melbourne. But like those rallies, this will be held in several locations simultaneously, with Freedom Rides planned for every state in support of their Queensland colleagues.
There are even Freedom Rides from provincial centres such as Toowoomba and Bathurst to the capital cities and other rides in far-flung destinations being conducted simultaneously to protest against these laws.
To find out where and when the closest Freedom Ride to you is leaving on Sunday December 1, check out the Freedom Ride Facebook page for more details.
The ride has not been without its critics who claim a ride to an empty Parliament House on a Sunday is a waste of time.
Most critics are long on rhetoric and negativity, but short on ideas and action.
Critics also lambasted the idea of a petition, yet more than 10,000 signed it in a few weeks and it has now been tabled in Parliament and recorded in Hansard.
READ MY STORY HERE
Of course, it didn't change anything. The Vicious Lawless Associations Disestablishment Act and other spurious laws remain and people are still being mistaken for bikies and harassed by police.

However, it is the combination of actions such as the petition and rallies (and recent opinion surveys) that show Premier Campbell Newman is wrong when he says these laws are what the people want.
But don't expect the Premier to admit he is wrong and repeal the laws.
Instead, a High Court ruling may do that for him and currently a barrister is being briefed for a challenge to the laws. The Australian Motorcycle Council has created a fighting fund to help with the expense.
In the meantime, the pressure must be kept up.
Not necessarily pressure on the Premier and his government who won't be at Parliament House on Sunday.
Instead, pressure has to be applied to public opinion.
Riders need to remind the general public that riders are citizens with rights that are in jeopardy from these laws. They also need to show the public that these draconian laws don't just threaten the rights and liberties of riders, but those of every citizen.
If you want to be a part of a significant event in Australia's history, join Sunday's ride.
Just in: Australian Motorcycle Council chairman Shaun Lennard will address the ride in Hobart and will explain why the AMC is so concerned about the impact of the new laws on motorcycling in general.