I am so used to doing the motorcycle wave at other riders I actually waved at one the other day on the rare occasion I was driving a car!
The biker wave is as old as motorcycles. Apparently it was started in 1904 when Harley-Davidson partners Arthur Davidson and William Harley passed each other and waved. It was noted by a passerby and believed to be etiquette among riders. Or so the tale goes.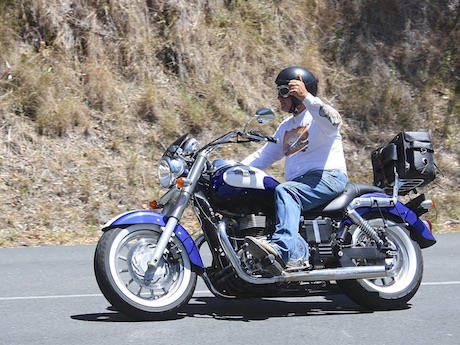 Over the years, it has become ubiquitous among riders. There could be scores of cars and trucks on the road around us, but when we spot another motorcycle rider, our attention turns to them and we acknowledge them.
Unfortunately, that sense of two-wheel camaraderie may have waned a little over the years as motorcycles become more common. Now there seems to be an etiquette of when to wave and when not to wave and exactly how to wave.
I'm not talking about motorcycle rider hand signals that indicate hazards etc. Read about these hand signals here.
I'm talking just about basic acknowledgement. It could be a wave or a nod, but be careful to get it right. Don't be overenthusiastic, too flippant, too subtle or too cool for school.
Don't wave like you are waving to your mum as you leave for your first day of school. That's just nerdy. In fact, anytime you raise your hand above the bars is a little too over-eager, unless you are giving a thumb's up, peace sign or a heavy metal satanic AC/DC-type wave.
By the same token, don't give the one-finger salute to your eyebrow. Who do you think you are, James Dean?
A biker wave is not regal either, so don't wave like the queen.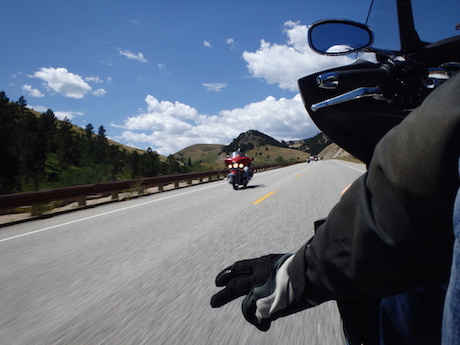 My favourite nonchalant motorcycle wave with just enough cool to have street cred and enough of a gesture to be noticed is the American biker wave where the left hand comes off the bar and the arm drops to 45 degrees and you extend two or three fingers pointing at the ground. It only works in countries where you ride on the right otherwise the passing rider won't see it.
In Australia, you would have to take your hand off the throttle and that could be counter-productive.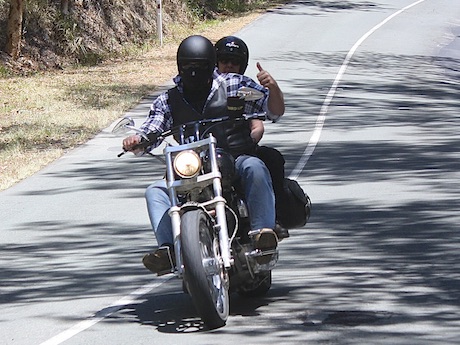 Here, we tend to nod more than wave. Not a straight up and down nod, but more of a lopsided nod as if you are winking (not that they would see you wink). Easiest way to do this is to look down at the left mirror. It also conveys a balance of cool nonchalance with enough visual motion to acknowledge a rider. A Scorpion helmet would also add some points to the coolness factor, in my opinion.
Aussie riders on big tourers and baggers often do the American biker wave because they have cruise control. That's just showing off!
I wave at everyone almost all the time. I also don't distinguish between types of motorcycles. It doesn't matter if I am riding a Harley and the passing rider is on a scooter. In fact, it seems to make the scooterist's day!
Motorcycle wave
But there are occasions when you shouldn't or don't need to do the motorcycle wave:
1 When puling a wheelie.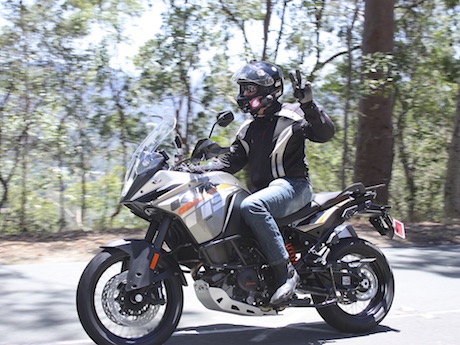 2 In a corner. You have enough on your plate steering the bike and looking at where you are going to remove a hand to wave or do the nod.
3 On a major highway. The passing rider is too far away and your wave or nod will either not be seen or be misinterpreted by a car driver as directed at them.
4 At a rally. There are simply too many riders to wave or nod at and you will end up with RSI.
5 At an "outlaw bikie", unless you are a 1%er as well. They don't respond and it just makes you look like you are trying too hard. However, if they wave at you first, make sure you are ready to reply!
6 In the rain. They won't see you.
7 At night. They won't see you.
8 In heavy traffic. You are too busy staying alive to be acknowledging other riders.
9 In a shopping centre. You should be watching for soccer mums backing out at full steam in their SUVs.
10 In a parade or charity run. Not only are there too many riders to wave at, but they will be going the same direction as you and you'll need both hands on the bars so you don't wobble in front of them and crash. However, you can wave at people lining the streets and, if you are careful, you can do the high-five handslap. Kids love it.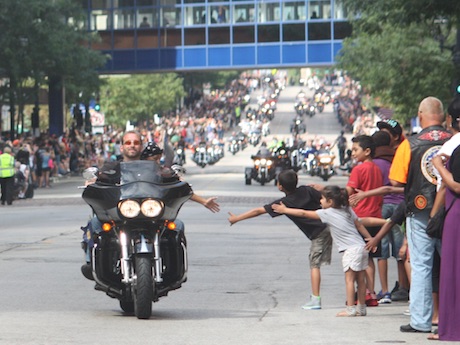 Don't get your chaps in a twist if someone doesn't return your wave or nod. They may have been distracted by something or changing gears at the time.
Remember, it's better to have waved or nodded and not receive a reciprocal gesture than to have been waved at and not reply in time.