The Breakdown
Scorpion maintains its position as a top contender in the "affordable" helmet space with the latest update to the EXO R410, the EXO R420. The R420 is more than just some new graphics and colors but instead is a rethinking of the 400 series from the inside and out. The internal shape has been changed as well as the lines of the exterior shell. Solid construction combined with a Snell rating means one is getting good protection for around $150.00 (USD). and it looks good doing it. Of course one has to give up something to get a helmet to this price point so read on to see what we found out.
Pros
DOT and Snell M2015 Certification, Solid construction, Finish belies inexpensive price point, Updated fit compared to R410
Cons
Large overall shell size, Tendency to lift at highway speeds, Relatively heavy
Introduction
I have to admit that Scorpion helmets and the 400 series, in particular, are a bit special to me. Around ten years ago I was returning to motorcycling riding after a few years away from riding.
When I purchased my new-to-me bike (a 2001 Kawasaki ZR-7s) I, of course, needed a new helmet. Around that time there was a new player in the helmet market and that was Scorpion.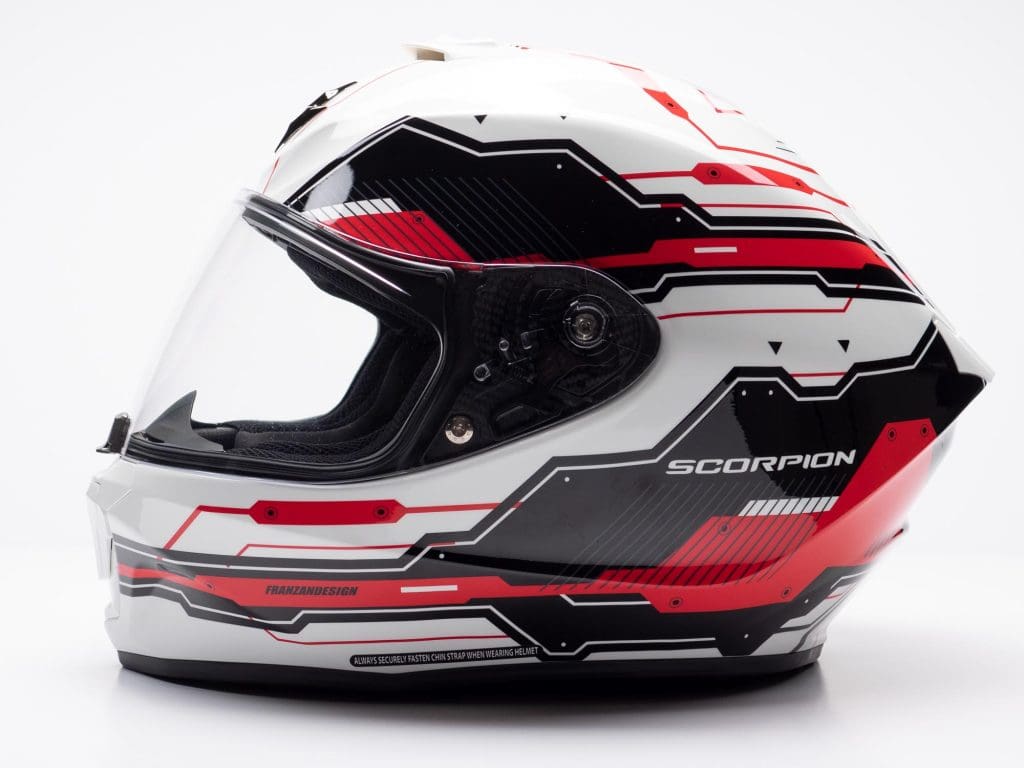 I purchased a black EXO-400 helmet back then based on the price and the fact it was available right there at the shop. As it turns out, webBikeWorld had recently reviewed the EXO-400 at that time and found it to be quite a good value. I had yet to discover wBW reviews but looking back makes me feel even better about that choice.
So the new EXO R420 is now tasked with taking up the reins of the 400 series. Eleven years after that initial wBW review, how does the third generation of this helmet hold up? Let's see.
Shopping Now? We Recommend:
webBikeWorld works closely with Revzilla, 2WHEEL, and Amazon to provide our testers with quality products to review. While we have an affiliate relationship and receive a commission from items purchased, this addition comes at no additional cost to you. It is the primary way we pay for our site and reviewers.
RevZilla

Free shipping on orders over $40
30-day no-nonsense return policy
Excellent selection of all major brands
Awesome pricing
2WHEEL
Free shipping on orders over $49
Free returns within 30 days
All major brands
Cashback!
Amazon

Free shipping (with Amazon Prime)
30-day return policy
Excellent selection
Competitive pricing
The Scorpion EXO-R420 Helmet
The EXO-R420 has a lot to live up to with the EXO-400 series helmets offering very good value as well as fit and finish that bests many helmets costing significantly more. My initial impression when handling and examining the helmet out of the box is that the EXO-R420 might very well be a worthy successor.
What's more is that somehow Scorpion has managed to update and improve on the previous version while still maintaining the previous version's $149.95 price for solid colors. That is only $10.00 more than I paid for a new EXO-400 back in 2007.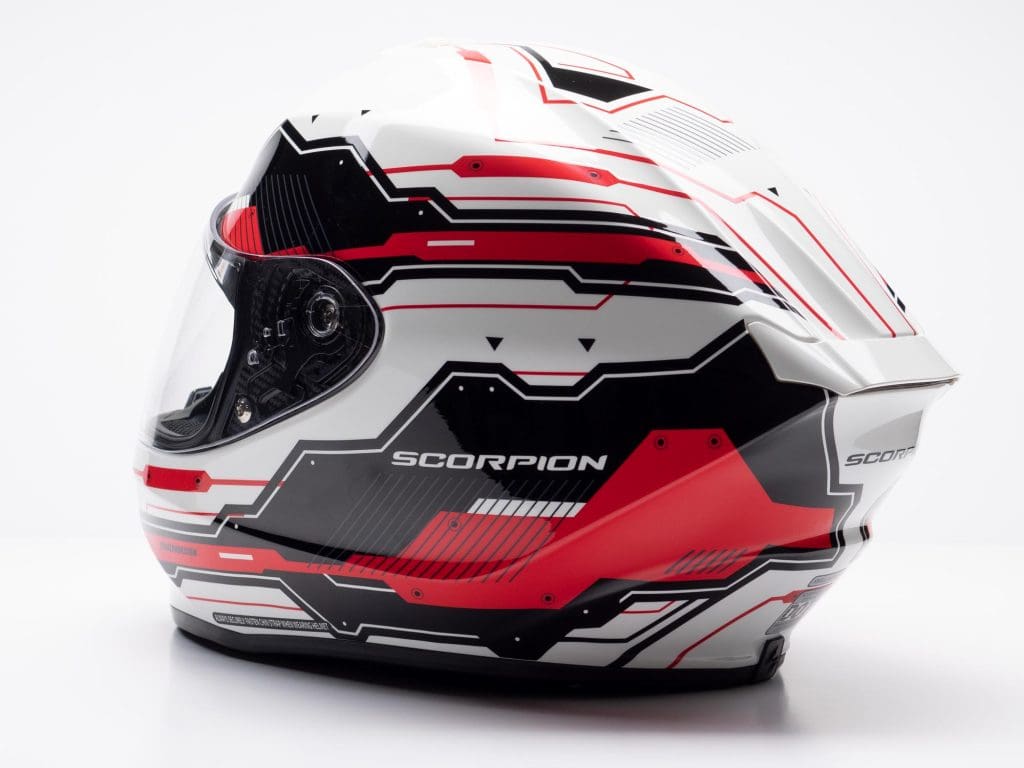 The EXO-R420 is available in four graphics options and four solid color options. The latter includes black, matte black, white, and matte titanium. The graphics options are sort of "across the board" as far as style goes with the four options covering a wide range of tastes. I chose the Techno graphic in red/white both for the visibility and because I like the overall look. Pricing for graphics models is only $10.00 more than the solid color versions.
Fastening the chin strap is done via a Double D-Ring closure which is found in most helmets on the USA side of the pond. Micro-ratcheting buckles and similar closures seem more popular over in Europe and I admit I like them myself but I imagine they are more costly to produce than D-Rings. It makes sense to keep it simple and less expensive by implementing the tried and true Double D-Ring setup.
Venting on the EXO-R420 is handled by two intake vents, one at the chin and one at the forehead while an always open exhaust vent is in place at the rear of the helmet. Right above the chin vent is the visor latch. Centrally locating this latch makes it easy to use either hand to lift the visor but it also reduces the chance of flex as the visor is opened and closed.
Looking at the interior, Scorpion has included their KwikWick® II moisture wicking liner. The liners are removable for washing and even include emergency pull tabs which are a nice touch, especially at this price point. Speaking of price point, let's delve in a bit deeper into the helmet construction and see if how this helmet manages to keep the price steady into its third generation.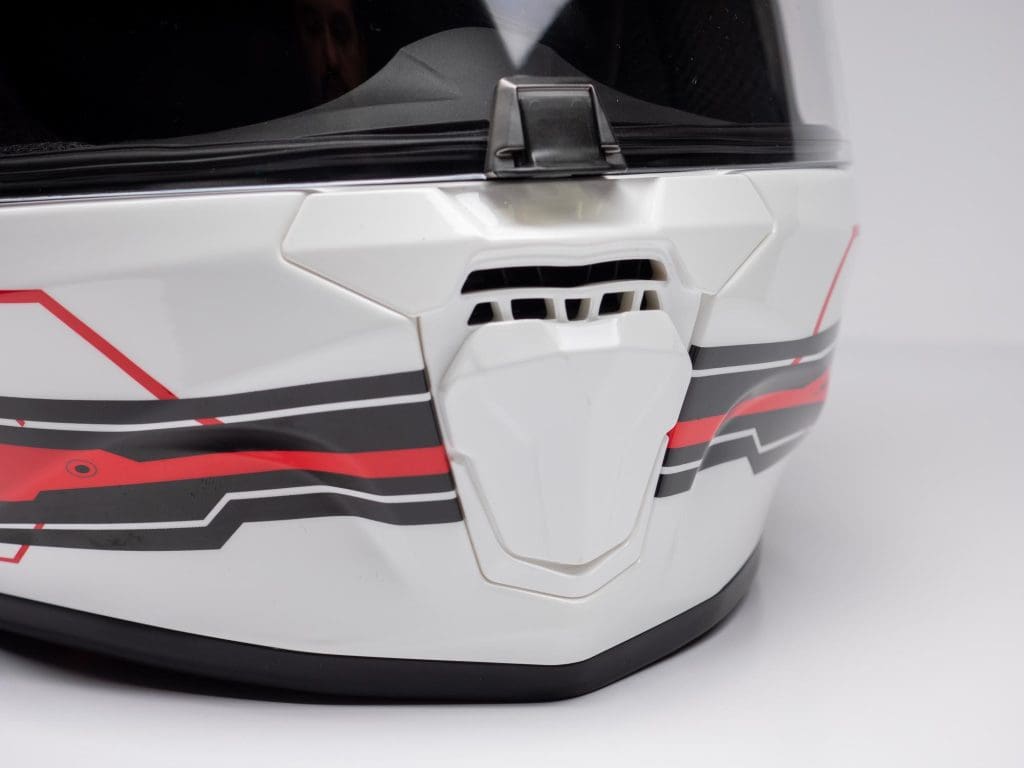 Construction
Shell Material
The shell of the EXO-R420 is made from polycarbonate which is expected at this price. Polycarbonate isn't really a liability as far as safety is concerned but it tends to be heavier than fiberglass or composite shells. Some people feel polycarbonate is better at energy absorption thanks to the material's inherent flexibility.
Squeezing and pulling on the shell does demonstrate some flexibility but it is well controlled as would be expected for an M2015 Snell helmet. When testing this out the shell made very little noise in the way of creaks and squeaks
Paint, Graphics, And Overall Quality
Excellent.
I could just "drop the mic" right there. It essentially answers the question of quality as far as the finish and overall quality.
What? More details?
Fair enough.
The decals on the Techno graphic on this particular example are applied straight and are well aligned. The paint and decals are covered in a very nice layer of clear coat that is smooth and well polished. The finish has a very subtle "wave" to it but I find this is typical across a broad range of helmet finishes and I don't feel it takes away from the look even if one gets their eye up close to see it.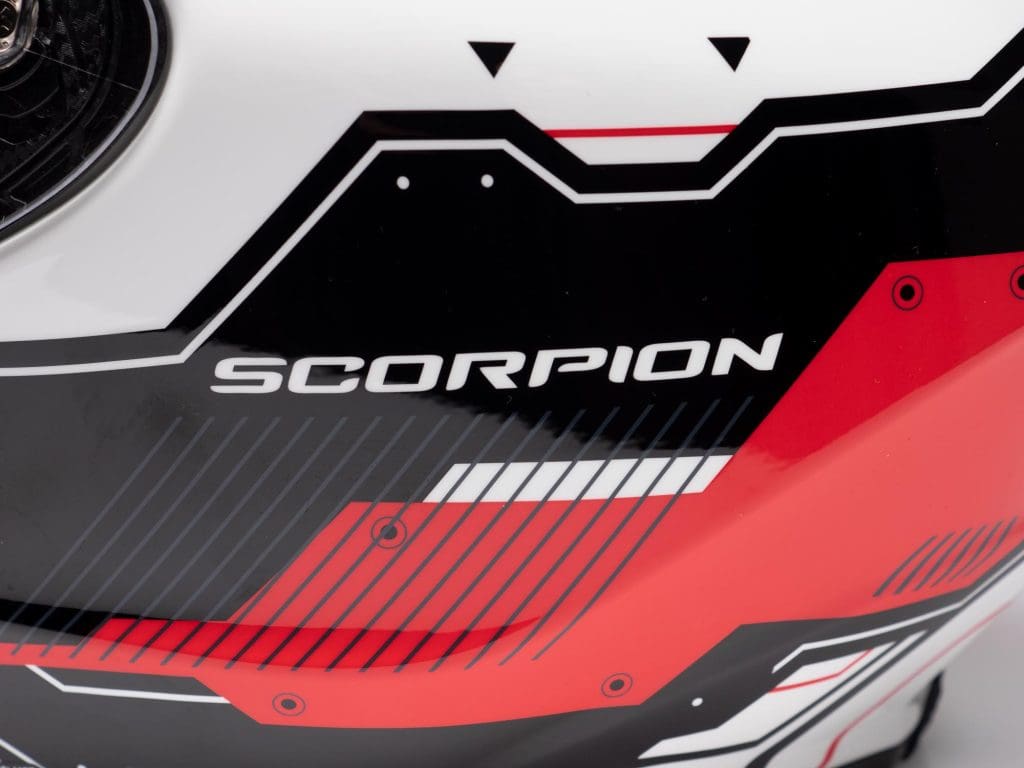 The sliding covers for the two vents operate smoothly and provide good tactile feedback. They feel nice and solid with a quality feel to them. They operate as nice if not better than some helmets costing twice as much..
Is any of this a surprise? Judging by the value/performance ratio of the R410, and even the original 400, I suppose it shouldn't be. Considering the price has remained the same since the R410 and only $10.00 (USD) more than the EXO 400 back in 2007 the ratio only improves.
Star result: 4.5
Helmet Fit And Internal Shape
Fit for this size large (59cm to 60cm) EXO R420 I received is very similar to what I would expect most major helmet manufacturers, if maybe a bit on the snug side. It is important to keep in mind though that I believe the size large uses the larger of the two shell sizes used for this helmet. As such, the padding is going to be very thick so it may start off a bit snug but will break in and provide a good fit after a few hours of wearing.
As it comes out of the box, the fit is similar to my recently reviewed HJC RPHA 70ST after it had broken in. I still feel the HJC is a bit snug now so the EXO R420 should break in just fine. This is much better than the EXO 400 I had back in 2007. Back then the 400 series ran almost a full size small.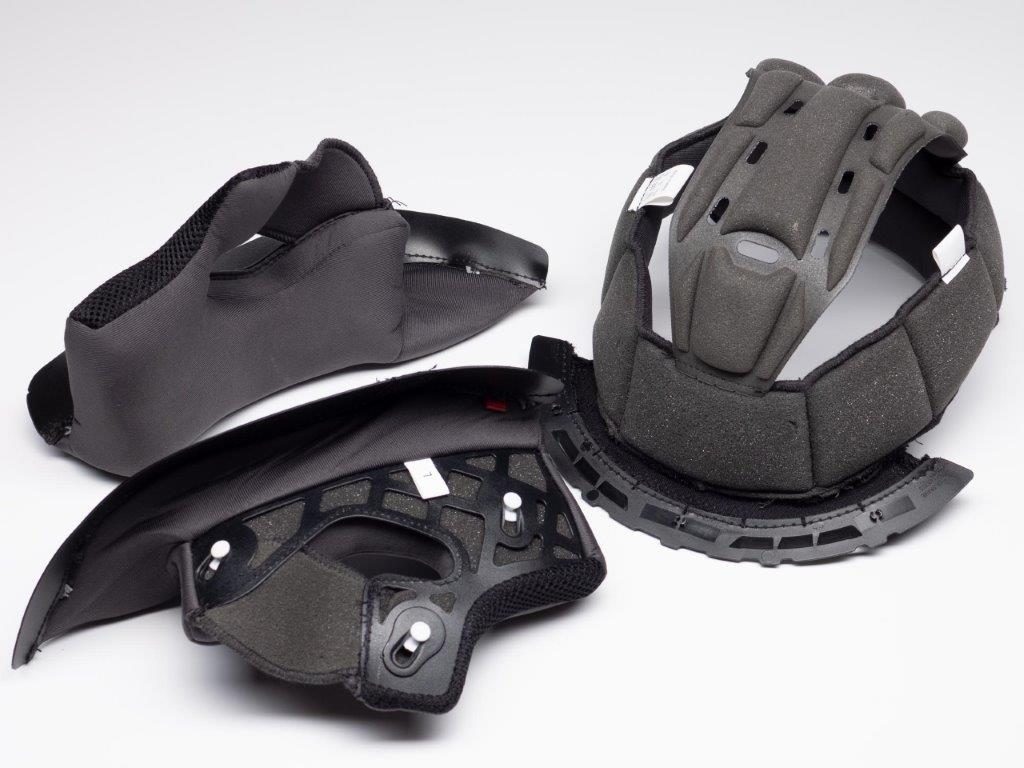 Internal shape is somewhere between an intermediate oval and neutral meaning it falls between the EXO 400 and EXO R410 helmet shapes where the R410 was more neutral to round and the 400 was more oval in shape. For my intermediate oval head shape, pressure against my melon was pretty consistent with less pressure only at the five and seven o'clock positions.
Some of the helmets I've been wearing and reviewing lately seem to be moving the chin straps closer to the neck. This is something I am not a fan of so I'm pleased to report that the chin strap is in a more traditional position where it rests under my jaw and not applying pressure rearward. This is a personal thing and everyone will have a different fit.
Star result: 4
Eye Port and Visibility
Side to side visibility is a bit above average compared to most helmets I've tried with very good peripheral vision available. This is always helpful for staying aware of hazards and dangers around the rider.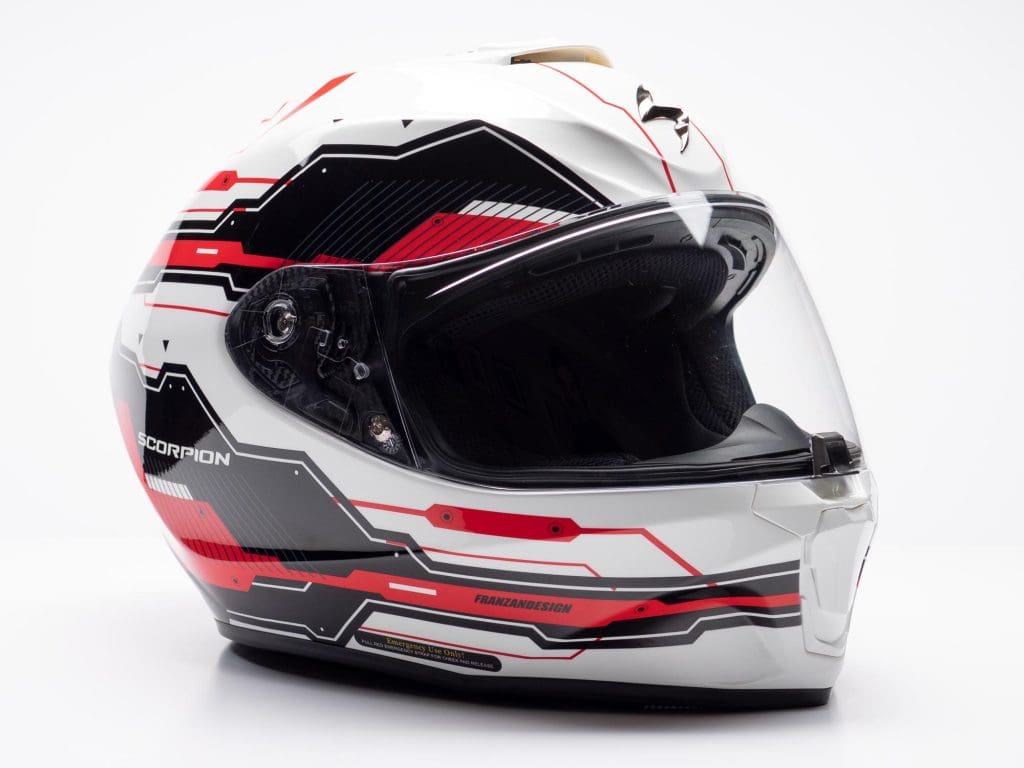 The top to bottom view is a bit more restrictive with what I would consider just an average field of view. The lower end has a bit more view than the top, at least for me with my head shape. This makes the helmet well suited to a more upright riding position such as standard, touring, and sport touring riding.
Riding in a full tuck can restrict vision a bit. When laying down on the tank of my Ninja 1000, the top edge of the eyeport took up more of the forward view than I would like. It might be ok depending on individual fit and head shape so not everyone will share my specific experience.
Face Shield
The face shield is mostly optically excellent presenting very little (if any) distortion to most of the field of view. I do need to point out that when I tested field of view at full tuck, I noticed the top edge of the visor did show noticeable distortion. This happens at roughly .5 inches ( 12mm) from the very top edge.
This wasn't a problem for my sport touring riding position on the Ninja 1000 but for those planning on taking this helmet to the track, I would suggest making sure this doesn't bother you on your particular bike.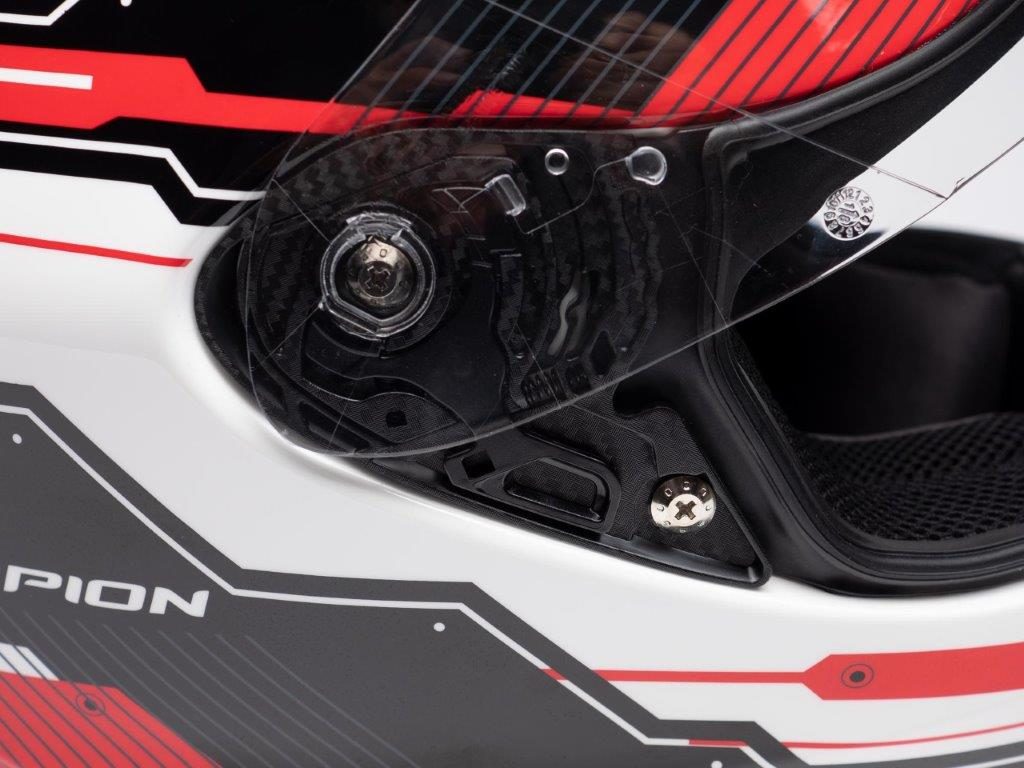 The extreme sides appeared pretty much free of distortion which is great but I would have preferred the situation reversed for optical quality between the top edge and the sides. I want to be clear that this is a pretty minor issue overall and in most cases would not even be noticed.
Scorpion has their own EverClear ® anti-fog coating that they apply to their face shields and my testing showed it to be pretty effective. If I really went after the visor with some repeated fogging attempts I could start to see a brief bit of quickly clearing fog but nothing that would obscure one's vision.
I can say from experience with previous Scorpion helmets that this coating, like similar coatings from other manufacturers, will eventually fade. One should avoid cleaning the interior side of the visor as this will accelerate the deterioration. Fortunately, there is a Pinlock visor available for those looking for that solution. I prefer Pinlock shields myself but I'm not surprised that a Pinlock visor isn't included for the price.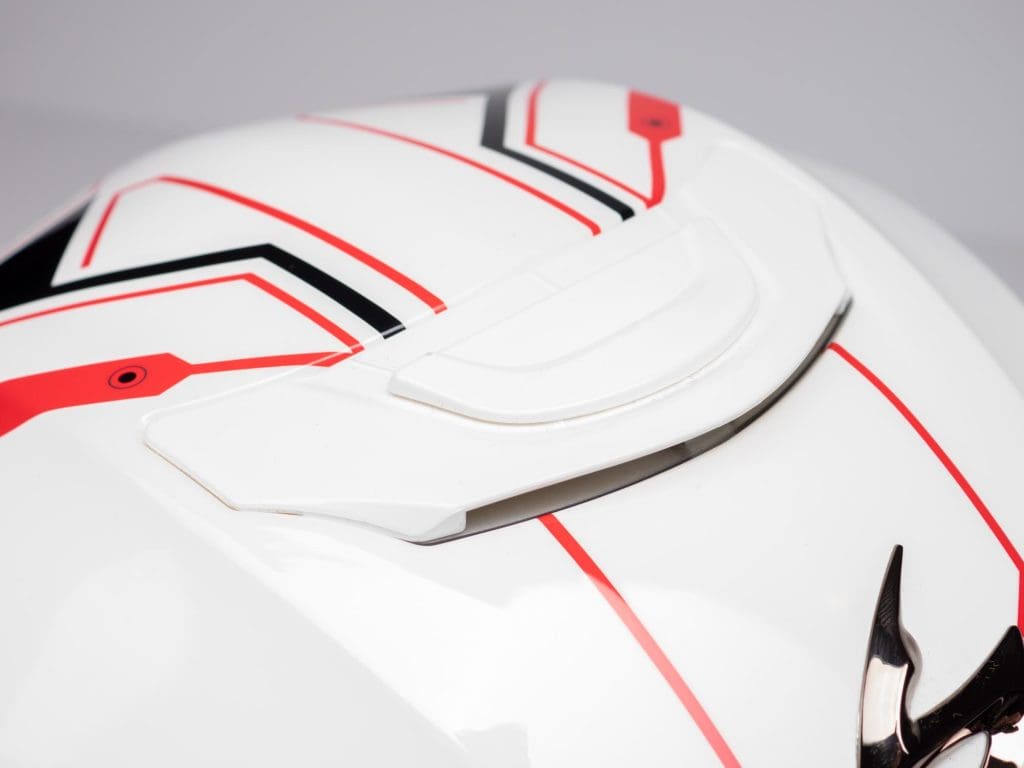 There are seven positions for the visor from closed and locked to fully raised. When fully closed and locked, unlocking the visor will allow it to open about 5mm making for a good demisting position or to add some extra airflow on a hot day.
Raising from the unlocked position to the next one up takes a solid lift as it has to overcome the Ellip-Tec® II system's spring-loaded gasket sealing mechanism (more on that in a minute). From there, the rest of the positions are pretty easy to select with the top position having some extra pressure on it to hold it in place.
Face Shield Removal
Like most modern motorcycle helmets, the EXO R420 uses a toolless visor removal system consisting of levers that are accessed when the shield is in the fully raised position. Once full raised one pulls a lever up (one for each side) and then pulls the visor forward and up to release it from the pivot point. This takes a bit of a tug to get the ratchet pin out from behind the ratchet position and then the visor will pop free on that side. Repeat on the other side to completely remove the visor.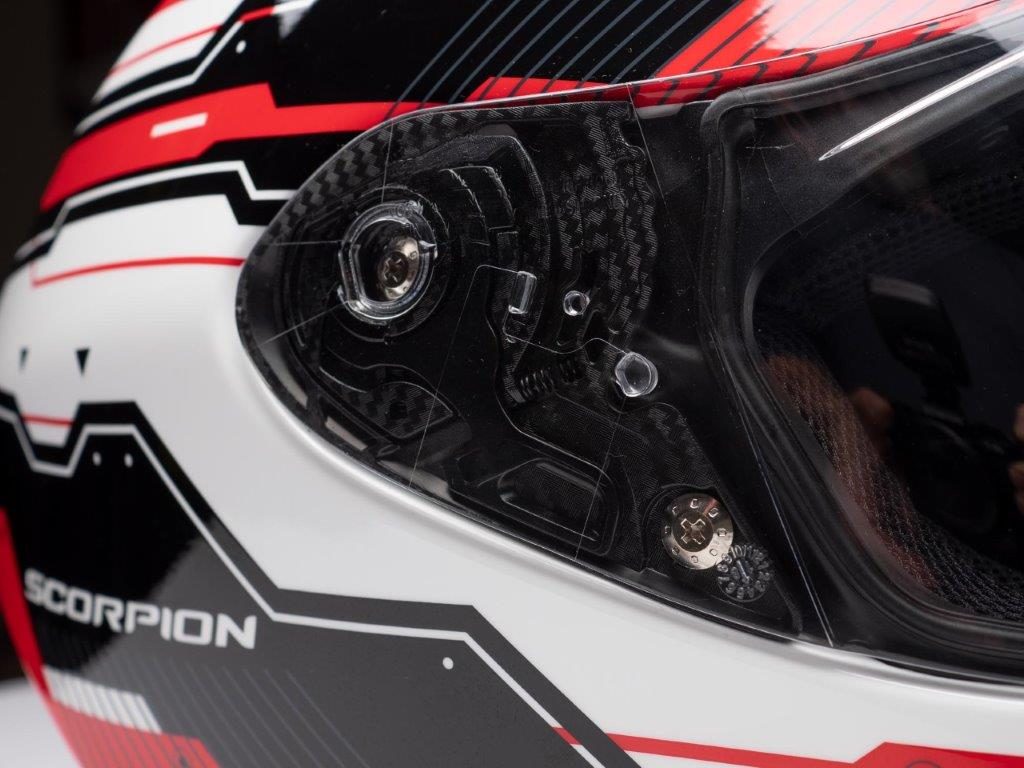 Re-installation requires one to hook the ratchet pin in the top position and then pushing the visor in towards the pivot to get the pivot point to pop back into position. It's not the most graceful system as it often results in a bit of a "snap" sound but I have done this several times and it doesn't appear to be anything that will damage the visor or mechanism.
Eyeport Gasket
The Ellip-Tec® II ratchet system mentioned earlier assists in making for a good seal of the eyeport. This spring-loaded system "pulls" the visor closer to the eyeport as the face shield is completely lowered.
This forces the shield up against the gasket which helps maintain a good seal even after the gasket material ages. Testing the shield by running water over the eyeport confirms that the seal is strong and complete.
Star result: 3.5
Shopping Now? We Recommend:
webBikeWorld works closely with Revzilla, 2WHEEL, and Amazon to provide our testers with quality products to review. While we have an affiliate relationship and receive a commission from items purchased, this addition comes at no additional cost to you. It is the primary way we pay for our site and reviewers.
RevZilla

Free shipping on orders over $40
30-day no-nonsense return policy
Excellent selection of all major brands
Awesome pricing
2WHEEL
Free shipping on orders over $49
Free returns within 30 days
All major brands
Cashback!
Amazon

Free shipping (with Amazon Prime)
30-day return policy
Excellent selection
Competitive pricing
Ventilation
Venting is handled by three vents, a chin vent, top vent, and an exhaust vent. The chin vent has three positions including closed. Sliding the cover down one "click" reveals a vent that directs air towards the face shield for defogging. One more click down opens a direct path through the chin bar.
Up top we have a closeable dual scoop that opens to two holes in the shell that go through the EPS liner. These are pretty straight shots through and one can easily see light from a flashlight through these holes inside. The rear exhaust "spoiler" covers to small ports through the liner that, like the top vent, appear to be paths from the interior to the outside.
The actual ventilation performance is a mixed bag. The top vent works "OK" and once I'm going around 40mph (65kph) I can feel a little airflow. I would say it is about average compared with other helmets. However, similar to what I have found on most helmets, the top vents just don't do much so when I say "average" here it's not exactly an accolade.
The chin vent is the exact opposite of the top vent as far as performance goes. Once open it flows copious air at the chin. It's almost too much. By using the middle position. designed to direct air at the visor only. actually serves as a happy medium since some air still flows through the chin bar vent in this position.
Star result 4.0
Noise Levels
Wind noise on the R420 is well controlled and better than many helmets in any price range. For instance, it is quieter than my HJC RPHA 70 ST, as well as my previous Shoei GT Air, and the Arai Vector 2 I recently reviewed.
At speeds around 40-50 mph (65-80 kmh) the noise is very low and consists of just rushing wind noise with no low end booming being perceived by me. Moving to highway speeds noise levels do pick up but are still lower than average. Very slight low-frequency noise starts to become audible but it remains well controlled.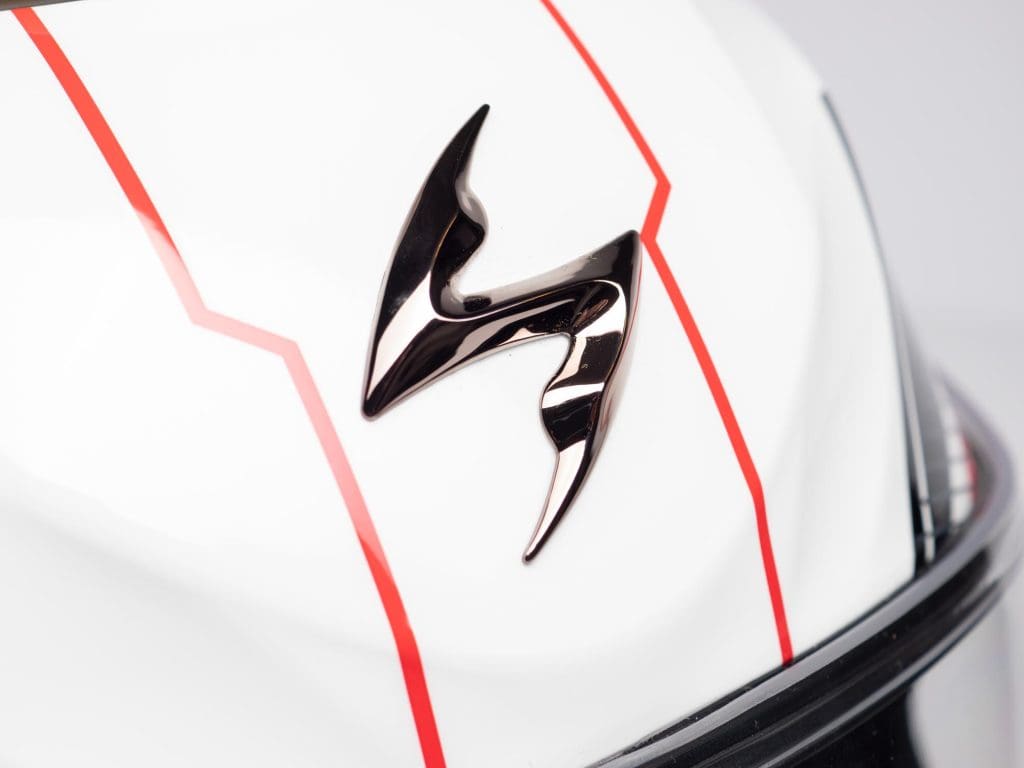 Size of the helmet will likely make some difference here as the padding thickness will have an effect on noise reduction. Overall, I found the R420 is a nice quiet place with it working well at any of the three positions offered by the windscreen.
Star result: 4.5
Helmet Weight and Feel
At 1750 grams (3 lbs 13.7oz) this size large R420 lands on the heavier side of the scale and it feels it when wearing. It's well balanced enough but it's a bit surprising to have a new helmet weigh so much. One might assume the polycarbonate shell is responsible but this is likely due instead to the Snell M2015 rating the helmet was designed to meet.
Even high-end helmets with composite shells, like the Shoei X-Fourteen, come in on the heavy side. The size XL Shoei X-Fourteen we reviewed weighed exactly the same. Yes, it is one size larger but this still heavy for a helmet in this range and the Snell rating is likely the culprit in both cases.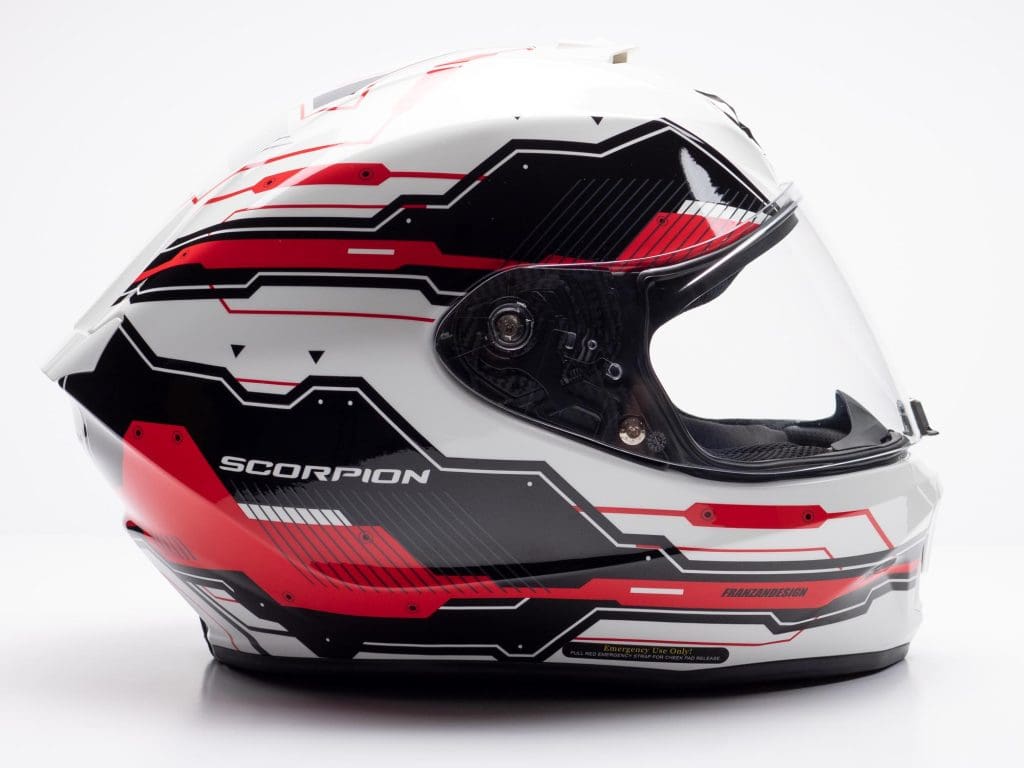 Once underway I found the weight never really disappears. This could be not only from the actual mass of the helmet but also the fact the size large uses the largest shell size. This can make the helmet "feel" heavier as the mass sits a little further out from the rider's head. In all fairness, the R420 weighs about 200+ more grams than the last two helmets I've been wearing on a regular basis so I'm a bit spoiled.
Riding around on secondary roads the heavy feel doesn't really intrude on the joy that that is motorcycle riding. Getting up to speed on the highway can be a different story. I found that once I reached about 60 mph I could feel the helmet wanting to lift. I tried all three windshield height settings the Ninja 1000 offers and none of them changed this behavior.
It should be noted that the Ninja 1000's windscreen is still pretty modest even at its highest setting. Taller and/or differently shaped windshields may change this behavior. A rider's height and head shape can also affect this so as they say, your mileage may vary.
Head checks when changing lanes are a bit fussy with the helmet taking on some minor buffeting when turning the head at highway speeds. Part of this is likely due to the large shell of the helmet but there are also some areas where the shape is a bit complex. These shaped spaces could also create some turbulence if the helmet is turned in certain ways at speed.
Star result: 3.0
Intercom And Speaker Fit
Scorpion has included cut-outs in the EPS liner (and internal plastic covering) for speakers and associated wires. The holes are about .25 inches (6mm) deep and 1.75 inches (44mm) in diameter.
These should accommodate many helmet communications system speakers but certain systems like my Sena 3s or the larger speakers on some UClear systems might not fit so well. The bottom surround of the helmet opening uses a pretty standard setup making it easy to insert clip style intercom holders between the shell and EPS.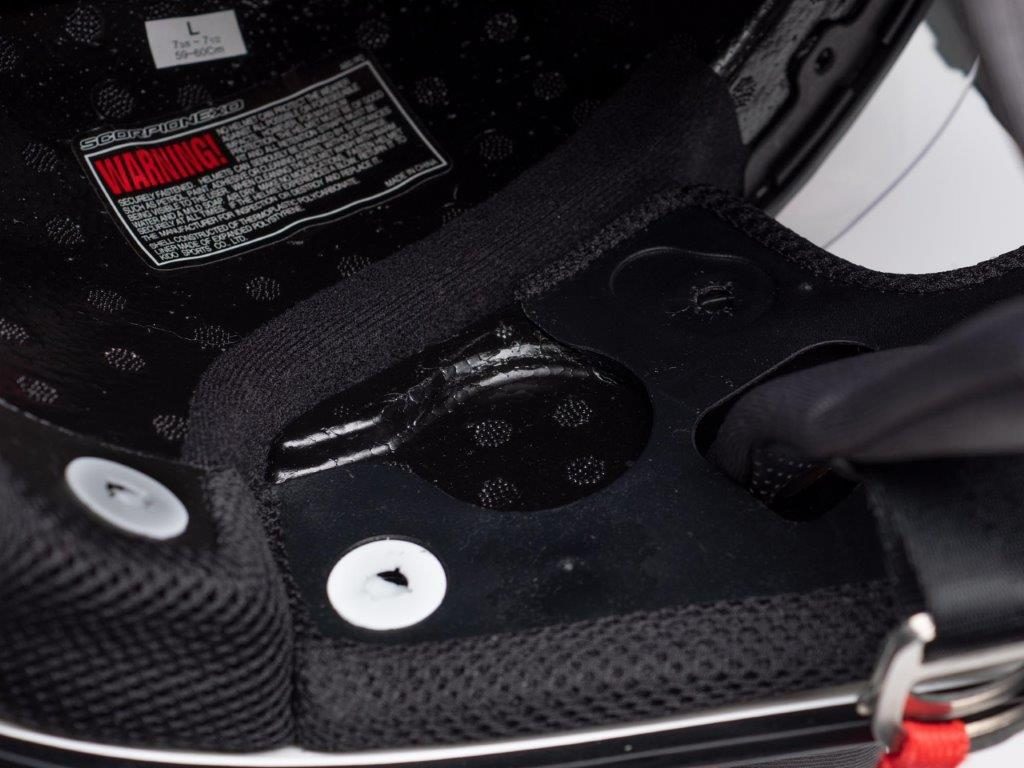 Safety Standards And Warranty
I greatly appreciate seeing emergency pulls on the cheek pads carried over from the EXO-R410 to the new EXO-R420. Looking at the underside of the helmet, there are two red fabric loops. These can be used by first responders to safely remove the helmet in the event of a crash without causing further trauma to the neck or head.
Pulling the red tabs will remove the cheek pads without the need to unsnap the connections. The plastic pins in the liner are set in a sliding holder that "pulls" the pins out of their connection when pulled in the removal direction.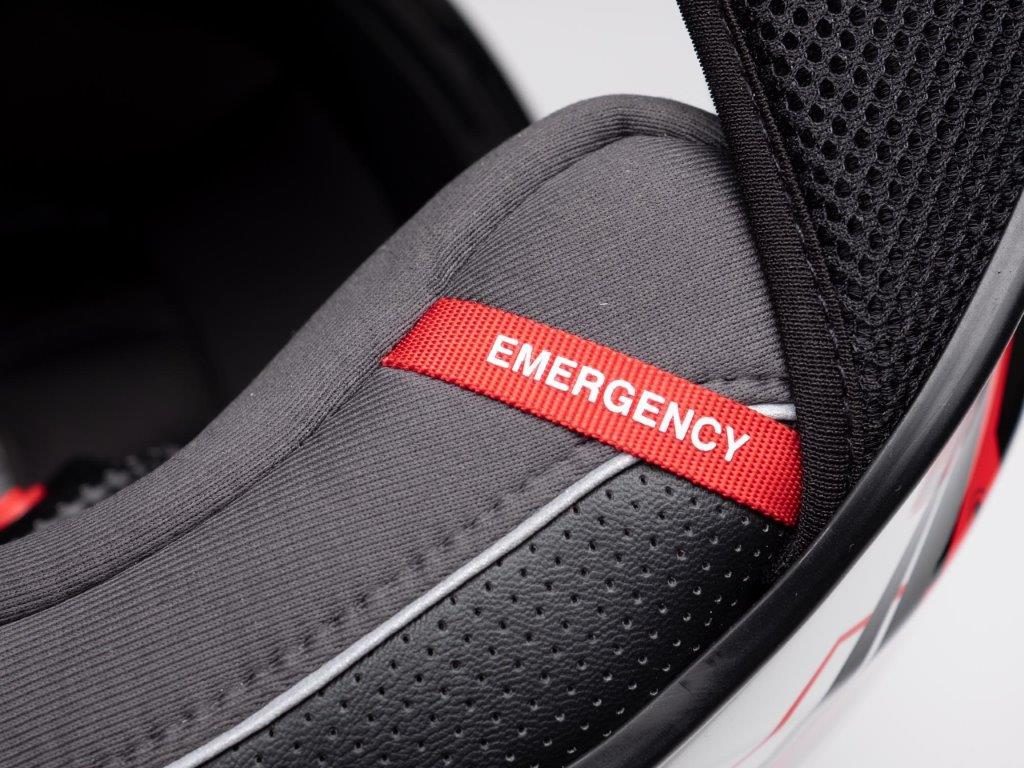 I feel emergency release systems like this should be included on every motorcycle helmet regardless of price and it's great seeing this important safety feature on what might be considered a "value" priced helmet.
The EXO-R420 meets both the DOT and the Snell M2015 standards and comes with one of the longest warranties in the business. Five years from the date of purchase or seven years from the date of manufacture, whichever comes first.
Star result 5.0
Conclusion
The 400 series helmets from Scorpion should be well served by the EXO R420. While it departs a bit from the more simple shell shape of the previous versions, it remains true to the spirit of providing good value and protection.
There are just enough styles and colors to satisfy most riders and they are finished with a quality clear coat and good attention to detail. Of course, style isn't likely the most important factor when looking at sub-200 dollar helmets but the available offerings at this price point are welcome.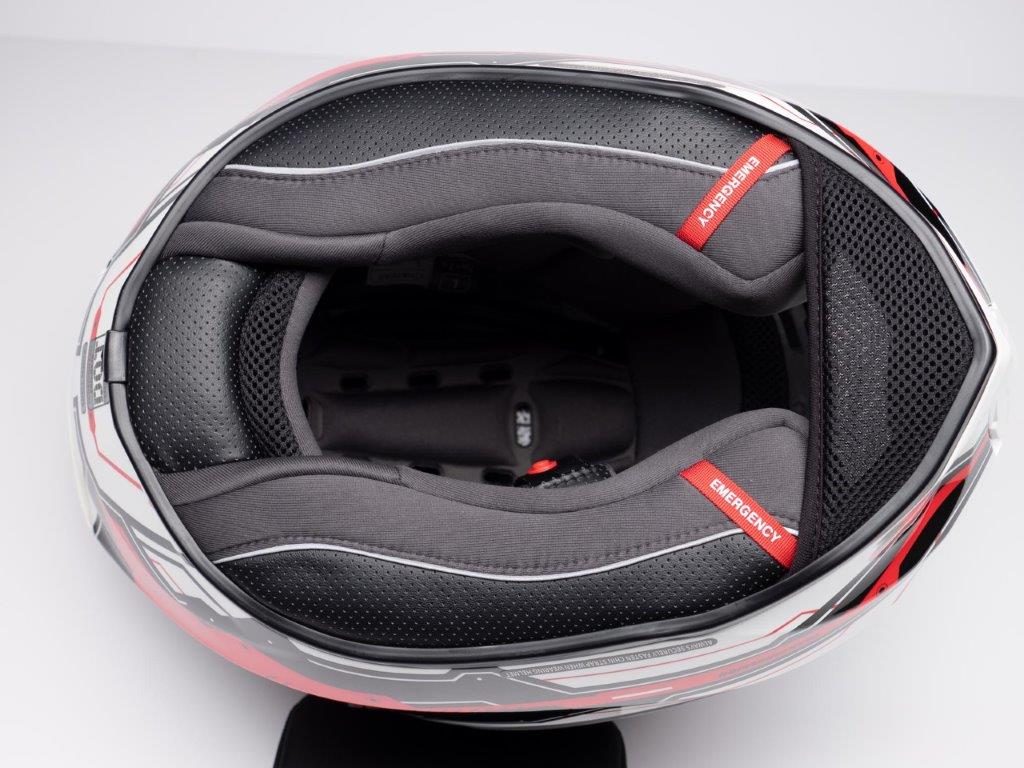 There are many nice things that can be said about the EXO-R420 but weight and the way the weight is carried can still be a show stopper for some riders. For me, the worst part is the tendency to lift at highway speeds which is pretty much a non-starter. Not everyone will necessarily experience the same behavior depending on their head shape, motorcycle, and riding style.
In all, the EXO-R420 is a very well put together piece of kit and it's hard to think of other helmets in this price range that can match it for safety and build quality.
Pros
DOT and Snell M2015 Certification
Solid construction
Finish belies inexpensive price point
Updated fit compared to R410
Cons
Large overall shell size
Tendency to lift at highway speeds
Relatively heavy
Specs
Manufacturer: Scorpion Sports

Price (When Tested): $149.95 (solids) | $159.95 (graphics)

Made In: China
Colors: Black, Matte Black, White, Titanium, 4 graphic patterns
Sizes: XS – 3XL
Review Date: July 2018
Shopping Now? We Recommend:
webBikeWorld works closely with Revzilla, 2WHEEL, and Amazon to provide our testers with quality products to review. While we have an affiliate relationship and receive a commission from items purchased, this addition comes at no additional cost to you. It is the primary way we pay for our site and reviewers.
RevZilla

Free shipping on orders over $40
30-day no-nonsense return policy
Excellent selection of all major brands
Awesome pricing
2WHEEL
Free shipping on orders over $49
Free returns within 30 days
All major brands
Cashback!
Amazon

Free shipping (with Amazon Prime)
30-day return policy
Excellent selection
Competitive pricing
Scorpion EXO-R420 Image Gallery