A collection of motorcycles gathered over 40 years by motorcycle manufacturer and Grand Prix boss Giancarlo Morbidelli will finally go to auction after twice being postponed.
The world-class selection of 200 post-war road and racing motorcycles from the celebrated Morbidelli Motorcycle Museum in Pesaro, Italy, was to be sold at the annual Bonhams Autumn Stafford Sale on 18-20 October 2019.
However, that auction was postponed due to a delay in the administrative process concerning the export of the machines.
It was then scheduled for 25-26 April 2020, but was postponed because of the coronavirus pandemic.
The bikes will now be the centrepiece of the Bonhams Summer Sale taking place on 14-16 August at Bicester Heritage.
It will be the largest single private collection of motorcycles yet offered by Bonhams.
"He spent day and night in the museum," says his son Guianni. "He had no other life."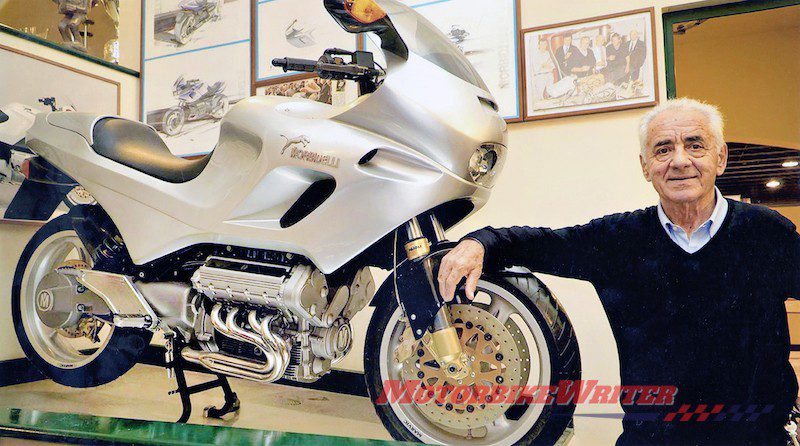 Giancarlo's collection includes international brands such as Harley-Davidson, Honda and Benelli ranging from immaculate restorations to prototypes and barn finds.
They represent the passion of the farmer's son and former woodworking machinist who, while building up a successful engineering firm as his day job, spent his spare time on tuning, racing and later building his own motorcycles. 
Morbidelli highlights
Two examples from the Morbidelli Grand Prix racing motorcycle collection, largely designed and built by Giancarlo, were fabricated by a small, dedicated team in a corner of the Morbidelli woodworking factory. 
These proved to be 'giant killers' seeing off international corporations to claim the 125cc Grand Prix World Championship in three consecutive years: 1975, '76 and '77, as well as winning the 250cc world title in 1977. 
"He was a genius with bikes," says Gianni.
"He did everything by himself, working in a very small room. 
"Forty years ago, he laid the foundation of this incredible museum, spending a lot of effort, time, energy and money. 
"One part of the museum is dedicated to the period between the end of the 1960s to the 1980s when he built racing motorcycles. It's our family heritage, a part of our life, but we thought it would be correct to include in the sale two Morbidelli motorcycles that my father built."
The 1974 Morbidelli 125cc Grand Prix motorcycle is estimated to fetch up to £120,000 ($A214,500).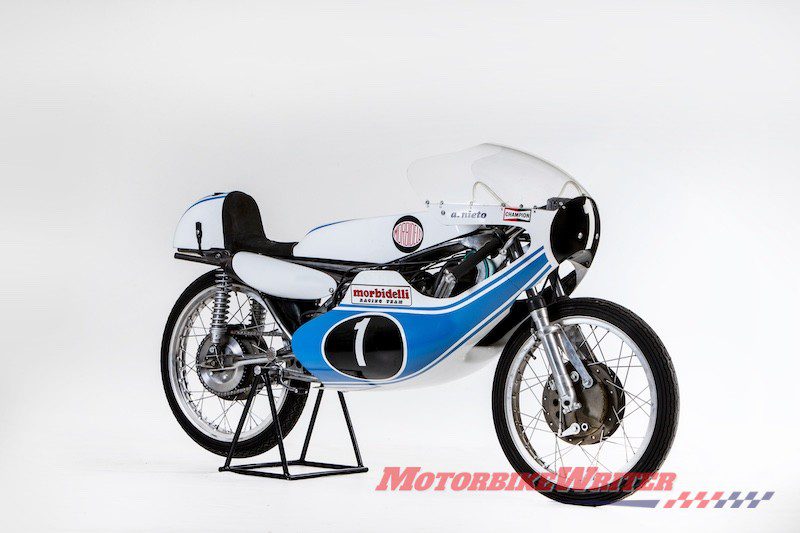 It was raced by the great Angel Nieto to second place in that year's Spanish and German Grand Prix.
A 250cc machine designed for 15-time Grand Prix world champion Giacomo Agostini, who rode for the team during its golden period in 1976, and came second at Misano is estimated to fetch up £100,000 ($A179,000).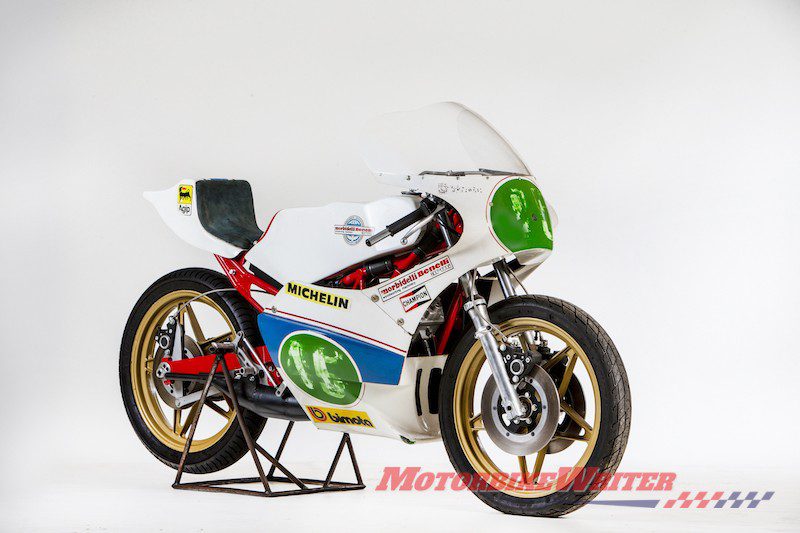 However, the Morbidelli family will retain ownership of the majority of the Morbidelli Grand Prix motorcycles, including the world championship winning 125cc and 250cc examples, raced respectively by Paoli Pileri, Pierpaolo Bianchi and Lego Mario.
Benelli features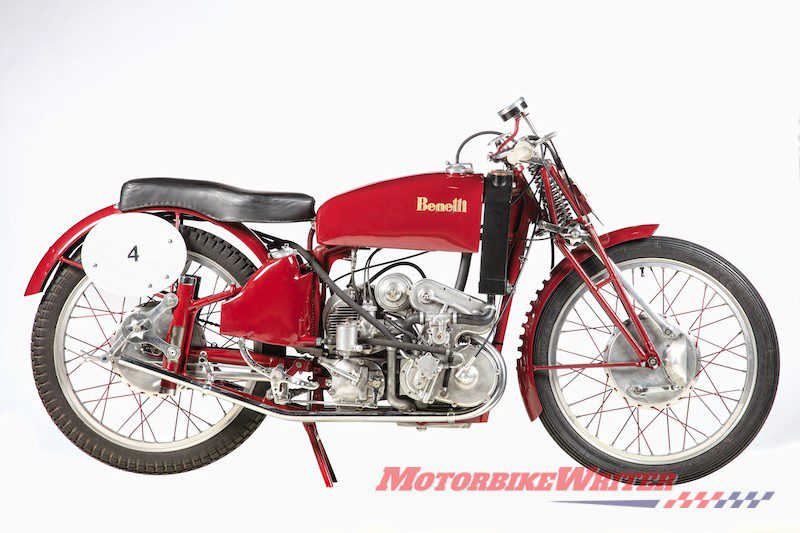 Not surprisingly, the Morbidelli Museum collection in the sale features a strong showing of Benelli motorcycles which were also a great passion of Giancarlo, coming from Pesaro, where this great historic brand was also founded.  
One of the most interesting examples of the marque on offer is the 1942 250cc supercharged 4-cylinder example that could fetch more than £600,000 ($A1m).
This racing machine never actually raced. It was built just in time for motorcycle racing to be stopped due to the war, while supercharging was banned by the FIM in post-war years.
Giancarlo had a personal relationship and friendship with the Benelli family and so was able to procure the original parts which he rebuilt into a fully-functioning motorcycle.
Other Benellis to be offered include: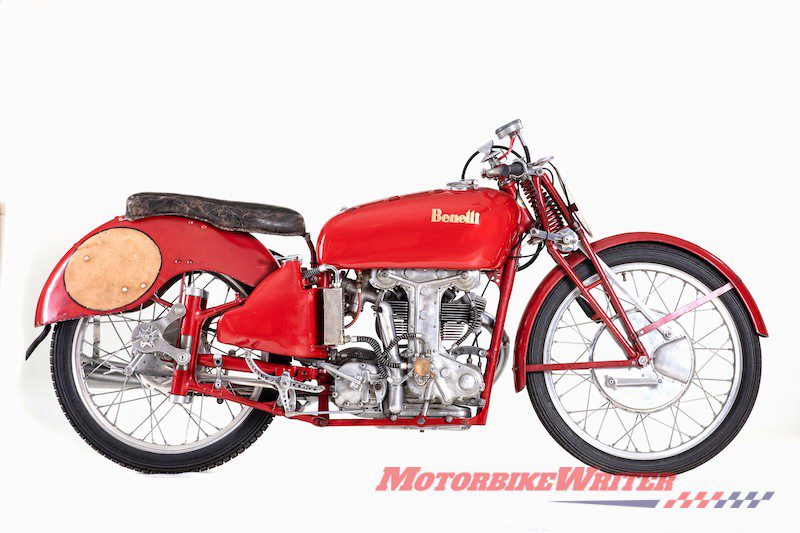 1950 Benelli 250cc Grand Prix racing motorcycle – the world championship motorcycle ridden to victory by Dario Ambrosini. Estimate £120,000 – 180,000.
1934 Benelli 175cc Bialbero – believed raced by Dorino Serafini, one of only three in the world. Estimate £40,000 – 60,000.
1964 Benelli 250 Grand Prix racing motorcycle, ridden and signed by two-time world champion Tarquino Provini. Estimate £80,000 – 120,000.
Ducati jewel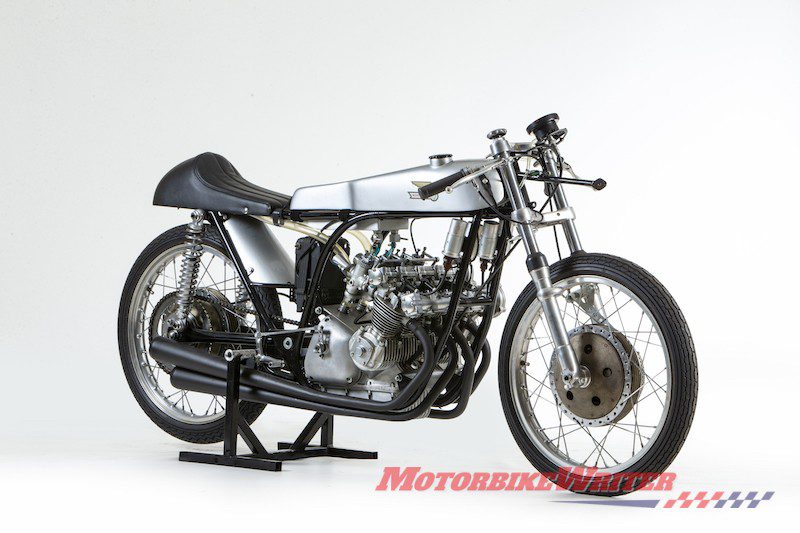 Another jewel of the Morbidelli Collection is the 1964 Ducati 125cc 4-cylinder Grand Prix racing motorcycle, (estimate £400,000 – 600,000), another GP racing machine which never raced. Created by Fabio Taglioni, Ducati's chief engineer, this motorcycle disappeared for some years before its engine was found in Russia while its chassis reappeared in Yugoslavia, now Croatia. With the two essential components reunited, Giancarlo rebuilt the mythical motorcycle.
Alongside the pristine restorations, there are several unfinished projects in the sale, offering the opportunity to restore these machines as Giancarlo was hoping to.
The collection also comprises motorcycling memorabilia including Giancarlo's own reference library, original drawings, trophies, signage and other artefacts, giving a complete picture of the museum and the motorcycling world.