The Breakdown
The Spartan helmet punches above its weight in many ways. It's very comfortable, fits true to size, is very quiet, and the visors are optically very impressive. The Spartan has little to quibble about except for maybe the lack of color schemes available (in the USA) and the way one raises/lowers the internal visor. Definitely one of the better helmets out there that many riders may have never heard of.
Pros
Lightweight composite shell / Very comfortable liner / Good venting and solid controls / Optically excellent visors
Cons
Top to bottom outward visibility a little short / Top mounted visor slider can be a little awkward
Introduction
It's been a while since webBikeWorld reviewed a helmet from Shark. In fact, it looks like it has been nearly five years since we reviewed the "Raw" helmet. Maybe part of the reason was that Shark went through some changes in USA distribution? Maybe it was just simply that Shark was never quite the "household" name in helmets here in the USA like other brands such as Shoei, HJC, and Arai.
Whatever the case, I feel like the riders in the United States have largely missed out on one of the industry's best helmet manufacturers. Maybe that sounds biased, but that bias is driven by having owned four Shark Helmets over the past 10 years and having the opportunity to test and handle a lot of other helmets from a variety of manufacturers.
I'm not trying to say that Shark beats everything out there but they compete very well in quality and design with other manufacturers from what I have seen. So when I was provided the chance to get a new Shark helmet in for review I jumped all over it. Would Shark still be bringing the heat and putting pressure on their peers?
Let's find out.
In case you're not familiar with Shark, they are not new to the motorcycle helmet scene. 2018 marked the 30th year since Shark Helmets was established by two brothers in the South of France. In fact, Shark was the first manufacturer to commercially produce a carbon fiber helmet with the XRC Carbon in 1991. You can find out more at their website.
Shopping Now? We Recommend:
webBikeWorld has worked closely with RevZilla over the years to provide our testers with products to review. In addition to being a great site to shop from, they're also a great partner.
RevZilla

Free shipping on orders over $40
30-day no-nonsense return policy
Excellent selection of all major brands
Awesome pricing
Amazon

Free shipping (with Amazon Prime)
30-day return policy
Excellent selection
Competitive pricing
The Shark Spartan Helmet
The Spartan helmet is part of Shark's "Pulse" line of helmets which includes the Skwal and Vancore models. These helmets are a "sporty" design with a bias towards the sport, sport-touring, and commuting style of riding. Those wanting an aggressive design for full-on sport bikes might be better served by Shark's Race-R series.
For those familiar with Shark's previous helmet lines, the Spartan essentially replaces the Speed-R series of helmets. The Spartan continues the mission of the Speed-R series being biased towards riding in clean air on bikes with low or no windscreens. Having owned an original Speed-R I can appreciate the evolution here that has addressed some of the issues I had with that helmet.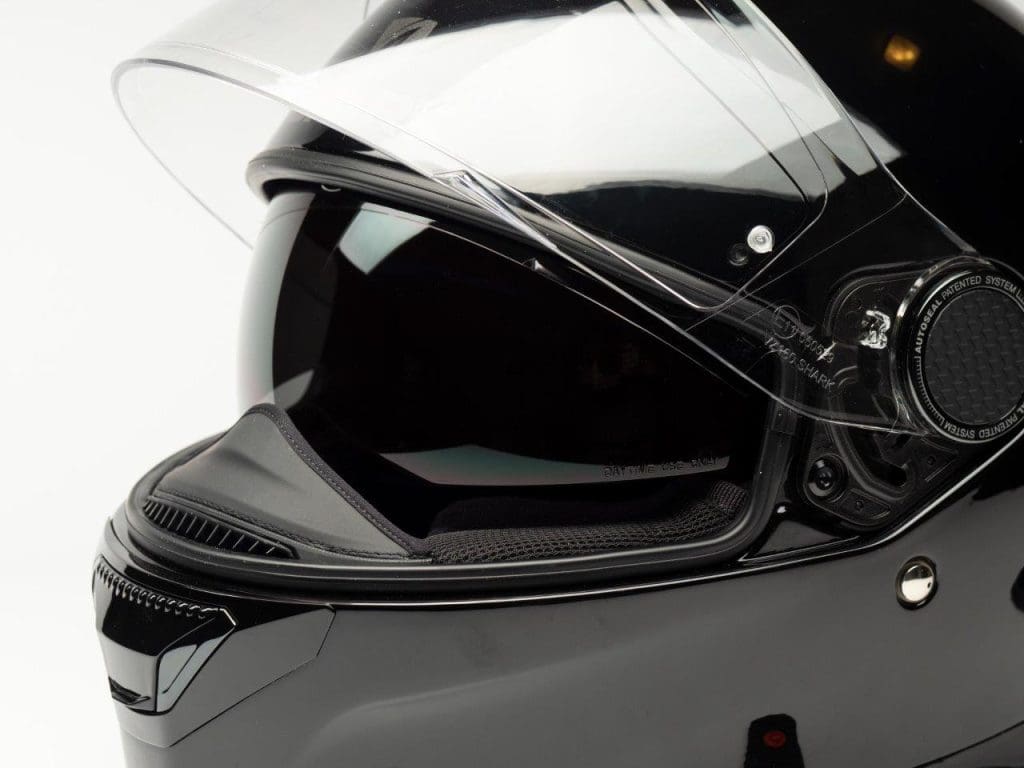 A drop-down visor (with a UV400 rating) is part of the feature set of the Spartan as well as cutouts in the EPS for helmet speakers. The Spartan's main visor includes provision for a MaxVision Pinlock insert and a clear insert is included with the helmet that can be installed by the wearer.
The cheek pads and liner are all removable for cleaning and are well secured. The liner put up quite a fight at the brow attachment point but finally relented. Don't get me wrong, I prefer these pieces be firmly in place, I just want to set expectations for those that feel they are doing something wrong trying to remove it.
A double D-ring is used to fasten the chin strap which is pretty typical of helmets bound for the USA market. Taking a quick look at European seller's site it appears that other markets get D-rings on this helmet as well.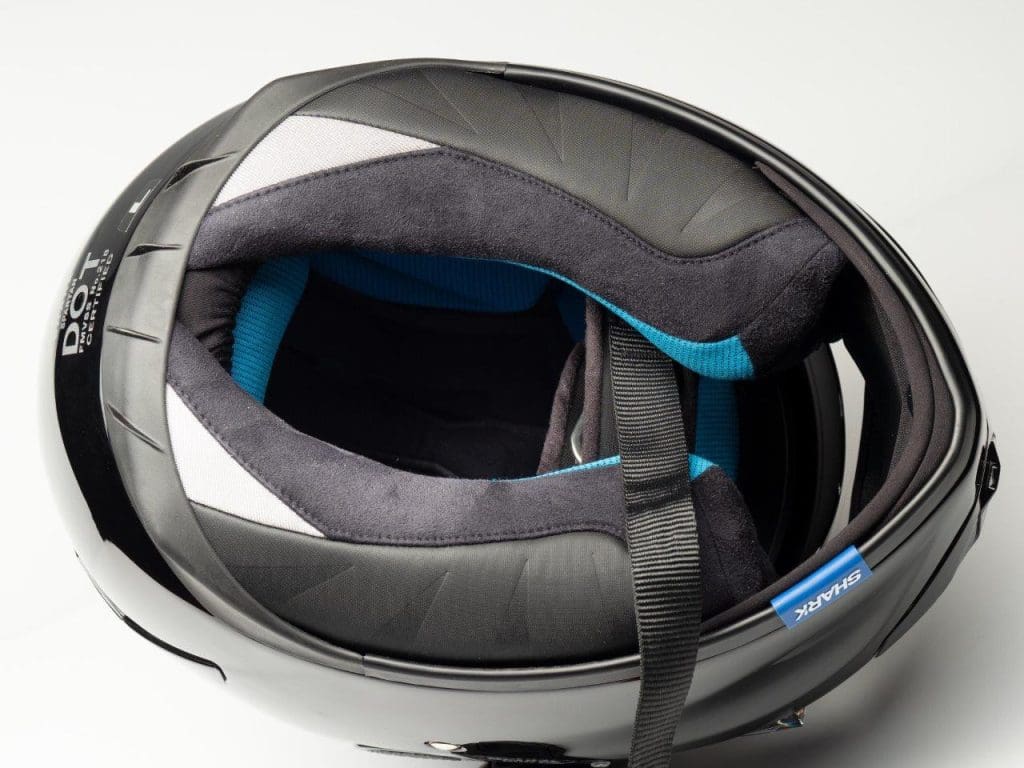 Speaking of the other side of the pond, Europe gets a significant increase in the color and graphics options for the Spartan helmet. The North American options are limited to solid white, black, and matte black plus a graphic pattern called "Karken". It's an attractive enough pattern available in a Hi-Viz / black gloss finish and two colors in a matte finish. A special edition "Lorenzo" graphic in the matte finish rounds out the color options.
The Shark Spartan is DOT rated for the North American units and ECE rated in other markets. Like some other helmets, it might pass a Snell rating test but Snell testing on helmets with an internal visor is a rare thing.
With the overview out of the way, let's have at the details.
Paint & Graphics
When asked about reviewing one of these helmets I had requested a graphic style. I often do this and have a couple of reasons for doing so. One, I want to be able to evaluate the quality of the graphics placement and the overall finish. This is an easier judge when you have some details to view. Secondly, I prefer to ride in a helmet that provides some visibility and, a bit selfishly, I want to like the look of it in case it ends up as my daily helmet.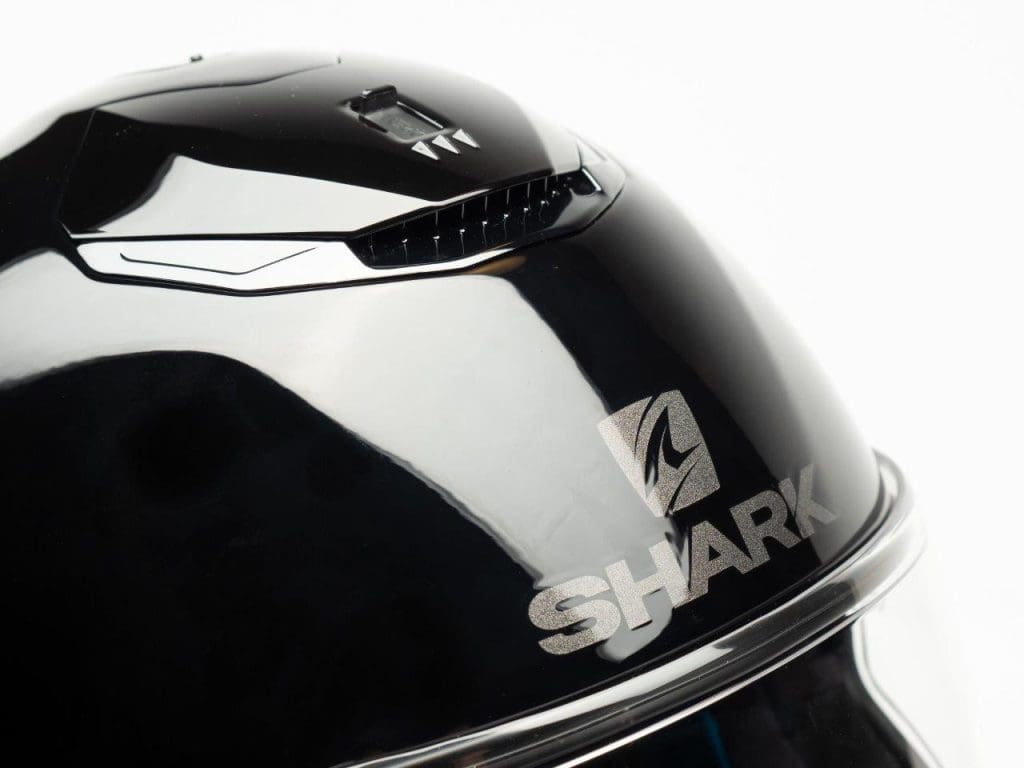 So, of course, I received a new Spartan "Blank" in black gloss. At least it's a gloss clearcoat. It may collect fingerprints but a smooth glossy finish makes it easy to see imperfections in the finish. As it was though there were no imperfections or dust under the clearcoat.
The finish is very smooth and evenly applied with the only noticeable areas of distortion present where the Shark logo and DOT labels are applied below it. Most clear coat finishes I've encountered on helmets tend to have a fine wavy pattern to them but the finish on the Spartan is much smoother with just a subtle bit of wave around the larger smooth sections of the helmet.
Despite the simple black paint, the overall finish is excellent and this extends to the vent pieces as well with most of them having the same paint and coating. Just a few trim pieces around the vents are in a different color with a dark gunmetal appearance but the same quality clear coat is present there as well.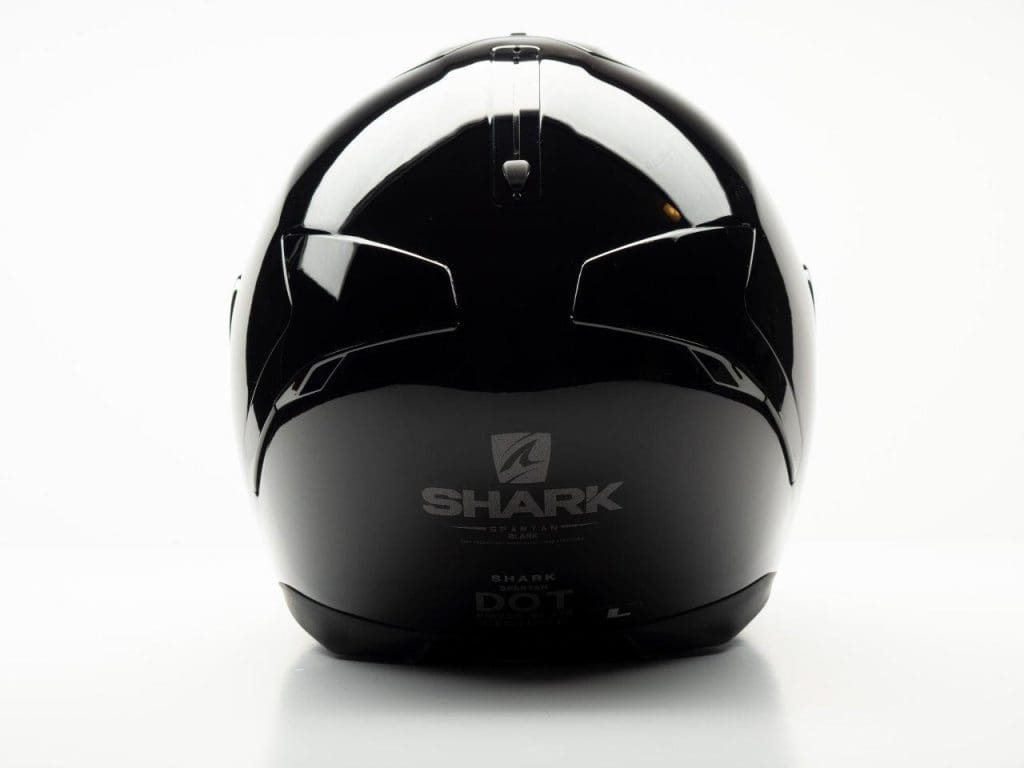 Construction
A fiberglass shell is this basis for the Spartan helmet providing the lightweight and stiffness associated with fiberglass based helmets. There is no carbon fiber option in the USA but, like the additional colorways, a full carbon fiber version is available in Europe in additional colors and graphics options.
Starting at the top of the helmet is a slotted opening for the top vent which has a sliding switch to open or close the vent. Just behind this going down towards the back of the helmet is a long slider that opens and closes the internal sun visor.
On the back are two large spoilers that include the rear exhaust vents underneath. A lot of manufacturers warn not to try and pick up a helmet by spoilers like this as they can be a bit delicate… Now I can't recommend that one do that on the Spartan but I have done so and they feel extremely solid. They aren't going anywhere unless one makes a serious effort (but don't try to break it, please).
Moving around towards the front are the visor pivots which are covered with a textured material Shark calls "Shark Skin". The idea is the dimpling reduces wind noise as it passes over this area. Does it work? We'll see in just a bit.
As we move around to the chin bar we have a standard left sided lift point on the visor to lower and raise it. Upon the front is the chin vent which opens/closes with a pivoting cover.
Inside the helmet, we have the usual with removable cheek pads and upper liner one expects in a modern full-face helmet. The rubber gasket along the bottom of the helmet widens at the rear providing some extra sealing that should reduce low frequency booming (that's my guess anyway) and we'll see if it works a bit later.
One thing I nearly missed is the included chin curtain. Most helmets have a curtain that is removable or in the case of my current HJC RPHA70 ST, offers an add-on piece to extend its coverage. The Spartan has a retractable chin curtain that appears like it could be removed but I can't imagine the need.
In the folded position one would likely completely miss the curtain is there. Opened up to the fully deployed position it covers a good portion of the chin area. When deployed it bows down a little bit to help push air down to reduce airflow up into the helmet. Be aware if it is not fully extended it can actually cause more air to come up in the helmet than when it is completely closed.
Overall construction is very good with all the switches and visor operating with a solid and durable feel. The slider for the internal visor is maybe the weakest link with the friction varying as it slides through the runner. It's not bad but it isn't as fluid as the mechanism on the Shark Vision-R GT Carbon I once had.
Shopping Now? We Recommend:
webBikeWorld has worked closely with RevZilla over the years to provide our testers with products to review. In addition to being a great site to shop from, they're also a great partner.
RevZilla

Free shipping on orders over $40
30-day no-nonsense return policy
Excellent selection of all major brands
Awesome pricing
Amazon

Free shipping (with Amazon Prime)
30-day return policy
Excellent selection
Competitive pricing
Helmet Weight
Placing the Spartan on a scale, this size large helmet weighed in at 3lbs 8 oz ( 1588G). This places it around to 80 marks out of the 270+ full-face helmets we've weighed here at webBikeWorld. It's in good company on this list matching the Nexx XR1R which at the time was one of the lightest non-carbon fiber helmets around.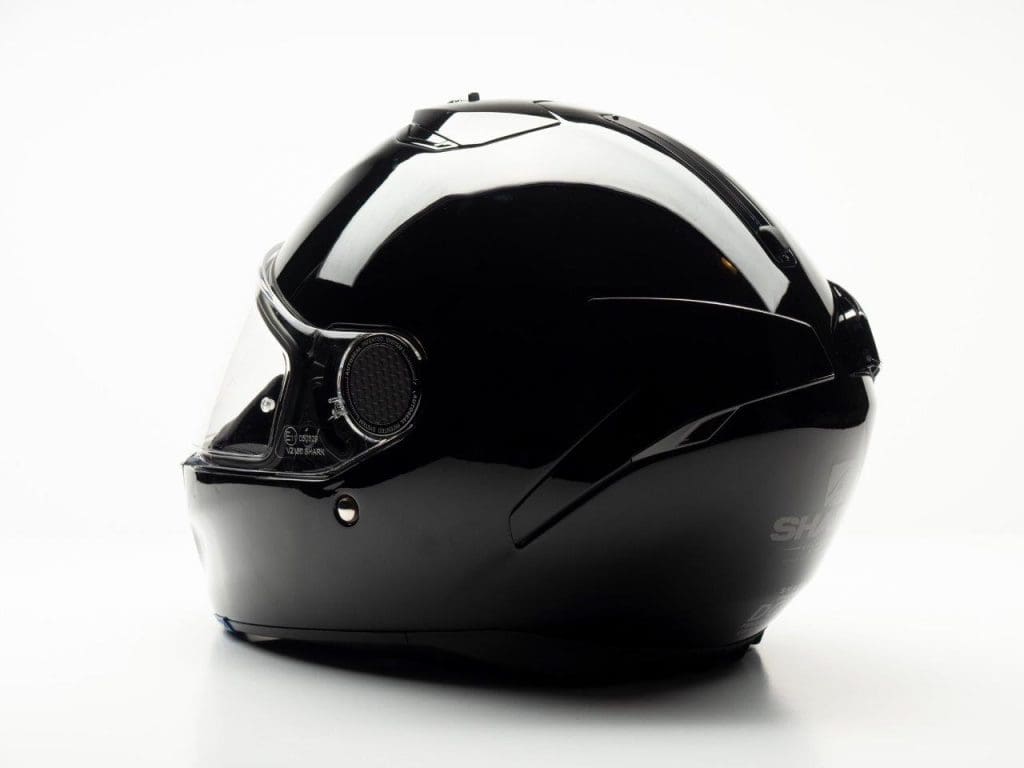 The lightweight is let down a little by the large feeling shell and as such, it feels a little top heavy. Not so much that it is a problem but there is so little fault to find I'll pick at it where I can :).
There may be a reason behind the large shell as I'm guessing that there are only two shell sizes in use. I can't confirm it but the EPS sections in the helmet are labeled to fit from XS up to XL which has me believe that the only one shell is used for all sizes except XXL.
Fit & Comfort
For those with an intermediate oval or medium oval head shape that typically fit in a size large helmet, the Spartan is going to be a very good fit. The size large is slightly more giving than the same size in my RPHA70 ST but is completely in line with most other size large helmets I've owned.
The bamboo fiber lined cheek pads fit well without too much "squish" in the cheeks and the overall light weight makes the Spartan a nice place to be for an all day ride. The top liner tends to sit a little high for me as do most helmets of this shape. If one has a bit more "dome" to their skull than I do they should fit just fine.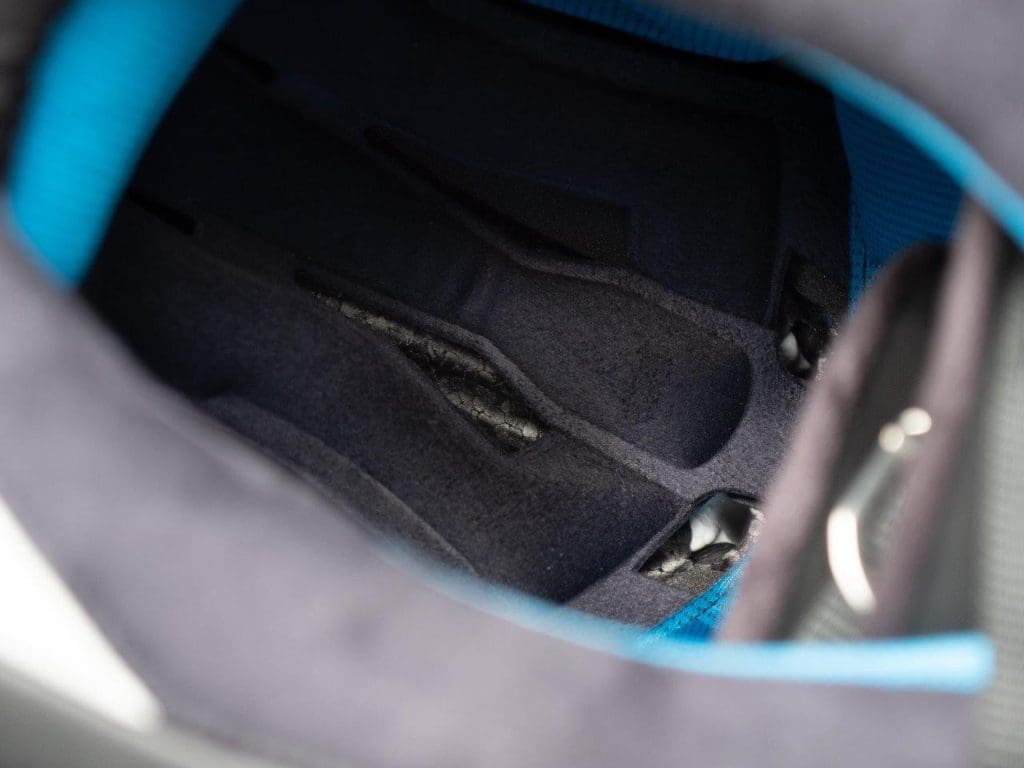 The bamboo fiber interior lining is some of the best I've felt in a motorcycle helmet. While the material is not quite as plush as, say an Arai liner, it's pretty close. Shark has struck the right balance between firm padding and plush feel against the skin, at least for me. I believe one would be hard pressed to find a more comfortable liner in this price range.
Comfort at speed can be compromised a bit but this depends on the rider's height and the height of the windscreen if present. I found at above 60 mph that the helmet was very stable if sitting upright-ish. In fact, it was easy to move one's head around with it trying to twist back at speed.
If one sits in a mildly aggressive position or full tuck, the helmet might try to lift a bit at speed. This would be annoying over a long time to me. I also was able to test this with my windscreen on the Ninja 1000 at all three heights. The higher the screen, the more lift was induced, as expected. It's not terrible in any case, but for me, this helmet seems to work best with a very low or no windscreen and in the more upright position.
Ventilation & Noise
Ventilation is provided by a chin vent, a top vent, and a pair of exhaust vents. The chin vent is operated via a large rocker panel on the front of the chin bar. It has a prominent ridge at the lower edge and series of raised dots along the top edge making it easy to feel with gloves on. The rocker opens and closes positively and has only open and closed positions without any intermediate settings.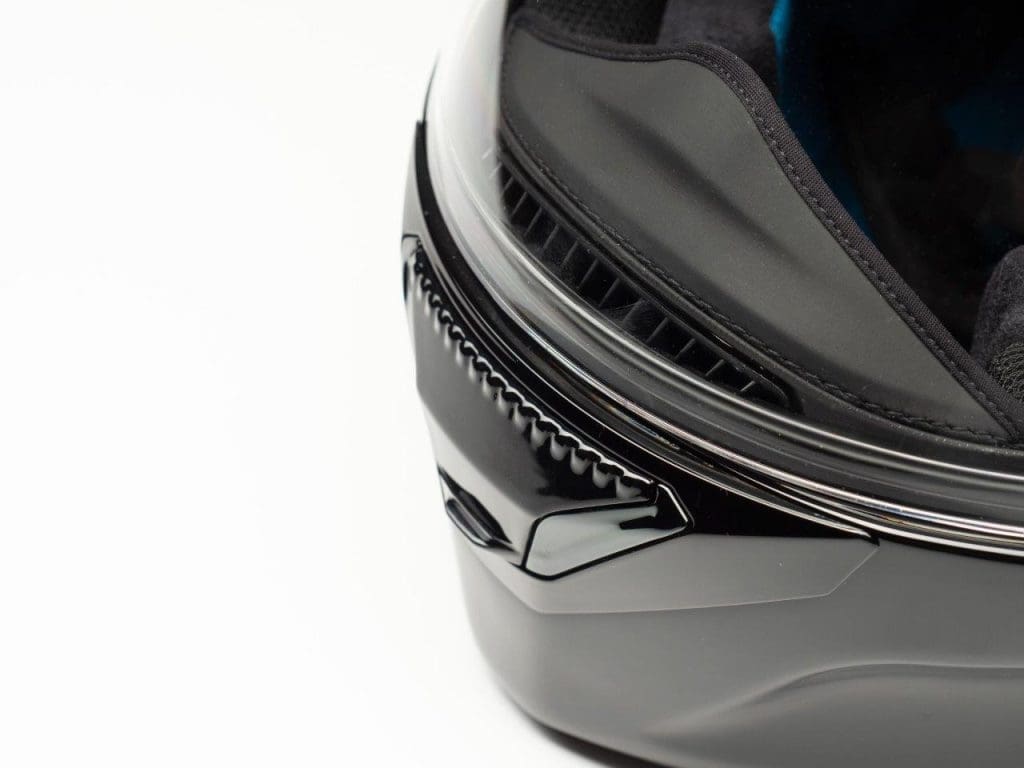 The chin vent pulls in air and directs all of it up towards the visor in front of the included breath guard. There is no path directly through to the face which I think would have been nice to include for those hotter days.
The top vent has a sliding switch which is easy to find with gloves on to open or close the vent there. Like the chin vent, this is an on or off switch. No intermediate settings here. The air enters through a slotted scoop and exits through two 10mm holes in the shell and EPS liner. The path is pretty direct and one can easily see light shone through the vents.
The rear vents are designed to exhaust internal air out under the ends of the spoiler. Like the opt vent, there is a very direct passage from the interior to the outside as light can easily be seen through these vents as well.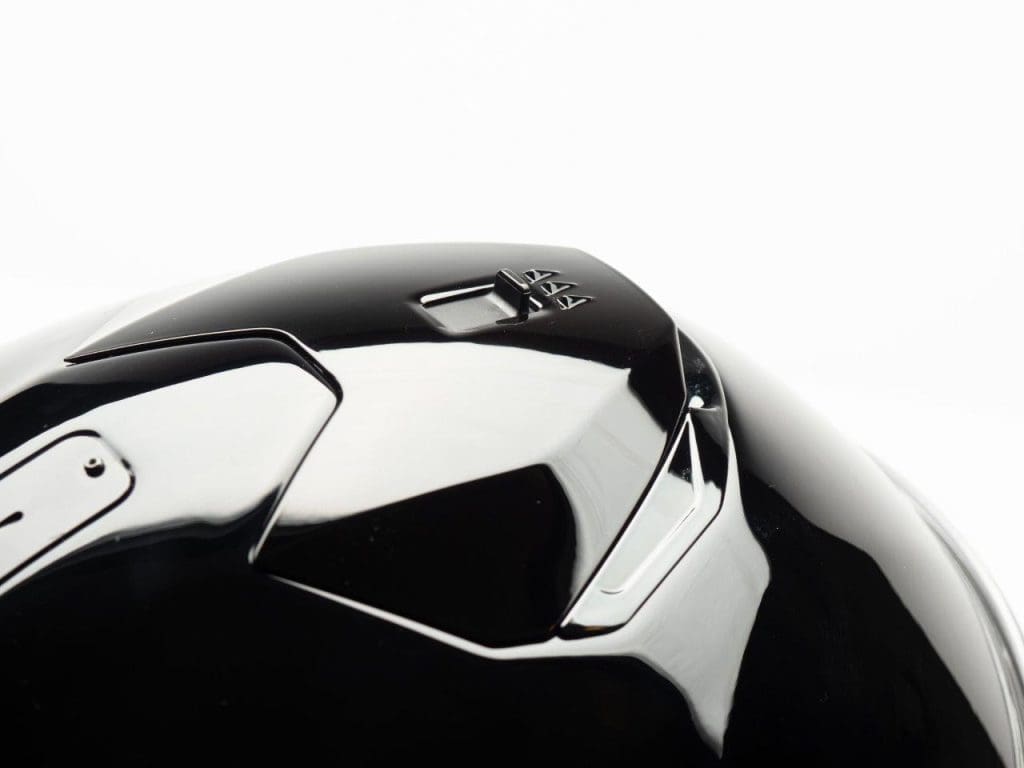 Overall ventilation is not bad but not much better than the average modern full-face helmet. The quality feel of the switches does instill confidence they will last and when shut they are definitely shut and do not leak much if any air.
Noise Levels
Here is where the Spartan really shines. This is the quietest helmet I have had the pleasure of wearing. That's not to say there aren't quieter ones out there but in my experience with about three dozen helmets, this is the quietest one.
There is some noise of course and it starts with just mid-range wind rushing noise around 25 to 30 mph. There is little to no booming I can hear. This remains pretty much steady until highway speeds of about 60 mph or more. At that point, the noise gets a little louder and "busier" but it is still well subdued.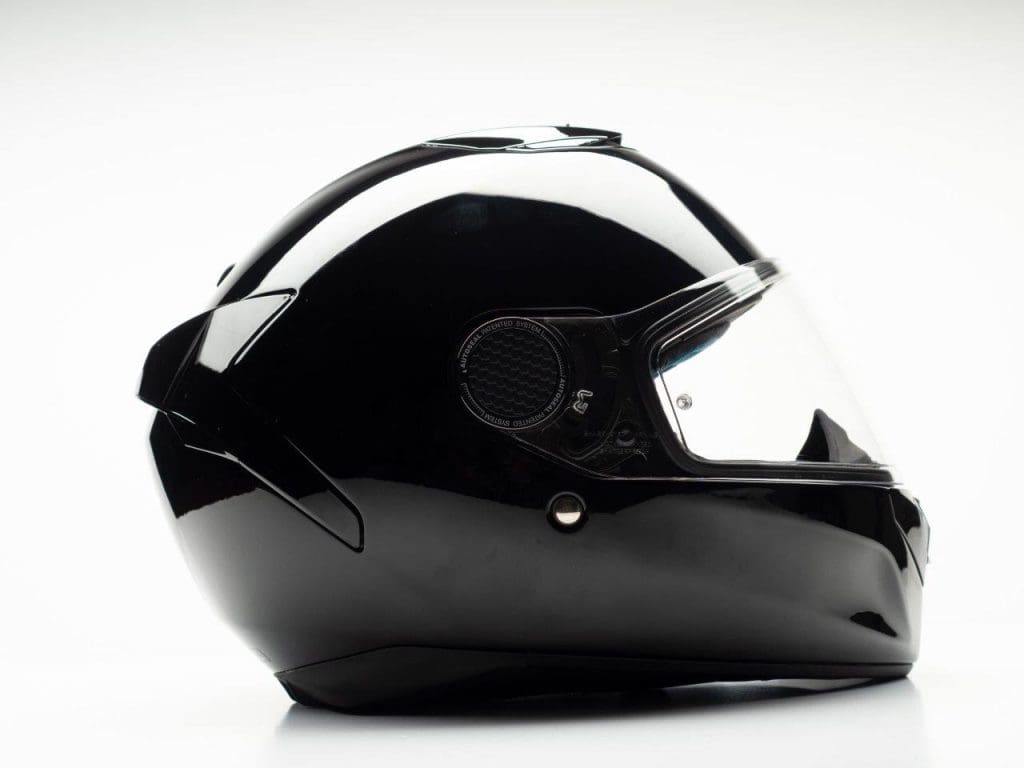 At 70 mph a little bit of low-frequency booming can be heard but it is never intrusive. As expected when raising my windscreen height does induce more wind rushing noise but it is still well controlled compared to any helmet I've worn in recent memory. However, one should keep the following in mind.
I always wear custom-fitted earplugs when I ride and of course when testing helmets like this. Also, rider height and motorcycle specifics such as fairing, non-faired, etc can affect noise levels.
Shopping Now? We Recommend:
webBikeWorld has worked closely with RevZilla over the years to provide our testers with products to review. In addition to being a great site to shop from, they're also a great partner.
RevZilla

Free shipping on orders over $40
30-day no-nonsense return policy
Excellent selection of all major brands
Awesome pricing
Amazon

Free shipping (with Amazon Prime)
30-day return policy
Excellent selection
Competitive pricing
Visor & Outward Vision
The view out the eyeport of the Spartan is about what I would consider average from side to side with good, if not great, peripheral vision. The top to bottom view is a bit less than average, especially when the breath guard is added to the mix. This may sound like a poor showing but I'm not sure everyone would agree.
For my part, I used to love the idea of a huge view out of the helmet. This is something I experienced in the Shark Vision-R GT Carbon I reviewed. All was beautiful until one is riding toward the sun in morning or evening.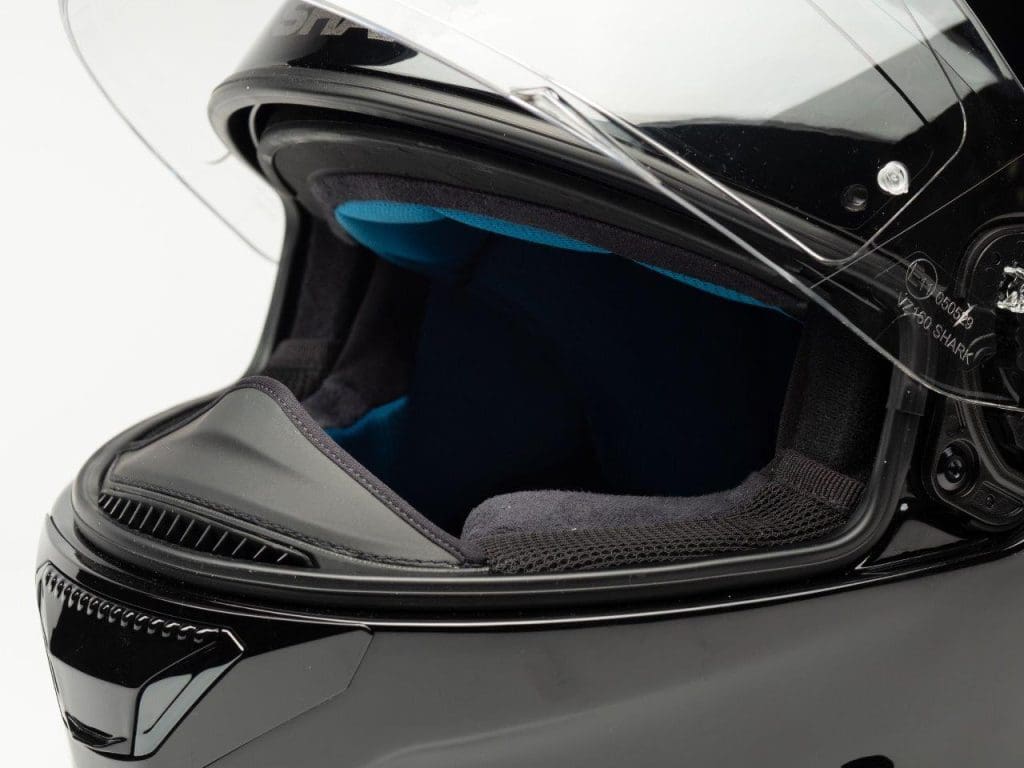 In fact, with the giant opening on that helmet, even late morning and afternoon could become a pain as the sun was in clear view. Other helmets with more modest openings can help shield eyes from the sun in these cases as internal sun visors are often not enough to cut back the sun's brightness enough. As such, I had a love/hate relationship with the panoramic visor view.
When it comes to the internal sun visor, Shark has got it right. The visor is darker than a lot of built-in shades like this (although it could still be darker) and it actually comes down far enough. It covers far enough down that the center half of the shade leaves no gap between the optical line where it meets the lower part of the eyeport. Only about 25% on each side does it show a small gap. This is lack of shade gap is something a lot of riders are looking for from these type of internal visors.
Optical Quality
Whatever one's feelings are on the size of the opening, the quality of view is also important and the visors fitted to the Spartan are excellent. Both the main visor and internal sun shade offer very good optical quality with very low distortion. Usually, the internal sun shades are the weak part as optical purity seems to take a back seat to the tinting. Not here.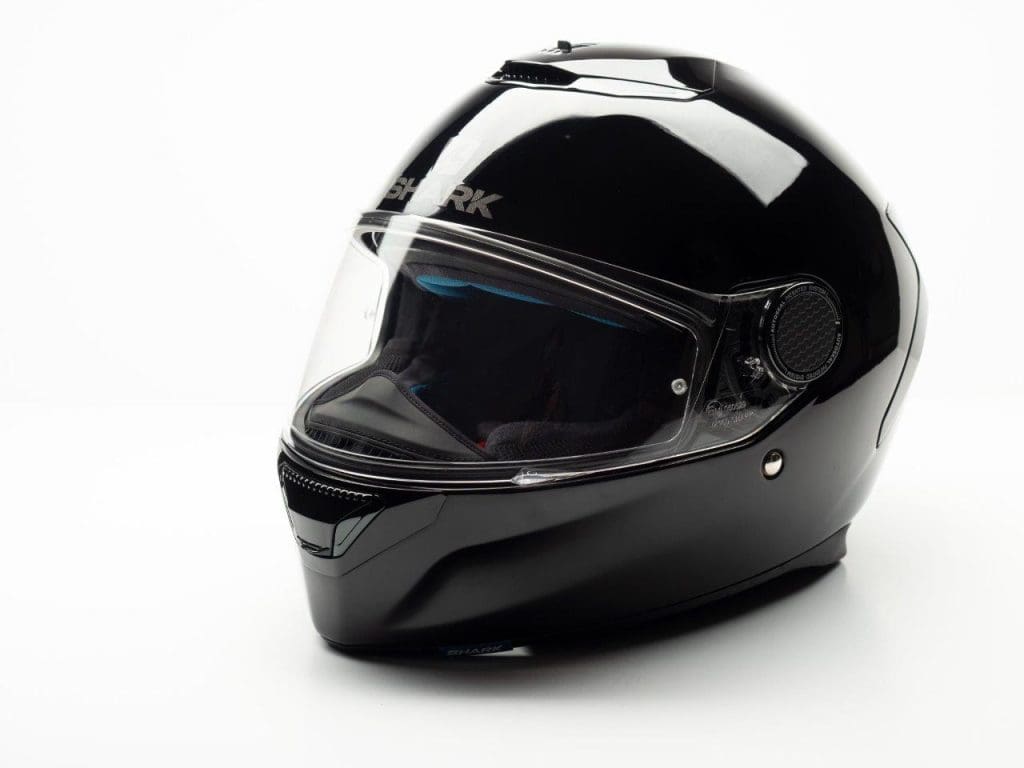 While I was on my first evaluation ride, I was noting how distortion free the view was through the main visor. I reached up to drop the sun visor in place to discover I had already lowered it down. I was impressed.
Visor Mechanicals
An elliptical setup is used on the main visor mechanism so as the visor closes it pulls in close against the eyeport seal. This makes for a tight seal and a very reassuring "thunk" as the visor closes. This is hard to describe but it reminds me of closing a door on a well-built car, and it gives the visor actuation a high-quality feel.
One of the best features of this visor is the removal setup. There are no buttons or levers to move here. Just raise it all the way, lift the edge away from the side a little and pull. The visor just pulls out from the pivot point. Putting it back in place is just as easy. I've seen this on other Shark helmets before and it so simple and elegant I'm surprised no one else uses it. Perhaps it's patented?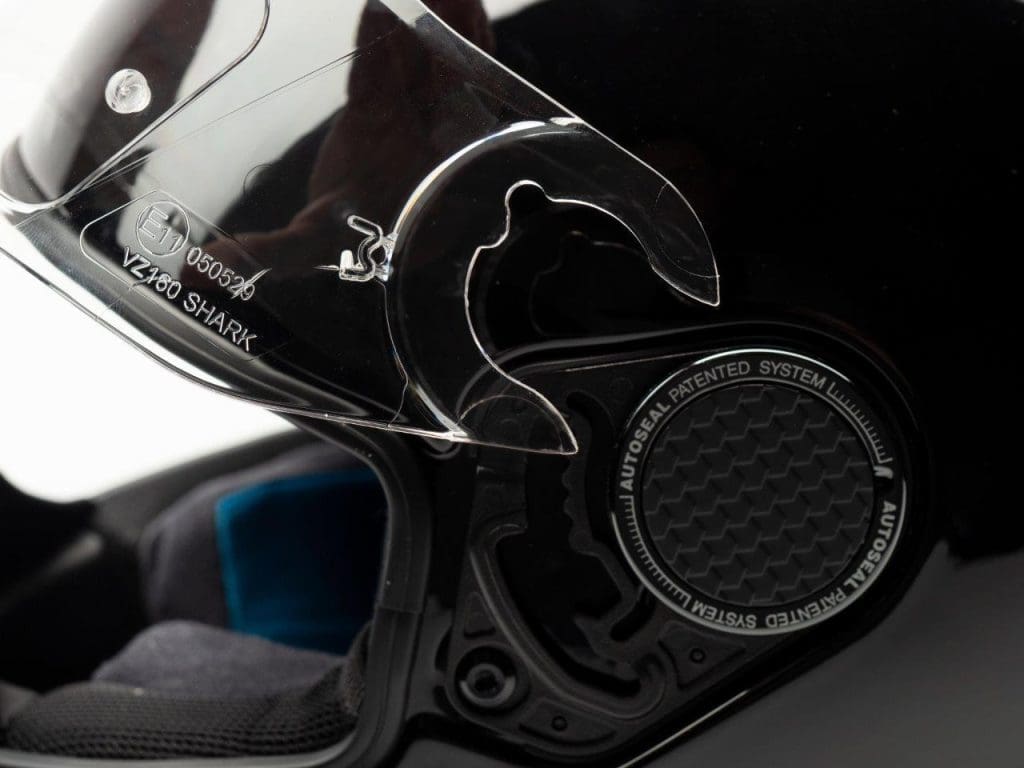 As for the internal visor mechanism, it may not be as refined as other moving parts on the helmet, but it has enough friction to remain at any position between up and down. I might not have much use for this but others might appreciate the versatility.
Conclusion
Starting at $369.99 for solid colors and $429.99 for graphics options, the Spartan is not a budget helmet but it is a good bargain when compared to other helmets in the price range. The fiberglass shell is strong and light and feels very solid and secure.
The liner is one of the most comfortable places to place one's head for a day of riding and the hushed wind noises make that ride a peaceful one. Even the limit placed on the top to the bottom angle of view is offset by the excellent optical characteristics of both the main and internal visors.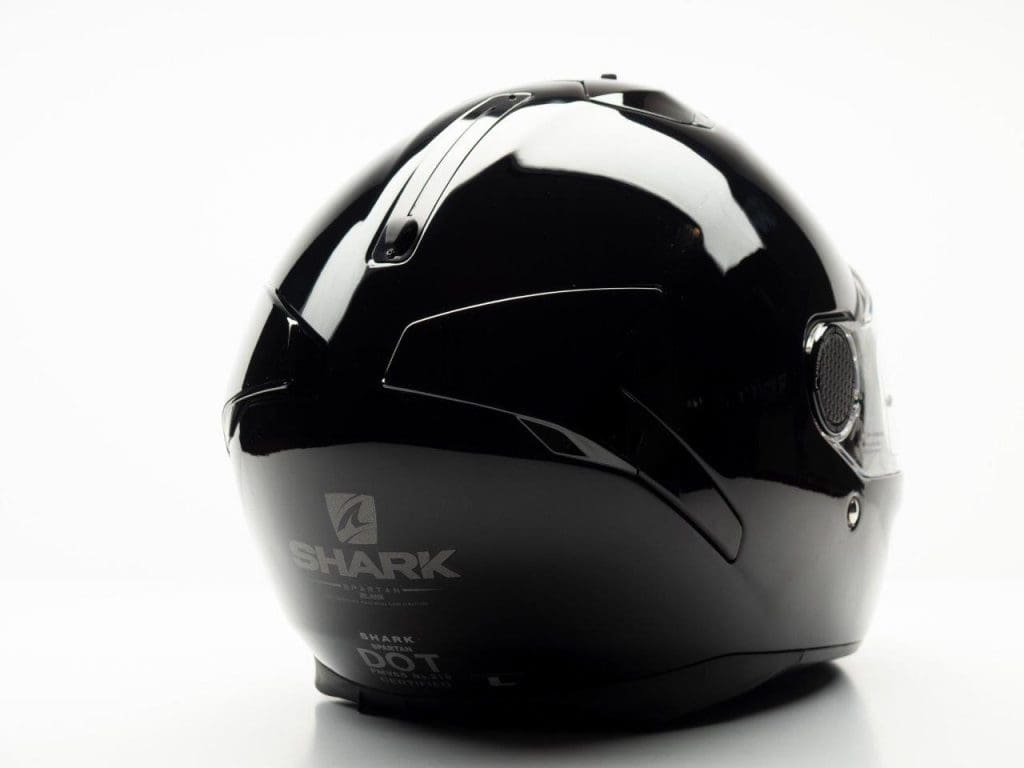 One can surmise I'm rather smitten with his helmet, and I am but there just a couple of things that keep me from giving this helmet a 5-star rating. I would like to feel a bit more ventilation for when the weather gets hot. Direct air through the chin bar would be helpful. Also, the helmet tends to lift a bit at highway speeds, at least on my head on my bike. Your mileage may vary.
For those looking for a quiet and solid riding companion that will also protect their melon if things go wrong on the ride, the Spartan is definitely a lid to check out.
Pros
Lightweight composite shell
Very comfortable liner
Good venting and solid controls
Optically excellent visors
Cons
Top to bottom outward visibility a little short
Top mounted visor slider can be a little awkward
Specs
Manufacturer: Shark Helmets
Price (When Tested): $369.99 to $429.99 (USD)
Made In: Thailand
Alternative models & colors: Black, White, Matte Black, plus Graphics
Sizes: XS to XXL
Review Date: December 2018
Shopping Now? We Recommend:
webBikeWorld has worked closely with RevZilla over the years to provide our testers with products to review. In addition to being a great site to shop from, they're also a great partner.
RevZilla

Free shipping on orders over $40
30-day no-nonsense return policy
Excellent selection of all major brands
Awesome pricing
Amazon

Free shipping (with Amazon Prime)
30-day return policy
Excellent selection
Competitive pricing
Shark Spartan Helmet Image Gallery