Imagine the freedom of the open road, seeing new places from your own motorcycle and meeting like minded people on the way. If you have always dreamed of going on a motorcycle adventure then you may want to look into some of these great motorcycle adventure companies. These top rated companies have a wide range of adventures available and it's possible to find something for everyone.
Back Country Discovery Routes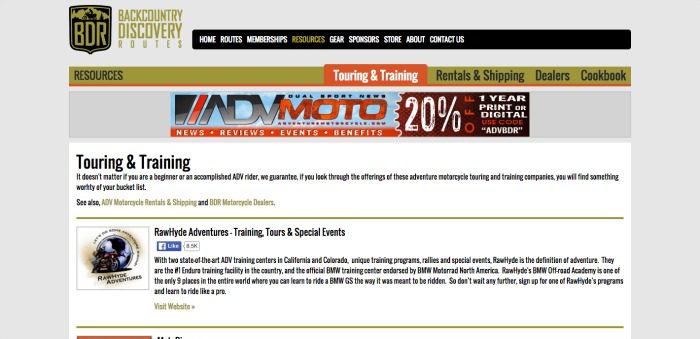 Back country Discovery Routes is a not for profit organization who aims to build and preserve off road motor cycle routes. They promotion motorcycle travel, help to train people in motor cycle skills; including riding and motor cycle maintenance and encourage the younger generations to get involved with motor cycling.
The company works with the forest service and land managers as well as agencies who are responsible for maintaining public land. Their aim is to keep trails and remote roads open for motorcyclists to use. Funds are carefully invested to maintain the trails and promote the sport. A number of new routes have recently been mapped and Back country discovery provides advice about tracks and planning long distance journeys. They also create photo and video archives of the routes. A big part of their work is to educate the motorcycle community about the best way to travel on public lands.
They aim to create a new Back country Discovery Route every year and also create documentary DVD's about each route to encourage people to use them. The routes have a positive impact on everyone involved, from the organisers, riders and even local businesses. By encouraging people to use the routes tourism is brought to small towns. This makes a positive impact on local economies, many of which were previously struggling.
Back country discovery routes is an invaluable resource for anyone who is interested in motor cycling. They have details of many training courses on their website which allows beginners to take up the sport. They also give details of tour companies who offer planned rides as well as advice on how to plan your own trip.
Ayres Adventures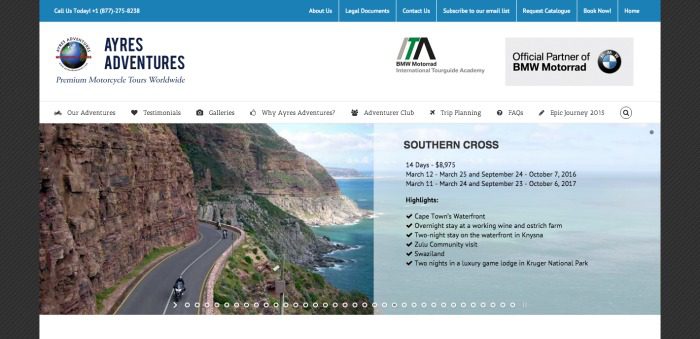 Ayres adventures offer a wide range of exciting motor cycle tours world wide. They are very well established and have a lot of experience in guiding people on motorcycle holidays and offer motor cycle tours in every continent. Whether you want to visit, Africa, Asia, Europe or North America; including Alaska and Canada you will find the perfect trip to meet your needs. Or why not visit South America, Australia or New Zealand?
All trips offer pre arranged accommodation in unique, boutique style hotels or B&B's and meals are also included. Group sizes are small to medium, giving you the chance to get to know everyone. On most trips numbers will be limited to ten people. Many people join the tours as a individual and have made life long friends as a result of their trip.
Ayres Adventures only employ staff that are local to the area that you are touring. They will therefore be able to offer excellent advice about the region and can also speak the local language. Staff are very experienced and knowledgeable; whether you want to learn about the environment or culture of the country you are visiting they will be happy to answer all your questions. They will also provide you will a good quality motorcycle for the duration of your trip. They also have in country mechanical support should anything go wrong.
If you have an interest in extensive journeys or exotic destinations then Aryes adventures may be the tour guides for you. Prices vary greatly depending on the number of days you will be touring for and the country you choose to visit. You would also need to budget in flights and maybe a couple of nights accommodation in the country you are visiting before and after your tour. Ayres Adventures can offer advice about on ward travel. As a rough guide a nine day tour will be about $6000 where as an epic sixty nine day tour would be about $37000. There is also a slight reduction in price for a co rider.
Colorado Motorcycle Adventures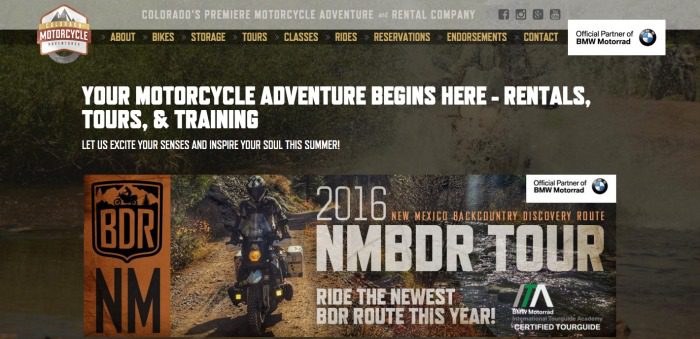 Colorado motorcycle adventures offer a wide range of services suitable for all abilities. They have a wide selection of tour available throughout America which typically last about one week. They aim to take in some beautiful scenery including the Alps and also stop for sight seeing or to visit some amazing attractions. Tours include a welcome dinner, bag transfer and bike rental with professional guides. Prices vary depending on the length of trip chosen and number of riders per bike but are usually around $3595 for a weeks trip.
If you are looking for the freedom of the open road and want to explore America by your self then you could consider hiring a motor cycle from Colorado motor cycle adventures and going it alone. This may be a slightly cheaper option then joining a tour and will give you the flexibility of planning your own trip. They have a great selection of bikes including BMW's. Prices from $155 a day. The company also offer motor cycle storage and delivery.
If you are new to motor cycles then they offer classes for the complete beginner, they also have off road training for those with some experience. During the one day course you will learn how to set up and maintain your motor cycle. You will also learn about the correct riding position and can practise maintaining your balance. The course also covers how to correctly ride in mud and sand; including the correct speed for going over bumps and how to recover your motor cycle should you get stuck. All courses last one day and cost $300.
Ride Adventures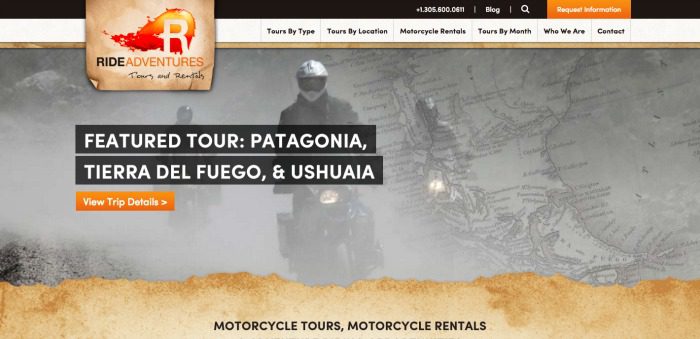 If you are looking for a great motorcycle adventure then Ride Adventures has many great options available to choose from. They give you the option of joining a tour or renting a motor cycle which you can then ride solo or with your pre existing group.
Ride adventures has a large number of motorcycle trip routes already planned. They can help you to design your own route or you can follow one of their already established routes. The advantage of planning your own motor cycle trip is that it gives you the flexibility to choose where you want to go or how long you want to spend in each place. You will be able to take your own interests into account and can stop off for sight seeing or to visit local museums or other places of interest.
Ride adventures has a wide range of motor cycles available and you can choose what type you want to rent. They have a choice of BMW's, KMT or Yamaha, depending on what country you are riding in. Prices vary from $120-$350 a day.
If you choose to join a tour then Ride adventures has many exciting destinations to choose from. They operate world wide and have tours in countries such as New Zealand, Peru and Africa. Their tours vary from four to twenty one days and also include rest days where you are free to relax or visit local sights; the choice is yours.
Ride Adventures also have a difficulty rating on each of their tours which take into account things like altitude and extreme weather conditions. It's important to take into account your physical fitness when considering which tour to take part in. Tours vary from $2500-$9500 and in most cases include accommodation, bike rental and breakfast. It's important to check exactly what is included in the tour you are planning to do so that you can budget for food and flights. Ride adventures also have 4X4 jeep tours or multi sport trips that you may also be interested in.
Globe Riders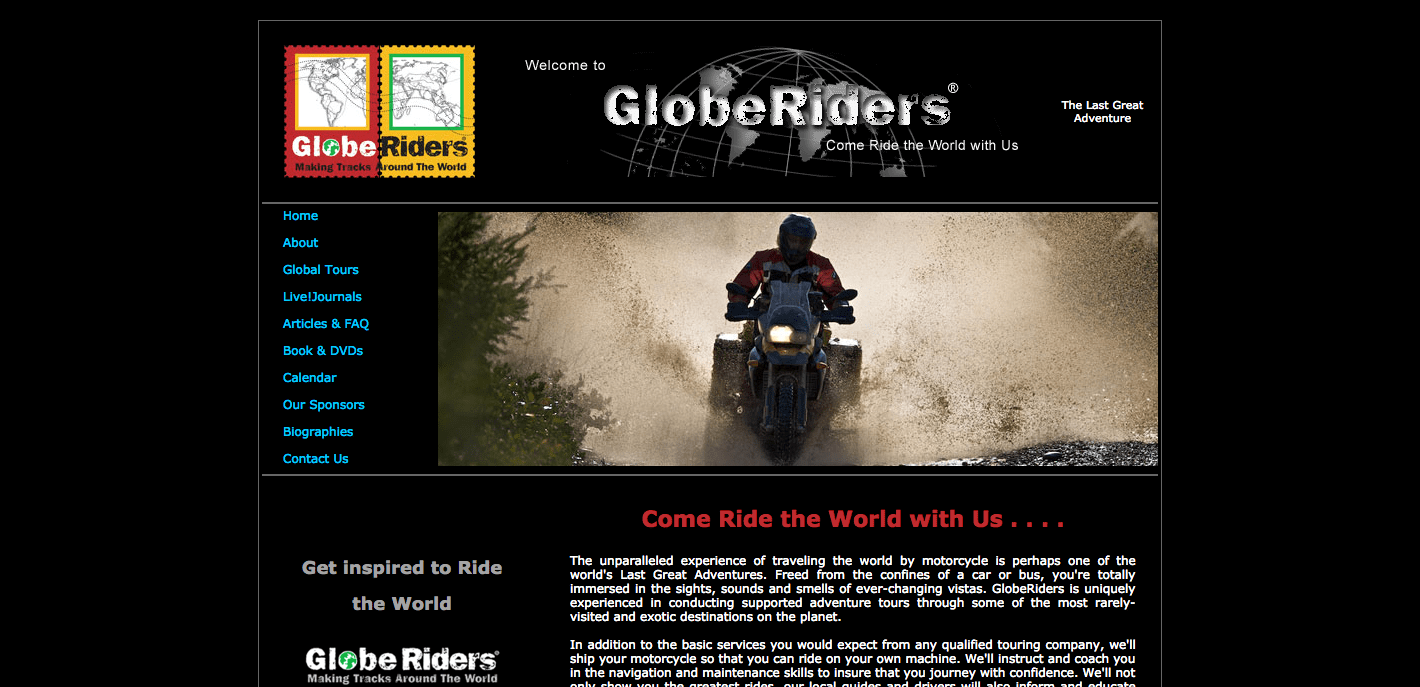 Global riders offer a selection of well planned, long distant tours which last on average 60 days or more. If you want to see many countries in one trip then this is the tour company for you. One of their most popular tours is the Silk Road trip which follows a route from Turkey, Iran, Turkmenistan and finally China. The silk road passes through some of the most beautiful and diverse landscapes in the world. If the silk road isn't for you then you may be interested in a tour of Africa or alternatively a long distance trip from Alaska to Tierra del Fuego in South America.
Globe Riders specializes in small-group, long distance motor cycle journeys. They aim to show you the best of each country you visit with time to stop off at scenic locations or to learn about the culture of the country. They provide motorcycle journeys to places in the world which would otherwise be hard to get to. If you want to view unspoilt landscapes and get off the beaten track then this is the tour company for you. Globe Riders provide you with a once in a lifetime experience, you can visit places that are not commonly visited by most.
Globe Riders is perfect for experienced, self-sufficient rider who wants to take on the challenge of a life time and gain a unique experience. You can use your own motorcycle on any of the trips and Globe Riders will arrange it to be shipped to anywhere in the world. Many of the tours are sold out quickly and there are no prices on the website, so if you are interested in taking part in a tour you will need to contact Globe Riders for a quote.
[schema type="review" url="http://badasshelmetstore.com/the-best-motorcycle-adventure-companies/" name="The Best Motorcycle Adventure Companies" author="Karl Steinmeyer" ]