TecMate OptiMate O-105 USB Image Gallery
The TecMate OptiMate O-105 Dual USB Port Charger is likely to become an indispensable piece of kit for motorcyclists.
It plugs into a Euro-style DIN power outlet (ISO 4165) on your bike.
These are the smaller or narrower style outlets used by BMW and made by Powerlet, Hella, Merit, BIKE, etc.
The OptiMate O-105 includes dual USB-A ports (front and bottom) and a healthy 3.3A charging capacity.
It will also automatically shut off in 3 hours and it includes autosensing to protect against unintended discharge of the battery.
With all that, what's not to like about this small and very portable accessory outlet charger?
The fact that it is small and portable and can be easily moved from motorcycle to motorcycle, is also its only real weakness (of a sort).
It can be easily "borrowed" if mounted in a conspicuous spot or left unattended on the bike.
But having to keep it close at hand or locked up when not in use is a small price to pay for its versatility and performance.
With a reasonable list price of around $25.00 and a three-year product replacement warranty, the Optimate O-105 dual port charger is an excellent product and investing in one or more is well worth the dinero.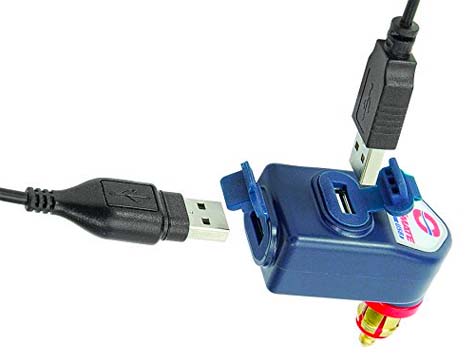 Introduction
TecMate is the company known for the OptiMate motorcycle battery chargers and other accessories, which are well known and respected within the Powersports community.
They make a wide variety of battery maintenance and power distribution products, like theOptiMate 4 charger (review) and others.
The OptiMate O-105 dual-port USB charger is a relatively new product that competes in a fairly crowded market. There are many different brands (and no-name brands) available, both plug-in and wired.
For example, there's the BurnsMoto Dual-Port "Shorty" Adapter (review) or the somewhat largerBurnsMoto Dual-Port USB Charger (review).
Any of these USB chargers will need a powered DIN outlet on your bike
If you don't have one, you can find a fused version for as low as $5.95 (plus shipping), ready to connect to your motorcycle's electrical system.
Powered USB Connections
Many of the first generation of motorcycle USB chargers are rated from 1.0A to 2.4A (1,000mA to 2,400mA) output, which is based on earlier USB power charging specifications.
But there is an ever-growing list of motorcycle accessories with increased power demands and the need to charge at higher and/or faster rates.
For example, many of the newer smart devices have a "Quick Charge" or fast charging capability and many also feature the USB Type-C (reversible or omni-directional) ports.
A common example of that is the Qualcomm Quick Charge specification found in many smartphones, now up to version 3.0.
Currently, most USB powered products are designed for the Battery Charging (BC) 1.2 specification that identifies a current of 5A at 5V and 25W power.
These are measurements that also satisfy the Type-C USB (1.5 to 3A) at 5V and 7.5 to 15W standards.
But as identified in the USB Shorty review, there is more, much more, coming.
The USB Power Delivery v2.0 specification (part of the USB 3.1 suite) identifies delivery of up to 100 Watts of power using the Type-C interface and cables.
This opens up a whole new power paradigm for motorcyclists…
And perhaps will let me retire a couple of small but well-travelled power inverters.
With these increased charging capabilities comes the need for higher standards regarding cabling and connectors.
And also more demands will be placed on the power distribution and power supply itself — like our motorycle batteries.
And in appreciating all the factors, putting a few smarts into the chargers is never a bad thing.
That's especially important to protect expensive connected devices and prevent partial or complete discharge of the motorcycle battery.
The TecMate Optimate "O" line features seven products, but only the newer O-105 has the 3.3A output capability, setting it apart from its siblings and, most other USB chargers available.
It is, in many ways, indicative of the way ahead; designed to support newer battery charging standards and with the ability to monitor supply voltage.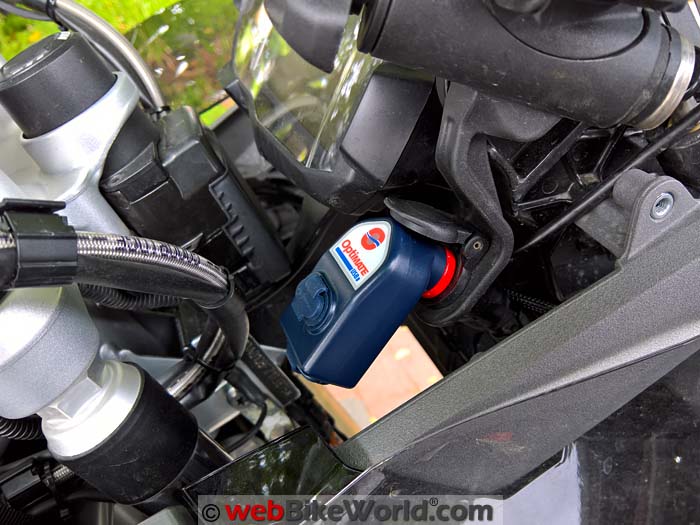 That DIN Outlet
The motorcycle accessory outlet port with the ISO 4165 specification is a long-time BMW standard.
It is shorter and smaller than the larger SAE-type automotive accessory receptacle (aka cigar lighter, North American, etc.).
Many motorcycles (like the Suzuki V-Strom 1000 ABS (Blog) and Kawasaki Versys 650 LT (Blog) still use the larger "cigar lighter" SAE-type outlet.
Some of this is described in the webBikeWorld Motobatt SAE-to-DIN converter review; in general, the DIN outlet is more robust (electrically and physically) and better suited for motorcycle use.
The OptiMate O-105 charger utilizes the 12 mm male plug ISO 4165 interface, so it will connect to any compatible DIN-type motorcycle power socket utilizing the same interface standard.
This power interface is slowly becoming the de facto standard on many motorcycles and it is extremely popular with motorcyclists who like its size, versatility, functionality and output characteristics.
The OptiMate O-105
With dual USB-A ports, the OptiMate O-105 is a 3300mA fast charger that includes a couple of features you won't find in the no-name brands.
It includes a battery protection feature.
And it also has an automatic off capability that kicks in three hours after the engine is stopped or if the battery voltage drops below 12.3V, thanks to its built-in sensing/monitoring electronics.
The plug that fits into the DIN outlet is located on the back of the O-105 housing.
It sits at 90 degrees and once it's plugged into the DIN port, the O-105 has a very low profile, which is handy.
O-105 Dual USB Ports
One of the two USB ports on the O-105 is mounted in the front and the second is mounted on the bottom.
Both include silicone sealing grommets and integrated tether plugs to keep the elements out of the USB ports when nothing is connected.
This separate port layout provides lots of versatility in attaching cables for charging devices, no matter where or in what orientation the O-105 is mounted.
O-105 Power Requirements
Input requirements for the O-105 input are simple: it connects to the DIN socket, which will have standard 12.3V to 16V DC power coming from the motorcycle's electrical system.
Output
The O-105 has a maximum of 3300mA at 5V for accessories that are connected to it via the USB ports.
Automatic Battery Protection Feature
The automatic protection feature is based on two safeguard conditions: voltage and time.
The O-105 will automatically shut down if battery voltage falls below a minimum of 12.3V or a maximum of three hours after the engine is stopped.
Note, however, that the DIN outlet on the motorcycle is usually connected to a switched circuit, so the three-hour timeline isn't applicable.
But even if the O-105 is plugged into an always-on DIN outlet (with wiring direct to the battery or a circuit from a power distribution module), the O-105 shuts off at the three hour mark, as advertised.
Or does it? Some of the test data seems to indicate otherwise; see the following section.
Like most of the OptiMate USB accessory products, the O-105 comes with a three-year product replacement warranty.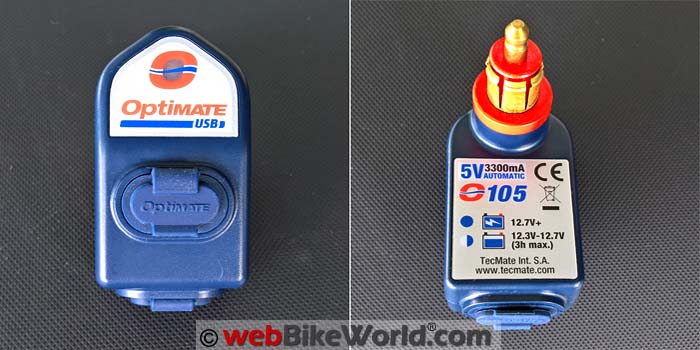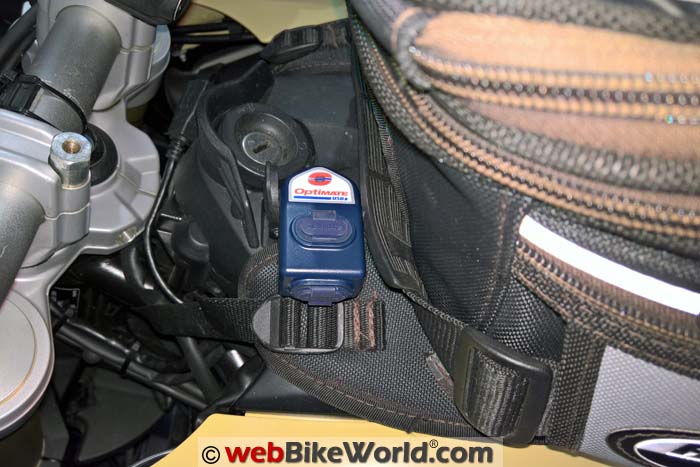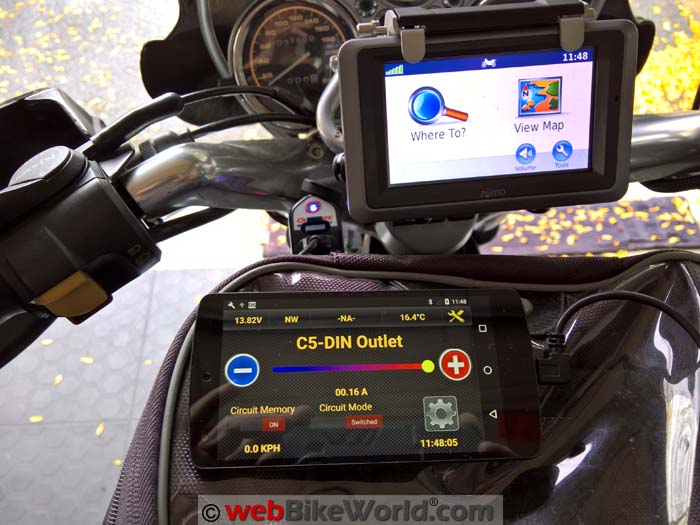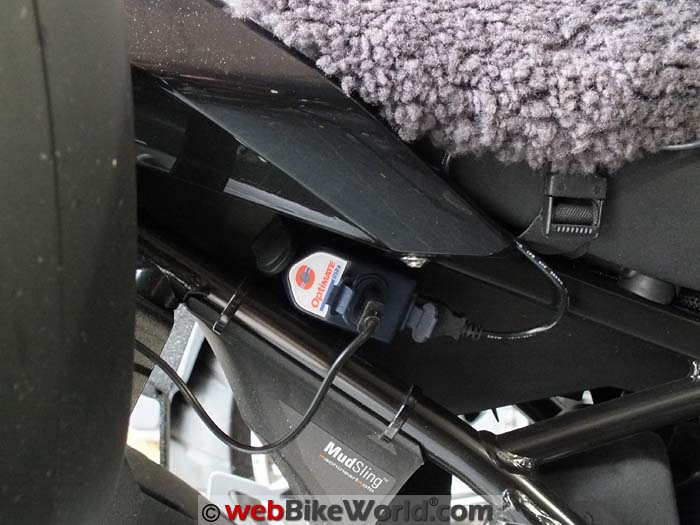 Function and Performance
Plug in the O-105 to an OE or accessory DIN outlet on the bike, connect one or two or more accessories via the USB ports for charging using an appropriate USB cable and away you go.
The O-105 is small, portable and versatile, and it can be easily moved between motorcycles at any time, or keep one mounted or stashed away on each machine.
Some motorcycles have a DIN outlet port on the dashboard (Suzuki V-Strom 1000) and some have it on the right side of the bike, below the seat.
Either location makes it easy to access the O-105 and any attached accessories when riding and the O-105 can be easily removed when the bike is parked.
Also on some motorcycles, such as the newer BMWs, the ignition can be turned on but the O-105 will not be activated until the engine is running.
At this point, the small (bright) blue LED on the O-105 flashes once as a power good/received confirmation.
When the engine and ignition is turned off, the LED goes into a once-per-second on/off pulse and the 5V charging capability continues until power to the circuit is completely switched off.
On some motorcycles, this off state may be instantaneous.
But with some on-board or after-market power distribution systems, a fixed or programmable time delay may keep the O-105 active until power to that circuit is switched off via the motorcycle's electrical system CPU.
On any of the pre-2005 Beemers or other non-CAN bus motorcycles, unless a programmed circuit from a power distribution system was used, the O-105 would shut down immediately once the engine/ignition was turned off.
That is as expected.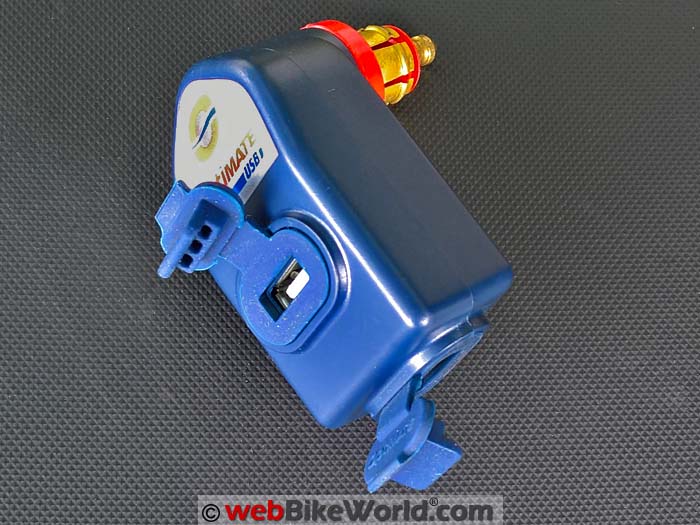 Observations and Notes for BMW Owners
In using any of the newer (2013 to 2016) Beemers, turning off the engine/ignition sees the O-105 continue to draw and supply power to any connected device.
At this point, the one-flash-per-second pulse from the LED reveals the active status of the O-105 due to the accessory time delay.
Where things get a bit interesting, however, is when the BMW on-board accessory delay, currently set to 60 seconds, expires.
There is a slight but audible "clunk" of the on-board controller shutting down is heard.
At that point, the O-105 continued to output a charge on my bike.
The charging continues for four to five minutes (tried it on a BMW R 1200 GSW and R 1200 R), after which the O-105 finally shuts down and stops outputting a charge.
At no time was the measured battery voltage or output at the DIN port anywhere close to the O-105's monitoring threshold of 12.3V — interesting!
But on the same bikes, using an accessory DIN port powered from the Neutrino Black Box V2 (review) restored some consistency to the process.
In that case, the supply circuit to the O-105 either activates or shuts down based on the circuit parameters I programmed into the Black Box.
I'll have to conduct some further testing and perhaps get some answers from TecMate.
But in the meantime, my current theory of what's happening seems to focus on a communications relationship (intended or otherwise) between the O-105 and the BMW electrical system.
Part of this reasoning is based on the known interaction between BMW system chargers and the onboard system when an OE accessory port is used for charging.
Additionally, BMW Motorrad sometimes makes changes and "tweaks" to systems between model years.
And sometimes changes are made even between production runs and some of these changes may be the cause of these discrepancies.
Fitting the O-105 on the BMW Scooter
The O-105 will also fit the DIN outlet in the left-side cubby on the BMW scooters, such as the BMW C 650 GT (Blog) and the new BMW C 650 Sport (Report).
The O-105 sits vertically in the DIN outlet, allowing direct access to the facing USB port and the bottom USB port as well, although the rear port is a tighter fit with a sharp angle…but doable.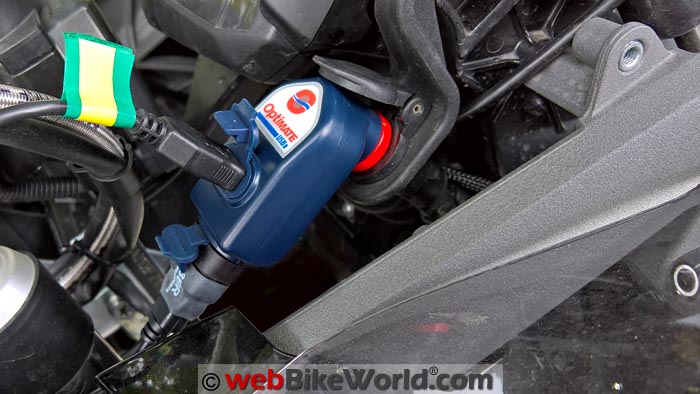 Bottom Line
While my observations relevant to the BMW motorcycles are interesting, by themselves they are not negatives and do not detract from the overall performance of the O-105.
Cross-platform testing and use reveals that when monitored voltage falls to around 12.3V, the O-105 shuts itself down.
This prevents unintended discharge of the main power supply — that being your battery.
You do want to get home, right?
I have also confirmed that the O-105 shuts itself down after three-hours, no matter if devices are connected and power is being supplied or not and that's another reassuring feature.
With 3300mA available, the O-105 capably charges one, two and even three small portable devices, including quick charging service for those accessories or devices with a larger appetite and ability to consume.
One needs to remember though that while the O-105 has some built-in smarts, it doesn't dynamically manage distribution of power through the USB ports (as far as we know).
As such, connecting a power-hungry device might limit or reduce the supply to other connected devices.
One configuration I used on the R 1200 R is a two-way splitter coming off one of the O-105 ports that was powering a Garmin VIRB Elite and Sony HDR-AZ1 action camera.
The second USB port was keeping a Lumia 950XL Windows 10 Mobile (fast charge capable) device topped up.
Conclusion
We have two of the O-105 chargers for this review.
And while neither has "gone walkabout" when left unattended, I will purchase a couple more so I'll have one for each of my motorcycles.
Less a possible penchant to go missing in action, and in acknowledging the observations I experienced regarding their use on the newer BMWs, there isn't much else to comment on regarding the O-105 chargers.
They work, as advertised.
Subject to any electrical output issues or physical damage, the O-105 chargers should be around for a long time; providing a great return for a minimal investment.
More: Weatherproof Ports, Outlets, Connectors, Cables Reviewed
w

BW

 Review: TecMate OptiMate O-105 Dual-Port USB Charger
Review Date: November 2016
Note:
 For informational use only. All material and photographs are Copyright © webWorld International, LLC since 2000. All rights reserved. See the webBikeWorld® 
Site Info page
. Product specifications, features and details may change or differ from our descriptions. Always check before purchasing. Read the
Terms and Conditions
!
Owner  Comments and Feedback