2016 BMW C650GT and C650 Sport Announced
(September 20, 2015) – BMW announced the new C 650 Sport and C 650 GT scooters today.
This was a surprise announcement, with BMW not waiting for the EICMA or AIMExpo shows.
They call these "dynamic maxi scooters for sports, touring and urban cruising."
BMW said that there is a new conceptual emphasis for each of the two BMW maxi-scooters, which enables a broader target group to be addressed than previously.
The C 650 Sport is geared towards riders with a sporty bent while the C 650 GT sets its sights on those who attach greater importance to comfort and touring capability.
The new C 650 Sport and the new C 650 GT now go further towards addressing these aspirations.
With an extensively modified drivetrain, more comfortable suspension settings and a completely revised design for the C 650 Sport, they combine more markedly than before the excellent ride qualities of a motorcycle with the specific agility and comfort offered by the maxi scooter concept.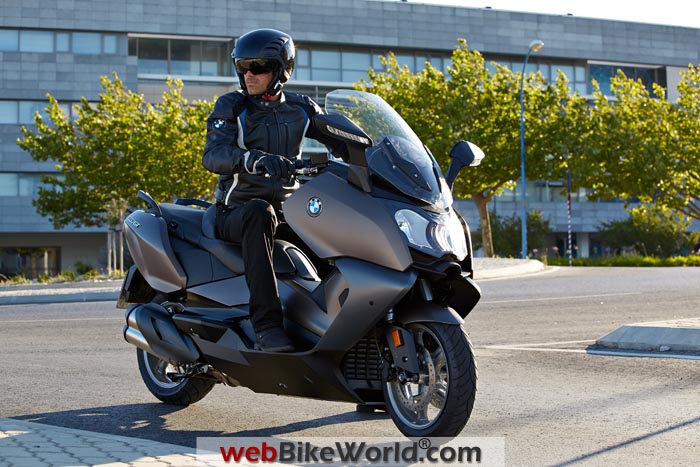 Optimized Drivetrain and New Exhaust
The two-cylinder inline engine with a capacity of 647 cc provides dynamic propulsion in the new C 650 Sport and C 650 GT scooters.
The rated output in both models is 44 kW (60 hp) at 7,500 rpm. A variant is also available with 35 kW (48 hp) at 7,000 rpm.
Engine mapping was redefined for use in the new C 650 Sport and the new C 650 GT with a view to satisfying the requirements of the EU4 pollutant class.
A new silencer gives the vehicles a more dynamic look as well as providing a particularly full sound and enabling adherence to the new ECE R41-04 noise test regulations.
A new CVT transmission, in conjunction with new clutch linings enables optimized clutch engagement and therefore a significantly more dynamic set-off response.
This was achieved by changing the transmission ratio spread of the CVT as well as by fine-tuning the centrifugal force weights.
New Suspension and Damper for Increased Comfort
The suspension construction of the new C 650 Sport and C 650 GT continues to use a torsionally stiff hybrid composite structure consisting of a tubular steel bridge frame and a die-cast aluminum unit in the area of the swinging arm bearing.
Retaining the existing spring travel of 115 millimeters, it was possible to create a more comfortable suspension. As a result, the C 650 Sport and C 650 GT offer a better compromise between sporty flair and comfort.
ABS and ASC Standard
Based on the "Safety 360°" principle, the optimum design of the brake system in conjunction with the standard BMW Motorrad ABS Bosch 9.1MB ensures the very highest level of active riding safety.
Another safety bonus is the ASC (Automatic Stability Control), which is now also on board ex works as standard.
Additional comfort is also offered by a feature that is a world first for two-wheel vehicles: the first motorcycle rider assistance system Side View Assist (SVA).
This new option for the C 650 GT supports the rider when changing lane, for instance, by monitoring the blind spot, especially useful in an urban environment.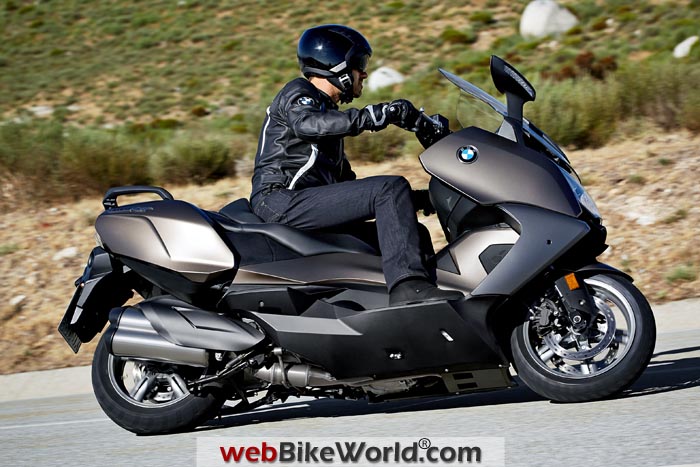 Updated Design and Styling
The new edition of the two models features a more modern, dynamic and future-oriented design for the C 650 Sport. This integrates it into the BMW Motorrad design philosophy.
By contrast, the C 650 GT, which is positioned in the Comfort segment, has been fine-tuned with new rear side trim panels and a new rear light unit.
Both models have also been fitted with newly designed instrument dials as well as new handlebar trim.
Other new features include the revised kinematics of the center stand and the automatic daytime riding light function.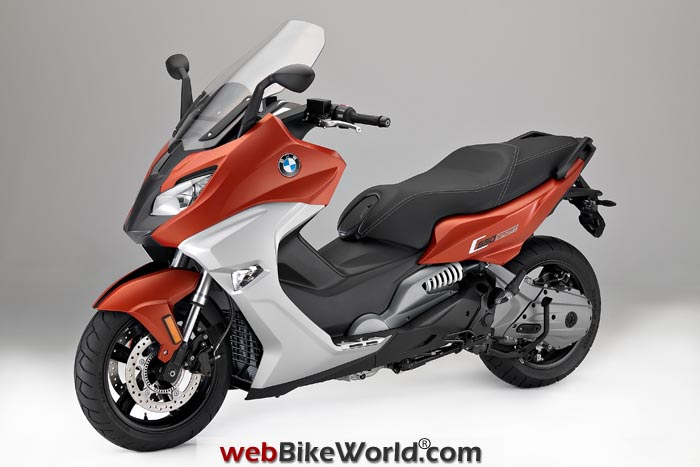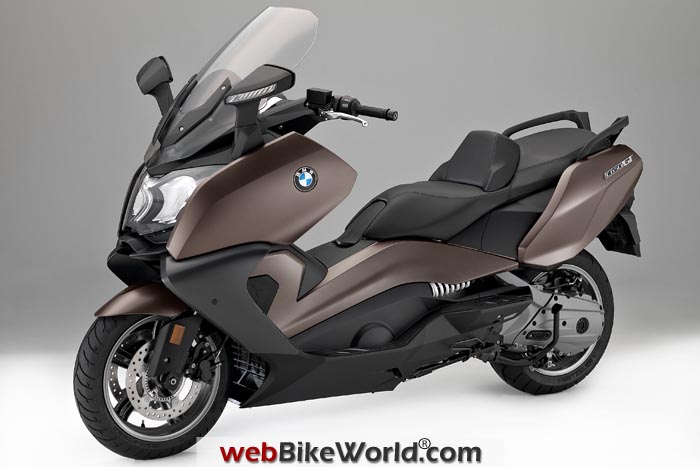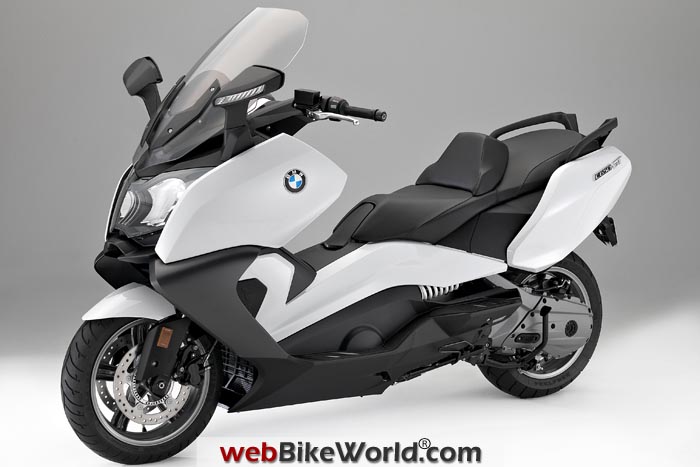 New Paint Colors
The C 650 Sport and C 650 GT are each offered in three color variants:
The Valencia Orange metallic matte of the C 650 Sport highlights its athletic character and in conjunction with the contrast surfaces gives it a dynamic, modern appearance.
By contrast, "Light White" non-metallic makes the new C 650 Sport look technical, compact and light.
In "Blackstorm" metallic, the new C 650 Sport appeals to a more classically oriented clientele.
For the C 650 GT, the Blackstorm metallic highlights the elegant character of the vehicle, while Frozen Bronze metallic in conjunction with a contrasting tone creates a harmonious paint finish that clearly emphasizes the styling of the new C 650 GT.
The Light White non-metallic highlights the dynamic side of the C 650 GT. This color gives it a particularly light and agile look.
Video: 2016 BMW Scooter Features
Features Overview
New CVT and revised clutch linings for more dynamic clutch engagement and a more spontaneous set-off response.
New suspension and damping set-up for an ideal compromise between sport and comfort.
In addition to ABS, now also ASC as standard for maximum safety when accelerating.
Completely new, dynamic design for the C 650 Sport.
Detailed stylistic fine-tuning for the C 650 GT.
New silencer for a fuller sound and more dynamic appearance.
New instrument dial design.
New handlebar trim elements with chrome applications.
New, higher-quality surfaces (graining effects).
Automatic daytime riding light.
Revised kinematics of the center stand for easier use.
New rider assistance system Side View Assist (SVA) for the C 650 GT.
New paint finishes for the C 650 Sport: Valencia Orange metallic matte, Light White non-metallic and Blackstorm metallic.
New paint finishes for the C 650 GT include Blackstorm metallic, Frozen Bronze metallic with Light White non-metallic.
Pricing and Specifications
More details, specifications and pricing information available soon.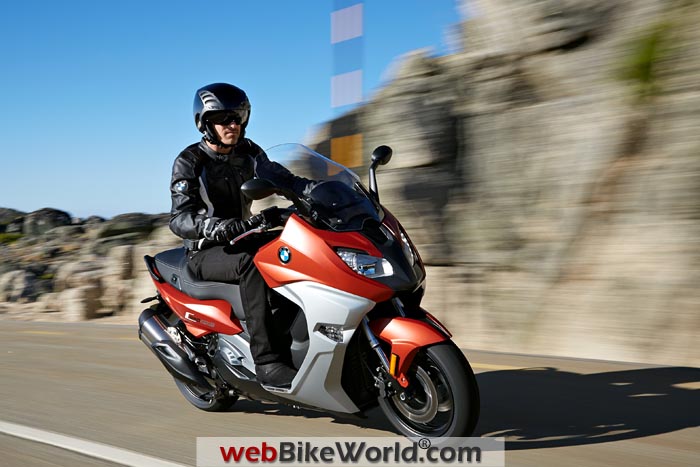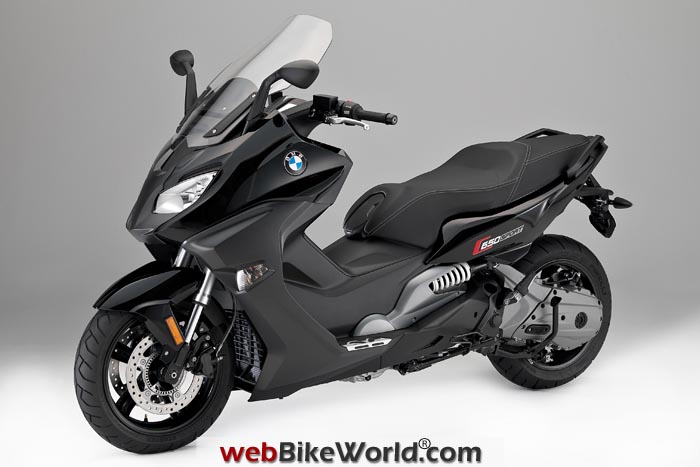 More: BMW C 650 GT Review and First Impressions  |  The wBW BMW C 650 GT Blog
Publication Date: September 2015
Note: For informational use only. All material and photographs are Copyright © webWorld International, LLC since 2000. All rights reserved. See the webBikeWorld® Site Info page. Product specifications, features and details may change or differ from our descriptions. Always check before purchasing. Read the Terms and Conditions!
Owner Comments and Feedback
---
From "P.W." (September 2015): "Do you think that the Blindspot Feature will be offered as an add-on for older C-650 GT Scooters?"
Editor's Reply: No. I'm scheduled to meet up with a BMW Scooter product specialist at the upcoming AIMExpo show in October and I'll ask.
---
From "B.P." (September 2015): "As a former owner (2007-2012) of a Burgman 650 Exec, I can appreciate the fun and utility of a maxi-scooter. I am considering a return to that genre, once my aging knees and hips can no longer deal with a large bagger.
However, I still have these problems with the Beemers (and all but the first one with the Burger, too):
– Tall seat height: I like ground clearance as much as the next rider, but are these scoots meant as backups for GS riders?
– No cruise control: particularly with respect to the C 650 GT, what tourer doesn't include that these days?
– Integrated handlebars: any designer think that maybe an owner would want to add risers or bar-backs?
So it looks as if I'll have to see what BMW offers, in the generation after this one."
Other WebBikeWorld Brands Posts